---
Crew
Directors – Neveldine/Taylor, Screenplay – Scott M. Gimple, David S. Goyer & Seth Hoffman, Story – David S. Goyer, Based on the Marvel Comic Book, Producers – Ashok Amritraj, Ari Arad, Avi Arad, Michael De Luca & Steven Paul, Photography – Brandon Trost, Music – David Sardy, Visual Effects Supervisor – Eric Durst, Visual Effects – Iloura (Supervisor – Glenn Melenhorst), Additional Visual Effects – Anibrain, Evil Eye Pictures, Pixel Magic, Special Effects Supervisor – Nick Allder, Makeup Effects – Jason Hamer & Kerrin Jackson, Production Design – Kevin Phipps. Production Company – Marvel Knights/Crystal Sky/Ashok Amritraj/Michael De Luca Productions/Arad Productions Inc.
Cast
Nicolas Cage (Johnny Blaze), Violante Placido (Nadya), Ciaran Hinds (Roarke), Idris Elba (Moreau), Fergus Riordan (Danny), Johnny Whitworth (Ray Carrigan), Christopher Lambert (Methodius), Anthony Heald (Benedict)
---
Plot
Johnny Blaze is hiding out in Eastern Europe, struggling to keep the Ghost Rider from emerging from within himself. He is located by the monk Moreau who offers Johnny the chance to be freed from the Ghost Rider and his pact with The Devil if he will save a young boy Danny. Danny is the son of Roarke, the Devil's envoy on Earth, who will gain his father's full powers upon his thirteenth birthday in a few days time. Johnny joins Danny and his mother Nadya in a race against Roarke's henchman to save Danny from his fate.
---
Ghost Rider (2007) was one among the phenomenally popular big screen adaptations of Marvel Comics properties that have taken off during the 00s. Others among these include Blade (1998), X-Men (2000), Spider-Man (2002), Daredevil (2003), Hulk (2003), The Punisher (2004), Elektra (2005), Fantastic Four (2005), Man-Thing (2005), Iron Man (2008), Captain America: The First Avenger (2011), Thor (2011), The Avengers (2012), Guardians of the Galaxy (2014), Ant-Man (2015), Deadpool (2016), Doctor Strange (2016), Black Panther (2018), Venom (2018), Captain Marvel (2019), Black Widow (2021), Eternals (2021), Shang-Chi and the Legend of the Ten Rings (2021) and various sequels to most of these, as well as the tv series' Agents of S.H.I.E.L.D. (2013-20), Daredevil (2015-8), Agent Carter (2015-6), Jessica Jones (2015-9), Luke Cage (2016-8), The Defenders (2017), Inhumans (2017), Iron Fist (2017-8), The Punisher (2017-9), Runaways (2017-9), The Falcon and the Winter Soldier (2021- ), Hawkeye (2021- ), Loki (2021- ), WandaVision (2021- ), Moon Knight (2022- ), Ms Marvel (2022- ) and She-Hulk: Attorney at Law (2022- ).
Ghost Rider is one of the usually more ridiculed effort amongst these and has turned up on more than one of the Top 10 Worst Comic-Book Adaptations of All-Time lists that populate the internet, although this author would be prepared to argue its merits. Alas, not as much can be said for its sequel here. Ghost Rider: Spirit of Vengeance features a return performance from Nicolas Cage in the title role, while the first film's producers also return, along with its director Mark Steven Johnson in an executive producer capacity, and Ghost Rider's executive producer David S. Goyer, who laboured for many years to launch his own version of Ghost Rider prior to the 2007 film, is present on script.
The major mistake that Ghost Rider: Spirit of Vengeance seems to make is placing the production in the hands of the directing duo of Mark Neveldine and Brian Taylor, known collectively as Neveldine & Taylor or, as the credits here lists them, Neveldine/Taylor. Neveldine/Taylor first appeared with the completely ridiculous action film Crank (2006) and subsequently Crank 2: High Voltage (2009) and the science-fiction film Gamer (2009), as well as wrote the scripts for the medical psycho-thriller Pathology (2008) and another disastrous comic-book adaptation, the film version of DC's Jonah Hex (2010). Subsequent to this Neveldine went solo to direct the exorcism film The Vatican Tapes (2015), as well as produced Officer Downe (2016) and Urge (2016), while Taylor went on to make the mass insanity film Mom & Dad (2017) and create the splendidly deranged tv series Happy! (2017-9) and the Dystopian future mini-series Brave New World (2020). As directors, Neveldine/Taylor's films take place in a blur of kinetic action shots that are constantly either being slowed down, sped-up or full of fragmentary cuts. This perpetual frenetic kinesis of this feels like empty-headed eye candy taking place at such a crazed pace that watching causes less an adrenal rush than a bad headache.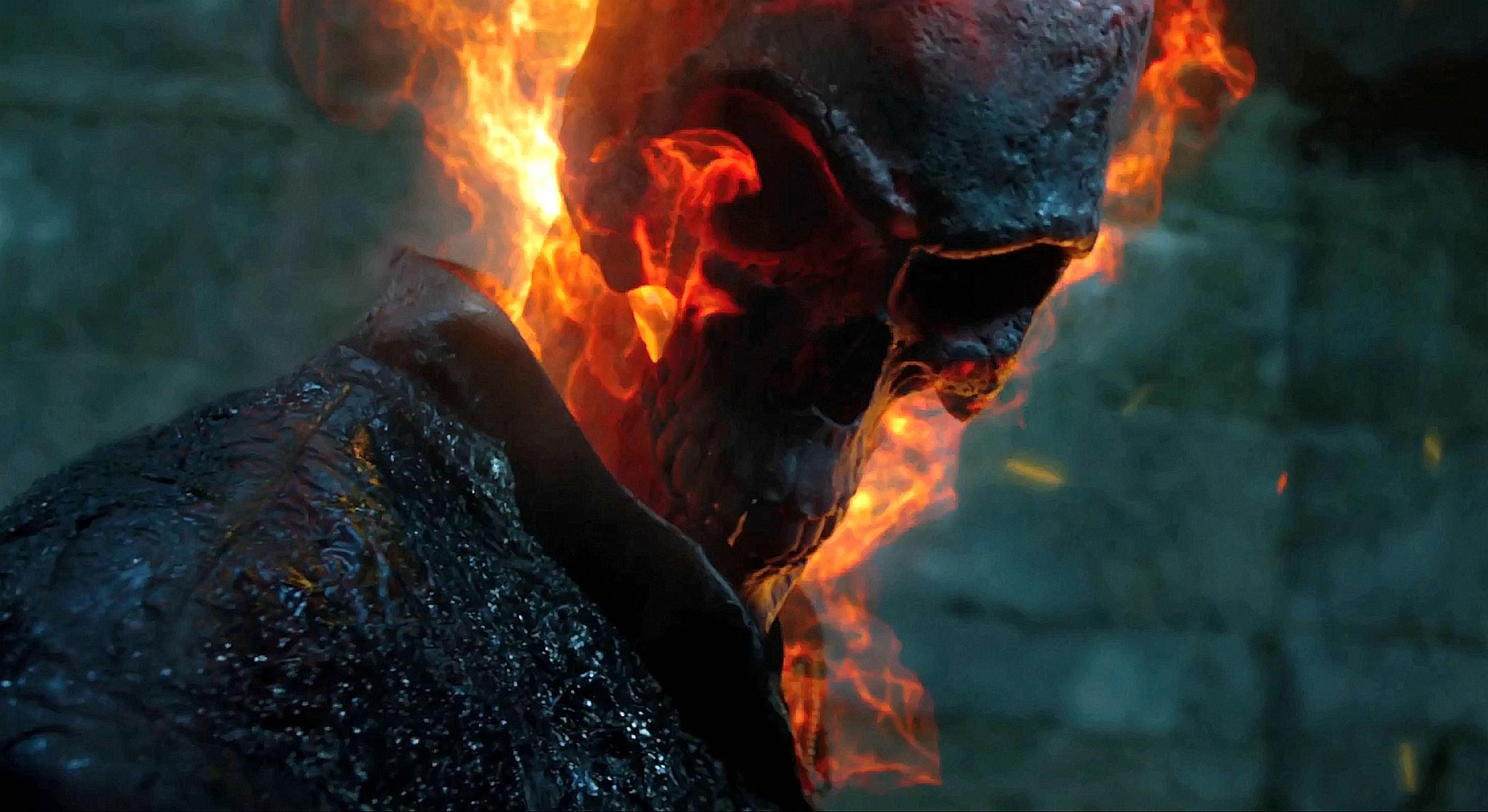 To Neveldine/Taylor's credit, Ghost Rider: Spirit of Vengeance does not come out as irritatingly as their Crank films or Gamer did, due to the fact that their adrenalised action visuals have been toned way down. The overriding reason for this may well be that Ghost Rider: Spirit of Vengeance was released in 3D where any film that came with the hyper-kineticism of the Crank movies would have had most 3D audiences reaching for their vomit bags within five minutes due to nausea-induced sickness. The upshot of this is that it feels as though Neveldine/Taylor are being forced to act throughout like ADD kids who have been given a big dose of Ritalin.
Ghost Rider: Spirit of Vengeance is not without its action scenes but most of these are surprisingly unmemorable. There are numerous scenes with the Ghost Rider incinerating and devouring the souls of bad guys, gun action, car chase and motorcycle action, and a sequence with the Ghost Rider turning a giant digging machine into a flaming weapon of mass destruction. There is nothing here though that does not fade in memory by precisely the amount of time that Neveldine/Taylor have moved onto the next action sequence. The original Ghost Rider was less focused on the action element but the appearances of the Ghost Rider tearing up the city, swinging up the side of skyscrapers and lassoing helicopters with his chains held something much more vividly memorable than anything here does.
A tamed Neveldine/Taylor also means that Ghost Rider: Spirit of Vengeance is much more dependent on its script. This has some names on it that should have lead to an impressive work – David S. Goyer, who wrote the superb Dark City (1998), and has been instrumental in a host of other comic-book related properties such as Blade (1998) and all its sequels, Batman Begins (2005), The Dark Knight (2008), The Dark Knight Rises (2012) and Man of Steel (2013); Scott M. Gimple, a writer/story editor on the David S. Goyer created tv series FlashForward (2009-10) and writer-producer on tv's The Walking Dead (2010– ); and Seth Hoffman, also a writer on FlashFoward and other shows such as House M.D. (2004-12) and Prison Break (2005-9, 2017).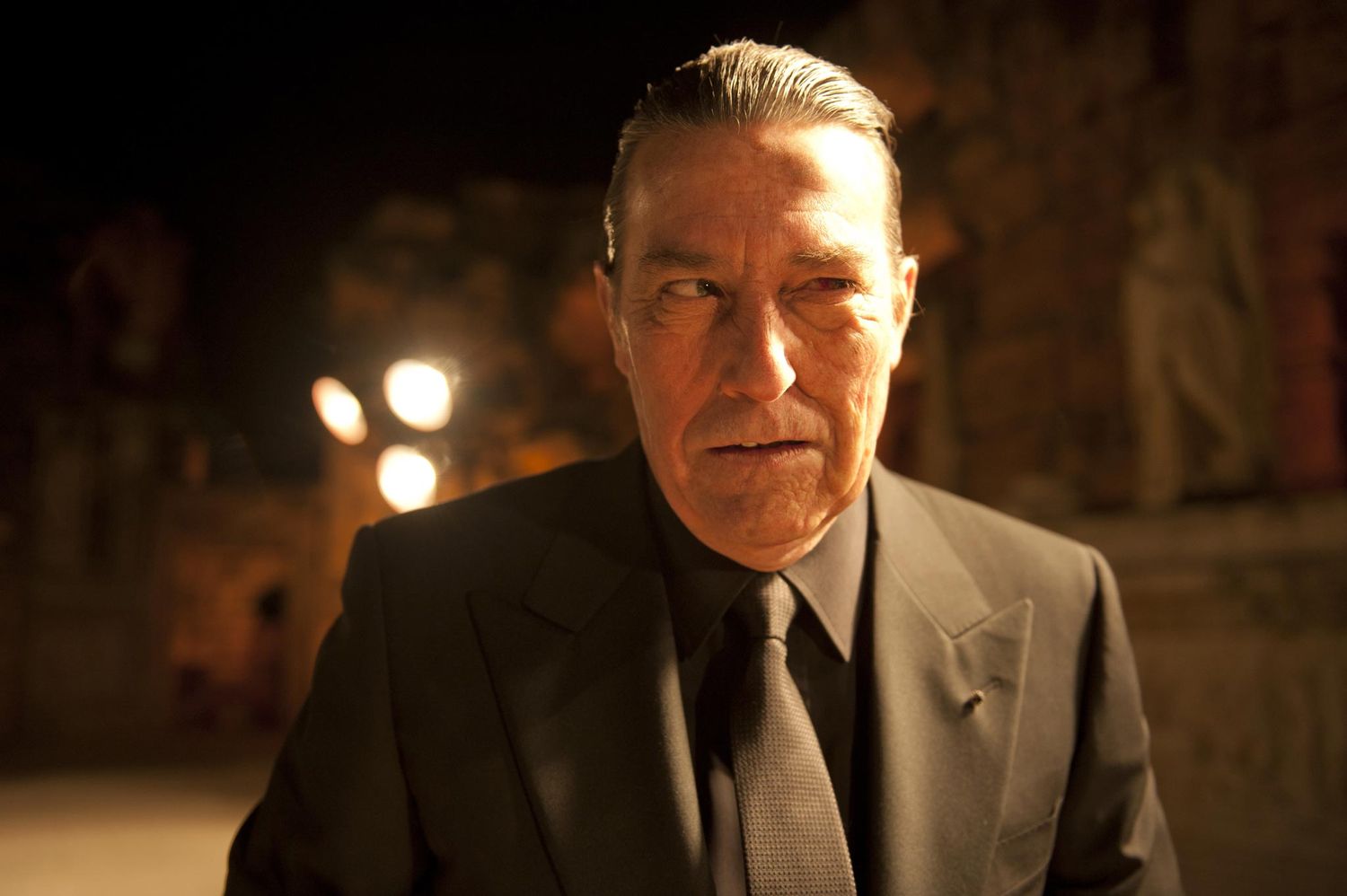 Only it is a script that feels like it has been thrown together as an indifferent ransacking of horror cliches – the Devil's child, the struggle to prevent things happening on a predestined date that could mean the end of the world or something like that, the hero's struggle to regain his soul following a diabolical pact, a frenetic pursuit by a host of parties wanting the child for one or another reason. All of these are slung together in an entirely cursory way – the Devil's Child is no more than the equivalent of a key witness that might be pursued by the bad guys in a mundane action film; Nicolas Cage giving up his powers as the Ghost Rider and then regaining them has about all the weight and significance of a traditional action hero losing his gun and then regaining it at the crucial climactic moment.
The film makes an equally indifferent attempt to incorporate elements from the comic-book. Johnny Whitworth is cast in the role of Ray Carrigan who he is born of human and demon and becomes the villain Blackout according to the comic-books (although is never named as such in the film) with the ability to blackout all light in the near vicinity. When it comes to the film, everything except the character's albinoid appearance and the human name Carrigan has been thrown out and the character now becomes someone who is resurrected from the dead by Ciaran Hinds and granted the ability to cause matter to rapidly decay. Johnny Blaze is also revealed as being inhabited by the demon Zarathos for the first time.
In returning to the role, Nicolas Cage gives what must be one of his silliest performance since the 1980s heyday of films like Vampire's Kiss (1988). The scenes of him struggling to stop the Ghost Rider emerging, particularly one scene where he starts to go batshit crazy in front of a security guard, contain some of the most phenomenally silly acting he has done of recent. Things are not limited to Nicolas Cage. Ciaran Hinds, normally a respectable actor with a long career in British theatre and arts productions alongside more populist film work, gives an absurd performance as The Devil. With one eye bloodshot, scrunched-up cheek and bottom lip sucked in, Ciaran Hinds looks for all the world as though he is trying to physically become a Warner Brothers cartoon villain. It becomes an effort to restrain oneself from laughing whenever such a ridiculous seeming character opens his mouth to speak.
Subsequent to this, Ghost Rider, now played by Gabriel Luna, turned up in episodes on the fourth season of Marvel Agents of S.H.I.E.L.D..
(Winner in this site's Worst Films of 2012 list).
---
---