aka Garfield 2
---
Crew
Director – Tim Hill, Screenplay – Joel Cohen & Alec Sokolow, Based on the Comic Strip by Jim Davis, Producer – John Davis, Photography – Peter Lyons Collister, Music – Christophe Beck, Music Supervisor – Dave Jordan, Animation Supervisor – Chris Bailey, Visual Effects – Rainmaker Animation and Visual Effects (Supervisor – Charlene Eberle) & Rhythm and Hues (Supervisor – Betsy Paterson), Special Effects Supervisor – Alan E. Lorimer, Production Design – Tony Burrough. Production Company – Davis Entertainment Company/Dune Entertainment/Major Studio Partners/Ingenious Film Partners.
Cast
Breckin Meyer (Jon Arbuckle), Billy Connolly (Lord Dargis), Jennifer Love Hewitt (Liz Wilson), Ian Abercrombie (Smithy), Roger Rees (Hobbs), Lucy Davis (Abby Westminster)
Voices
Bill Murray (Garfield), Tim Curry (Prince), Bob Hoskins (Winston), Greg Ellis (Nigel), Vinnie Jones (Rommel), Jim Piddock (Bolero), Rhys Ifans (McBunny)
---
Plot
Jon is about to propose to Liz, much to Garfield's disgust. Liz learns that she has been asked to speak at a wildlife preservation conference in London so Jon decides the only thing to do is follow her there. He goes to put Garfield and Odie into an animal shelter but they sneak into Jon's suitcase. At the same time, Prince, a cat that is an identical ringer for Garfield, is made the sole heir to Carlyle Castle in its late owner Eleanor Carlyle's will. This displeases Lady Carlyle's nephew Lord Dargis who believes himself the rightful heir and he plots to dispose of Prince. Prince escapes after Lord Dargis throws him into the river in a basket but ends up being confused with Garfield. Garfield now finds himself heir to the castle and treated like royalty, while Prince finds himself adopted by Jon. Meanwhile, the scheming Dargis plots to be rid of Garfield.
---
Garfield (2004) was a live-action film based on Jim Davis's incredibly popular comic-strip about a lazy cat. Garfield didn't accrue many good reviews but the one thing it did do was earn a not-immodest $75 million at the box-office. Garfield: A Tale of Two Kitties is a sequel. All of the principal actors from the first film – Breckin Meyer, Jennifer Love Hewitt and Bill Murray as the voice of Garfield have returned, and the script is from the same duo who wrote the first film.
The director this time is Tim Hill, who had previously made Muppets from Space (1999) and Max Keeble's Big Move (2001) and would go onto further live-action talking animals films with Alvin and the Chipmunks (2007), Hop (2011), Grumpy Cat's Worst Christmas Ever (2014) and The SpongeBob Movie: Sponge on the Run (2020), as well as wrote numerous episodes of tv's Spongebob Squarepants (1999– ) and the film spin-off The Spongebob Squarepants Movie (2004) and to produce Walking With Dinosaurs (2013).
In the first Garfield movie, Jim Davis's notion of a cat delivering sarcastic asides on human life had been extruded out to become a standard warm cuddly talking animals adventure with a big CGI cat delivering smartass one-liners at the centre of it. By the point of Garfield: A Tale of Two Kitties, the smartass one-liners have become boosted to the point they are majorly irritating. A Tale of Two Kitties is a Garfield film that is now pitched down at an inane children's movie level.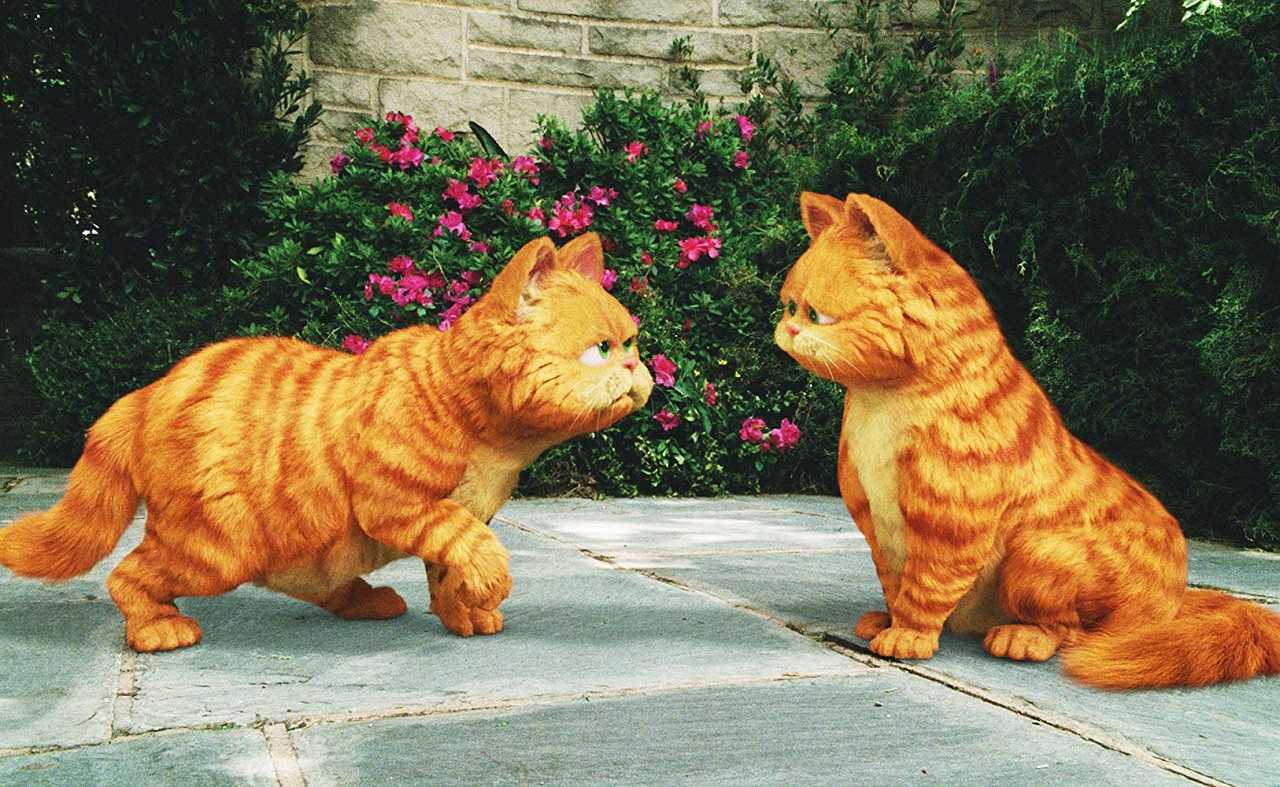 The film has an extremely simplistic plot – one that comes as a well-worn variant on Mark Twain's The Prince and the Pauper (1882), albeit using cats. Whereas Garfield seem to at least approximate the original comic-strip in centring itself around the cat and his sarcastic one-liners, A Tale of Two Kitties plays everything down at a slapstick level. Billy Connolly is written in as a one-dimensional villain who is there for no other purpose than to be the butt of much ongoing slapstick sadism – having his pants torn off by a vicious dog, statues collapsing on top of him and an extended climax where he runs around the house after Garfield and is repeatedly dumped upon.
Garfield: A Tale of Two Kitties also shows the undeniable influence of Babe (1995) – there is a supporting cast of barnyard animals and they (and Billy Connolly's villain) often get far more time than the comic-strip's characters like Jon and Liz. Tim Hill panders to this talking animal element, setting up extended scenes with the animals running around and particularly a kitchen sequence with them making lasagne. It is this that reduces the comic-strip to a level of inanity.
There have been no further live-action Garfield films but the films were followed by a subsequent series of animated dvd releases with Garfield Gets Real (2007), Garfield's Fun Fest (2008) and Garfield's Pet Force (2009).
---
---