---
Crew
Director – Craig Shapiro, Screenplay – Kathleen Laccinole & Matt Lieberman, Story – Matt Lieberman, Producers – John Davis & Brian Manis, Photography – Ron Stannett, Music – Don MacDonald, Music Supervisor – Sarah Webster, Visual Effects Supervisor – John Gajdecki, Visual Effects – Digiart Productions. Ltd. (Supervisor – Minsu Park), Special Effects Supervisor – Murray Campbell, Production Design – Brentan Harron. Production Company – Davis Entertainment Company.
Cast
Kyla Pratt (Maya Dolittle), Peter Coyote (President Sterling), Malcolm Stewart (Chief Howard Dorian), Niall Matter (Cole Fletcher), Elise Gatien (Courtney Sterling), Christine Chatelain (Selma Dickson), Karen Holness (Lisa Dolittle), Kwesi Ameyaw (Prince Tharoor), Stephanie Belding (Doris Park-Weaver)
Voices
Jennifer Coolidge (Daisy), Phil Proctor (Monkey), Richard Kind (Groundhog), Greg Ellis (Wallaby), Nolan North (Parrot), Diana Yanez (Chinchilla), Ben Dickin (Anteater)
---
Plot
Maya Dolittle wants to follow in her father's footsteps. She attempts to enrol in veterinary school at San Francisco University, only to find that her resume is not impressive enough. The household then receives a visit from the Secret Service, saying that The President wants Dr Dolittle's help. Her father is away in the Antarctic so Maya quickly volunteers to step in. She is taken to The White House where she learns that the Presidential dog Daisy has developed a number of bad behavioural problems and is causing embarrassment on state occasions. It is vital that President Sterling sign a deal in a few days time with Prince Tharoor of Kalampoor, which would turn the prince's country into a vast nature preserve. The prince's daughter is an animal lover who wants to see Daisy but the entire deal could collapse if Daisy misbehaves. The Presidential entourage goes on retreat to Sterling Ranch where The President has gathered animals from all around the world. Maya joins them and sets out to get to the heart of Daisy's problems. However, Daisy proves recalcitrant and she and the other animals join together, determined to sabotage Maya's efforts.
---
Tail to the Chief was the fourth of the films that began with the Eddie Murphy starring Dr Dolittle (1998). Murphy appeared in one sequel Dr. Dolittle 2 (2001) and then the series. Nonplussed by his departure, Davis Entertainment continued the franchise featuring Kyla Pratt, who had played Eddie Murphy's daughter in the first two films. Despite the fact that she makes the Dr Dolittle aspect of the title is no longer relevant, Kyla Pratt carried the series on for three other films beginning with the excruciating Dr Dolittle 3 (2006), continuing with Tail to the Chief here and then the subsequent Dr Dolittle: Million Dollar Mutts (2009).
With the awful experience that was Dr Dolittle 3 still in recent memory, I tried to put off watching Tail to the Chief as long as possible, expecting more of the same inanity. The good news is that director Rich Thorne has been replaced by Craig Shapiro, who comes from directing/writing a bunch of Olsen Twins films. The surprise is that Tail to the Chief is a better film (relatively speaking). The animals spouting smartass one-liners and colloquialisms has been not exactly eliminated but certainly downplayed and are not as grating as they were in Dr Dolittle 3. There is a relative lack of emphasis on scatological humour and the film has an altogether upbeat message about conservation.
There are still a number of the annoying slapstick animal chaos scenes that the series seems to be based around – a sequence with Daisy going manic around the Oval Office, chewing up the couch, tearing the curtains down, knocking over busts and skidding across the floor on a wheeled office chair. There is an inane sequence with all the animals attacking Kyla Pratt – the birds shitting on her head, the others pelting her with eggs and tomatoes, even the anteater firing ants at her with machine-gun rapidity.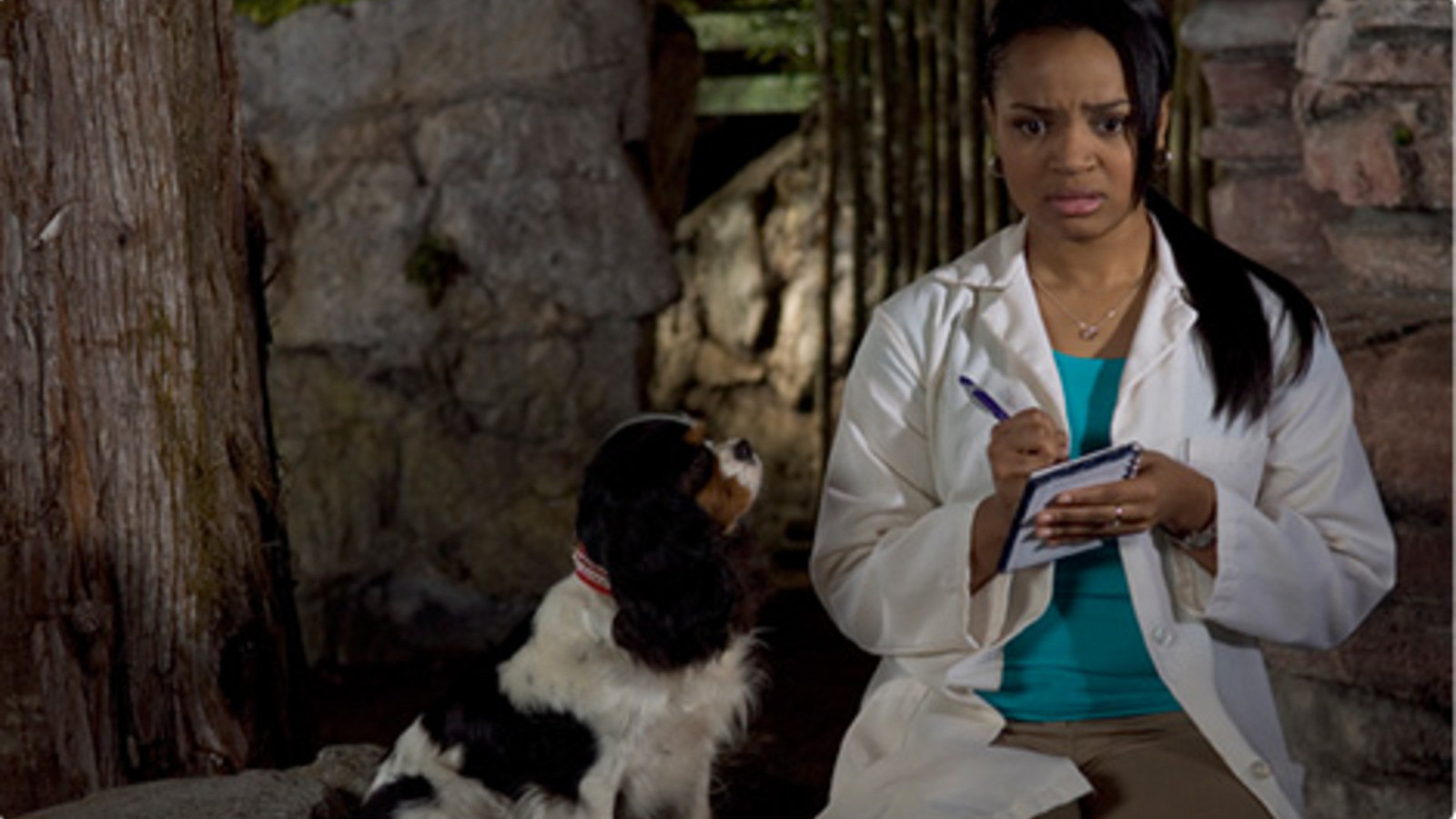 There are a few of the annoying smartass animal one-liners – Kyla Pratt arrives at the Presidential retreat to be greeted by rhinos saying, "Hey, has anyone over here got any lotion? My skin is so dry" and the giraffe quipping: "Hey, hey, how's the weather down there?" The lamest sequence is where the animals come together to conduct a break-in to Malcolm Stewart's office, which comes replete with the soundtrack's attempts to mimic the Mission: Impossible (1966-73) theme where the filmmakers clearly hadn't been granted the rights and are forced to conduct a sound-alike.
However, Dr Dolittle: Tail to the Chief is not as witlessly in-your-face as it was in Dr Dolittle 3 and gets plus points for that. The film seems much more relaxed, less frenetic in its desire to get a laugh at all costs. There are even times it attains a plaintive sincerity, like where Peter Coyote's President gives Kyla Pratt a pep talk or where she befriends the bitchy Elise Gatien. That said, it is by no means even a good film. I would rather watch something that went back to capture the essence of Hugh Lofting's books or even a sequel to the Rex Harrison Doctor Dolittle (1967) any day.
The film is also weakened by being dependent on Kyla Pratt to carry it. Pratt's performances tend to be wimpy and neurotic. If she were part of your social group, she would be the one that is always dragging the chain, complaining about something and too afraid to try new things. She simply doesn't have either the charisma or the maturity as an actor to be able to carry a film series like this. As a result of her lack of personality, these sequels are forced to pitch their stories around her lack of self-confidence in the situations she is thrust into.
Robert Downey Jr played Dr Dolittle in the subsequent Dolittle (2020), which returned far more to the tone of the original stories.
---
---