---
Crew
Director – Brett Ratner, Screenplay – Simon Kinberg & Zak Penn, Producers – Avi Arad, Lauren Shuler Donner & Ralph Winter, Cinematography – Dante Spinotti, Music – John Powell, Visual Effects Supervisor – John Bruno, Additional Visual Effects Supervisor – John 'DJ' Desjardin, Visual Effects – Cinesite (Europe) (Supervisor – Sue Rowe & Simon Stanley-Clamp), Framestore-CFC (Supervisor – Craig Lyn), Hy*Drau*lx (Supervisors – Colin Strause & Greg Strause), Kleiser-Walczak, The Moving Picture Company (Supervisor – Nicolas Aithadi), New Deal Studios (Supervisor – Ian Hunter), Soho VFX (Supervisor – Berj Bannayan & Allan Magled) & Weta Digital Inc, Makeup Effects Supervisor – Rick Baker, Makeup Effects – Special Motion Inc & W.M. Creations Inc, Production Design – Edward Verreaux. Production Company – Marvel Entertainment/20th Century Fox/Donners' Company/Ingenious Film Partners/Dune Entertainment/Major Studio Partners.
Cast
Ian McKellen (Magneto/Eric Lensherr), Famke Janssen (Dr Jean Grey), Hugh Jackman (Wolverine/Logan), Patrick Stewart (Professor Charles Xavier), Famke Janssen (Dr Jean Grey), Halle Berry (Storm/Orora Munroe), Kelsey Grammer (Dr Hank McCoy/Beast), Anna Paquin (Rogue/Marie), Rebecca Romijn (Mystique/Raven Darkholm), James Marsden (Cyclops/Scott Summers), Shawn Ashmore (Iceman/Bobby Drake), Aaron Stanford (Pyro/John Allerdyce), Ben Foster (Warren Worthington III/Angel), Ellen Page (Kitty Pryde), Vinnie Jones (Juggernaut/Cain Marko), Michael Murphy (Warren Worthington II), Ken Leung (Kid Omega), Danira Ramirez (Callisto), Josef Summer (The President), Bill Duke (Trask), Daniel Cudmore (Colossus/Peter Rasputin), Eric Dane (Multiple Man), Cameron Bright (Jimmy/Leech), Shohreh Aghdashloo (Dr Kavita Rao), Kea Wong (Jubilee), Anthony Heald (FBI Interrogator)
---
Plot
It is announced that the laboratories of Warren Worthington II have developed a serum that can cure the mutant gene and return mutants to normal human beings. This causes ripples within the mutant community. Magneto stands up to declare open war on humanity and rallies the mutants to his side. Meanwhile, Cyclops receives a mental message and returns to the lake where Jean Grey died. She bursts out of the waters very much alive, only to draw Cyclops into a kiss that drains the life from him. Professor Xavier remembers back to twenty years ago when he buried a part of Jean's personality that holds unlimited psychic powers in her unconscious and realizes that this has now emerged and taken on its own identity as the deadly Phoenix. Magneto persuades Jean/Phoenix to join his side. Together Magneto and his mutant army plan a mass attack on Worthington's laboratory on Alcatraz Island.
---
X-Men (2000) was an invigorating and exciting revival of the superhero theme. There director Bryan Singer crafted the superheroic exploits with a dynamic charge. X-Men was also responsible for kick-starting the incredibly successful spate of Marvel superhero films throughout the 00s with the likes of Spider-Man (2002), Daredevil (2003), Hulk (2003), The Punisher (2004), Fantastic Four (2005), Man-Thing (2005), Ghost Rider (2007), Iron Man (2008), Captain America: The First Avenger (2011), Thor (2011), The Avengers (2012), Guardians of the Galaxy (2014), Ant-Man (2015), Deadpool (2016), Doctor Strange (2016), Black Panther (2018), Venom (2018), Captain Marvel (2019), Black Widow (2021), Eternals (2021), Shang-Chi and the Legend of the Ten Rings (2021) and various sequels to most of these, as well as the tv series' Agents of S.H.I.E.L.D. (2013-20), Daredevil (2015-8), Agent Carter (2015-6), Jessica Jones (2015-9), Luke Cage (2016-8), The Defenders (2017), Inhumans (2017), Iron Fist (2017-8), The Punisher (2017-9), Runaways (2017-9), The Falcon and the Winter Soldier (2021- ), Hawkeye (2021- ), Loki (2021- ), WandaVision (2021- ), Moon Knight (2022- ), Ms Marvel (2022- ), She-Hulk: Attorney at Law (2022- ) and Secret Invsion (2023).
Subsequent to X-Men, Bryan Singer went onto make X2 (2003), which was a lesser film but still had some of the same vibrant kick. Bryan Singer has departed by the time of this third film, ironically to take up a project – Superman Returns (2006) – that was abandoned by X-Men: The Last Stand director Brett Ratner. Brett Ratner is a director from the commercial mainstream who rose to fame after making Rush Hour (1998) and its two sequels and has dabbled in genre material with the likes of the Christmas fantasy The Family Man (2000), the Hannibal Lecter prequel Red Dragon (2002) and Hercules (2014).
Most of the regular characters from the previous X-Men films and all of the principals – Magneto, Professor Xavier, Wolverine, Storm, Cyclops, Jean Grey, Mystique, Rogue – are back. (One did miss Alan Cumming's Nightcrawler from X2 and wondered where he had gotten to). There are few new additions – Ben Foster's Angel, British footballer Vinnie Jones as Juggernaut and especially Kelsey Grammer as Beast, while the character of Kitty Pryde, another major X-person, is brought to the fore after appearing in the background of the previous film. There are also a number of new minor mutant characters.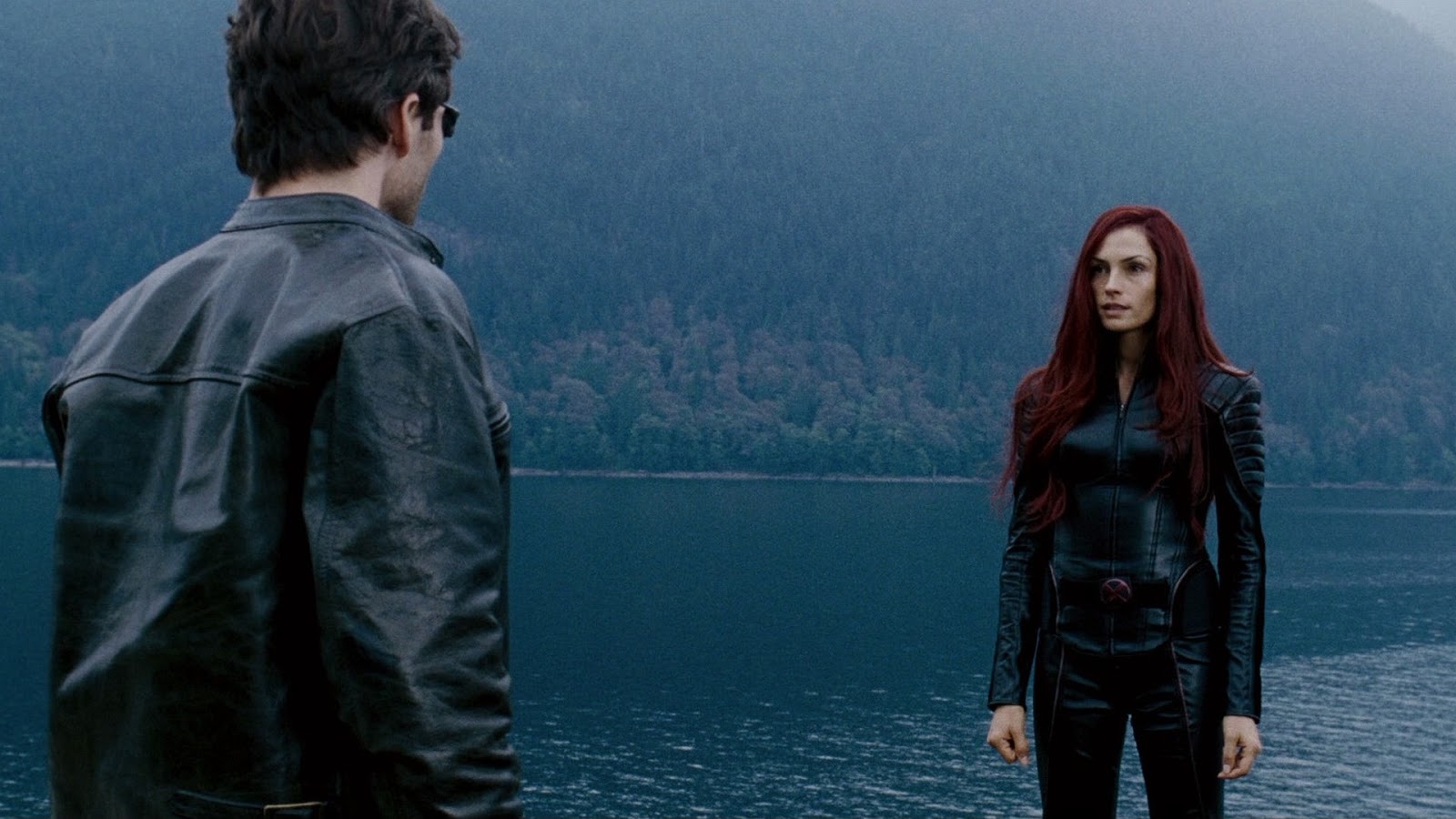 One of the great surprises about X-Men: The Last Stand is that it eliminates or strips powers from a number of the principals and radically changes the complement of both sides – indeed, it is the one film of the X-Men series that varies the most wildly from the comic-books. (In the comic-books, for example, Cain Marko/Juggernaut played by Vinnie Jones is meant to be Professor Xavier's stepbrother, while Beast is not a politician but the X-Men's gadgeteer). It may well be that the 'last stand' aspect of the film's title is intended literally and that this is to be the last film in the X-Men series. (Seemingly in evidence of this, Marvel Entertainment next announced separate Wolverine and Magneto projects, featuring respectively Hugh Jackman and Ian McKellen, but no fourth X-Men film for another five years where the series was then rebooted with a younger line-up. Patrick Stewart reprised Professor Xavier in subsequent entries, seemingly ignoring continuity estabished here). Certainly, X-Men comics fans reacted with outrage at the killing off of [PLOT SPOILERS] major characters like Professor Xavier and Cyclops, not to mention Magneto, Rogue and Mystique all losing their powers. These changes seem unnecessary (not to mention often dramatically unfounded ones) that eliminate the characters without ever giving them the chance to find the full potential they had in the comic-books.
In truth, it is these deaths/power strippings that give X-Men: The Last Stand it's only depth of character – the rest is cliché. Even then, Brett Ratner never engenders any emotion or stays around a scene to make the deaths seem tragic. It cannot help but seem bogus that regular characters are trashed so that a film can make us go through faux emotional trauma. It is certainly possible that a fourth X-Men film could be made but to get all the principals back together again would be one headache in terms of logistics. (There is a post credits ending that gives the impression that Professor Xavier has come back in another body, which shows, if nothing else, that Patrick Stewart is wanting out of the X-Men franchise).
Maybe it just took a change of director, but with The Last Stand, the X-Men film series takes a nosedive in terms of vigour. Brett Ratner lacks Bryan Singer's pizzazz in terms of staging dynamic superheroic action scenes. There are a number of scenes where the film has spectacular superheroic action – the rescue of Mystique from the armoured truck, the psychic conflagration at the Grey household – but these seem routine on screen. Maybe it is that one has become so inundated with CGI and its determination to wow us that these seem everyday, but Brett Ratner's X-Men strongly lacks it in comparison to the vitality of Bryan Singer's entries. The Last Stand is slow to start – the bulk of at least its first half is almost entirely taken up by subplots reuniting and reviving characters from the last film. Then having done so, the rest of the film seems a rehash of the basic plot of X2 wherein the various mutants factions are forced to come together to face a new threat that is intended to quash them.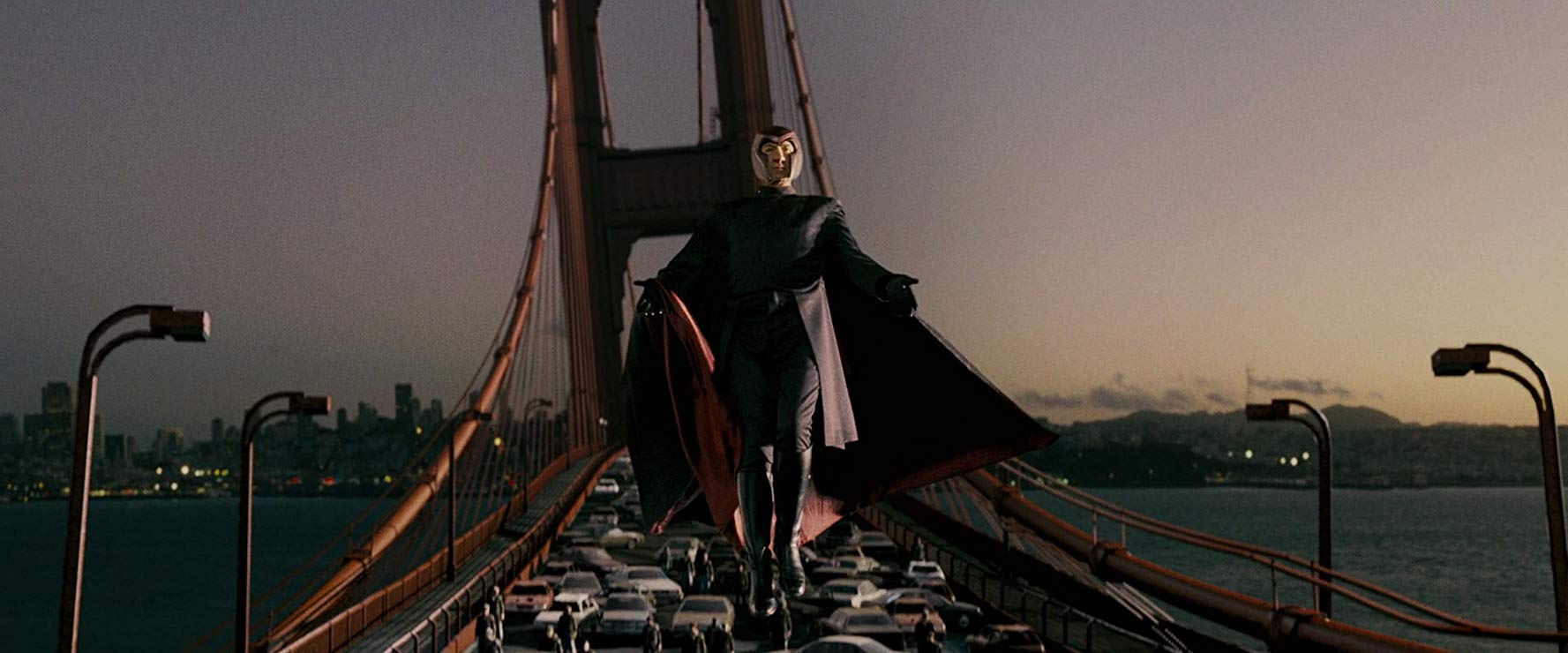 The Last Stand does pick up sufficiently at the ending to make the film not entirely a write-off. The effects – which are primarily conducted by Peter Jackson's Weta facility – offers a dazzling set-piece where Magneto tears the Golden Gate Bridge off its moorings to turn it into a crossing between the headlands and Alcatraz Island. The show delivers a slambang superheroic showdown between the competing sides outside the Alcatraz prison where Brett Ratner finally succeeds in giving the film some of the dynamism that Bryan Singer did.
Most of the difference between Brett Ratner and Bryan Singer is that Singer had an affinity for the characters, while Ratner seems trapped down at the level of melodrama. Ratner packs in far more mutants from the comic-books than Singer ever did and the show becomes busy at times, even if some of the new characters are intriguing. On the other hand, X-Men: The Last Stand is so crowded that nobody gets to do much. Angel, for instance, is given an interesting origin story and is then forgotten; the romantic triangle involving Rogue barely get any screen time. The emergence of Phoenix comes as no more than a display of special effects – with Bryan Singer you might have expected the film to delve down into the complexities of the character, here she emerges and then only spends the rest of the film whipping up special effects storms. Patrick Stewart, Hugh Jackman and Ian McKellen are expectedly professional and keep their characters on track, albeit diminished. Halle Berry has contractually demanded more character importance this time, which is a serious mistake as this brings Berry's wooden acting talents to the fore. All that we have at the end of X-Men: The Last Stand feels like a half-dozen stories that have been stripped down to no more than a few fight and visual effects sequences.
The X-Men series continued with X-Men Origins: Wolverine (2009), X: First Class (2011), X-Men: Days of Future Past (2014), X-Men: Apocalypse (2016), X-Men: Dark Phoenix (2019) and The New Mutants (2020). The Wolverine (2013), Deadpool (2016) and Logan (2017), as well as the tv series Legion (2017-9) and The Gifted (2017-9) are spinoffs of individual characters that sit within the X-Men universe continuity. X-Men: The Last Stand was parodied in Epic Movie (2007).
In genre material, Brett Ratner has also made the alternate life pathways fantasy The Family Man (2000), the Hannibal Lecter prequel Red Dragon (2002), the Happy Birthday segment of Movie 43 (2013) and Hercules (2014). He has also acted as producer on a number of genre films including Santa's Slay (2005), Mother's Day (2010), Skyline (2010), Chinese Zodiac (2012), Mirror Mirror (2012), Electric Boogaloo: The Wild, Untold Story of Cannon Films (2014) and The Water Diviner (2014).
---
Trailer here
---