France/UK. 1993.
Crew
Director/Story – Bernardo Bertolucci, Screenplay – Mark Peploe & Rudy Wurlitzer, Producer – Jeremy Thomas, Photography – Vittorio Storaro, Music – Ryuichi Sakamoto, Computer Effects Supervisor – Val Wardlaw, Special Effects Supervisor – Richard Conway, Makeup – Peter Frampton, Production Design – James Acheson. Production Company – CIBY 2000/Serprocor Anstalt.
Cast
Keanu Reeves (Prince Siddharta), Alex Wiesendanger (Jesse Conrad), Ying Ruocheng (Lama Norbu), Chris Isaak (Dean Conrad), Bridget Fonda (Lisa Conrad), Jigme Kunsang (Champa), Sogyal Rinpoche (Kanpo Tenzin), Raju Lal (Raju), Greishma Makar Singh (Geta), Rudraprasad Sengupta (King Suddhodhana)
---
Plot
A Seattle couple, Dean and Lisa Conrad, are alarmed when Buddhist monks visit them, believing that their nine year-old son Jesse is a reincarnation of their recently deceased and much revered teacher. The monks give Jesse a book that tells the story of Buddha. Jesse reads the story of Prince Siddharta. Siddharta was protected by his father from knowledge of age and poverty in the world but one day came to see such by accident and was overcome by the existence of suffering in the world. And so he travelled out into the world, giving himself over to a lifestyle of asceticism in order to understand how suffering must be overcome. Meanwhile, the monks take Jesse and Dean, along with two other children who are possible contenders for the reincarnation, on a trip to a monastery in Bhutan.
---
Bernardo Bertolucci, the director of films such as The Last Emperor (1987), The Sheltering Sky (1990) and Stealing Beauty (1996), has never been someone to denounce a head-on challenge. Here Bertolucci attempts to make a film about Buddhism. It was the first in a handful of films to tackle the subject of Buddhism and Tibet during the 1990s. Others included the likes of Martin Scorsese's Kundun (1997) and Jean-Jacques Annaud's Seven Years in Tibet (1998).
Bernardo Bertolucci's films always manage to stand halfway between a rich and sumptuous grandeur and a certain level of pretension. Little Buddha does so far more than previous Bertolucci films. One does not know about Bernardo Bertolucci's personal religious convictions, but Little Buddha is certainly a film where Bertolucci approaches his subject with an unquestioning reverence than verges on religious faith.
Despite Bertolucci's clearly personal investment, there is an odd lack of conviction to Little Buddha. For one, the title is a misnomer – Alex Wiesendanger is not the reincarnation of Buddha, and it seems hard-pressed to stretch the title to refer to Keanu Reeves who plays Buddha. For some reason, when it comes to telling the story of Buddha, Bertolucci leaves out any mention of The Eight-Fold Path, which is the essence of Buddhist teaching. The present-day story hardly convinces – indeed the most fantastic aspect of the film is probably not the miracles that surround Buddha but that the parents are prepared to believe two strangers turning up on their doorstep insisting that their nine-year old son is the reincarnation of one of their abbots and that they should give him over to be taught religion by them.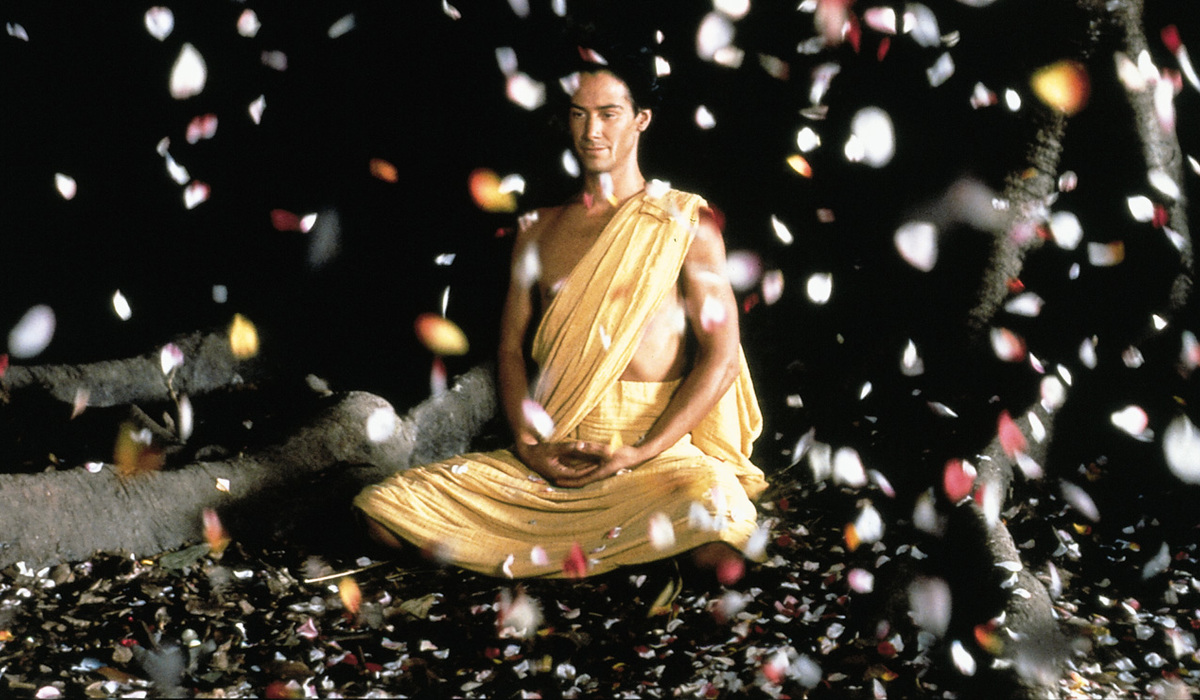 While the story itself convinces much, the film, by the end, particularly during the trip into the ritual at the monastery in Bhutan, leaves one with an odd sense of reverential awe. Particularly memorable is the picture of monks painstakingly creating a sand mandala and Ying Ruocheng's passing comment that it is made only to demonstrate the ephemerality of all things. Ruocheng gives a good performance of kind and accepting genteel, although Bertolucci does too obviously (and overly simplistically) use him to epigrammatically preach. (The film is also far from the uplifting relationship story between the old man and the young boy that the publicity machine tries to build it up into).
Bernardo Bertolucci even almost gets a performance from Keanu Reeves. Reeves should at least be admired for the extreme lengths he goes to for the role, including going on a starvation diet to portray the part of the emaciated ascetic. What the film is worth watching for, as with any Bernado Bertolucci film, is its visual spectacle. The costumery is gorgeous. Bertolucci's images of the fantastic during the flashback sequences – trees bending to aid Buddha's mother, blossoms that flower in the young child's footsteps, the Mara's conjuring up vast storms, fireballs and armies firing flaming arrows – are striking.
---
Trailer here
---