---
Crew
Director – Jay Oliva, Screenplay – Ernie Altbacker, Story – Ernie Altbacker & J.M. DeMatteis, Music – Robert J. Kral, Animation – DR Movie, Animation Directors – Yoon Jung, Sunki Kang, Hyungki Kim, Joung-gil Lee & Seungkyung Lee. Production Company – Warner Bros. Animation.
Voices
Matt Ryan (John Constantine), Jason O'Mara (Batman), Camilla Luddington (Zatanna), Nicholas Turturro (Deadman/Boston Brand), Ray Chase (Jason Blood/Etrigan), Jeremy Davies (Ritchie Simpson), Alfred Molina (Destiny), Enrico Colantoni (Felix Faust), Colleen O'Shaughnessy (Orchid), Roger R. Cross (Swamp Thing/Green Lantern), Jerry O'Connell (Superman), Rosario Dawson (Wonder Woman), J.B. Blanc (Abnegazar/Merlin), Fred Tatasciore (Ghast), Jeffrey Vincent Parise (Rath)
---
Plot
The Justice League become concerned by a series of incidents where ordinary people suddenly attack others convinced they are seeing demons. Batman contacts John Constantine. Constantine forms a team comprised of his former girlfriend Zatanna, a sorceress who maintains an identity as a stage magician; Jason Blood, a knight of Camelot who has remained immortal after being possessed by the demon Etrigan; and Deadman, the trapeze artist Boston Brand who was shot in mid-act and remains a non-corporeal entity capable of possessing the living. In investigating what is happening, they come up against the plan by demons to obtain the all-powerful Dreamstone.
---
Justice League Dark was the 27th of the DC Universe Original Animated Movies following the likes of Superman: Doomsday (2007), Batman: Gotham Knight (2008), Justice League: The New Frontier (2008), Green Lantern: First Flight (2009), Superman/Batman: Public Enemies (2009), Wonder Woman (2009), Batman: Under the Red Hood (2010), Justice League: Crisis on Two Earths (2010), Superman & Batman: Apocalypse (2010), All-Star Superman (2011), Batman: Year One (2011), Green Lantern: Emerald Knights (2011), Batman: The Dark Knight Returns Part I (2012), Justice League: Doom (2012), Superman vs. The Elite (2012), Batman: The Dark Knight Returns Part II (2013), Justice League: The Flashpoint Paradox (2013), Superman Unbound (2013), Batman: Assault on Arkham (2014), Justice League: War (2014), Son of Batman (2014), Batman vs. Robin (2015), Justice League: Gods and Monsters (2015), Justice League: Throne of Atlantis (2015), Batman: Bad Blood (2016), Batman: The Killing Joke (2016), Justice League vs Teen Titans (2016), Batman and Harley Quinn (2017), Teen Titans: The Judas Contract (2017), Batman: Gotham By Gaslight (2018), The Death of Superman (2018), Suicide Squad: Hell to Pay (2018), Batman: Hush (2019), Justice League vs The Fatal Five (2019), Reign of the Supermen (2019), Wonder Woman: Bloodlines (2019), Justice League Dark: Apokolips War (2020), Superman: Man of Tomorrow (2020), Superman: Red Son (2020), Batman: Soul of the Dragon (2021), Batman: The Long Halloween Part One (2021), Batman: The Long Halloween Part Two (2021), Injustice (2021), Justice Society: World War II (2021), Batman and Superman: Battle of the Super Sons (2022), Catwoman: Hunted (2022), Green Lantern: Beware My Power (2022), Batman: The Doom That Came to Gotham (2023), Justice League: Warworld (2023) and Legion of Super-Heroes (2023).
Justice League Dark is a regular comic-book title that was introduced by DC in 2011 and exists as part of their The New 52 line-up. It was conceived as an alternate to the regular Justice League comprised of team members who have supernatural abilities and/or are versed in dealing with magic and the occult. Placed at the centre of this was John Constantine and the team had a revolving complement that includes The Changing Man, Doctor Mist, Frankenstein, Madame Xanadu and others. Around 2013, there was purported to be a live-action film version of Justice League Dark entitled Dark Universe to be directed by Guillermo Del Toro. As of the writing of this article, this has been placed in the hands of Doug Liman.
The Justice League Dark film changes the complement of the group somewhat, eliminating many of the core members such as Doctor Mist and Madame Xanadu. The focus has been placed on John Constantine, the team leader, a character co-created by Alan Moore in 1985 who had his popular title Hellblazer for many years. Constantine has become popular through the Keanu Reeves-starring film Constantine (2005) and the much more faithful but short-lived tv series Constantine (2014-5) starring Matt Ryan. Ryan went on to reprise the role in episodes of Arrow (2012-20) and in animation here and with the subsequent web series/film Constantine: City of Demons (2018).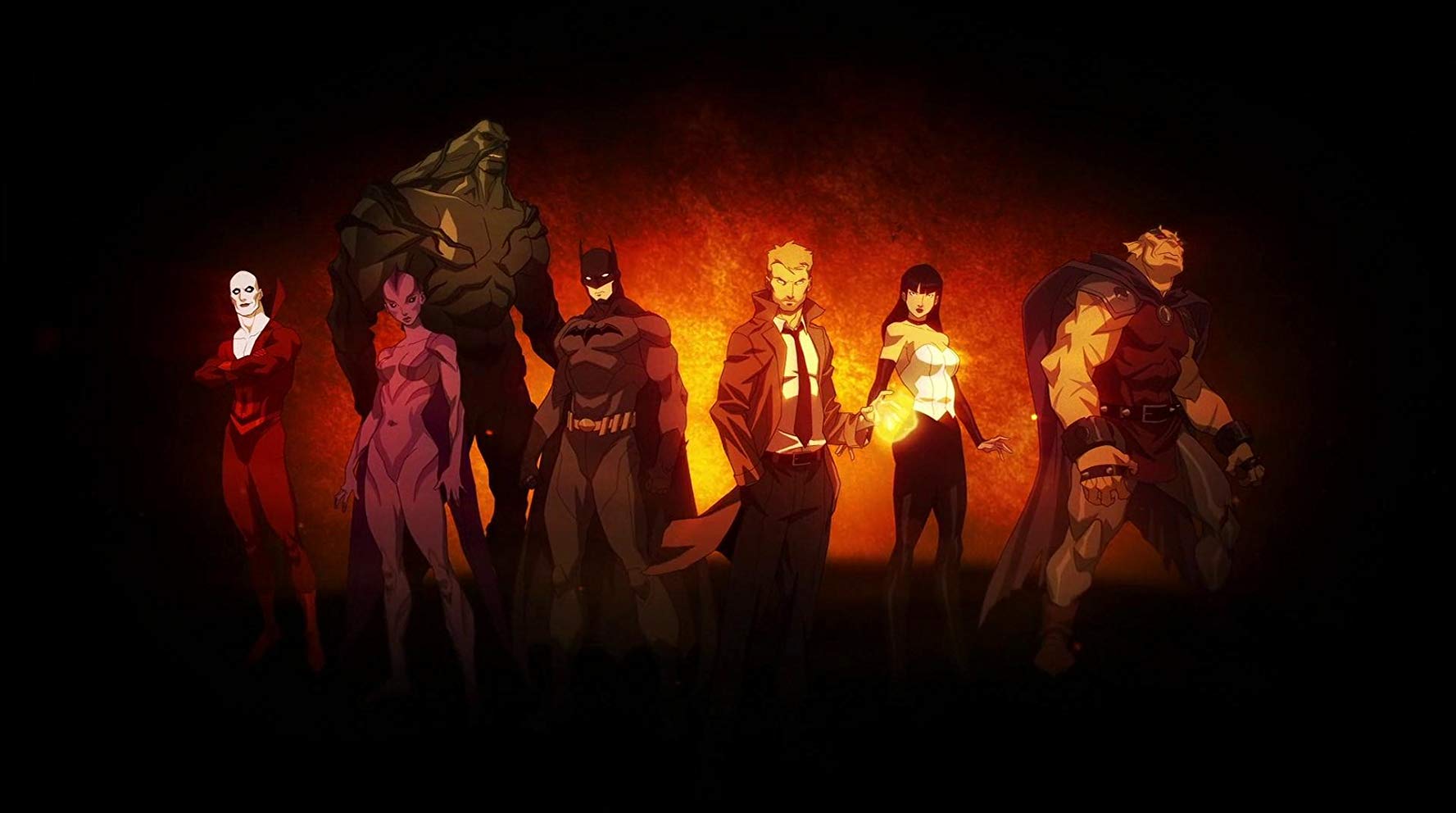 Zatanna first appeared in 1964, the daughter of the stage magician hero Zatara who goes all the way back to Action Comics #1 in 1938 (which of course featured the first appearance of Superman). Zatanna has made regular appearances since then, including even joining the regular Justice League on occasions. Deadman first appeared in Strange Adventures in 1967 and made guest appearances in various other titles, although did not receive his own comic-book until the 1980s. He has also appeared in animated episodes of Justice League (2001-4) and Batman: The Brave and the Bold (2008-11). Etrigan is a character that is not actually part of the Justice League Dark but was created by Jack Kirby in 1972 and has made sporadic appearances on the comic-book page since then. Black Orchid is the oddity of a character that has been around since 1973 but has had four completely different origin stories and makeovers, all of which the film throws out to incarnate her as a spirit of the House of Mystery.
The result is somewhat different to the usual Justice League film. The abovementioned Justice League films are based around familiar A-list DC characters – Superman, Batman, Wonder Woman, Green Lantern, The Flash and less familiar ones that have gained a public awareness through successive films and tv shows such as the Martian Manhunter, Shazam, Aquaman, Cyborg and so on. By contrast, Justice League Dark gives us a completely new line-up of characters, most of whom we have never seen on screen before. Zatanna had appeared in a few episodes of the animated Batman, Justice League and Young Justice, even a live-action appearance on Smallville (2001-11) played by Serinda Swan but none of the Justice League films, while Constantine was familiar through the film and short-lived tv incarnation. However, all of the other characters are new to the screen. (The sole exception is Swamp Thing who makes a cameo in mid-film, who had appeared in Wes Craven's Swamp Thing (1982), which also spawned a sequel and two short-lived tv series). To anchor the show with something familiar for the audience, the film gives us Batman as part of the team.
In throwing a team comprised of characters the audience are unfamiliar with at us like this, Justice League Dark resembles DC's live-action Suicide Squad (2016) from few a months earlier. The problem for both films is that the effect of doing so is confusing, unlike the way that Marvel led into The Avengers (2012) with a host of individual films that introduced each character and gave us their origin story. Thus most of Justice League Dark consists of flashbacks to tell potted accounts of each character's story, which makes for a very busy and crowded 75-minute film.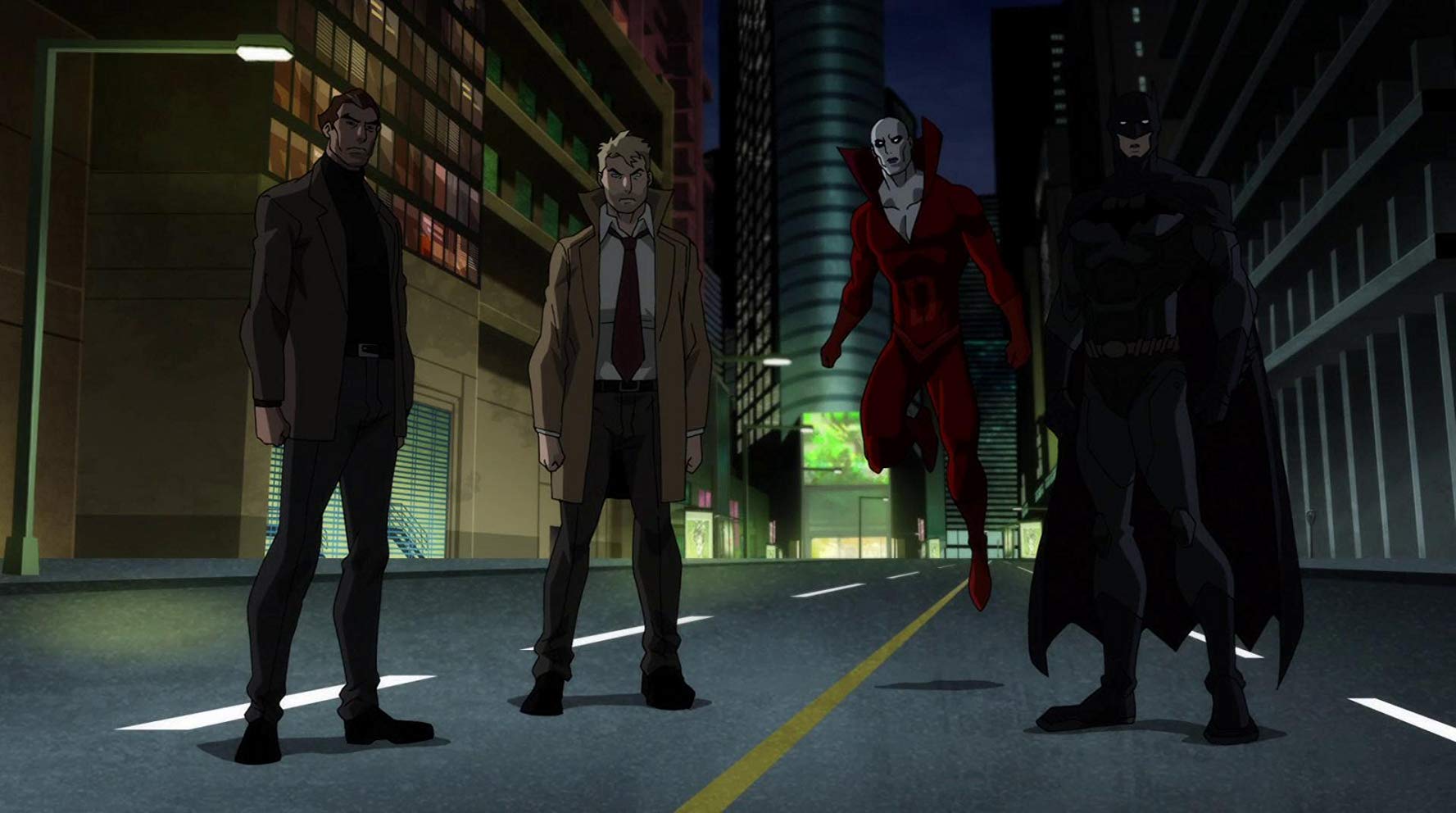 Of these origin stories, some of them fail to quite come off. I have always liked the comic-book Zatanna who comes across as smart and sexy but all she does here is spend the show bickering with Constantine. We don't even get to see her do her trademark trick of casting spells by pronouncing words backwards. Similarly, Deadman is a great character but is killed by Nicholas Turturro's thick New York accent that makes him seem like a low-level Mafioso enforcer, which I can honestly say is never the way I imagined the comic-book Deadman to be.
The other issue is that these backstories tend to crowd out what should be the A-story about the team coming together, investigating the possessions and fighting the various demons and magicians they encounter. This may well be a good thing as, to be honest, I had difficulty following what was happening and why the group was suddenly fighting one villain or creature at any point in time. It often feels like a film that exists as a set of isolated action and occult sequences where much in the way of explanatory rationale has been trimmed for the purpose of running time. I was never sure why a monster appeared out of a hospital toilet, for instance, while the random possessions that kick off the investigation seem to get forgotten about soon in. The action is adequately handled by Jay Oliva, whose name has become frequent in the DC Animated Universe – this is his eighth films for them – although for all that he is not one of the most creative or exciting directors working in the field.
Justice League Dark: Apokolips War (2020) was a sequel.
---
---