---
Crew
Director – Jon Jones, Teleplay – Bev Doyle & Richard Kurti, Mucked About by Terry Pratchett, Based on the Novel by Terry Pratchett, Producer – Sue de Beauvoir, Photography – Gavin Finney, Music – John Lunn, Visual Effects Supervisor – Simon Thomas, Special Effects Supervisor – Gabor Kiszelly, Pyrotechnic Supervisor – Gyula Krasnyanszaki, Creature Designer – Ivan Poharnok, Production Design – Ricky Eyres. Production Company – The Mob Film Company (TV) Ltd/All3Media International.
Cast
Richard Coyle (Moist Von Lipwig), Claire Foy (Adora Belle Dearheart), David Suchet (Reacher Gilt), Andrew Sachs (Groat), Charles Dance (Lord Vetinari), Mernix Van Den Broeke (Mr Pump), Nicholas Farrell (Voice of Mr Pump), Ian Bonar (Stanley Howler), Madhav Sharma (Crispin Horsefry), Tamsin Greig (Miss Cripslock), Paul Barber (Dave Pins), Steve Pemberton (Drumknott), Timothy West (Ridcully), John Henshaw (Mr Pony), Adrian Schiller (Gryle), Don Warrington (Priest), Daniel Cerqueira (Trooper), Jimmy Yuill (Mr Spools), Ingrid Bolsø Berdal (Sergeant Angua), Mike Kelly (Hobson)
---
Plot
Moist Von Lipwig is a confidence trickster who has conducted scams all across the Discworld. Finally captured in Ankh-Morpork, he is sentenced to be hung. After the hanging, he comes around to find that Lord Vetinari, the Patrician of the city, has granted him a reprieve on the condition that he accept the job of the city's Postmaster General and reopen the Post Office. Von Lipwig agrees to the latter then promptly flees – only to find that Lord Vetinari has assigned as his parole officer a golem that will hunt him down wherever he goes. Reopening the Post Office, Von Lipwig finds a mountain of undelivered mail and learns that all the previous postmasters have met sinister fates. The Post Office also appears to be haunted by something alive inside the mail. As Von Lipwig resumes operations, he finds that he has an enemy in Reacher Gilt, who runs The Clacks, the telegraph service that has taken over while the Post Office was closed, and that Gilt is prepared to use underhand methods to stop the postal service, including having sent a ghoul to kill the other postmasters. At the same time, Von Lipwig also becomes attracted to Adora Belle Dearheart, who rents out the golems, before discovering that her family used to own The Clacks network before one of Von Lipwig's fake bond scams caused the ruin of the family.
---
Going Postal – no relation to Uwe Boll's Postal (2007) – was the third adaptation of one of British comedy/fantasy author Terry Pratchett's immensely popular Discworld books. It was conducted for tv by the UK's The Mob Film Company and follows The Mob's tv mini-series adaptations of Pratchett's Hogfather (2006) and The Colour of Magic (2008). Vadim Jean, the director of the other two mini-series, steps back to take an executive producer role and the director's chair is inherited by Jon Jones who has made other British tv mini-series such as Archangel (2005), Northanger Abbey (2007), The Diary of Anne Frank (2009) and Titanic (2012). As with these other adaptations, Pratchett takes the credit of 'Mucked About by Terry Pratchett'.
This time, the mini-series adapts Terry Pratchett's 33rd Discworld novel Going Postal (2004). Where the other two Discworld tv adaptations kept general faith with the books and were enjoyable if uneven, Going Postal disappoints. For one, Jon Jones plays the story as a standard adventure. He is aware that there is a comedy element to the story but most of this is played out at the clunky and obvious physical level of a 1970s British tv sitcom – the acting is broad and over-obvious in a way that seems to be waiting for a laugh track to kick in. This is at contrast to Pratchett's humour, which mostly comes out of a dry sarcasm or a series of droll margin notes.
Part of the problem is that Pratchett started to suffer from Woody Allen Syndrome and his later books move from light knockabout comedy to more serious works with a greater emphasis on story. As a result, Going Postal seems unsure whether it wants to be a straight adventure, a fantasy comedy, or even if it is intended for adults or children, all of which appear to be the case at various intervals. There are times that Jon Jones lets things become silly – most notably the scene with a possessed Richard Coyle trying to locate the treasure. At other times, Jones indulges his pretensions – like staging the flashback scenes as silent movies right down to the intertitle cards.
The mini-series feels overlong and with too many subplots being wheeled around. You suspect the story would have worked better if it had been cut down to feature-length, some of the subplots dropped and the pacing of scenes tightened. Despite Terry Pratchett's preference for writing in a fantasy milieu, much of the mini-series oddly takes place as a mundane work with only occasional fantasy elements that are peripheral to the main story. It would not take too much, for instance, to rewrite the golems and ghouls as soldiers and assassins and tell the story as a standard Mediaeval historical piece with no fantasy elements.
Certainly, one of the more imaginative creations is a perfectly polite golem (an appealing character voiced by Nicholas Farrell), which is rather nicely brought to life as a CGI clay creature. In one of the more amusing pure-Pratchett moments, Claire Foy inspires the golems to go on strike for tea breaks even though they insist they have no need for them.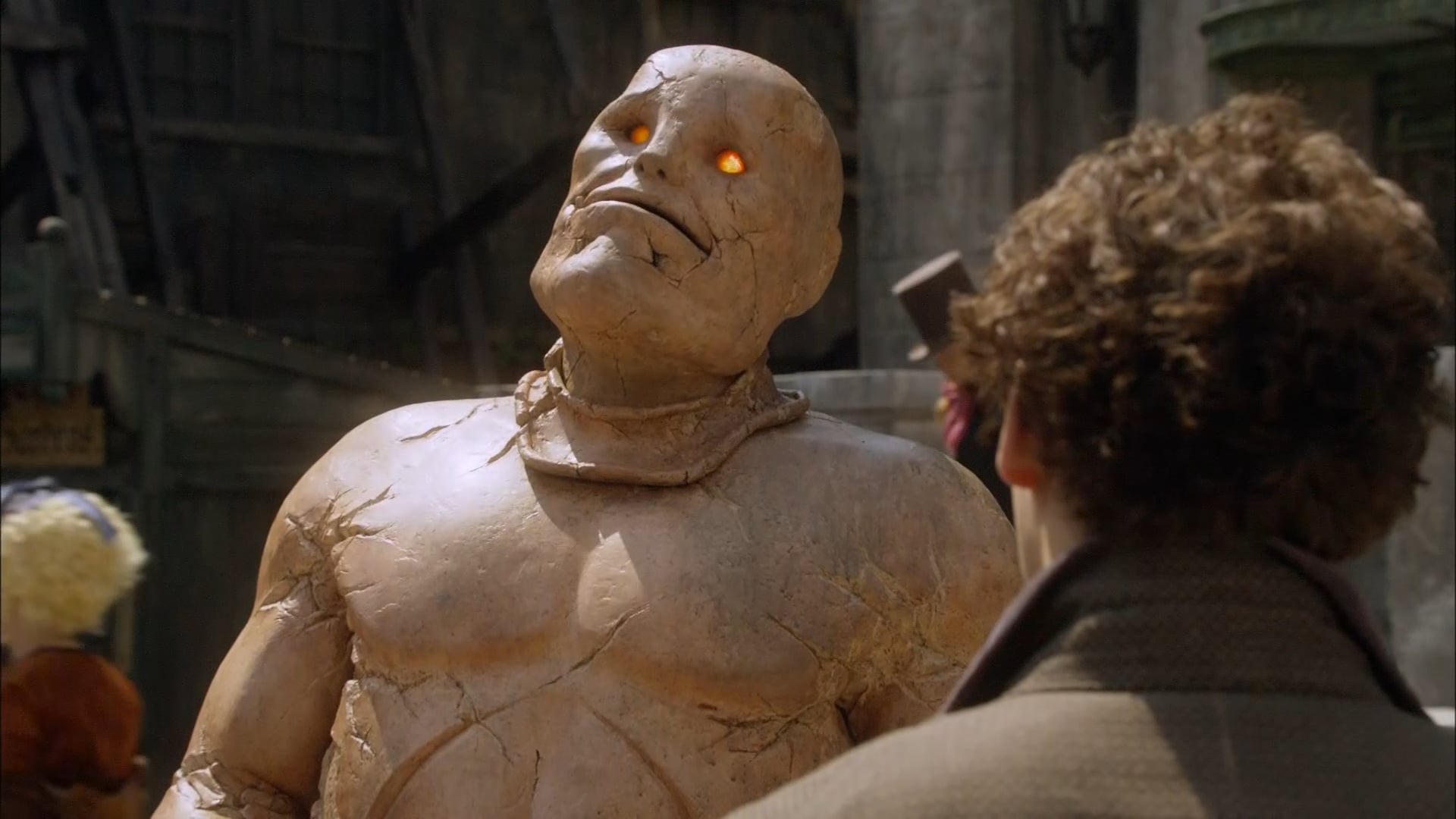 One of the problems of the mini-series is that it allows some of Terry Pratchett's more complicated plot points to go astray. I never fully understood the process of how the hackers manage to disrupt The Clacks with their code, for instance. Also at the very end, you are not sure if the letters delivered are another of Von Lipwig's scams such as when he located the treasure or if they are the voices from the undelivered mail. For that matter, the ghosts in the Post Office are a subplot that gets scanty explanation and are forgotten about in the second half following the fire.
The mini-series has a fine cast line-up. Charles Dance adds a good deal of class as Lord Vetinari. It is also nice to see David Suchet trading in Poirot for a villainous role in black cape and eye patch. In the central role, Richard Coyle plays with a likeable charm even if he seems too well polished to be the rogue that the role is meant to be. Claire Foy has cool and acidic presence opposite him – Jon Jones is more than aware of such and in one of the series' sillier moments indulges himself by momentarily placing her into a whip cracking dominatrix fantasy.
There have been several adaptations of adaptations of Terry Pratchett's books for British television. These have included:- the Claymation animated Truckers (1992) from Thames Television, a charming six-part children's series about a group of gnomes that live in a department store; Johnny and the Dead (1995) and Johnny and the Bomb (2006), two BBC mini-series about a boy who can see the dead; and two previous animated Discworld tv series adaptations, Soul Music (1997) and Wyrd Sisters (1997). Subsequently, there was also the long-planned tv mini-series adaptation of Pratchett's non-Discworld novel Good Omens (2019) and a further Discworld adaptation from the BBC with The Watch (2020).
---
Trailer here
Mini-series available online in several parts beginning here:-
---