---
Crew
Director – Martin Davidson, Screenplay – A.J. Carothers, Producer – Stephen Friedman, Photography – David M. Walsh, Music – Patrick Williams, Production Design – Albert Brenner. Production Company – Stephen Friedman/Kings Road.
Cast
John Ritter (Steve Nichols), Anne Archer (Jolene Marsh), Bert Convy (Walter Reeves), Kevin McCarthy (Calvin Donnelly), Rick Podell (Milo)
---
Plot
Struggling actor Steve Nichols is appearing dressed in a Captain Avenger costume as a promotional gimmick for the Captain Avenger movie. While stopping at a convenience store on his way home, hoods try to rob the store so Steve pops out in his costume and scares them off. This gains news headlines and Steve makes subsequent appearances to fight crime dressed as Captain Avenger. The film's PR man then tries to work out Steve's identity so that he can exploit Captain Avenger for a flagging mayoral re-election campaign.
---
Hero at Large was made at the time when the Christopher Reeve Superman (1978) and tv series such as The Six Million Dollar Man (1973-8), The Bionic Woman (1976-80), The New Original Wonder Woman (1976-9), The Amazing Spiderman (1977-9) and The Incredible Hulk (1977-81) had precipitated a big revival of interest in superheroes. Although by about the time that Hero at Large was made, the cycle had tapered off into a series of superhero deconstructions – parodies and efforts about flawed superheroes in the real world that included the likes of The Return of Captain Invincible (1983), The Adventures of Buckaroo Banzai: Across the Eighth Dimension (1984) and tv's The Greatest American Hero (1980-2).
Hero at Large is stuck with a lame premise – schmuck gets an opportunity to play a masked superhero for real, comic disparities result in his attempts to keep the pretence up. Unfortunately, the film lacks the requisite comedic energy to make it work. For most of the running time, the film plays out as a tepid romantic comedy. What a film like this needs to work is to play itself either with a greater sense of knockabout cartoonish energy – a la The Incredibles (2004) and the greatest of all superhero spoofs, tv's The Tick (1994-6) (the animated version) – or else a zanier undertow – a la Captain Invincible.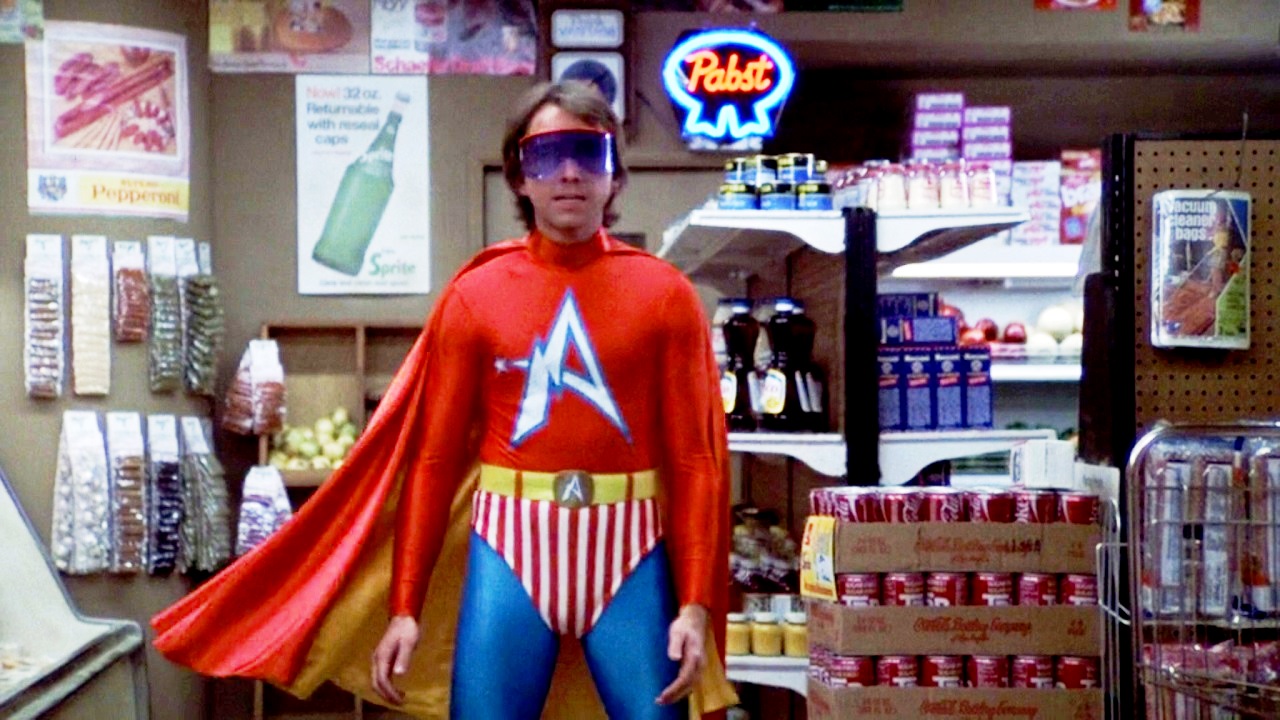 However, played out as a light romantic comedy it achieves nothing. The sight of John Ritter in pink spandex and purple visor shades prompts fits of giggles. A few years later the superhero with no powers idea was conducted far more cleverly in the likes of Special (2006), Defendor (2009), Kick-Ass (2010) and Super (2010).
Martin Davidson was a director/writer who came from a theatrical background. He had a modest hit with The Lords of Flatbush (1974) and later went on to make Eddie and the Cruisers (1983).
People might also notice a very young Kevin Bacon in a minor appearance (one of his first film roles) as one of the teens who derides John Ritter during his appearance in costume at the theatre.
---
---