---
Crew
Director – Dave Payne, Screenplay – Rob Kerchner & Scott Sandin, Producer – Mike Elliott, Photography – Christian Sebaldt, Music – Amotz Plessner, Music Supervisors – Lloyd Michael Cook II & Ron Kenan, Animation Producer – Kent Butterworth, Makeup Effects – Magical Media Monsters Inc, Production Design – Anthony Tremblay. Production Company – Saban.
Cast
Tim Curry (Gomez Addams), Daryl Hannah (Morticia Addams), Nicole Fugere (Wednesday Addams), Jerry Messing (Pugsley Addams), Pat Thomas (Uncle Fester), Carel Struycken (Lurch), Ed Begley Jr (Dr Philip Addams), Kevin McCarthy (Grandpa Addams), Estelle Harris (Grandma Addams), Alice Ghostley (Granny), Ray Walston (Walter Addams), Diane Delano (Dolores Addams), Haylie Duff (Gina), Heidi Noelle Lenhart (Melinda Addams), Hilary Shepherd Turner (Katherine Addams), Jim Jackman (Desperate Mailman), Rodger Halston (Geoff Addams), [uncredited] Clint Howard (Dogcatcher)
---
Plot
Gomez's parents come to stay but he is shocked to find they are suffering from Waltzheimers, which is causing them to start acting like normal old people. Gomez conducts a search for other Addams family members and discovers that a reunion is being held. He goes to the reunion to try to get his relative Dr Philip Addams to help cure his parents but the other Addamses are only interested in getting their share of the family patriarch's will. There Pugsley falls for a girl. Meanwhile, other normal Addamses heading for the reunion end up at the Addams Family mansion by mistake.
---
The two cinematic releases of The Addams Family (1991) and Addams Family Values (1993) were big hits. The film series would probably have continued through further sequels except that star Raul Julia died in 1994. While this should not have mattered to Hollywood commercial interests, it was evidently decided to discontinue the Addams Family cinematic series after that point.
Paramount sold out interest in the property to Saban Entertainment, the producers of a good deal of children's tv such as Samurai Pizza Cats (1991), Mighty Morphin Power Rangers (1993-6), Digimon (1999-2003) and the Casper sequels. Saban produced this cheap and terrible third Addams Family film, which was only released to video. The only person to return from any of the other films was Carel Struycken as Lurch. Subsequent to this, Saban produced the much hated live-action tv series The New Addams Family (1998-9) where the only returnee from this film was Nicole Fugere's Wednesday.
The first two Addams Family films have a delightfully droll touch – all arch mock Goth with a dash of macabre black humour but nothing too serious. Alas, by the point of Addams Family Reunion, director Barry Sonnenfeld was no longer aboard and all the arch Goth purring, all the writhing in delight at suffering, the encouraging of the children to torture better, not only falls heavily but seems to only be slavishly treading in the other films' footsteps. All the arch wit is reduced to cartoon pratfalls, which are pitched at a shrill juvenile level – the torture of the straights who end up in the house, the banquet scenes and especially the persecution of a postman in the opening scenes hit an agonising excess. Tim Curry is not Raul Julia but his fruity acting style is well suited to the part of Gomez. However, the rest of the cast, especially Nicole Fugere's Wednesday, seem pale shadows of their cinematic counterparts.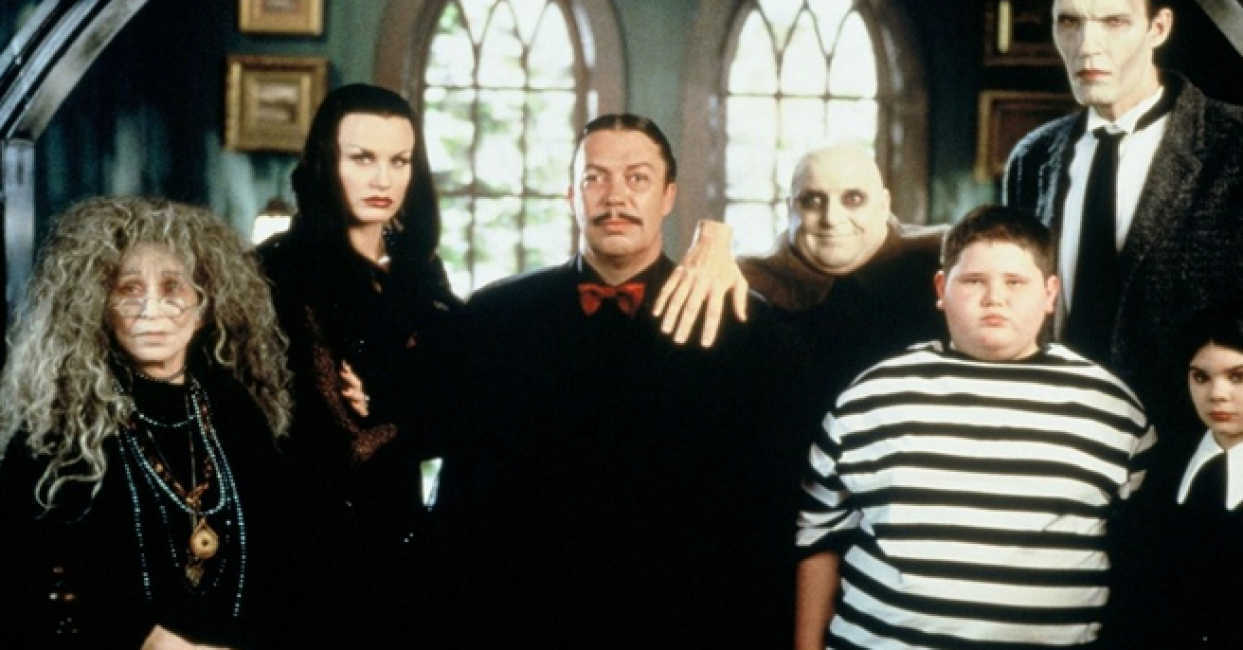 Certainly, there is the germ of something worthwhile to Addams Family Reunion. There is the amusing idea of Gomez's parents coming to visit and developing Waltzheimers, a geriatric condition that starts making them behave normally, dressing as wrinklies, watching sports on tv and mowing the lawns, all to the Addams' aghast consternation. There are various plot arcs introduced – the titular reunion, Pugsley's girlfriend – and if one can see them as enacted by Raul Julia, Anjelica Huston, Christina Ricci et all and directed by Barry Sonnenfeld, this could have actually made for a fair third Addams Family cinematic feature.
The film also takes up where Addams Family Values left off in seeing the Addams' Goth kinkiness as harmless and normal and conservative WASP values as anathema. In fact, this film goes even further and climaxes with the 'normals' being tortured – variously electrocuted, hung up and beaten in their own house, even having an atomic bomb detonated on them.
The Addams Family were subsequently revived in the animated films The Addams Family (2019) and Addams Family 2 (2021) and the Tim Burton live-action tv series Wednesday (2022- ) focusing on Wednesday (Jenny Ortega) in college.
Director Dave Payne first appeared with softcore thrillers like Concealed Weapon (1994), Showgirl Murders (1996), Under Oath (1997) and occasional genre films such as Alien Terminator (1995), Not Like Us (1995) and Alien Avengers II (1998). He had a reasonable word of mouth hit with Reeker (2005) and its sequel No Man's Land: Rise of the Reeker (2008).
---
Trailer here
Full film available online here:-
---