---
Crew
Director/Screenplay – James Gunn, Producers – Miranda Bailey & Ted Hope, Photography – Steve Gainer, Music – Tyler Bates, Visual Effects – Modus FX (Supervisor – Eloi Brunelle), Animation – Puny, Production Design – William Elliott. Production Company – Cold Iron Pictures/Hanway Films/That is That/Ambush Entertainment.
Cast
Rainn Wilson (Frank D'Arbo/The Crimson Bolt), Ellen Page (Libby/Boltie), Liv Tyler (Sarah D'Arbo), Kevin Bacon (Jacques), Michael Rooker (Abe), Gregg Henry (Detective John Falkener), Andre Royo (Hamilton), Don Mac (Mr Range), Nathan Fillion (The Holy Avenger), Sean Gunn (Toby), Stephen Blackehart (Quill), Linda Cardellini (Pet Store Employee), Laurel Whitsett (Librarian), William Katt (Sergeant Lawrence Fitzgibbon)
---
Plot
Frank D'Arbo is a short order cook who is married to recovering drug addict Sarah. He comes home one day to find that Sarah has left him and moved in with the club owner Jacques. In the midst of his upset, Frank has a vision of the finger of God coming down to touch him. He is then inspired by a religious tv show about the Christian superhero The Holy Avenger. After getting advice from the comic-book store employee Libby, he makes a masked superhero costume to become The Crimson Bolt. Wielding a wrench, he goes out into the streets in costume and batters in the heads of drug dealers, paedophiles and those who force their way ahead of him in a queue. This gains publicity on the news. However, when Frank bursts into Jacques's house to rescue Sarah, he is shot and wounded. He seeks refuge with Libby who has suspected that he is The Crimson Bolt. After patching him up, she becomes immensely excited about what he is doing and makes her own costume with the intention of becoming his sidekick, naming herself Boltie. Arming themselves more heavily, the two of them set out on Frank's intended mission of rescuing Sarah back from Jacques's clutches.
---
The superhero film has been massive at the box-office in the 00s with the notable successes enjoyed by various Marvel Comics adaptations. In recent years, the idea of the superhero spoof has taken off as a sub-genre, in particular after the success of Pixar's The Incredibles (2004), which led to a number of comedies about superheroes in domestic and ordinary situations with the likes of Sky High (2005), My Super Ex-Girlfriend (2006), Zoom: School for Superheroes (2006) and Hancock (2008).
One peculiar sub-species amid this fad was a spate of parodies about superheroes that have no powers. There have been variations on the theme before with the likes of Hero at Large (1980), Blankman (1994) and Orgazmo (1997) but all of sudden around the same time we had a spate of these no-power superhero films with the likes of Special (2006), the Disney animated talking animal film Bolt (2008), the South Korean A Man Who Was Superman (2008), the Australian Griff the Invisible (2010), the mainstream success of Kick-Ass (2010), Super and the funniest of these, the Canadian-made Defendor (2009), even a documentary Superheroes (2011) about real-life examples of people who dress up in superhero guise to fight crime.
Super was the second directorial outing from James Gunn. Gunn started working at Troma Films, co-writing Tromeo & Juliet (1996) and Troma founder Lloyd Kaufman's biography All I Need to Know About Filmmaking I Learned from the Toxic Avenger (1998), which later became the basis of Terror Firmer (1999). Gunn graduated to an A-list screenwriter of films such as Scooby-Doo (2002), Dawn of the Dead (2004) and Scooby Doo 2: Monsters Unleashed (2004), while he had previously ventured into the superhero spoof before with the little-seen The Specials (2000). Gunn made his directorial debut with the alien monster movie Slither (2006), which was construed as an affectionate homage to many of his genre favourites.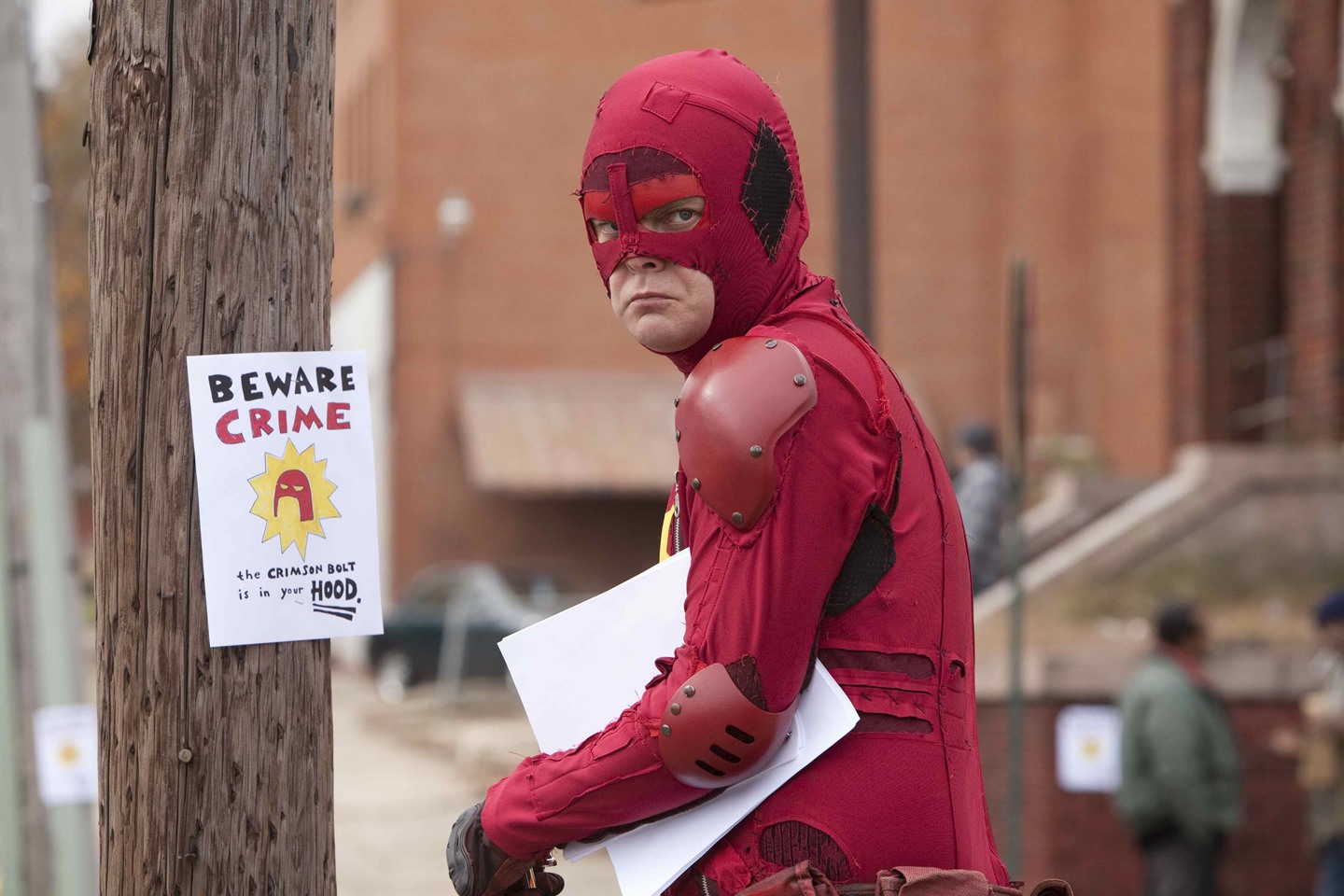 Super is one of these no-powered superhero parodies that comes with an indie sensibility. It could be a Kick-Ass pitched down to the audience for early Richard Linklater and Kevin Smith films. Gunn fills it with wackily surreal visions – like where Rainn Wilson has visions of Jesus sitting waving from a coatpeg on the wall and Wilson then being bound by tentacles that cut open the top of his skull, squirt barbecue sauce on his exposed brain and roll a hot dog across it before a glowing Finger of God comes down to touch him. There is also something of Charlie Kaufman's constant loser heroes to Rainn Wilson, especially at the ending where he saves wife Liv Tyler, only for her to go and he be left only with the heartbreaking consolation of knowing that she has at least found the person who is right for her and taking joy in being substitute godfather to her children.
Like Defendor and to a lesser extent Kick-Ass, Super is about an ordinary schmuck trying to impose the outmoded black-and-white moralities of a comic-book on today's more complex world. In all three, in order to make the idea of someone believing they are a superhero work, the films have to create the central character as someone who is a socially ill-adept schmuck – in the case of Defendor, even verging on mentally ill. In all three films, there are also very similar plots where the villain of the show is a drug kingpin.
Of course, seeing Super after both Defendor and Kick-Ass, some of its comedic deflations of the superhero start to seem familiar, albeit still undeniably amusing – images of Rainn Wilson cracking people's heads in with a wrench; throwing what he believe is a smoke bomb at hoods to make a getaway before it makes only a piddly cloud of yellow fumes that reduces them to puzzled laughter; making an escape by driving away not in a Batmobile but an ordinary vehicle; having to change into costume in the back of his car where a passing mother and child think the sight of his ass poking up in plain white underwear is a pervert.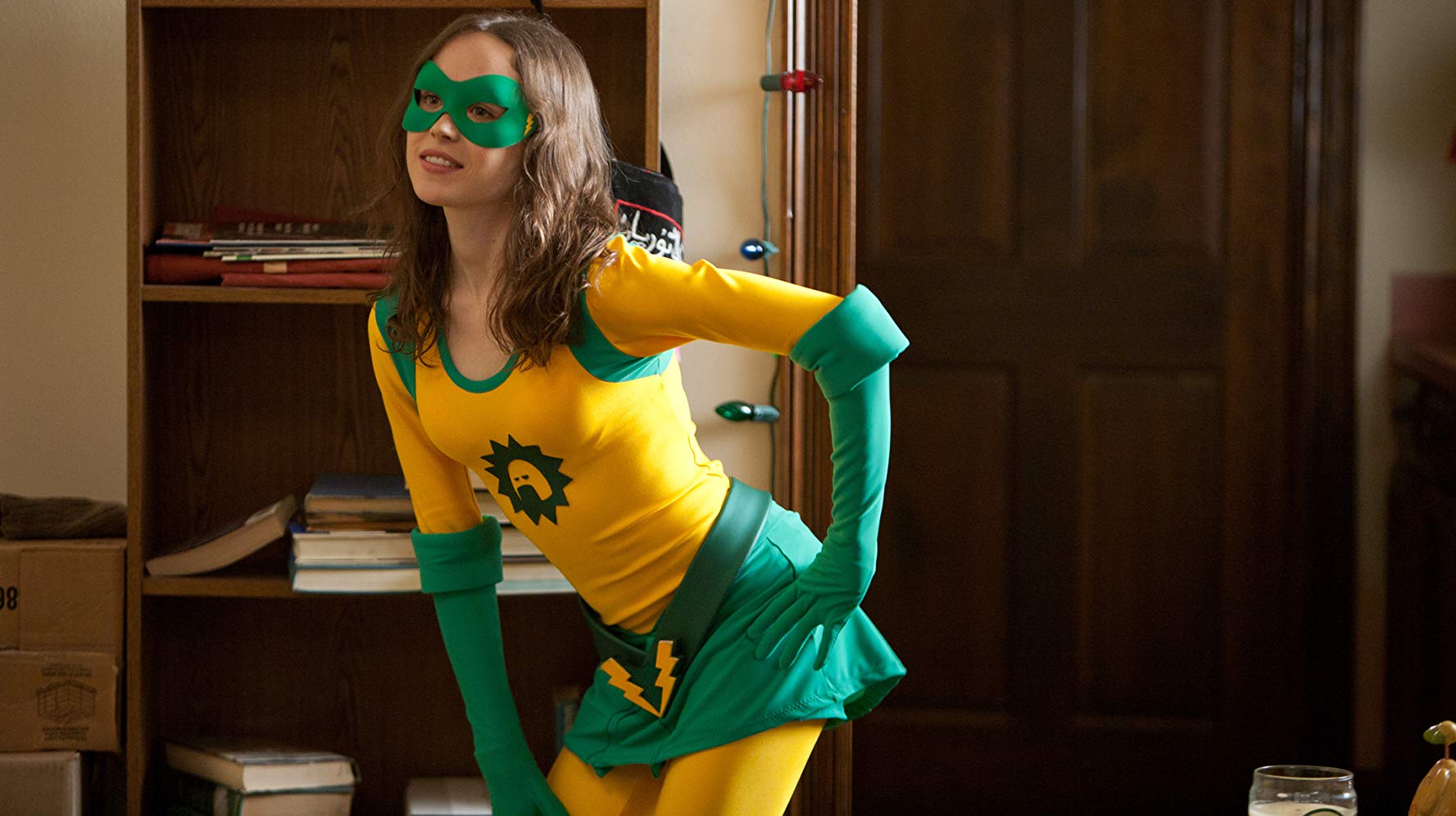 Super takes a turn from the amusing to the hugely inspired after the introduction of Ellen Page, playing the wannabe sidekick to Rainn Wilson where Page gives the impression that she has stepped in from a casting call for Ghost World (2001). Her leap into the crimefighting, getting him to beat up a guy that she merely thinks keyed a friend's car, ramming the car into a thug that is attacking Rainn Wilson to crush him against a wall is hilarious – as well as pushes the superheroic crusade into a decidedly dubious moral territory. Not to mention the sidesplitting seduction scene that she plays out – which quite possibly may well have created a new form of superhero fetish that is going to pop up in the real world. Ellen Page gives such a live wire performance that it becomes [PLOT SPOILERS] a genuine shock when she is killed off near the end – you want her to succeed more than you necessarily do likeable loser Rainn Wilson.
James Gunn has managed to bring together an amazing cast line-up that would surely be the envy of any much better-budgeted film, including bit parts from Michael Rooker, Gregg Henry, Nathan Fillion, William Katt and Scooby Doo heroine Linda Cardellini. Kevin Bacon, who would essentially play the same role for serious the following year in X: First Class (2011), has a great deal of fun sleazing it up as the villain of the show.
James Gunn subsequently made the Beezel segment of Movie 43 (2013), the Marvel Comics adaptation Guardians of the Galaxy (2014) and its sequel Guardians of the Galaxy: Vol. 2 (2017), and The Suicide Squad (2021), as well as to write The Belko Experiment (2016). Gunn also created the tv series tv series Peacemaker (2022- ) and is producer of the anti-superhero film Brightburn (2019) and Avengers: Endgame (2019).
(Nominee for Best Actress (Ellen Page) at this site's Best of 2010 awards)
---
---