---
Crew
Directors/Screenplay – Jason Friedberg & Aaron Seltzer, Producer – Paul Schiff, Photography – Shawn Maurer, Music – Ed Shearmur, Visual Effects Supervisor – Ariel Velasco Shaw, Special Effects Supervisor – Mark Byers, Visual Effects – Amalgamated Pixels Inc, Digital Dimension, Handmade Digital & Pixel Magic (Supervisor – Ray McIntyre Jr), Makeup Effects – Matthew W. Mungle, Harry Beaver Effects – Creature Effects Inc, Production Design – William A. Elliott. Production Company – New Regency Pictures/Schiff.
Cast
Adam Campbell (Peter), Kal Penn (Edward), Jayma Mays (Lucy), Faune A. Chambers (Susan), Jennifer Coolidge (White Bitch), Hector Jimenez (Mr Tummus), Fred Willard (Aslo), Crispin Glover (Willy), Tony Cox (Bink), Darrell Hammond (Captain Jack Swallows), Carmen Electra (Mystique), Katt Williams (Harry Beaver), David Carradine (Museum Curator), David Lehre (Ashton Kutcher Lookalike), Jim Piddock (Magneto), Kevin McDonald (Harry Potter), James Walker Sr (Samuel L. Jackson Lookalike), Gregory Jbara (Mel Gibson Lookalike), George Alvarez (Ron), Crista Flanagan (Hermione), Jareb Dauplaise (Nacho Libre), Alla Petro (Paris Hilton Lookalike), Danny Jacobs (Borat), Groovy (Wolverine), Lindsey Kraft (Rogue)
---
Plot
Four orphans from around the world – Lucy, who finds her Paris museum curator uncle murdered and a trail of cryptic clues; Edward, who has been raised in a Mexican monastery with a priest who is a masked wrestler; Susan, who finds herself aboard a plane filled with snakes; and Peter, who grows up in a school of mutants and is bullied because of his chicken wings – receive a ticket that invites them to go on an adventure at a magical chocolate factory. Fleeing from the factory's creepy owner Willy, they enter a room where a mysterious cupboard takes through to a snowy kingdom known as Gnarnia. There, Lucy meets a rapping faun, while Edward is seduced by the White Bitch that rules the land. The White Bitch wants to kill all of them to prevent a prophecy that says four orphans will be her downfall.
---
Epic Movie comes from the writing team of Jason Friedberg and Aaron Seltzer. Friedberg and Seltzer came to attention as, as the publicity tells us, "two of the six writers of Scary Movie (2000)". Scary Movie and its sequels, which Friedberg and Seltzer were not involved with, created the modern movie parody, which essentially came out of quoting several films of recent vintage and running them over with a series of vulgar gags. Seltzer next directed and he and Friedberg co-wrote Date Movie (2006), which applied the Scary Movie style of film parody to the romantic comedy. Seltzer and Friedberg co-write and co-direct Epic Movie, which features many of the same production crew as Date Movie, as well as return performances from Adam Campbell, Jennifer Coolidge, Fred Willard, Tony Cox and Carmen Electra.
Date Movie received some of the worst reviews of 2006 and Epic Movie the same for 2007. The first thing you notice about Epic Movie is that it is not an epic movie at all. When you think of epic movies, what comes to mind is the Biblical spectaculars of the 1950s like The Ten Commandments (1956) and Ben Hur (1959) or else the disaster movies of the 1970s like The Poseidon Adventure (1972) and The Towering Inferno (1974). One does not have a problem with the term 'epic movie' being extended to the recent spate of heroic fantasy adventures, most notably Peter Jackson's The Lord of the Rings trilogy – The Lord of the Rings: The Fellowship of the Ring (2001) et al.
Unfortunately, Epic Movie is not for the most part a parody of any of these types of epic movies. What it is is a parody of a stack of fantasy films that came out in about the twelve months prior that have been run together without the slightest coherence, let alone for the most part any connection to the notion of being an 'epic movie'. [Ironically, Friedberg and Seltzer's subsequent movie parody Meet the Spartans (2008) has a much more legitimate entitlement to the term 'epic movie' than anything here does].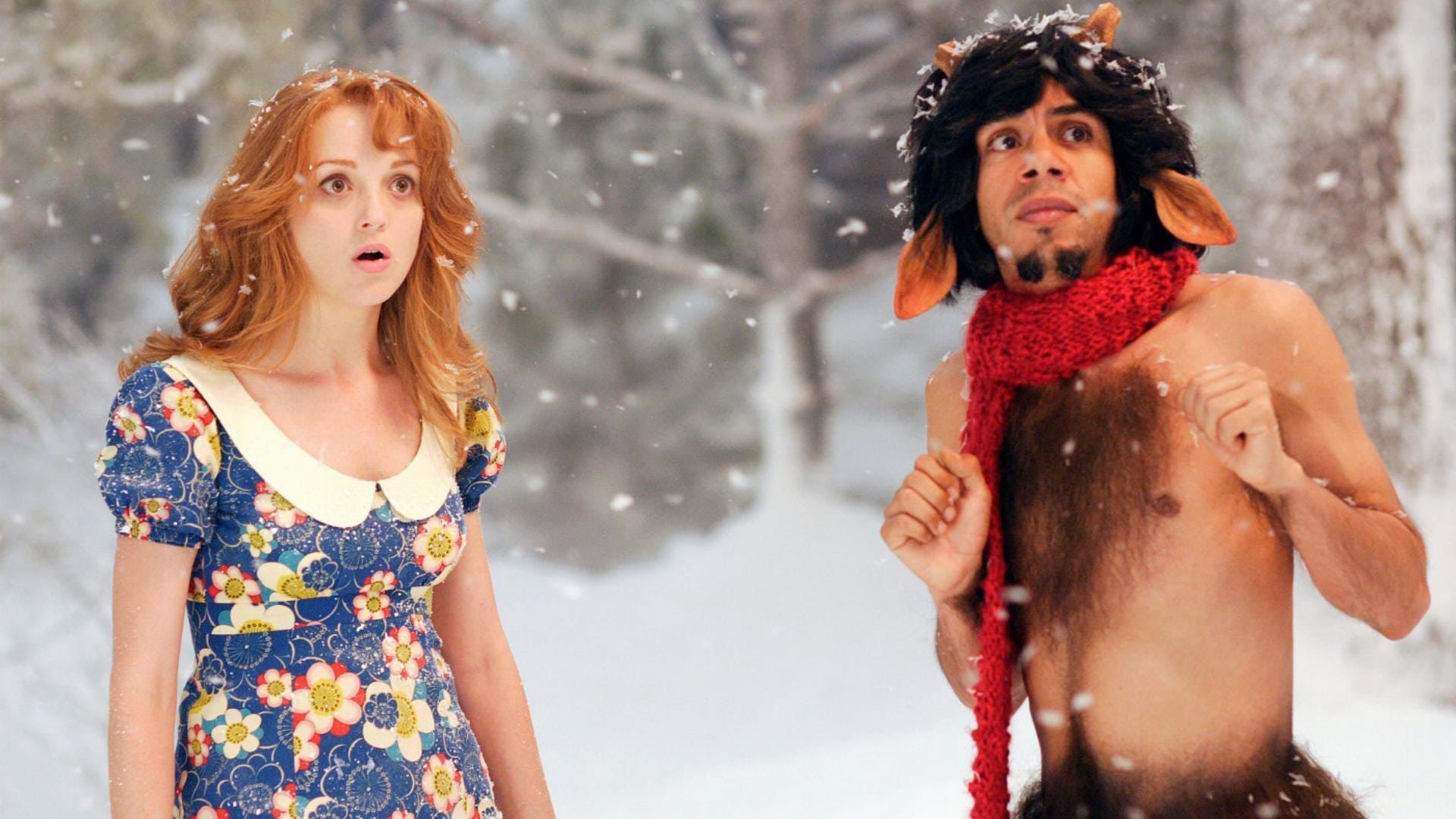 Thus we get parodies of:- The Da Vinci Code (2006) – Jayma Mays grows up with an uncle who works in The Louvre and rises from the dead to give her clues by playing Charades, the albino enjoys the flagellation and there are jokes about Tom Hanks's haircut; Nacho Libre (2006) – Kal Penn grows up in a Mexican orphanage with a priest who is a masked wrestler; Snakes on a Plane (2006) – James Walker Sr does a lame parody of Samuel L. Jackson's one-liners; the X-Men films – Carmen Electra spoofing Mystique's seduction scene from X2 (2003), while Adam Campbell develops chicken wings in a parody of Ben Foster's Angel in X-Men: The Last Stand (2006); of Charlie and the Chocolate Factory (2005) with Crispin Glover doing an impression of Johnny Depp and the river of chocolate predictably turning out to be coming from a sewer pipe; the bullet in the eye scene from Superman Returns (2006); David Lehre conducting a parody of Ashton Kutcher's ultra-annoying manner in tv's Punk'd (2003-7); jokes about the Harry Potter films; a lookalike of Johnny Depp's Captain Jack Sparrow from the Pirates of the Caribbean films and the rolling mill wheel scene from Pirates of the Caribbean: Dead Man's Chest (2006); while the remote control from Click (2006) turns up in the middle of the battlefield.
The bulk of the film is set around a parody of The Chronicles of Narnia: The Lion, The Witch and the Wardrobe (2005) and includes rapping fauns and numerous bestiality jokes. There are even appearances of lookalikes of V from V for Vendetta (2006), Daniel Craig's blonde James Bond from Casino Royale (2006) and of Sacha Baron Cohen's Borat from the hit mockumentary Borat: Cultural Learnings of America for Make Benefit Glorious Nation of Kazakhstan (2006).
The most notable thing about these is how most of these references are only about films that came out in 2006. And what most of these films have to do with epic movies is a scratch of the head. There are surely other films of recent note like Gladiator (2000), Alexander (2004), Troy (2004) or King Kong (2005) that would have more aptly fitted the description of 'epic movie' than any of the films quoted here.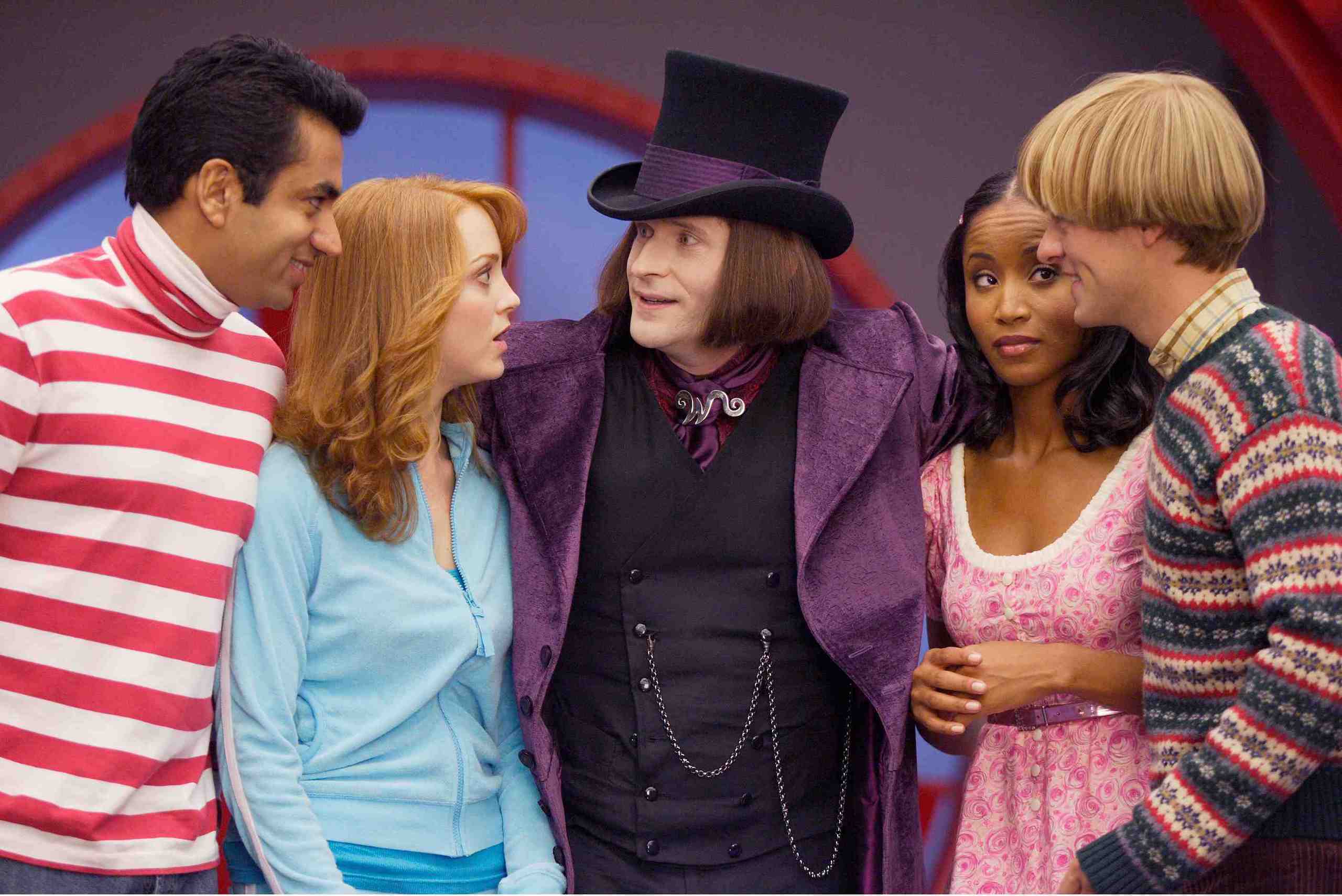 And while Friedberg and Seltzer spoof The Lion, The Witch and the Wardrobe, the great surprise is that they never touch the massively successful and even more popular Peter Jackson The Lord of the Rings. With equal arbitrariness, there are a handful of jokes about real world figures – a Paris Hilton lookalike gets crushed early on in the show; The White Bitch's policies seem to be making some sort of snide jibe at George W. Bush, and if you sit through the end credits a post-DUI Mel Gibson look-alike turns up in the cell with Kal Penn.
Date Movie's failing was that it was a series of movie quotes in search of something funny to say. Seltzer and Friedberg seemed to mistake simply quoting a scene from another film for a joke in itself. Little has changed here. What humour there is is pitched down at a frequently crude level – gags about peeing in the snow, lots of bestiality jokes regarding the fauns and beavers that go on and on, Aslo taking the kids to bed with him and so forth. Sadly, there is nothing in Epic Movie that is funny at all. There is nothing to it as a film beyond making a barrage of references to other films of recent memory and peppering these with lavatory humour. There are also a number of irritating rap songs run over much of the film.
Earlier, Jason Friedberg and Aaron Seltzer had co-written the film spoof Spy Hard (1996), directed by Jason's father. They subsequently went onto do exactly the same as they did in Epic Movie, spoofing the films that came out in the last year, with Meet the Spartans (2008), Disaster Movie (2008), Vampires Suck (2010), The Starving Games (2013), Best Night Ever (2013) and Superfast! (2015).
(Winner in this site's Worst Films of 2007 list).
---
Trailer here
---