USA. 1992.
Crew
Director/Photography – Peter Hyams, Screenplay – Jim Jennewein & Tom S. Parker, Story – Jim Jennewein, Tom S. Parker & Richard Siegel, Producer – James G. Robinson, Music – Bruce Broughton, Visual Effects – Rhythm and Hues Inc (Supervisor – John Nelson), Animation – Chuck Jones Productions, Special Effects Supervisor – John Thomas, Prosthetics – Burman Studios, Makeup Design/Application – Alec Gillis & Tom Woodruff Jr, Production Design – Philip Harrison. Production Company – Morgan Creek.
Cast
John Ritter (Ray Knable), Pam Dawber (Helen Knable), Jeffrey Jones (Mr Spike), David Tom (Darryl Knable), Heather McComb (Diane Knable), Eugene Levy (Crowley), Erik King (Pierce)
---
Plot
While arguing with her husband Ray over him spending all his time as a couch potato in front of the tv, Helen Knable becomes so annoyed that she throws a statuette through the tv set. Ray then receives a visit from Mr Spike who offers him a trial offer of a giant satellite system – all he has to do to purchase it is to sell his soul. Ray and Helen argue over the new set. When she hits it, they are both sucked inside. They find themselves in Hell where Mr Spike runs a giant tv network for The Devil where souls must compete for their lives. Ray and Helen can win their freedom if they can survive 24 hours running through various lethal versions of familiar tv shows.
---
Peter Hyams made a number of underrated genre films in the 1980s – Capricorn One (1978), Outland (1981) and 2010 (1984), as well as producing The Monster Squad (1987). Hyams then fell silent within the genre for the better part of the next decade, during this time making various unexceptional thrillers such as Running Scared (1986), The Presidio (1988) and Narrow Margin (1990). In the 1990s, Hyams made a comeback to genre material. He was clearly working as a commercial director-for-hire but during this time made a number of sf and action films. He made his return to the genre with Stay Tuned and would go onto make other genre efforts such as Timecop (1994), The Relic (1997), End of Days (1999) and A Sound of Thunder (2005). It should be noted among these that Hyams was no longer writing his own screenplays and that none of these films were invested with any of the standout quality that his earlier works have.
Stay Tuned is a lame satire on television. It is not much more than a handful of skits for some satirical review that have somehow gained a feature-length budget. The exercise seems to have only been construed as a series of channel flips between satiric takes on films and tv shows – thus we get sketches like Three Men and Rosemary's Baby, Thirtysomething to Life, Northern Overexposure, an exercise channel called The Exorcisist, a parody of Wayne's World (1992) called Duane's Underworld, The Home Shoplifting Channel, Driving Over Miss Daisy. The parodies even keep going as the end credits play – David Dukes of Hazard, Unmarried with Children, Fresh Prince of Darkness, Murder She Likes, The Golden Ghouls, I Love Lucifer. Many of these have not been though out beyond the title pun. The one laugh the film gets is when John Ritter walks into reruns of Three's Company (1977-84) and reacts in horror – but even that seem a fairly lame joke.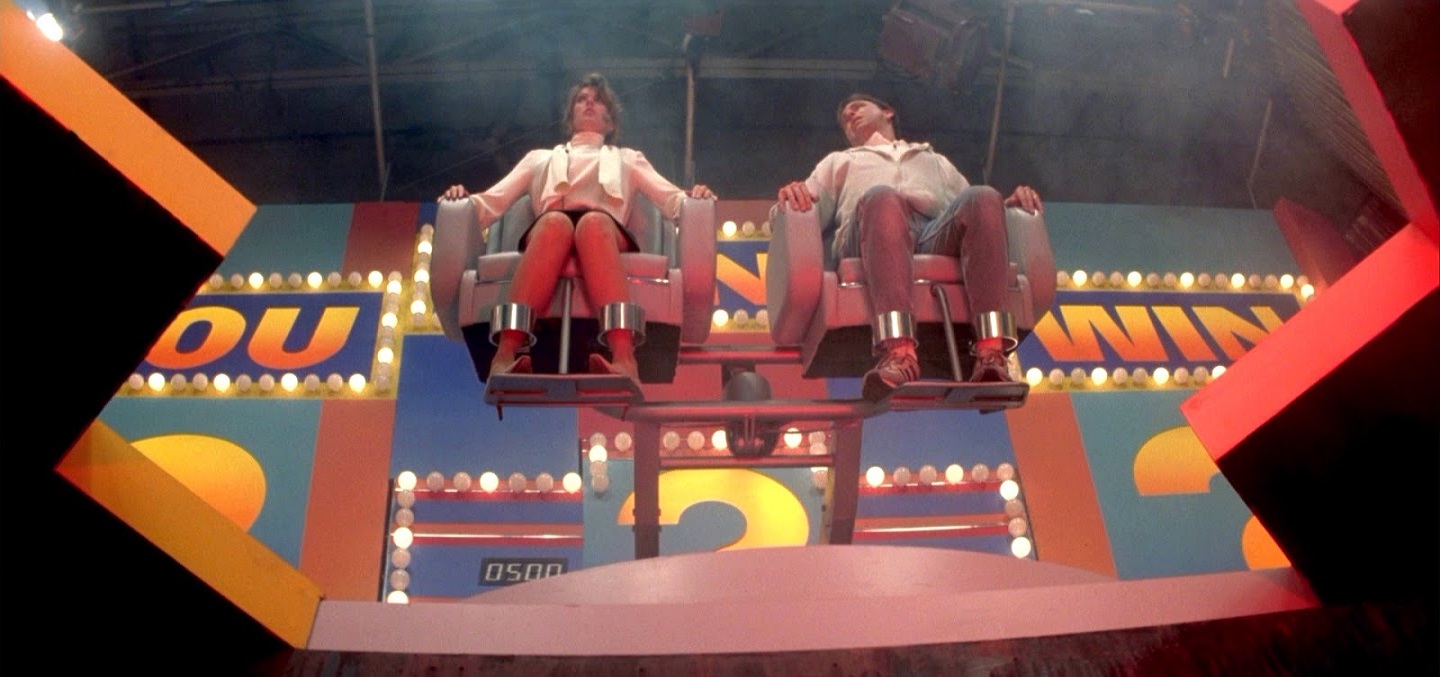 Certainly, the film's ridiculously ill-conceived premise of a Hellish tv network is not enough to stretch to any dramatic structure that adequately incorporates these skits. Everything else about Stay Tuned is badly made. The cartoon segment from Bugs Bunny creator Chuck Jones is disappointingly poor. Pam Dawber is bland, while John Ritter gives a performance that consists almost entirely of double-takes.
Peter Hyams' other genre films include:- Capricorn One (1978) about a faked Mars landing; Outland (1981), an action film set on one of Jupiter's moons; 2010 (1984), an excellent and underrated sequel to 2001: A Space Odyssey (1968); the time travel/action film Timecop (1994); the monster movie The Relic (1997); the End Times action film End of Days (1999); and the Ray Bradbury adaptation A Sound of Thunder (2005). In between these, Hyams has also made action films and thrillers like Running Scared (1986), The Presidio (1988), Narrow Margin (1990), Sudden Death (1995) and The Musketeer (2001). Hyams has also produced the quirkily appealing Universal monster homage The Monster Squad (1987).
---
Trailer here
Film online in several parts beginning here:-
---