---
Crew
Directors – Nicholas Stoller & Doug Sweetland, Screenplay – Nicholas Stoller, Producers – Brad Lewis & Nicholas Stoller, Photography Director – Simon Dunsdon, Music – Jeff Danna & Mychael Danna, Visual Effects Supervisor – David Alexander Smith, Animation Supervisor – Joshua Beveridge, Animation – Sony Pictures Imageworks, Production Design – Paul Lasaine. Production Company – Warner Animation Group/Ratpac-Dune Entertainment.
Voices
Andy Samberg (Junior), Katie Crown (Orphan Tulip), Kelsey Grammer (Hunter), Anton Starkman (Nate Gardner), Ty Burrell (Henry Gardner), Jennifer Aniston (Sarah Gardner), Stephen Kramer Glickman (Pigeon Toady), Keegan-Michael Key (Alpha Wolf), Jordan Peele (Beta Wolf), Danny Trejo (Jasper)
---
Plot
For centuries, storks have delivered babies. Now at Consumerstore.com under the hawk CEO Hunter, the operation has been turned around to the delivery of parcels. The stork Junior is informed by Hunter that he is about to be promoted to be the boss. He is given one task to perform first – that of firing Tulip, a human orphan who has lived in the factory ever since her stork Jasper went crazy during delivery and the sensor containing directions of where to take her was destroyed. Tulip causes chaos in the factory whenever she gets involved with anything. She has just turned eighteen and Hunter wants to be rid of her. However, Junior cannot bear to hurt Tulip's feelings and instead puts her in charge of the mailroom with orders to never come out. Meanwhile, young Nate Gardner is unhappy that his parents are always too busy with their real estate business to play with him and decides he wants a baby brother. He finds an old stork pamphlet in the attic and writes a letter to Consumerstore.com. The letter is duly delivered to Tulip in the mailroom. Before Junior can stop her, Tulip reactivates the baby-making machinery and produces a baby. Trying to stop Hunter finding out, Junior decides the only choice is to deliver the baby to the Gardners. Tulip unveils a flying machine she has built and they set forth. The journey is beset all the way by the schemings of Hunter, a wolf pack that attach themselves to the baby and the lurking Jasper.
---
Storks was an animated film from Warner Brothers, a company that has a great association with animation since the heyday of Looney Tunes but has had uneven success ever since in trying to dip their toes into feature-length animation. The latest incarnation of this, Warner Animation Group, did previously produce the unexpected hit of The Lego Movie (2014) – even though all the actual animation there was shipped out to Sony Pictures Imageworks – and that film's directors Phil Lord and Chris Miller serve as executive producers here.
Storks is co-directed by Doug Sweetland, a former Pixar animator making his directorial debut, and Nicholas Stoller who has previously worked in live-action comedy, directing the likes of Forgetting Sarah Marshall (2008), Get Him to the Greek (2010), The Five-Year Engagement (2012) and Neighbors (2014) and sequel, as well as writing the scripts for Fun with Dick and Jane (2005), Yes Man (2008), Gulliver's Travels (2010), The Muppets (2011), Muppets Most Wanted (2014), Sex Tape (2014), Zoolander 2 (2016), Captain Underpants: The First Epic Movie (2017) and Dora the Explorer and the Lost City of Gold (2019).
Mainstream-released animation has become a soulless experience for me in the last couple of years, I always having enjoyed it for the most part – I am looking at you Blue Sky Studios and Illumination as particularly guilty offenders. It has become so formulaic, so lacking in creativity and so bent to pandering to the single digit age-groups that I refuse pay good money to go and see it any more (for the most part) and will usually wait until a download copy becomes available. That said, every so often one of these films ends up surprising one. Storks did zero for me in any of the pre-publicity but it was a film that proved rather enjoyable when I eventually sat down to watch.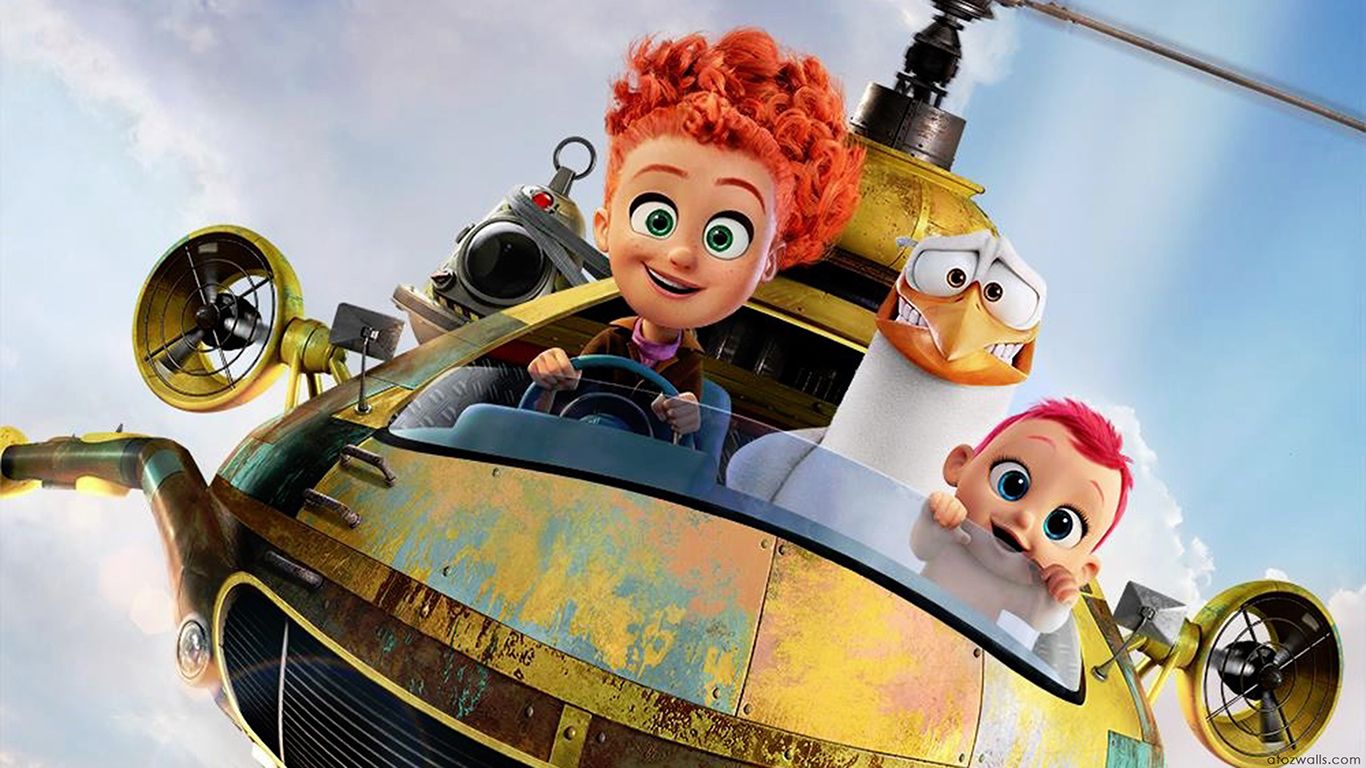 Storks plays on the myth of storks being the ones that deliver babies as a polite means of parents avoiding discussing sex with  children. The idea is an old one but appears to have been popularised by the Hans Christian Andersen fairytale The Storks (1839). This is a modern telling so we get a more topical story about an evil corporate head who has refashioned baby-delivery into a parcel shipping service. Unlike the traditional function that the idea of babies delivered by stork has offered – an alternative to sex – it is assumed here that we live in a peculiar contemporary world where storks delivering babies is a perfectly acceptable method that sits alongside standard sexual reproduction.
Storks is a very baby-centric production. It is assumed the every living creature – from the storks to a wolf pack – have an innate ability to suddenly become hypnotised and go gooey-eyed at the sight of a human baby. It is even regarded as a major danger for the storks to make eye contact with the babies they deliver. The film makes a good deal of mileage out of this. I don't have any unfulfilled parenting instinct so these sections didn't do much for me.
What does work however is the film's sense of humour that comes with an appealing wackiness. Of particular amusement is the wolf pack that are constantly assembling into formations – a wolf bridge, a wolf boat, a wolf submarine (that automatically starts pinging as it heads off), a wolf minivan (with wolves acting as seatbelts) and a wolf plane before the wolves realise they have forgotten about gravity and promptly fall over the side of a cliff. The other appealing sequence is the efforts to rescue the baby from being carted away by the penguins where the fight has to take place with all the parties moving silently so as not to wake the sleeping baby.
---
---