---
Crew
Directors – Greg Tiernan & Conrad Vernon, Co-Directors – Laura Brousseau & Kevin Pavlovic, Screenplay – Susanna Fogel, Dan Hernandez, Ben Queen & Benji Samit, Story – Dan Hernandez & Benji Samit, Producers – Gail Berman, Alison O'Brien, Danielle Sterling & Conrad Victor, Music – Jeff Danna & Mychael Danna, Animation – Cinesite, Animation Director – Graham Silva, Visual Effects Supervisor – Neil Eskuri. Production Company – Jackal Group/Glickmania.
Voices
Chloe Grace Moretz (Wednesday Addams), Oscar Isaac (Gomez Addams), Charlize Theron (Morticia Addams), Javon "Wanna" Walton (Pugsley Addams), Nick Kroll (Uncle Fester), Bill Hader (Cyrus Strange), Wallace Shawn (Mr Mustela), Bette Midler (Grandma), Snoop Dogg (It), Conrad Vernon (Lurch), Brian Sommer (Big Bad Ronnie)
---
Plot
Wednesday is infuriated after her entry in the school science fair – an experiment to swap personalities between Uncle Fester and an octopus – is subverted when the school decides to give all the entrants a prize for effort. When Gomez and Morticia try to console her feelings, she feels that nobody respects her unique genius. Gomez decides to take the family on a road trip. Just as they are to depart, they are visited by Mr Mustela who claims that Wednesday is his daughter and was swapped at birth. Gomez ignores him and they set out, causing chaos across the country. All the time they are pursued by Mr Mustela. When Wednesday finds his reason, she feels increasingly disenchanted with life as an Addams.
---
The Addams Family was a name given to a series of cartoons created by Charles Addams that appeared in The New Yorker that ran between 1938 and ended with Addams' death in 1988. They were incarnated in the popular live-action tv series The Addams Family (1964-5), which gained a cult following over the years and in the 1990s underwent a popular duo of films releases. (See below for the various screen incarnations of the Addams Family).
The Addams Family (2019) was an animated revival of the cartoons from Greg Tiernan and former Dreamworks director Conrad Vernon who between them had made the hilarious R-rated Sausage Party (2016). All of creative personnel behind the 2019 film are back as are all of the voice cast with the exception of Finn Wolfhard who is replaced by Javon "Wanna" Walton as Pugsley. The same tone and elongated designs of the first film are retained.
Where this film falls down in a big way is that it reduces The Addams Family to a series of slapstick sequences – about the chaos caused by Pugsley using his explosives at the science fair or blowing up the Grand Canyon; sequences being pursued down the highway by Mr Mustela on a scooter. The most inane of these is the one that takes place at Niagara Falls involving barrels and voodoo dolls with everybody inevitably going over the side – the scene that makes you cringe in embarrassment is where Wednesday uses a voodoo doll to make Pugsley dance to House of Pain's Jump Around (1992). The soundtrack is filled with a lot of songs tossed in for quick easy gags – the one that makes you want to hide under the couch is when Lurch conducts a rendition of I Will Survive in a biker bar, causing the bikers to get up and start disco dancing.
The film actually has a solid character arc. That said, it becomes more of a Wednesday film than it does an Addams Family film. She has the interesting development that starts with her becoming infuriated at the way the school decision to give a prize to everyone minimises her effort and then feeling that the Addams's are patronising her. They are pursued across country by Mustela insisting that Wednesday was swapped as a child and is not really an Addams, during which she makes various attempts to kill the other Addams's, especially Pugsley. There are other minor B plots – Uncle Fester discovering he has octopus arms and trying to impart dating tips to Pugsley – but this is principally a Wednesday film.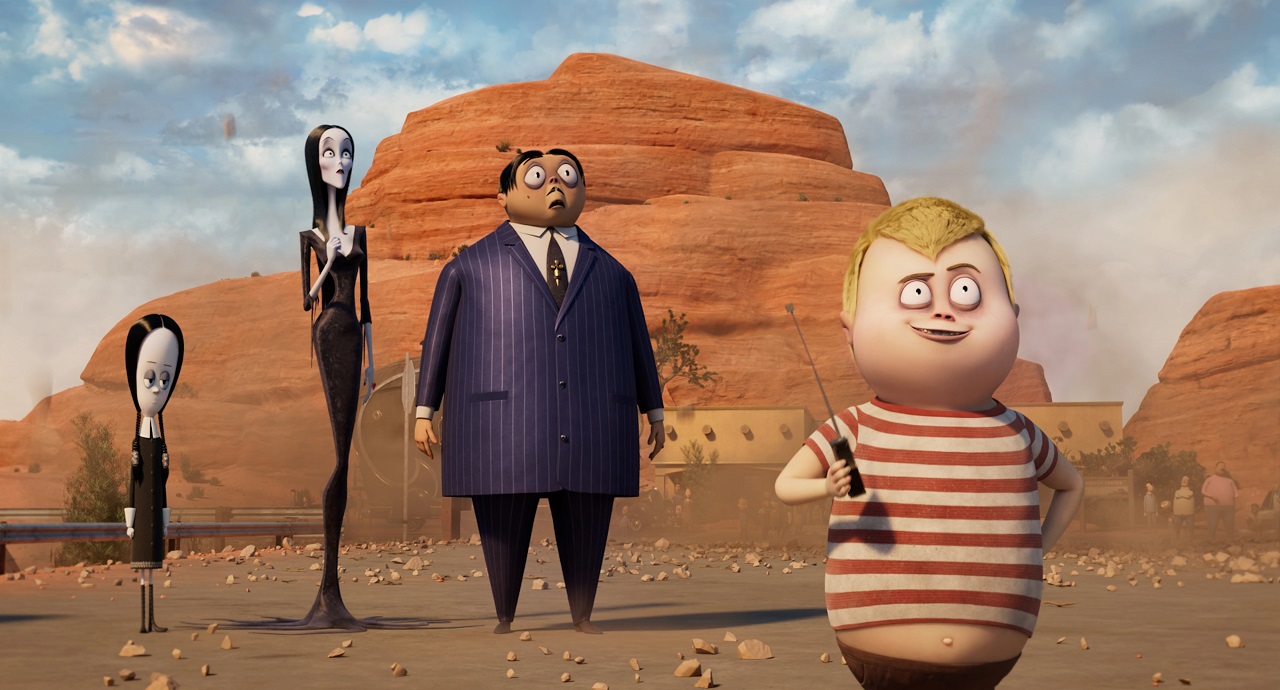 This Wednesday plot unshapes the film – at least in terms of being an Addams Family film. In all the other Addams Family incarnations, what comes through is that they may be kooky, kinky and weird but their oddness is what makes them a unique family all of its own. Here however Wednesday considers the rest of the Addams's to be beneath her and the plot has her actively engaged in trying to murder them at various points. This is something that requires the Addams' to have to be pushed to the background somewhat and be portrayed as more staid and traditional in their ways than Wednesday – at the end of the film, they even give her a hug. Which is a plotting arc that just seems wrong for an Addams Family film. This also has the same problem that several of the other films do in that it champions characters engaged in perverse, anti-social and criminal acts, along with mad science, and then has to step back and create some kind of false distinction between their actions and the almost identical actions of the mad scientist villain of the show.
The best gag the film gets off is the visit to The Alamo. Although there the appropriation of cowboy imagery with Gomez in ten-gallon hat and Pugsley riding Lurch like a steer looks more grotesque than darkly Gothic. The funniest scene is where Wednesday is made to participate in the Miss Jalapeno pageant and ends up maliciously subverting it by doing a Carrie (1976) and bringing buckets of red paint down on all the other participants. It's an appealing gag even if the essence of it is ripped off from the Thanksgiving play in Addams Family Values (1993).
Elsewhere the Addams Family have appeared in the cult tv series The Addams Family (1964-5) with John Astin as Gomez and Carolyn Jones as Morticia. They were revived in animation with The Addams Family (1973) from Hanna-Barbera and a reunion of the original tv series cast in the special Halloween With the New Addams Family (1977). There was then the big screen revivals The Addams Family (1991) and Addams Family Values (1993) with Raul Julia as Gomez, Anjelica Huston as Morticia and a young Christina Ricci as Wednesday. The film series was discontinued after the death of Raul Julia in 1994 but was followed by a cheap direct-to-video film Addams Family Reunion (1998) with Tim Curry as Gomez and Darryl Hannah as Morticia. Subsequently there was the animated tv series The Addams Family (1992-3) and a disliked live-action revival series The New Addams Family (1998-9) and the Tim Burton live-action tv series Wednesday (2022- ) focusing on Wednesday (Jenny Ortega) in college.
---
Trailer here
---