---
Crew
Director – Sam Liu, Screenplay – Jeremy Adams, Producers – Jim Krieg, Sam Liu & Kimberly S. Moreau, Music – Joachim Horsley, Animation – Studio Mir (Animation Directors – Cho Jun Sik, Kim Jin Seong, Kim Dong Wook, Kim Seok Woo & Seo Seong Jong). Production Company – Warner Bros. Animation.
Voices
David Giuntoli (Bruce Wayne/Batman), Mark Dacascos (Richard Dragon), Kelly Hu (Lady Shiva), James Hong (O-Sensei), Michael Jai White (Ben Turner), Jamie Chung (Jade), Chris Cox (Rip Jagger), Josh Keaton (Jeffrey Burr), Robin Atkin Downes (Schlangelfaust), Patrick Seitz (King Snake), Grey Griffin (Lady Eve), Erica Luttrell (Silver St. Cloud)
---
Plot
Bruce Wayne receives a visit from Richard Dragon, a top international thief. Several years earlier, Bruce and Richard were among the pupils who trained in martial arts under O-Sensei at a remote monastery. Richard informs Bruce that the Kobra Cult, headed by Jeffrey Burr, is seeking to obtain Soul Breaker, a sword that can open a gateway that will unleash the serpent demon Naga. Bruce, Richard and several other of O-Sensei's pupils dealt with an earlier attempt to open the gateway that ended with O-Sensei sacrificing himself to close it. Bruce and Richard go in search of Lady Shiva, another of the pupils who guards the sword. As they do so, the sword is snatched by members of the Kobra Cult. Recruiting Ben Turner, the other surviving pupil from O-Sensei's training, they set out to stop Burr from using the sword to open the gateway again.
---
This was the 40th of the DC Original Animated Movies. The others have included Superman: Doomsday (2007), Batman: Gotham Knight (2008), Justice League: The New Frontier (2008), Green Lantern: First Flight (2009), Superman/Batman: Public Enemies (2009), Wonder Woman (2009), Batman: Under the Red Hood (2010), Justice League: Crisis on Two Earths (2010), Superman & Batman: Apocalypse (2010), All-Star Superman (2011), Batman: Year One (2011), Green Lantern: Emerald Knights (2011), Batman: The Dark Knight Returns Part I (2012), Justice League: Doom (2012), Superman vs. The Elite (2012), Batman: The Dark Knight Returns Part II (2013), Justice League: The Flashpoint Paradox (2013), Superman Unbound (2013), Batman: Assault on Arkham (2014), Justice League: War (2014), Son of Batman (2014), Batman vs. Robin (2015), Justice League: Gods and Monsters (2015), Justice League: Throne of Atlantis (2015), Batman: Bad Blood (2016), Batman: The Killing Joke (2016), Justice League vs Teen Titans (2016), Batman and Harley Quinn (2017), Justice League Dark (2017), Teen Titans: The Judas Contract (2017), Batman: Gotham By Gaslight (2018), Suicide Squad: Hell to Pay (2018), Batman: Hush (2019), Justice League vs The Fatal Five (2019), Reign of the Supermen (2019), Wonder Woman: Bloodlines (2019), Justice League Dark: Apokolips War (2020), Superman: Man of Tomorrow (2020), Superman: Red Son (2020), Batman: The Long Halloween Part One (2021), Batman: The Long Halloween Part Two (2021), Injustice (2021), Justice Society: World War II (2021), Batman and Superman: Battle of the Super Sons (2022), Catwoman: Hunted (2022) and Green Lantern: Beware My Power (2022).
Batman: Soul of the Dragon comes from Sam Liu, the most prolific of the directors among the DC Universe Animated Original Movies. Batman has appeared in more of the DC Universe Animated Original Movies than any other DC character. The surprise about Batman: Soul of the Dragon is that for all it being a Batman film, Batman hardly appears. In fact, Bruce Wayne gets more screen time than Batman does and apart from a couple of other scenes Bruce only significantly dons the cape and cowl during the climactic fight to stop the opening of the gateway.
In actuality, Sam Liu does not appear that interested in making another animated superhero film this time. Rather what Soul of the Dragon seems to have been conceived as is a homage to the 1970s Martial Arts Film. The film features Richard Dragon, a character who was originally created in a novel Kung Fu Master, Richard Dragon: Dragon's Fists (1974) by DC Comics writer Dennis O'Neil. Dragon was promptly adapted into DC canon as a martial arts thief in the comic-book Richard Dragon, Kung Fu Fighter (1975-7) and later reappeared as a trainer of other superheroes. In The New 52 continuity revamp, he became a new character Ricardo Diaz Jr where he was rewritten as a villain and as such made an appearance on tv's Arrow (2012-20) played by Kirk Acevedo.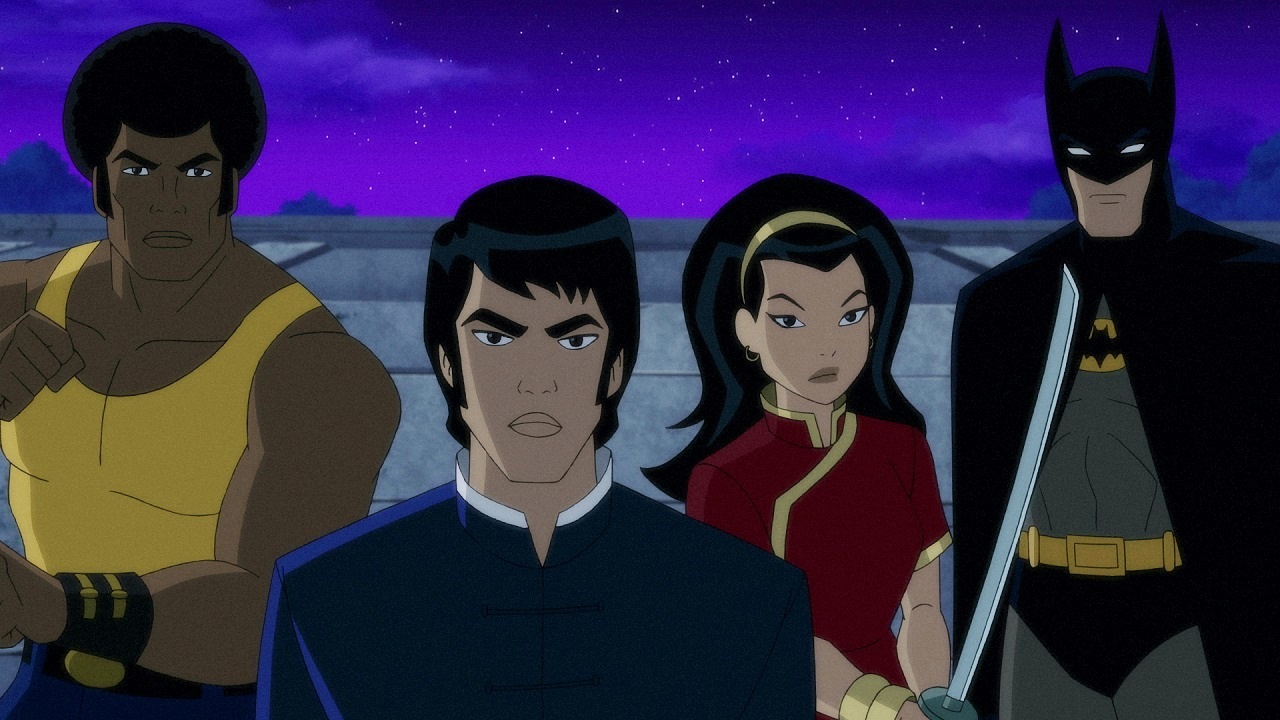 The film includes other characters such as Lady Shiva (who becomes more famous as an assassin), Ben Turner (aka Bronze Tiger, a super-villain and Suicide Squad member who also appeared in Arrow played by Michael Jai White, who returns to voice the role here) and O-Sensei. All of these have a shared background continuity, first appearing in the original Dennis O'Neil novel and then the Richard Dragon comic-strip.
As part of the martial arts cinema homage, the film drops Richard Dragon's original look and designs him, as has been noted, more along the lines of Bruce Lee. More to the point, the film gives us a prologue where Dragon conducts a break-in to a chateau where the action has clearly been modelled on the James Bond films, replete with Dragon making a getaway by jumping through a window down a cliff and parachuting off to land on the deck of a yacht with two girls awaiting with drinks. The homage is clinched straight after this as the credits play out in a mimicry of the dancing silhouetted figures of the typical Bond film credits sequence. Everywhere else, the film comes filled with a 1970s look from the cars, clubs, clothes and Afros. Not to mention the score conducting an at times energetically schizophrenic attempt to wind in as many 70s musical cues from 'chuka-chuka' riffs to the sweeping brass accompaniment of the action styled after a John Barry Bond score.
The 1970s/Martial Arts cinema homage makes for something interestingly different to the usual animated superhero film. I wouldn't call Soul of the Dragon a great DC animated film. One of the major things that does not seem to occur to Sam Liu is that while martial arts can seem lithe and kinetic when conducted on screen by Bruce Lee and those that came after him, the same does not seem that exciting when conducted in animation – it is just characters exchanging blows. The story is solid enough, the villainy and cult fairly generic. It is nice to see some of the less high-profile characters getting screen time.
---