---
Spain. 1983.
Crew
Director/Story – Matt Cimber, Screenplay – Matt Cimber & John Goff, Producer – Jon Ghaffari, Photography – John Cabrera, Music – Ennio Morricone, Special Effects – Antonio Parra, Makeup Effects – Carlo de Marchis, Art Direction – Jose Maria Taplador. Production Company – Eric Bruckner-John Ghaffari.
Cast
Laurene Landon (Hundra), Ramiro Oliveros (Pataray), Maria Casal (Trachima), Tamara (Chrysoba)
---
Plot
A tribe of all-women warriors live in the mountains where they have freed themselves from enslavement to men, only going amongst them to breed and then giving away any male children that are born. A tribe of male warriors come and slaughters every woman. The only survivor of the slaughter is Hundra. Hundra then sets forth on a quest to find a suitable breeding partner and keep the tribe alive. However, to do so she must travel into the world of men.
---
This is one of the many cheap ripoffs of Conan the Barbarian (1982) that were made on the continent, usually in Italy. In fact, the plot for Hundra is closely modelled on Conan – it follows the same story arc, opening with the slaughter of the barbarian protagonist's mountain village home, through their quest to take revenge on the cult responsible. Although with its sword-swinging female protagonist, the film actually comes closer to Robert E. Howard's second most famous creation after Conan, Red Sonja – indeed, this film is in fact a far better incarnation of the spirit of the Red Sonja stories than the actual Red Sonja (1985) film ever was.
Hundra emerges as the most enjoyable of the cheap Conan ripoffs. What makes it so is a wholly tongue-in-cheek attitude. The female warrior character has a wonderfully funny series of cod feminist poses – "No man will ever penetrate my body with his sword or himself," or "I prefer the feel of a horse between my legs than that of swine [ie men]," pronounces Hundra at various points while remonstrating her dog, "I think fear would not run so deep in you if you were not a male."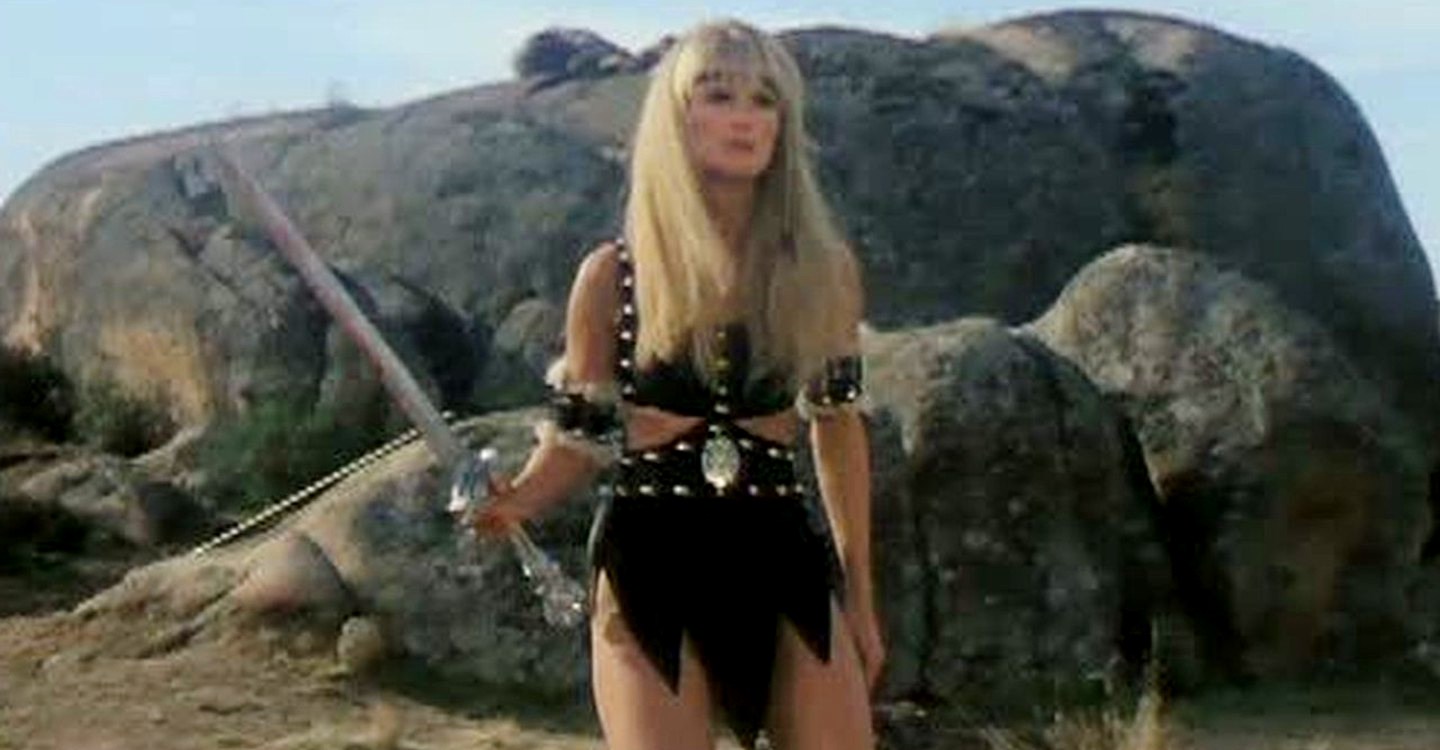 The acting (Laurene Landon excepted) is all bad and there is never much of a plot, just action. At least when it comes to the action, this is conveyed with a great deal of enthusiasm, if not exactly skill, on the part of the actors. Director Matt Cimber rises above himself to turn the opening slaughter of the village and Hundra's climactic decimation of every man in the temple into a series of modestly exciting set pieces.
Matt Cimber is an American director who has developed a minor cult with various films. He emerged in the late 1960s, making films that caused some controversy with their sexual content and then moving into Blaxploitation cinema. He is best known for the Pia Zadora erotic classic Butterfly (1982) and one other genre film, the very strange The Witch Who Came From the Sea (1976). He subsequently directed Laurene Landon in the spaghetti Western parody Yellow Hair and the Fortress of Gold (1984).
---
Trailer here
---