---
Crew
Director – [none credited], Screenplay – Gail Simone, Producers – Juan Collado, Shannon Kingston & Sean Patrick O'Reilly, Illustrations – Walter Geovani, Additional Illustrations – Jenny Frison. Production Company – Shout! Factory/Dynamite/Arcana.
Voices
Misty Lee (Red Sonja), Becca Strom (Dark Annisia), Shannon Kingston (Ayla/Nias), Tyler Nicol (King Dimath), Scott McNeil (Tiath/Bazrat), Brian Ward (Sonja's Father)
---
Plot
King Dimath conquers the city of Zamora. Red Sonja is found a prisoner in the dungeons but is freed on Dimath's orders. Three years later, Sonja is recruited by Dimath to defend his city as an army marches towards it. Sonja feels a debt of honour to Dimath for the decency with which he treated her. Sonja tries to shape the peasantry into an army in the days before the invaders arrive. As they do, Sonja is shocked to find that the opposing army is led by Annisia, her fellow prisoner in the dungeons, who has gone over to the dark side, maddened by the ghosts of those she slayed. As Sonja's peasant army is defeated and Dimath killed, Annisia finds that Sonja carries the plague. The only hope to spare the lives of her lieutenants is for Sonja to agree to go into exile.
---
Robert E. Howard is famous for creating Conan the Barbarian. His second most famous creation is Red Sonja, even though she only appeared in a single Howard short story, Shadow of the Vulture (1934). The story takes place in the 16th Century Ottoman empire where Red Sonya is a pistol-wielding woman seeking revenge. The Red Sonja we know was reinvented in Marvel Comics' Kull and the Barbarians in 1973, where the Marvel writers rewrote Sonya/Sonja in fantasy terms. Her popularity grew after she was expanded out of into her own line of comic books beginning in 1977.
There was then a film Red Sonja (1985) made as companion piece to the Arnold Schwarzenegger Conan the Barbarian films, which starred a horrendously non-acting Brigitte Nielsen in the title role. This was a disaster and a complete betrayal of the character. A remake was announced in the late 2000s and 2010s, at one point from Robert Rodriguez with Rose McGowan in the title role and more recently to have been directed by Bryan Singer, although nothing ever emerged.
In 2013, comic-book publisher Dynamite Entertainment acquired the rights to Red Sonja and launched a new series written by Gail Simone who provided Sonja with a new origin story in a run that lasted until 2017 before other writers took over. Gail Simone rose to fame in the late 1990s with the Women in Refrigerators website – a protest against the portrayals of women in comics. Simone was then hired as a comic-book writer and has worked on various issues of Batgirl, Deadpool, Birds of Prey, Wonder Woman and other titles. She also wrote the screenplay for the animated Wonder Woman (2009) film. This film is produced by Dynamite, written by Simone and adapts the first volume of Simone's Red Sonja stories.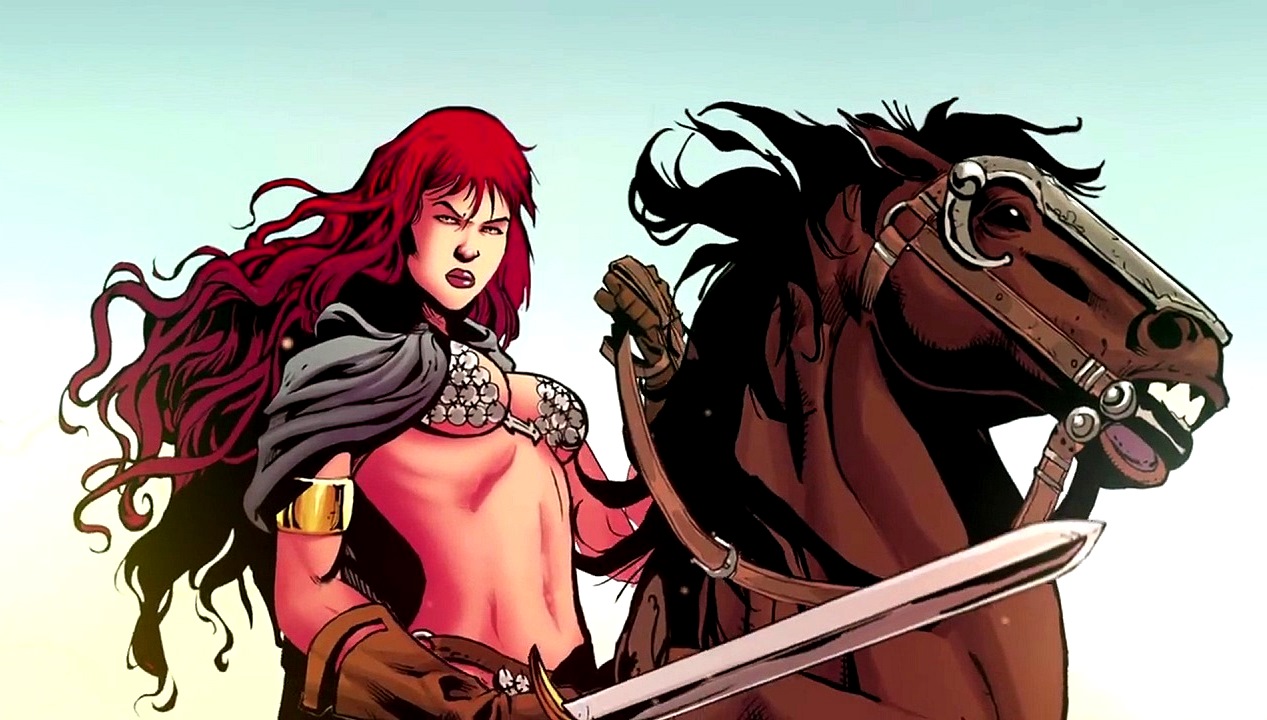 Unlike the 1985 film, Gail Simone manages to get the character of Red Sonja right. She writes Sonja with a fierceness and determination that strikes the nail right on the head in terms of what the character should be. You also have to applaud some of Simone's tongue-in-cheek purple prose – "Oh she of the excellent cleavage", Sonja's two bodyguards greet her.
Simone crafts a strong story. Sonja's confrontation with her cell sister who has gone over to the dark side is a great arc. The story is also interspersed with flashbacks to Sonja's childhood and tell how she came to be the warrior woman she is, making for a particularly strong origin story. There is some great writing here and the film overall is strong and applaudable.
The animation is limited. That is to say, it is not full animation. Rather what we have is a series of motion graphics – illustrations where parts of the frame move, the camera zooms into the drawn image or there is partial animation. There are undeniably corners that have been cut here – what is particularly noticeable is that the faces of figures in the medium background have often been left blank. On the other hand, the film does come with reasonable artistic detail elsewhere. There are some stylised shots that convey the action element well, not to mention with a suitable degree of brutality and violence. For some reason, there is no credited director on the film.
Other adaptations of Robert E. Howard's works include:- Conan the Barbarian (1982) and Conan the Destroyer (1984), both starring Arnold Schwarzenegger; the animated tv series Conan the Adventurer (1992) and Conan and the Young Warriors (1994); Kull the Conqueror (1997) starring Kevin Sorbo; the short-lived live-action German-made tv series Conan (1998) starring Ralph Moeller; Solomon Kane (2009); and Conan the Barbarian (2011) starring Jason Momoa. A portrait of Robert E. Howard's life is dramatised in the romantic film The Whole Wide World (1996).
---
Trailer here
---