---
Crew
Director – Neil Jordan, Screenplay – Neil Jordan & Bruce Robinson, Based on the Novel Doll's Eyes by Bari Wood, Producer – Stephen Woolley, Photography – Darius Khondji, Music – Elliot Goldenthal, Digital Visual Effects – The Computer Film Company (Supervisor – Mark Nelmes), Special Effects Supervisor – Yves de Bono, Makeup Effects – John Caglione, Bill Johnson, Billy Messina & Kevin Yagher Productions, Production Design – Nigel Phelps. Production Company – DreamWorks Pictures.
Cast
Annette Bening (Claire Cooper), Aidan Quinn (Paul Cooper), Robert Downey Jr (Vivian Thompson), Stephen Rea (Dr Silverman), Paul Guilfoyle (Detective Jack Kay), Dennis Boutsikaris (Dr Stephens), Katie Sagona (Rebecca Cooper), Geoff Wigdor (Teenage Vivian)
---
Plot
Housewife Claire Cooper receives visions that she believes are dreams from the mind of a serial killer that has been operating in the area. The police and her husband dismiss these, however Claire's daughter Rebecca becomes the next victim – exactly as Claire predicted. Afterwards, Claire discovers that the killer is now aware of her and is feeding her his dreams and taunting her.
---
Irish-born Neil Jordan is one of the most interesting directors currently at work. Jordan manages to stride a confident line between mainstream and arthouse filmmaking. His films seem to vie equally between those that are tailored for box-office appeal – We're No Angels (1990), Interview with the Vampire: The Vampire Chronicles (1994), The Good Thief (2002) and The Brave One (2007) – and those that seem intensely personal films – The Crying Game (1992), Michael Collins (1996), The Butcher Boy (1997) – that it is hard to imagine a director with any less clout managing to get off the ground. Neil Jordan's films always remain never less than interesting, he having only made one clunker – High Spirits (1988), in which he demonstrated that his only cinematic failing was when it comes to knockabout comedy.
Neil Jordan is also a frequent dabbler in genre material (see below for a full list of Jordan's genre films). His first film, The Company of Wolves (1984), co-written with fantasy writer Angela Carter, was a remarkable deconstruction of Little Red Riding Hood where the fairytale swam between a heady mix of dream, horror film imagery and Freudian symbolism wherein the wolf became a werewolf that stood in for the fear of male sexuality by the nascently pubescent Little Red Riding Hood. High Spirits was Neil Jordan's attempt to mount a screwball haunted house comedy, which ended in much noise and chaos but little affect. Jordan's Interview with the Vampire: The Vampire Chronicles proved to be, when all the pre-publicity ballyhoo had died down, an adaptation that was remarkably faithful to the original text and an underrated film of lush, elegant power. Jordan's The Butcher Boy was an outrageous horror show that swept through murder, madness and child abuse with remarkably good cheer – there are few other filmmakers who could mount a film that asks one to celebrate a murderous child's acts as triumphal and get away with it.
In Dreams is clearly one of Neil Jordan's more commercially tailored films. Here Jordan is working under the aegis of DreamWorks. Disappointingly, In Dreams is also one of Neil Jordan's least interesting films. Jordan has settled on a plot – the clairvoyant who gains a telepathic link to the mind of a killer or visions of the murders – that has been used too many times before with the likes of the tv movies Baffled! (1972), The Eyes of Charles Sand (1972), and Visions (1972) and films such as Eyes of Laura Mars (1978), Double Exposure (1981), Cassandra (1987), Fear (1990), Dead On Sight (1994), Sensation (1994), Hideaway (1995), Murder Scene (2000), Troubled Waters (2006), Empathy (2007), The Cell 2 (2009), Let Me Die Quietly (2009) and In/Sight (2011). (For a more detailed overview see Films About Clairvoyance and Precognition). It is a theme that has invariably suffered from routine handling, with the only of the abovementioned films that conducted it with the slightest degree of interest being Rockne S. O'Bannon's Fear, which stretched the game between the killer and psychic out with tautly constructed suspense. Here Jordan is saddled with a plot that is just too familiar and ultimately a script that fails to throw any novel twists on the theme.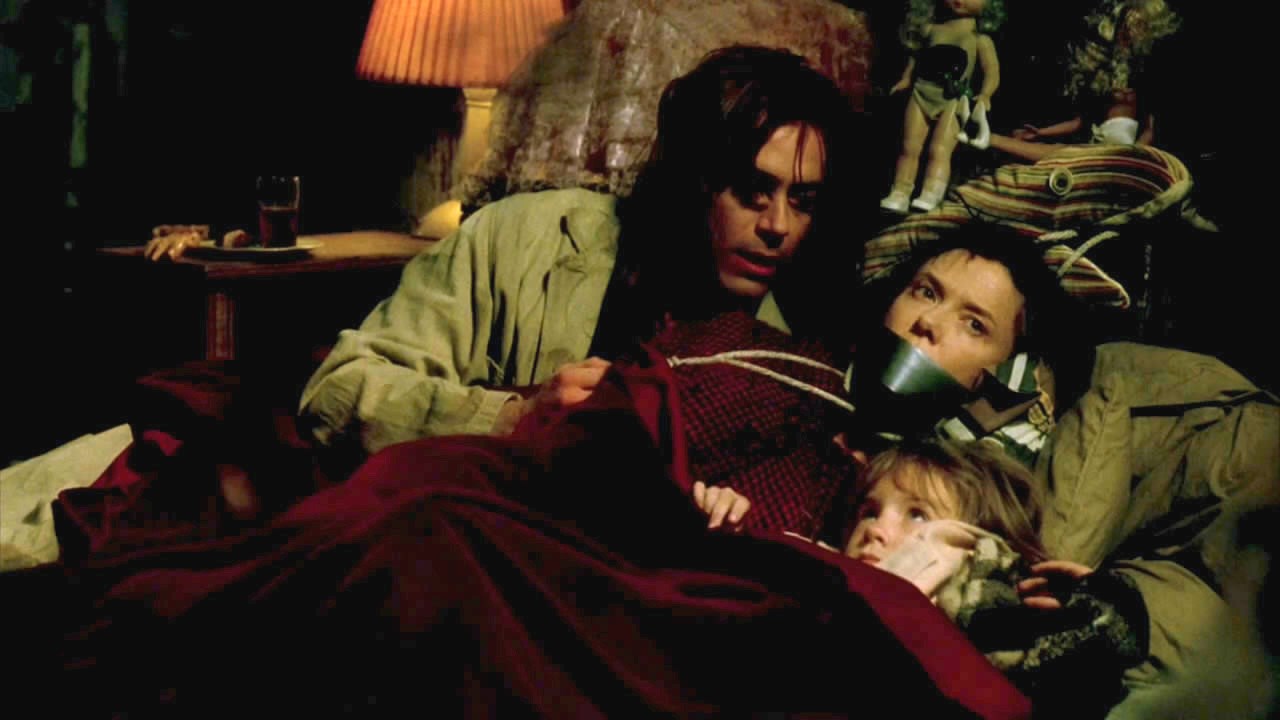 On the plus side, the tired plot at least has Neil Jordan going for it. Jordan's juxtapositions of imagery are undeniably striking – like the clever synchronous intercutting of Annette Bening's crashing the car off a bridge with the daughter drowning; or a scene where Bening escapes from hospital that intercuts with and blurs into the young killer's cross-dressing seduction and murder of a man. Some of the precognitive images are often eerily conducted – like the scene where Annette Bening presages Aidan Quinn's murder with one of her dreams; the image of the dying daughter telling Bening "You don't have anything to worry about anymore." Neil Jordan's command as a director rides supreme over the film – all that is needed to suggest that Aidan Quinn is having an affair is an envelope inadvertently dropped out of his suit coat pocket. Jordan is also helped immensely by a good score and beautifully sparse photography from Darius Khondji that seems to drain the colour out of autumnal New Hampshire landscapes.
Despite In Dreams being a commercial film, Jordan has still placed his idiosyncratic touch on it and many familiar Jordan themes run through the film. One of the most recurrent themes in Neil Jordan's films is of relationships that blur traditional gender expectations – the transsexual love affair from The Crying Game (1992); Mona Lisa (1986), which climactically hinged on Bob Hoskins' tragic failing in understanding the sexual preference of the woman he desires; Interview with the Vampire with its contrary image of a family that consists of two male lovers and 'a daughter' who is an immortal woman trapped in a child's body; Breakfast on Pluto (2005) about the life of drag performer; while, in an almost routine emergence of the themes, Robert Downey Jr's killer here is given to cross-dressing.
Another recurrent Jordan image is that of the individual alienated from society – such as Brad Pitt's Louis who is neither accepted by vampires nor human society in Interview with the Vampire; Stephen Rea's IRA hitman hiding from his past in The Crying Game; and the title character of The Butcher Boy, a film that is one single howl of disturbed, alienated youth. Indeed, the character of Vivian in In Dreams could almost be The Butcher Boy's Francie Brady grown up.
Neil Jordan's other genre films are:- The Company of Wolves (1984), an adaptation of one of Angela Carter's stories that deconstructs Little Red Riding Hood with werewolves; the haunted castle comedy High Spirits (1998); the Anne Rice adaptation Interview with the Vampire: The Vampire Chronicles (1994); The Butcher Boy (1997), a surreal horror film about a disturbed Irish childhood; the female vigilante film The Brave One (2007); Ondine (2009) about a possible sea nymph; the vampire film Byzantium (2012); and the psycho-thriller Greta (2018).
---
---