---
Crew
Director – Richard Gabai, Screenplay – Aaron Ginsburg & Wade McIntye, Producers – John Constantine, Richard Gabai & Larissa E. Michel, Photography – Scott Peck, Music – Marcello De Francisci & Lisa Gerrard, Visual Makeup Effects – Jeff Carlson, Production Design – Gabor Norman. Production Company – G.C Pix LLC/Check Entertainment.
Cast
Natalie Zea (Kaitlyn Monahan), Sean Patrick Flanery (Detective Peter Rafferty), Adam Baldwin (Dr Graham Barrett), Veronica Cartwright (Patricia Monahan), Lesley-Ann Brandt (Valerie Khoury), Thomas Ian Nicholas (Stephen), Christopher Lloyd (Shep), Max Perlich (Detective Canto), Angeline-Rose Troy (Allison Parks), Juliet Landau (Dr Lisa Rosen), Daniel Roebuck (Sergeant Reed)
---
Plot
Kaitlyn Monahan is working as an ER nurse as Allison Parks is brought in dying of stab wounds. Kaitlyn is handling the body as Allison is given the paddles and receives a shock during which she believes she hears Allison say "he still loved me". Everyone tells her she must have been mistaken – that Allison was dead before she was even brought in. Afterwards, Kaitlyn begins to have flashes of memory from Allison. She goes to Allison's apartment and begins to dig into her life, certain that the killer was among Allison's associates or the men with which she was involved. This draws the attention of investigating detective Peter Rafferty who starts to believe in Kaitlyn's visions and helps her even as everyone around him calls her crazy.
---
Richard Gabai is a director with a minor career in B-budget cinema. Since the 1980s, he has made a number of acting appearances in the films of low-budget directors Fred Olen Ray and David DeCoteau. He began directing with Assault of the Party Nerds (1989) and has made such films as Blood Nasty (1989), the softcore Virtual Girl (1998), its sequel Virtual Girl 2: Virtual Vegas (2001), the psycho-thriller Imaginary Friend (2012) and In the Dark (2013) with a blind woman and her stalker. In more recent years, Gabai has become a regular director of Lifetime Channel movies.
In/Sight is a variant on the Clairvoyance Film, which has become a regular sub-genre unto itself. There is a certain genus of films involving someone inheriting memories from another person, whether by science-fictional means – BrainWaves (1982), Unforgettable (1996), Self/less (2015), Criminal (2016), Rememory (2017) – or psychic – Sensation (1994). In almost all cases, the films then become thrillers about the recipient of the memories setting out to solve the murder of the person they came from.
In/Sight is not particularly different in this regard, at least until its end (more on that in a moment). This leaves it in the position of offering up an unoriginal plot. Richard Gabai at least directs competently but the material has a tried and true over-familiarity to it.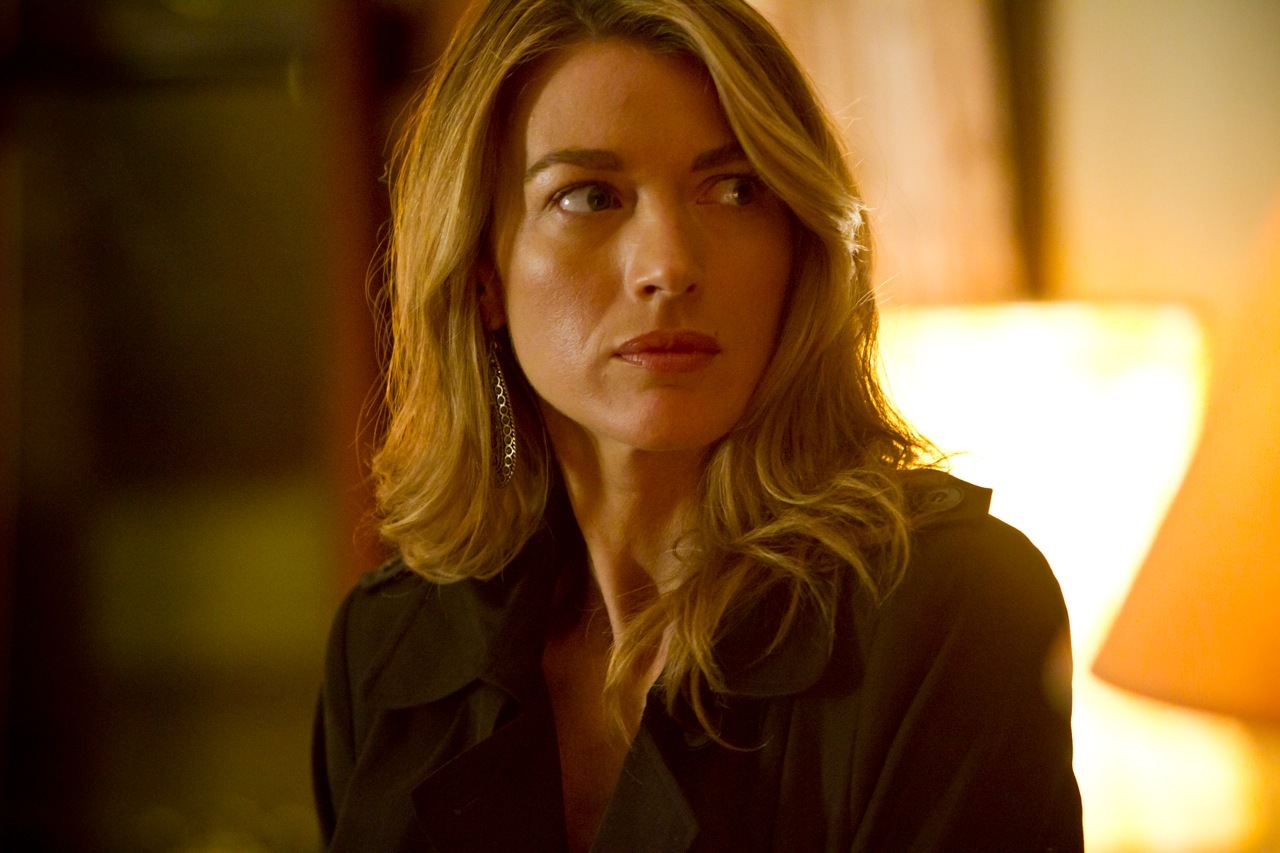 The film certainly has a more than reasonable cast with Natalie Zea (who could be a ringer for a younger sister of Blake Lively) doing well in the lead and top-billed Sean Patrick Flanery radiating charisma opposite her. The film also throws in some impressive names in the supporting cast – although you cannot help but think that if you have people like Christopher Lloyd and Max Perlich present you should do more with them than cast them as respectively the neighbour of the dead girl and the second banana detective, parts that have no more significance to the plot than that.
The film does slip out of its predictability when it comes to the twists that occur during the latter half. [PLOT SPOILERS] The first of these is when Sean Patrick Flanery comes to stay the night and wakes to find Natalie Zea talking/reacting to an empty room and we realise that Veronica Cartwright, who we had assumed was Natalie's live-in invalid mother, has been dead for some months. It would appear that Natalie has existed in one of those psychological fugue states you only get in post-The Sixth Sense (1999) films where people act and talk as though someone who is only in their head was still alive without ever being aware of it.
The other strange and confusing twist we get towards the end is one that reveals Natalie may not have picked up any memories from the dead girl after all and that everything that has transpired may have been in her imagination (see aforementioned fugue state). I am not entirely sure if this makes sense – I'd have to go back to see if the build-up plays this out consistently without allowing her to become recipient of information she would not have known otherwise. However, that would mean having to rewatch In/Sight and in truth it is not that interesting.
---
---