---
Crew
Director/Screenplay – Neil Jordan, Producers – David Saunders & Steve Woolley, Photography – Alex Thomson, Music – George Fenton, Visual/Miniature Effects – Derek Meddings, Special Effects – Bob Simmonds, Makeup – Nick Dudman, Peter Robb-King & Chris Tucker, Production Design – Anton Furst. Production Company – Palace Pictures.
Cast
Steve Guttenberg (Jack Crawford), Daryl Hannah (Mary Plunkett), Peter O'Toole (Peter Plunkett), Beverly D'Angelo (Sharon Crawford), Liam Neeson (Martin), Martin Ferrero (Malcolm Clay), Liz Smith (Lillian Plunkett), Peter Gallagher (Brother Tony), Jennifer Tilly (Miranda), Connie Booth (Marge Clay)
---
Plot
To stop foreclosure on his family's ancestral castle, Peter Plunkett advertises it as haunted to attract tourists. However, his attempts at fake hauntings are so inept that the real ghosts feel obliged to step in and do the job properly.
---
This knockabout supernatural comedy comes from talented Irish director Neil Jordan. High Spirits was Neil Jordan's fourth film, made after the superb fairytale deconstruction The Company of Wolves (1984) and the critically acclaimed Mona Lisa (1986). Still ahead for Neil Jordan would be the celebrated and award winning likes of The Crying Game (1992), Interview with the Vampire: The Vampire Chronicles (1994), Michael Collins (1996), The Butcher Boy (1997) and The End of the Affair (1999).
While Neil Jordan's other films have demonstrated him as a more than capable filmmaker, High Spirits clearly shows that he has little aptitude for slapstick comedy. Indeed, High Spirits is the only major disappointment in Neil Jordan's otherwise exceptional oeuvre. High Spirits is a knockabout farce that becomes very rowdy, very empty, and when it gets to talking horses, beds rolling down staircases and flying busses popping fireworks, not particularly funny at all.
The plot feels like Jordan has never even seen of the haunted/Old Dark House comedies of the 1940s like The Cat and the Canary (1939), The Ghost Breakers (1940) or the various East Side Kids/Bowery Boys Old Dark House efforts, and especially the British comedy Castle in the Air (1952), which this has many similarities to, and that Jordan is determined to reinvent the cliches for himself. Inconsistency abounds – mortal Steve Guttenberg and ghost Daryl Hannah cannot touch, yet ghost Liam Neeson and mortal Beverly D'Angelo are bonking all over the place. The only moments one liked were those between Steve Guttenberg and Daryl Hannah, which come with an occasional sense of sly humour.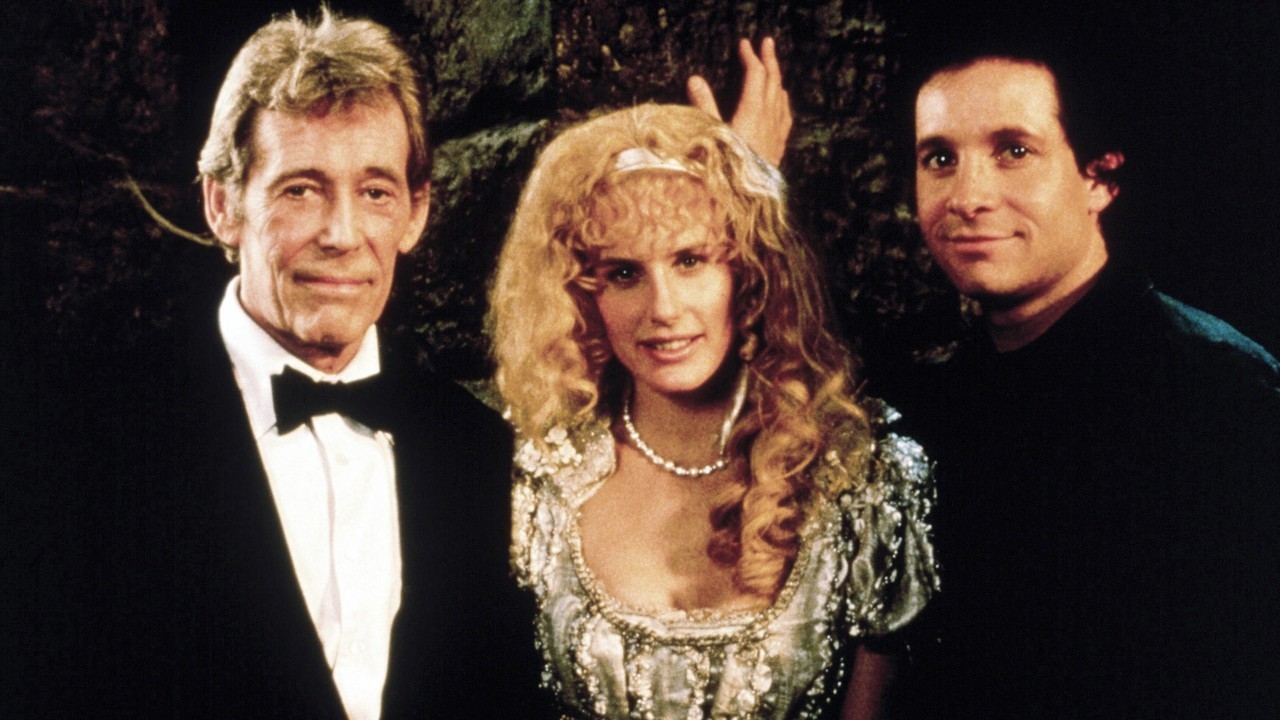 Even the performances are broad and miscalculated. Steve Guttenberg is his usual wet-eared nebbish self, while Peter O'Toole slips into fruity ham. The best performance is Beverly D'Angelo who plays the redeemable bitch of a wife with considerable zest and quite sexily into the bargain.
The effects work from Derek Meddings, who supervised many of the James Bond films, is variable. There is an excellent old age job on Daryl Hannah but the revived corpses look more as though they have stepped out of a chorus line for The Black and White Minstrel Show with three-week old porridge on their faces.
Neil Jordan has made a number of other genre films including:– The Company of Wolves (1998), which retells Little Red Riding Hood with werewolves; the Anne Rice adaptation Interview with the Vampire: The Vampire Chronicles (1994); The Butcher Boy (1997), a surreal horror film about a disturbed Irish childhood; the clairvoyance thriller In Dreams (1999); the female vigilante film The Brave One (2007); Ondine (2009) about a possible sea nymph; the vampire film Byzantium (2012); and the psycho-thriller Greta (2018).
---
Trailer here
Full film available online here:-
---