UK. 2016.
Crew
Director – Juan Carlos Medina, Screenplay – Jane Goldman, Based on the Novel Dan Leno and the Limehouse Golem by Peter Ackroyd, Producers – Elizabeth Karlsen, Joanna Laurie & Stephen Woolley, Photography – Simon Dennis, Music – Johan Søderqvist, Visual Effects Supervisor – Sheila Wickens, Visual Effects – Lipsync Post, Special Effects Supervisor – Ian Rowley, Production Design – Grant Montgomery. Production Company – New Sparta Films/Number 9 Films/Hanway Films/Lipsync/Day Tripper Films.
Cast
Bill Nighy (Detective-Inspector John Kildare), Olivia Cook (Lizzie Cree), Douglas Booth (Dan Leno), Daniel Mays (Constable George Flood), Sam Reid (John Cree), Maria Valverde (Aveline Ortega), Edie Marsan (Uncle Tommy Farr), Henry Goodman (Karl Marx), Morgan Watkins (George Gissing), Nicholas Woodeson (Toby Dorsett), Peter Sullivan (Inspector Roberts), Graham Hughes (Little Victor)
---
Plot
London, 1880. Detective-Inspector John Kildare is assigned to solve the case of a string of murders conducted by what is being referred to as The Limehouse Golem. In investigating, Kildare discovers one of the suspects was failed playwright John Cree whose wife Lizzie is currently the centre of high-profile trial in which she is accused of poisoning him. Believing in Lizzie's innocence, Kildare attends the trial and interviews Lizzie where he pieces together her beginnings as a penniless orphan before being discovered by the famous drag performer Dan Leno and taken on as a protege in his dancehall act. She was wooed by and eventually agreed to marry John Cree. As Kildare investigates, the clues in the Limehouse Golem murders all lead back to a reading room at the London library and four men, including Cree, who frequented it, one of whom he is certain must be The Golem.
---
Peter Ackroyd is a British novelist who specialises in works based on history, which he spends a great deal of time researching. His books are frequently set in London and feature real historical figures woven in with fictional ones. Ackroyd began publishing with The Great Fire of London (1982) and has written other fictional works based on Oscar Wilde, Charles Dickens, John Milton, John Dee, as well as one or two that fall into genre territory with The Casebook of Victor Frankenstein (2008) and The Death of King Arthur (2010). And that's not to mention a whole host of non-fiction biographical works of figures ranging from William Shakespeare to Edgar Allan Poe and Alfred Hitchcock.
The Limehouse Golem is based on Ackroyd's novel Dan Leno and the Limehouse Golem (1994). Perhaps what is not apparent in watching the film is that Ackroyd winds in several real historical figures, including Karl Marx, the author of The Communist Manifesto (1848), novelist George Gissing and Dan Leno who had considerable fame as a drag performer in the dancehalls of the day. I see the common assumption made during the release of the film that there was an actual series of killings known as the Limehouse Golem Murders but in truth these have been made up by Ackroyd.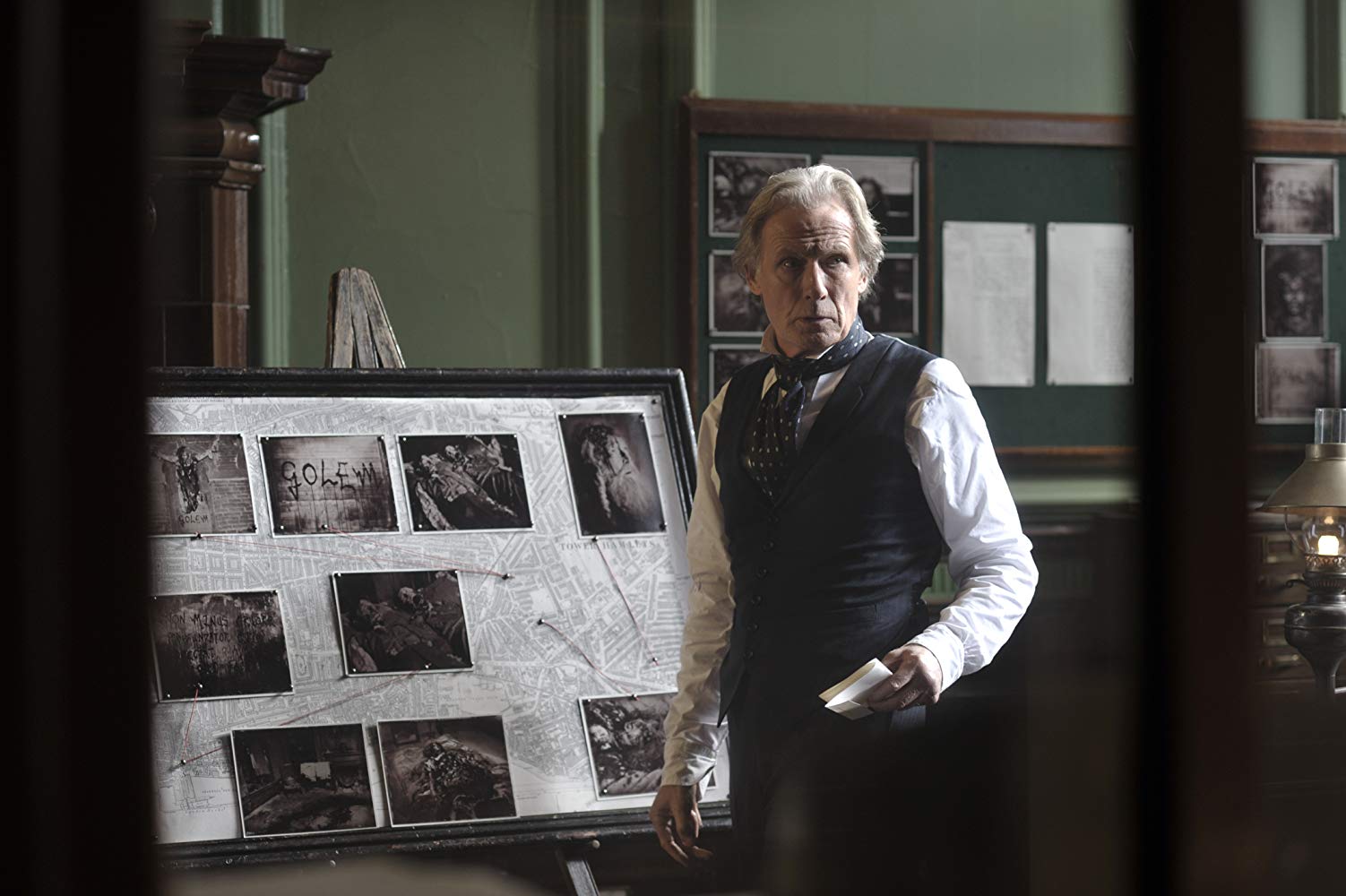 The Ackroyd book became a favourite of Jane Goldman who read it before she even became a screenwriter with Matthew Vaughn's Stardust (2007). Since then she has become a regular writer for Vaughan with the scripts for Kick-Ass (2010), X: First Class (2011), Kingsman: The Secret Service (2015) and Kingsman: The Golden Circle (2017), as well as other works such as The Woman in Black (2012) and Miss Peregrine's Home for Peculiar Children (2016). The director is Spanish Juan Carlos Medina who previously made the cross-historical Insensibles (2012).
The Limehouse Golem comes with the attention-catching promotional line "Before The Ripper, fear had another name." This gives the very clear implication that it is in the same vein as the Jack the Ripper killings. This is misleading. To be fair to the publicity department, you can't blame them too much for making the connection. However, in watching you keep mentally slipping into thinking you are watching a Jack the Ripper film, something like From Hell (2001). Like any Jack the Ripper film, The Limehouse Golem concerns a killer operating in Victorian London and a determined Scotland Yard inspector scouring the slums in search of suspects. Even the dates of the two are very similar – the film's 1880 timeframe slots very neatly in with the Ripper killings, which occurred only a few years later in 1888.
The other thing the title leads you to expect is something to do with the Golem of Jewish legend – a figure made of clay that is brought to life – which has a long history on screen going back to Paul Wegener's famous duo of films The Golem (1914) and The Golem (1920), before we anticlimactically learn that it is only the nickname given to the killer.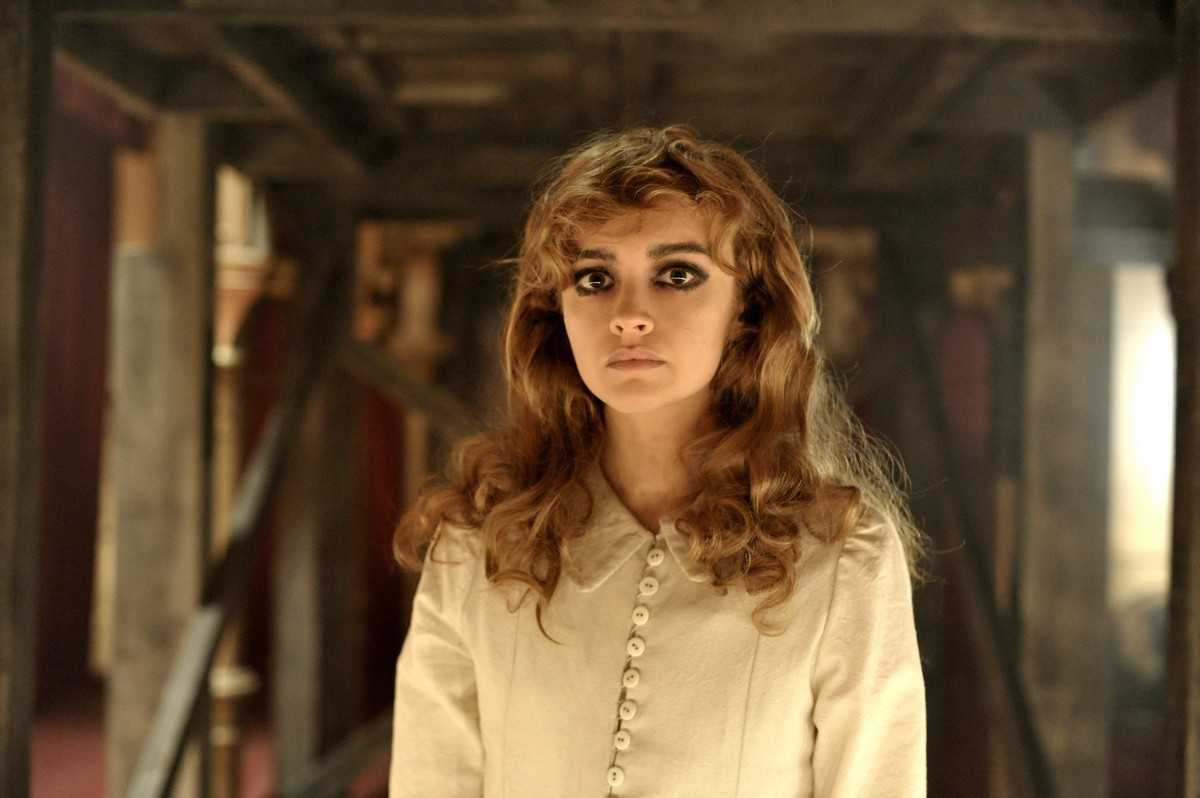 What we get resembles something more akin to the tv series Ripper Street (2012-6), a standard detective show that was set in turn of the 20th Century Whitechapel in the immediate aftermath of the Ripper killings. However, the plot persistently refuses to slot into being the serial killer thriller we expect of it. Rather it is more interested in jumping back and forward across time, principally telling the story of Lizzie and her upbringing interspersed with occasional scenes where Bill Nighy confronts various suspects. Juan Carlos Medina also chooses the rather confusing effect of showing each of the killings in flashback and having the suspect being questioned playing the role of the killer, something that we get to see four different times.
It's a beautifully put together show with a great deal of effort gone in in the production design and costuming departments to get an authentic feel for the era. It's just that the plot never much engages as a detective story. To its credit, it does arrive at a strong and effective surprise ending that one would have to say they didn't see coming.
---
Trailer here
---