aka Scream Bloody Murder
---
USA. 1999.
Crew
Director – Ralph Portillo, Screenplay – John R. Stevenson, Producers – Jamie Elliott & Ralph Portillo, Photography – Keith Holland, Music – Steven Stern, Makeup Effects – Larry Bones, Art Direction – Mark Harper. Production Company – Mainline Releasing/Hemisphere Entertainment.
Cast
Jessica Morris (Julie McConnell), Peter Guillemette (Patrick), Christelle Ford (Drew Zimky), Patrick Cavenaugh (Tobe), Michael Stone (Dean), Justin Martin (Jason Hathaway), Michael Prohaska (Sheriff Williams), Tracy Pacheco (Whitney Chambers), Bob Stuart (Henry), Jerry Richards (Tom McConnell), Lindsey Leigh (Jamie), Dave Smigelski (Brad Thompson), William Winter (Doug)
---
Plot
A group of eight trainee counsellors arrive at Camp Placid Pines for a training course. While they are there, various of their number start disappearing. As it becomes apparent that they have been murdered, suspicion variously falls on the others present. Julie McConnell realises that the murders are related to ones that happened at Placid Pines seventeen years before when their parents were also counsellors.
---
Bloody Murder emerged as one of the attempts in the late 1990s/early 00s to rework the slasher movie following the success of Scream (1996) and its witty deconstruction of the genre's cliches. In this respect, Bloody Murder is essentially a rehash of Friday the 13th (1980). The location of the lakeside summer camp and the camp counsellors on a training exercise have all been directly photocopied from Friday the 13th. There is even the crazy old timer who pops up around the camp to give warnings about the dangers in these here woods.
Director Ralph Portillo has made a variety of independent and not particularly well known films, which have usually been children's films such as Big Brother Trouble (2000), The Ghost Club (2003) and Undercover Kids (2004). More interestingly, Portillo is the president of a production company entitled Power in Faith that has been set up to make Christian-themed films and has produced the likes of Believers Among Us (2005), Becoming Jesse Tate (2009), Angels Love Donuts (2010) and Salvation Street (2015). On the company's website, Portillo proudly proclaims the fact that he is a Christian and espouses Family Values. It is a scratch of the head though wondering what an Evangelical Christian is doing making slasher movies. Portillo has also made other horror films including Fever Lake (1996), One of Them (2003), Diary of a Serial Killer (2008) and Kemper (2008), and surprisingly, considering his Christian interests elsewhere, several erotic films including Broken Trust (1993) and the Shannon Tweed thriller Naked Lies (1998), while he has also produced Bare Witness (2002).
Perhaps as a result of this, we get a slasher film that is much tamer and more chaste than Friday the 13th and the numerous copycats and sequels of the 1980s. (Almost all of the modern slasher films to a fault have dropped the numerous naked teens that appear as victims in the originals). This is never more clearly signalled than a scene where a couple are caught making out in the woods and she remains wearing a bra and panties throughout the scene.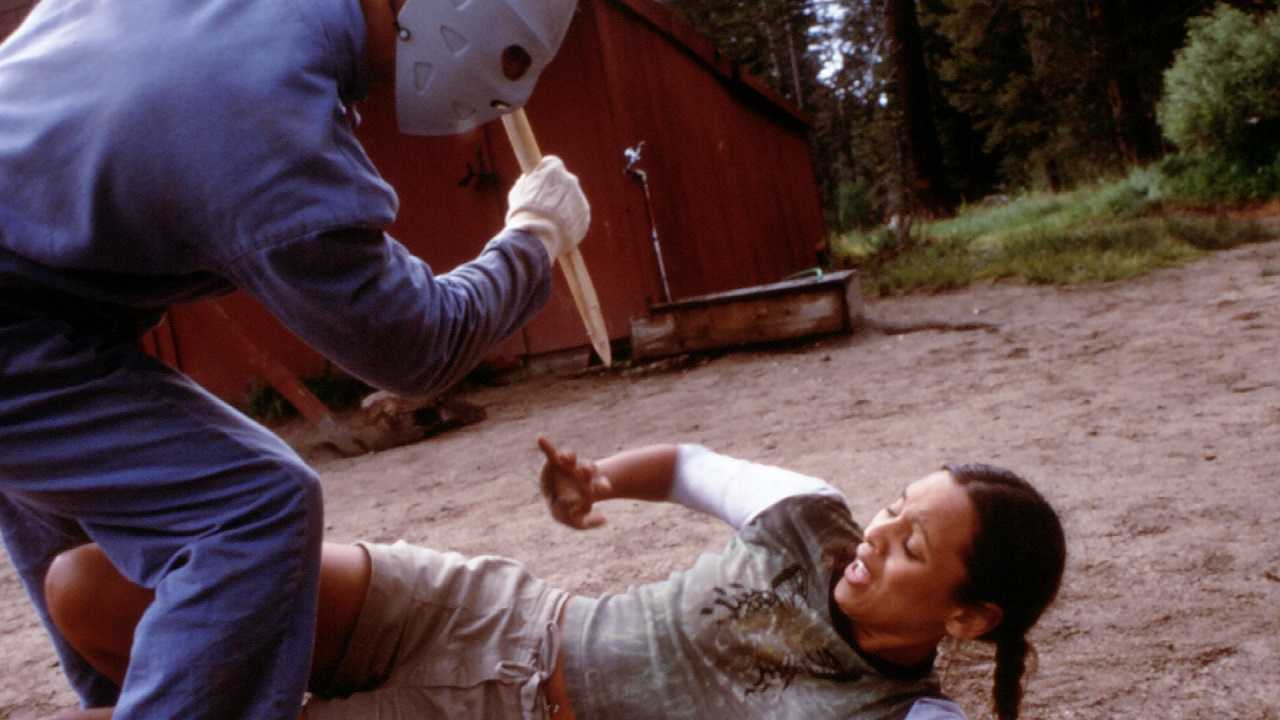 There are all the usual cliche moves of the slasher film – the tiresome round of practical jokers pretending to be the killer and so on. Portillo throws in a few deaths – one victim speared with arrows on an archery range, another having their throat slit while bending over to change a tire – but nothing terribly exciting. The film arrives at an ending that tosses up multiple potential suspects as the killer, giving the eventual one improbably contrived motivation, followed by a twist ending showing that it was someone else who was doing the killing.
There are a few moments where Bloody Murder tries to copy Scream and be a postmodern slasher film that signals its own self-awareness of the genre it rests in. The film that is being screened in the common room at one point is entitled Sleepover Camp Massacre 14. The character of Tobe (Patrick Cavenaugh), who is clearly intended as the equivalent of Jamie Kennedy's Randy in Scream, comments "[It] has a running time of 1 hour and 43 minutes, which is relatively long for movies in this genre." Later he has a wry line: "Hey, this is a great time to be walking through this camp alone. Why don't you just paste a sign on my back that says 'Please Kill Next'."
Bloody Murder is competently made but routine on most counts. Mostly it feels like it is twenty years too late to be part of the slasher craze that it so slavishly tries to emulate. It does try to compensate with a few stabs in the direction of the Scream postmodern slasher film but not nearly enough.
The cast are all unknowns and are at least passable in their roles. Michael Stone, playing Dean, has an uncanny resemblance to Bruce Campbell.
The sequel was Bloody Murder 2: Closing Camp (2003).
---
Trailer here
---