---
Crew
Director – Richard Gabai, Screenplay – Shane Mathers, Lloyd S. Wagner & Bradford R. Youngs, Producers – Michael Amato, John Constantine & Richard Gabai, Photography – Scott Peck, Music – Sean Murray, Production Design – Rachel Payne. Production Company – Check Entertainment/Fishcorb Films/Braeburn Entertainment/G.C. Pix/Celco.
Cast
Elisabeth Röhm (Alijandra 'Ali' Lear), Sam Page (Jeff McCauley), Shannon Elizabeth (Linda Gannon), Elizabeth Peña (Dr Weinette), Richard Portnow (Detective Roy Archer), Patrick Muldoon (Dan Lear), Aiden Turner (Alex Smith)
---
Plot
In L.A., artist Ali Lear and her husband Dan are leaving an exhibition of her work when their vehicle is hit by a truck. Dan and their young daughter are killed and Ali left blinded. Ali makes a recovery and insists on soon returning home. She is assigned a caregiver in Jeff McCauley. Jeff proves perfectly attentive and Ali is greatly appreciative of him. However, Jeff becomes possessive of Ali, secretly filming her, acting coldly to Linda, the neighbour who befriends Ali, and then cutting Dan's face out of all her photos and pasting in his own.
---
Richard Gabai is a director with a minor career in B-budget cinema. Since the 1980s, he has made a number of acting appearances in the films of low-budget directors Fred Olen Ray and David DeCoteau. Gabai began directing with Assault of the Party Nerds (1989) and has made such films as Blood Nasty (1989), the softcore Virtual Girl (1998), its sequel Virtual Girl 2: Virtual Vegas (2001), the clairvoyance thriller In/Sight (2011) and the psycho-thriller Imaginary Friend (2012). In more recent years, Gabai has become a regular director of Lifetime Channel movies.
In the Dark falls into what has become a familiar plot trope in which a blind woman (almost always) faces off against a killer or stalker. The classic and best work in the genre was the thriller Wait Until Dark (1967) starring Aubrey Hepburn as a blind woman being stalked through her apartment by Alan Arkin. Variations on the plot have subsequently played out in films such as See No Evil (1971), Blind Fear (1989), Jennifer Eight (1992), Blink (1994), Blind Obsession (2001), Julia's Eyes (2010) and Penthouse North (2013).
The IMDB claims that In the Dark is a tv movie – although offers no information about which network it originally aired on. That said, the very blandness of approach and everything about the film from the generic directorial set-ups, the neutral photography to the insipidly tinkling piano score suggests In the Dark it is a tv movie.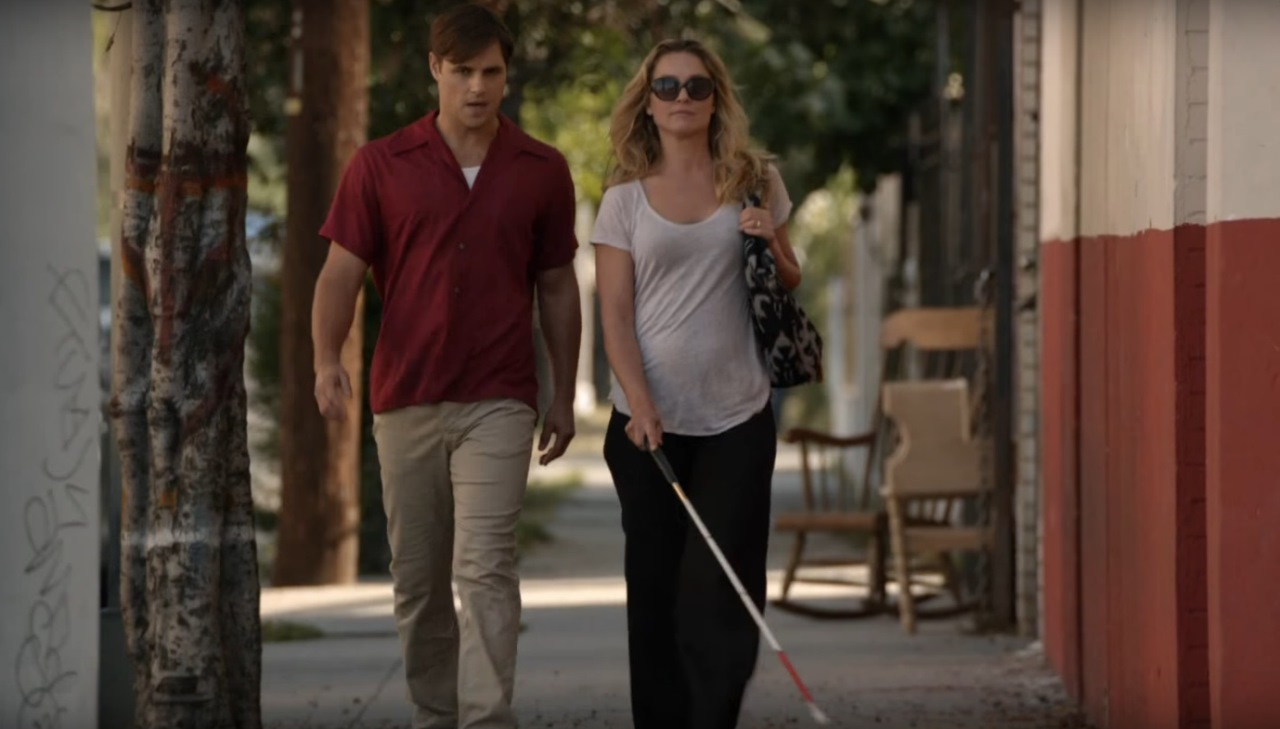 In the lead role as the blind woman, Elisabeth Röhm does everything to indicate she is a generic actress looking for her big break and nothing at all to convince uss that she actually is a blind woman. A little bit more life comes from Sam Page as the obsessive caregiver. As with these types of films, he is all handsome, perfectly friendly and helpful at the same time as the camera unsubtly focuses on the brooding glowers he gives in the background. Perhaps the most weirdly creepy thing he does is to cut out the faces of Elizabeth's husband in the photos around the apartment and substitute his own.
Everything runs to cliche. You know where every set up is going to go, you can tell every character's fate from the moment they are introduced. About the only time the film perks up anywhat is the climactic scenes with Elisabeth Röhm defending herself from Sam Page and trying to even the odds against her by turning the lights off and blinding him with a spraycan. It still has nothing on the suspense in Wait Until Dark.
---
Trailer here
---