---
USA/Germany. 2009.
Crew
Director – Karey Kirkpatrick, Screenplay – Chris Matheson & Ed Solomon, Producers – Lorenzo di Bonaventura & Ed Solomon, Photography – John Lindley, Music – Mark Mancina, Visual Effects – Hammerhead Productions (Supervisor – Jamie Dixon), Special Effects Supervisor – Lou Carlucci, Production Design – William Arnold. Production Company – Paramount/Nickelodeon/Bonaventura Pictures/Goldcrest Pictures/International Film Production Stella-del-Sud Third GmbH & Co KG.
Cast
Eddie Murphy (Evan Danielson), Yara Shahidi (Olivia Danielson), Thomas Haden Church (Johnny Whitefeather), Ronny Cox (Tom Stevens), Nicole Ari Parker (Trish), DeRay Davis (John Strother), Martin Sheen (Dante D'Enzo), Stephen Rannazzisi (Noah Kulick), Lauren Weedman (Rose), Timm Sharp (Tod), Vanessa Williams (Lori Strother), Stephen Root (Fred Franklin), Richard Schiff (Carl Simons), Tonita Castro (Graciella)
---
Plot
Evan Danielson is a Denver stocks advisor who feels constantly thwarted by high-rising company rival Johnny Whitefeather who draws on his American Indian background to spin mystical claptrap that dazzles clients. Evan is further upset when he is left with looking after his six-year-old daughter Olivia for the week. Olivia's refusal to be separated from her googa (or security blanket) causes problems, as does her scribbling on Evan's financial statements. After presenting the defaced statements in a meeting, Evan is startled when the child's drawings she has done prove remarkable predictive of stock fortunes. Olivia says that her invisible friends told her about the companies. In order to get an edge on Johnny, Evan must engage in Olivia's games of make-believe with the googa and imaginary princesses. These provide the accurate stock tips he needs. The company head then announces he will make a decision whether to allow Evan or Johnny to take over as CEO based on their performance. However, with only eight hours in which to prove himself, Evan finds that Olivia has gone to a play party and sleepover and has taken the googa with her.
---
Eddie Murphy is an enormously talented performer. There is no denying that. On the other hand, his career tends to move in pendulum swings between either wild successes or flops. He has had huge hits like 48 Hrs. (1982), Trading Places (1993), Beverly Hills Cop (1992), The Nutty Professor (1996), Dr Dolittle (1998) and Shrek (2001), along with sequels to most of these. On the other hand, there have been the likes of The Golden Child (1986), Harlem Nights (1989), Boomerang (1992), The Distinguished Gentleman (1992), The Adventures of Pluto Nash (2002), I Spy (2002), The Haunted Mansion (2003), Meet Dave (2008) and A Thousand Words (2012) – many of which have flopped so badly they would have derailed the careers of any lesser names. And there have been those peculiar efforts such as Daddy Day Care (2003) and Norbit (2007) that have been hits but hated by everybody.
Imagine That definitely falls into the category of one of Eddie Murphy's flops. With a script from the duo that between them wrote Bill and Ted's Excellent Adventure (1989) and Men in Black (1997), Imagine That should to all accounts have been a laugh riot. On the other hand, it is hard to think that any studio executive who had the power to greenlight the film would not have seen what a lightweight and lame premise the film has – in which a stockbroker receives stock tips from his six-year-old daughter's using her security blanket. Maybe people were thinking of the success just six months before of Bedtime Stories (2008), which had Adam Sandler finding that the children's bedtime stories he tells come to life around him.
Much of Imagine That seems premised around Eddie Murphy in a corporate boardroom relaying stock information in kid's talk, or scenes where he is determined to embarrass himself, running around underneath a kid's blanket or dancing in public places. Needless to say, despite a $55 million budget, Imagine That only earned back $16 million in domestic box-office returns when it opened and was universally panned.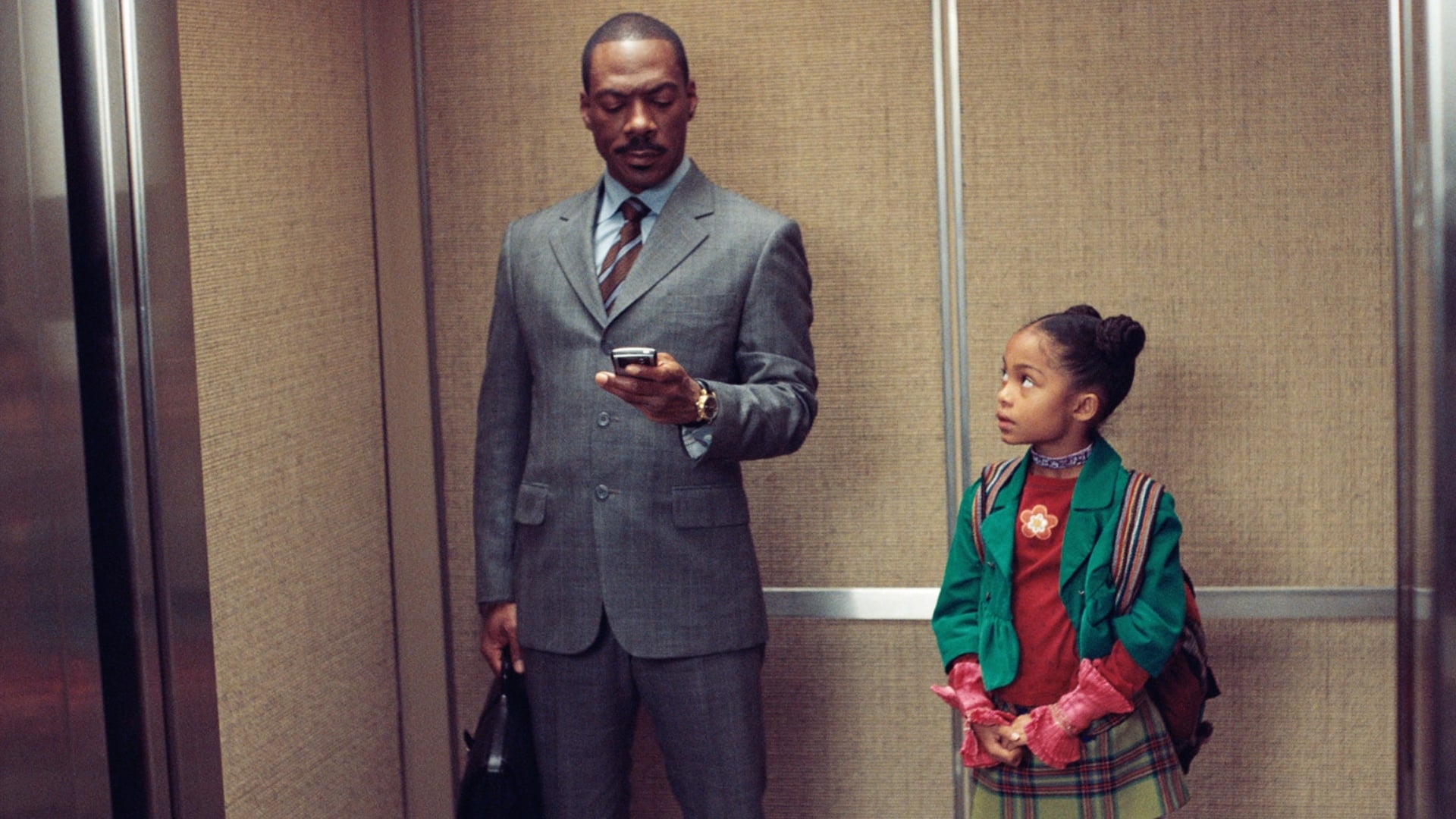 Directed by Karey Kirkpatrick, who has written a number of other children's films (see below), Imagine That travels in easily predictable arcs, ones where Eddie Murphy must inevitably find his inner child, bond with his daughter, overcome his corporate rival and ultimately realise that family means more to him than business success. The basic premise of the film seems to be a combination of Disney's The Barefoot Executive (1971), which had a tv executive discovering that a chimpanzee could predict which tv programs were going to be hits, and the classic Harvey (1950) where James Stewart was insistent in the belief that he had an invisible six-foot tall white rabbit companion.
Like Harvey, the film here remains carefully ambiguous as to whether Yara Shahidi's companions have any actual existence outside of her imagination and we never see any physical manifestation of them. Even if the premise itself is lame, there is a certain satiric amusement to the some of the film's ideas – that stock prediction is basically a nonsensical science and it makes just as much sense to rely upon a kid's perspective or wacky Native American mysticism.
Of course, what makes Imagine That watchable is Eddie Murphy. He seems determined to compensate for the lightweight material and scenes that would normally embarrass another star by sheer force of out-acting everyone else. He gives it his all and is the life of the party. Yara Shahidi gives an intelligent performance and she and Eddie Murphy strike up a wonderful rapport together, conducting cooking experiments, running around the apartment and with he coaching her how to sing Beatles songs. It is these scenes that give Imagine That its life. Thomas Haden Church follows close on Eddie Murphy's tail and gives an exceedingly whacked out performance, even if it is one that treads into dubious racial territory.
Karey Kirpatrick's other films include the scripts for The Rescuers Down Under (1990), James and the Giant Peach (1996), Honey, We Shrunk Ourselves (1997), Chicken Run (2000), The Little Vampire (2000), The Hitchhiker's Guide to the Galaxy (2005), Charlotte's Web (2006), The Spiderwick Chronicles (2008), the English-language version of From Up on Poppy Hill (2011) and The Smurfs 2 (2013). Karey Kirkpatrick made his directorial debut as co-director of the animated Over the Hedge (2006) and went on to make the animated Smallfoot (2018).
---
---