---
USA. 2009.
Crew
Directors/Screenplay – Ricky Gervais & Matthew Robinson, Producers – Ricky Gervais, Dan Lin, Lynda Obst & Oly Obst, Photography – Tim Surhstedt, Music – Tim Atack, Music Supervisor – Dana DuFine, Visual Effects – Gradient FX (Supervisor – Thomas Tannenberger), Special Effects Supervisor – Yves De Bono, Production Design – Alec Hammond. Production Company – Radar Pictures/Media Rights Company.
Cast
Ricky Gervais (Mark Bellison), Jennifer Garner (Anna McDoogles), Rob Lowe (Brad Kessler), Louis C.K. (Greg), Jonah Hill (Frank), Fionnula Flanagan (Martha Bellison), Jeffrey Tambor (Anthony James), Tina Fey (Shelley), Ruben Santiago-Hudson (Landlord), Stephanie March (Blonde), Jason Bateman (Doctor), Jimmi Simpson (Bob, Coke Spokesperson), Ashlie Atkinson (Bank Teller), Philip Seymour Hoffman (Barman), Edward Norton (Cop), Shaun Williamson (Richard Bellison), Stephen Merchant (Man at the Door), Christopher Guest (Nathan Goldfrappe)
---
Plot
In a world very similar to this one, everybody tells the truth and nobody has ever told a lie. This causes problems as people are frequently volunteering unflattering information. Mark Bellison, a failing screenwriter who writes scripts for films that lecture about history, goes on a date with his long-time dream girl Anna McDoogles but she is truthful in telling him that she does not find him attractive or marriage-worthy genetic material. Mark is fired from his job and then told that he is to be evicted from his apartment. When he goes to the bank to get out his last $300, something in his brain changes and he tells the teller there is $800 there and she gives it to him because she believes him rather than the computer. Discovering the power of lying, Mark starts to explore its possibilities – having a beautiful woman ready to jump into bed with him when he tells her that the world is going to end if they don't have sex; getting his friend off a DUI charge by telling the arresting cop that he is not drunk; making lots of money by cheating in the casinos. He then returns to the studio and amazes everybody with an historical script he has made up concerning Martians and killer robots in the 14th Century, which he claims is based on a document he discovered, and this proves an enormous hit. He returns to Anna and tries to persuade her to give him a second chance. As his mother lies dying, Mark tries to ease her fears by telling her there is a wonderful place waiting for her on the other side where she will be reunited with her loved ones. This amazes the doctors and nurses listening and the story spreads until masses and media gather outside Mark's house. He locks himself away and invents the story of The Man in the Sky and a set of commandments to help them be good. Even though this makes him the most popular man in the world, he finds he is losing Anna who is preparing to marry his slick and obnoxious but genetically perfect co-worker Brad Kessler.
---
In recent years, British comedian Ricky Gervais has risen to become a major star (on both sides of the Atlantic). Gervais was a music dj and band manager before appearing out of nowhere, writing, directing and starring in the tv series The Office (2001-3) (the original British one, not the pallid US copy). This became a worldwide hit and soon Gervais was being offered roles everywhere. The very rare example of the star who declines fame and money-making offers, Gervais turned down roles in Mission: Impossible III (2006) and the Pirates of the Caribbean films but did make sporadic appearances on tv series like The Simpsons (1989– ) and Alias (2001-6), as well as accepting parts in films like Valiant (2005), Night at the Museum (2006) and sequel, and Stardust (2007) before taking the lead role in Ghost Town (2008). During the interim, Gervais also returned to create a new tv series with Extras (2005-7), wherein he plays an extra who is constantly struggling to get his first line. This didn't quite achieve the same stratospheric success as The Office but is still extremely witty. The Invention of Lying was Gervais stretching his multi-disciplined talents to the big screen. Unlike Ghost Town, where he was merely a hired star, Gervais co-writes, co-directs and co-produces here.
The Invention of Lying feels like it started with the idea of conducting a reverse spin on Liar Liar (1997) wherein Jim Carrey was affected by a wish that forced him to tell the truth. Here Liar Liar has been turned inside out and we are given an entire alternate world where everybody tells the truth but for one man who discovers the ability to lie. The set-up of this world proves of some amusement – Coke advertisements on television are dull narrations that are completely truthful about the product they are selling; hit films are documentaries narrated by someone sitting in a chair (because no lying means that fiction doesn't exist in this world); a geriatric hospital announces it is 'A Sad Place for Hopeless People', while the casinos have signs stating that 'Odds Favour the House'. Peculiarly, this is not the first alternate world story to deal with a world where people didn't lie – Harry Harrison wrote West of Eden (1984) and sequels set in a world where dinosaurs had not died out but had evolved parallel to humans where, due to the fact that their communication was based on body language, they were unable to lie until they encountered humans who could.
Certainly, one has a few quibbles with the basic concept of a world where nobody lies. The people who live there must surely have some gullibility filter to deal with accidental misinterpretations and misunderstandings – like situations where people are not lying but may have gotten only half of the story. With the scene where Ricky Gervais convinces the woman to go to bed, it is hard to believe that she does not have some capacity to wonder if he has gotten the information wrong.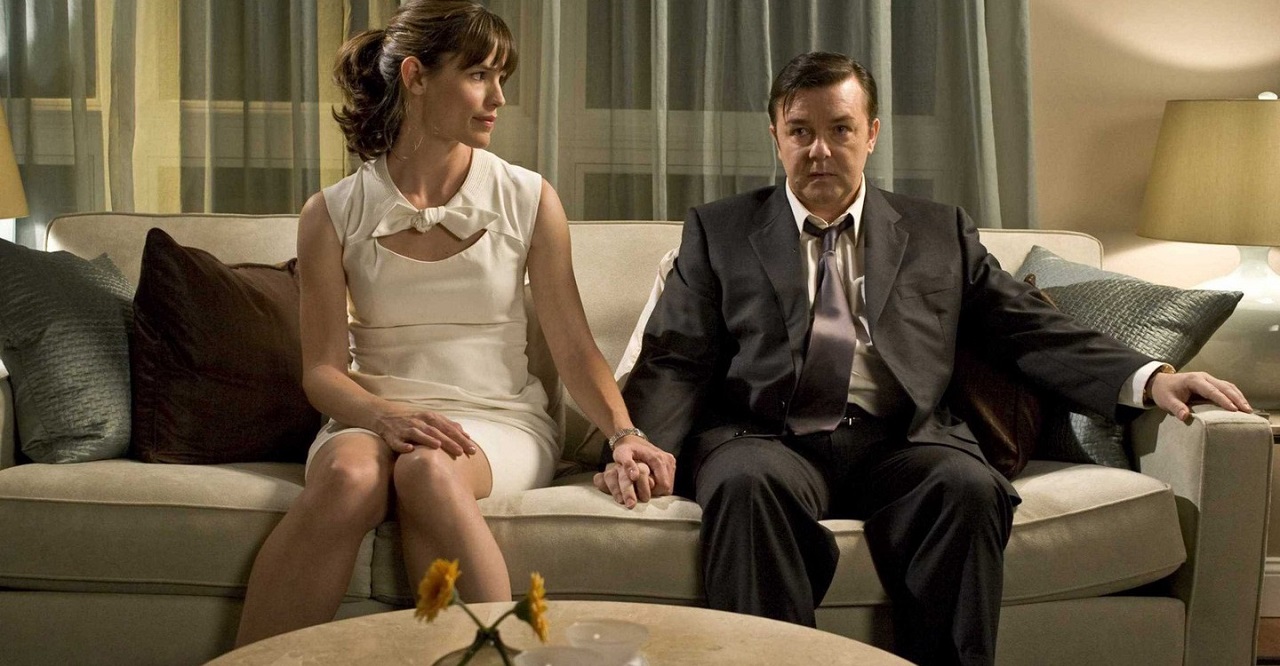 The Invention of Lying is essentially a one-gag film but Gervais milks the idea for some creativity. The film gets its greatest mileage out of the scenes where Gervais accidentally invents the concept of religion and the various complications that ensue from this. Not to mention the highly inflammatory underlying implication that these scenes hold – that all religion is a lie (after all if it weren't it follows, then surely religion would exist in this world). Indeed, one is surprised to find that there have not been picket lines and calls for the film's banning in Bible Belt America.
Gervais's other interesting idea is that lying is necessary to a creative and vibrant imagination. Fiction does not exist in this world until he introduces it, and there is also a subtle production design schema that makes the world one where the colours have been muted towards mid-tone whites and greys essentially saying that a world without imagination is a dull one. Part of Gervais's attempts to woo Jennifer Garner comes by using descriptive phrases to light up her imagination.
For all that, The Invention of Lying is an oddly uneven film. It feels like it should have been more biting, pushed the central satire of its idea more towards some of the intensely awkward and uncomfortable places that Gervais loved to find in The Office and Extras. Yet the humour in the film remains resolutely middle-of-the-road – a few occasional smiles from the situations encountered but a distinct lack of the uproarious and blackly funny.
Gervais also has a peculiar fascination with making derogatory comments about his weight and similarly indulges himself here a number of times but by now the effect is starting to seem like a self-absorbed person who self-consciously points out their perceived flaws to everybody in the world. Towards the end of the film, Gervais even shows himself as an old-fashioned romantic who believes in love and wants to get the girl at the end of the show. The result feels like a satiric film that ends up choosing to temper its bite by flying middle of the road and being nice to its audience.
---
Trailer here
---