---
Crew
Supervising Director – Clyde Geronimi, Sequence Directors – Les Clark, Eric Larson & Wolfgang Reitherman, Story Adaptation – Milt Banta, Winston Hibler, Bill Peet, Joe Rinaldi, Ted Sears & Ralph Wright, Music Adaption – George Bruns, Based on the Sleeping Beauty Ballet by Peter Tchaikovsky, Songs – George Bruns, Winston Hibler, Erdman Penner, Ted Sears, Tom Adair, Sammy Fain & Jack Lawrence, Choral Arrangements – John Karig, Animation Supervisors – Marc Davis, Ollie Johnston, Milt Kahl, John Lousnbery & Frank Thomas, Special Processes – Ub Iwerks & Eustace Lycett, Production Design – Ken Anderson & Don DaGradi. Production Company – Disney.
Voices
Mary Costa (Princess Aurora/Briar Rose), Verna Felton (Flora), Barbara Jo Allen (Fauna), Barbara Luddy (Merryweather), Eleanor Audley (Maleficent), Bill Shirley (Prince Phillip), Taylor Holmes (King Stefan), Bill Thompson (King Hubert)
---
Plot
The witch Maleficent appears at the birth of the princess Aurora, angry at not having been invited to give her blessing along with the good fairies Flora, Fauna and Merryweather. She places a curse on Aurora that on her sixteenth birthday Aurora will prick her finger on the needle of a spinning wheel and die. The fairies are able to change the spell so that Aurora will instead fall into a sleep that can only be woken by the kiss of her true love. To protect Aurora, they take her away to a cottage in the woods where they raise her unaware of her true identity. As her sixteenth birthday nears, Aurora meets her betrothed Prince Phillip in the forest and both fall for one another unaware of who the other is. However, lurking close at hand is Maleficent who is determined to lure Aurora to her intended fate.
---
After a meteoric rise in the 1930s producing various Mickey Mouse and Donald Duck shorts and then going onto make the first animated feature film with Snow White and the Seven Dwarfs (1937), the latter half of the 1940s proved not a good period for the Disney studio. Conscription and the Wartime slump had left them essentially rudderless when it came to feature-length animation and from about 1942 onwards the studio's output had been reduced to a conveyor-belt of ineffectual portmanteau-style animation compilations. It was something that nearly killed the studio off after the great name it had built up for itself at the start of the decade. In the 1950s, Disney made a conscious attempt to regain that form, beginning with Cinderella (1950) and continuing with a number of latter-day Disney classics – Alice in Wonderland (1951), Peter Pan (1953), Lady and the Tramp (1955) and of course Sleeping Beauty.
Disney films of the 1940s such as Bambi (1942) and Fantasia (1940) achieved dazzling artistic heights through Disney's willingness to experiment with the animated form and see just where they could take things to. The Disney films of the 1950s like Cinderella and Sleeping Beauty though seem made with much more of a self-conscious artiness, the sense that they are trying to impress for their own sake. Sleeping Beauty, for example, was made for a then phenomenal $6 million and in the then new, fashionable widescreen format – one that Disney called Technorama 70. Sleeping Beauty was the better part of the decade in the planning and is made with painstaking effort – the accompanying video collector's documentary shows how each bush and tree in the forest were handbrushed in extraordinary detail. Cinderella felt epic but empty but with Sleeping Beauty, Disney comes close to pulling it off near flawlessly.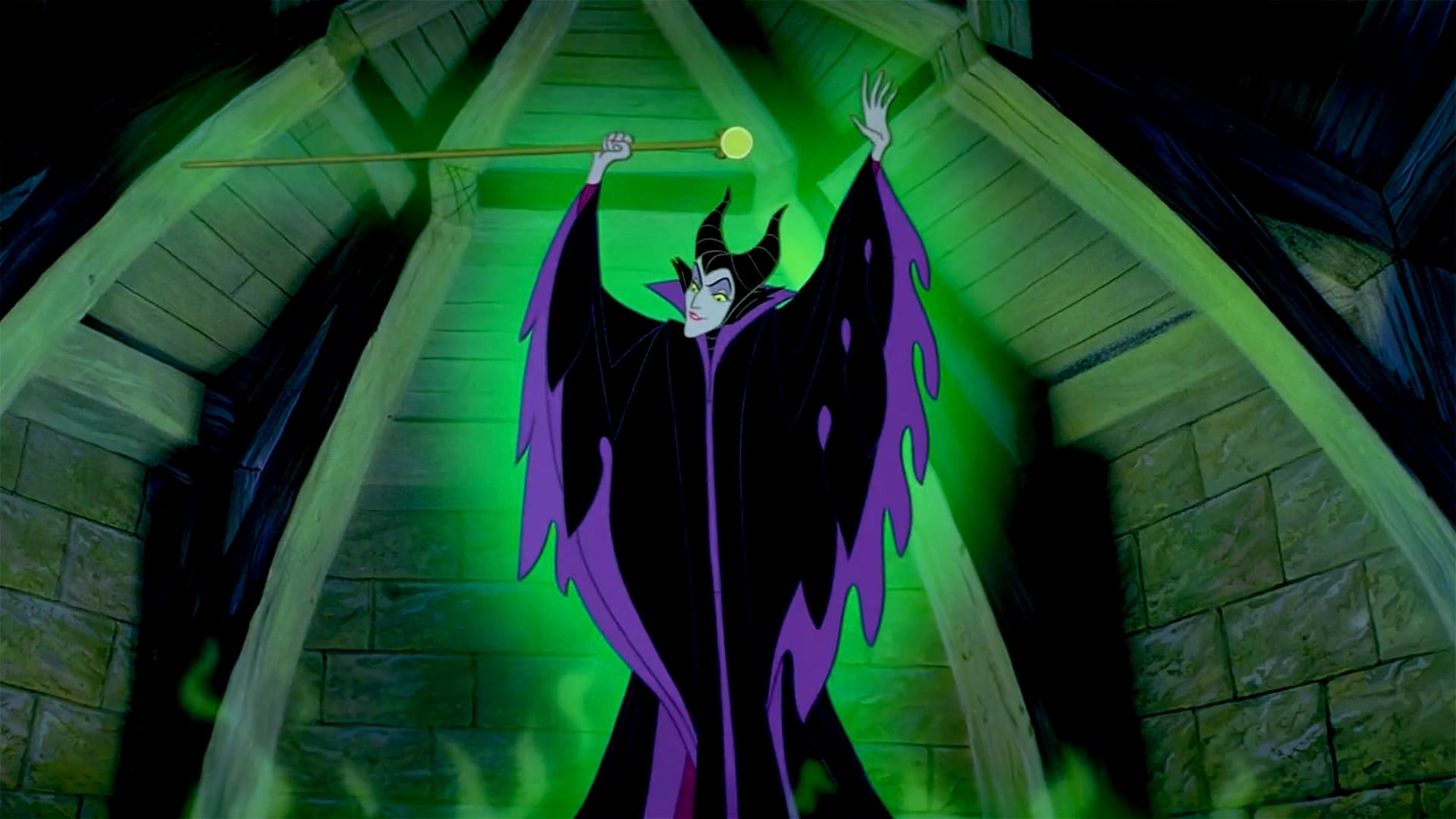 The lavishness of the artwork is dazzling. All angular stretched lines – the design team were apparently influenced by Mediaeval artwork. Maleficent's initial appearance all in flame is excellent and there are some lovely moments such as the three fairies' dance throughout the kingdom putting everybody to sleep.
However, what makes the film is its enthralling climax – the prince's escape from the castle with the fairies aiding him by turning the goons' arrows to flowers, their boiling oil to rainbows and falling rocks to bubbles, to an immensely exciting finale with the prince taking on Maleficent who has transformed herself into a dragon. That in comparison to this the subsequent kiss of true love that awakes Aurora is a perfunctory affair is almost a criticism that one feels a spoilsport for making. The reworking of Tchaikovsky's Sleeping Beauty ballet makes for one of the finest scores of any Disney film.
Comparison between Cinderella and Sleeping Beauty is not inapt – they are both made with the same self-conscious artistic flourishes, they are both adaptations of Charles Perrault fairy-tales. Sleeping Beauty works better for the obvious reason than that it is dramatically exciting and Sleeping Beauty is a character with some depth, whereas Cinderella is not. Sleeping Beauty is not perfect – she needs more depth as a character and the three good fairies are like dotty aunts who are played up to a warm fuzzy comic extreme that does get to be a little too much.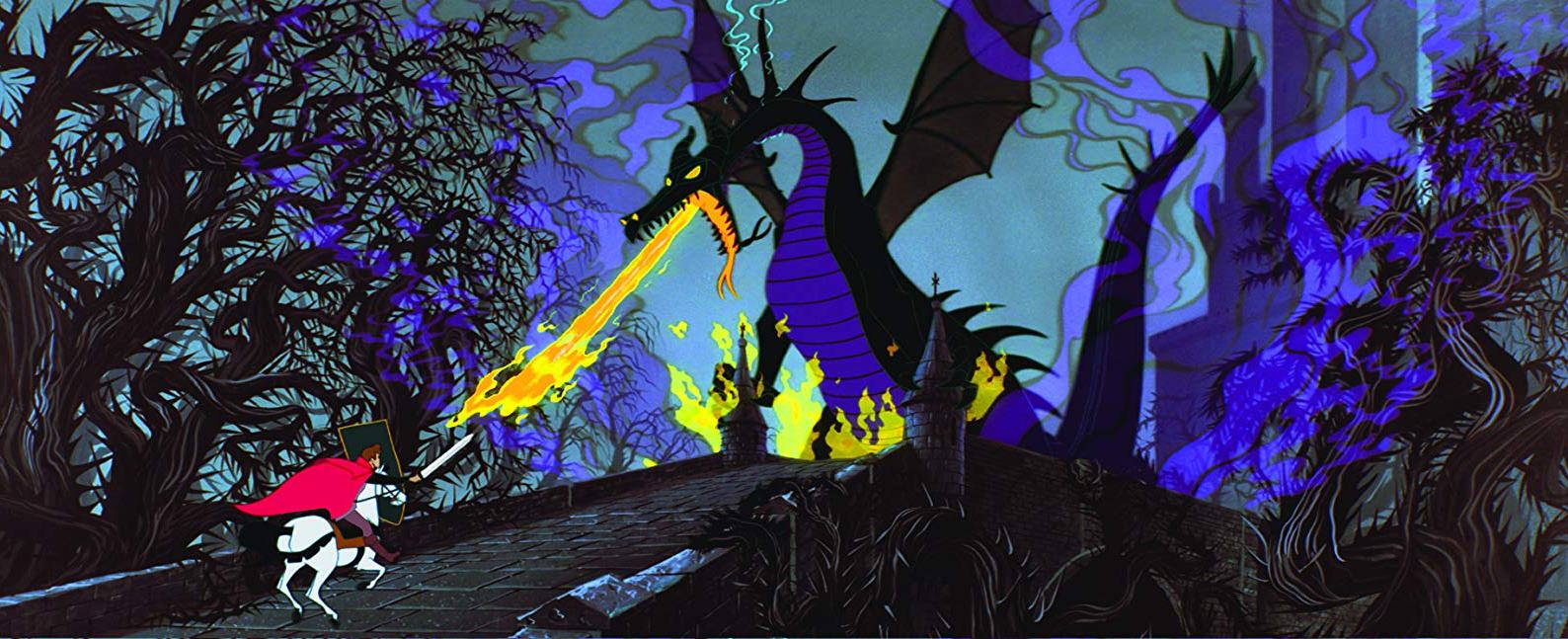 The film also makes some notable changes to the original fairy-tale. The prince is a character who is present from the start, not just at the end; it is the fairies rather than the curse that puts the kingdom to sleep. Most noticeably, the film concentrates the entire fairy-tale into the space of a single day rather than a hundred years – the fairies put the kingdom to sleep with the exception of the prince who then rushes back to save Sleeping Beauty. The prince does get to fight his way through a forest of thorns to get to Sleeping Beauty but this is not something that has grown up during her century-long sleep but merely something that Maleficent has magically thrown up to impede his path. Nor is the spinning wheel relevant here – it was a McGuffin the fairy-tale used to carry the curse but it seems even more so here through its relatively low emphasis.
Maleficent (2014) was a live-action remake rewritten from the perspective of Maleficent, played by Angelina Jolie, and featuring Elle Fanning as Aurora. This also produced a sequel Maleficent: Mistress of Evil (2019). Sleeping Beauty was later spoofed in Disney's Enchanted (2007), while the tv movie Descendants (2015) about the children of Disney villains featured a lead character who was Maleficent's daughter. Sleeping Beauty also makes a cameo in Ralph Breaks the Internet (2018).
---
---