---
Crew
Director – Norman Panama, Screenplay – Norman Panama & Melvin Frank, Producer – Melvin Frank, Photography (b&w) – Jack Hildyard, Music – Robert Farnon, Songs – Sammy Cahn & Jimmy Van Heusen, Musical Numbers Staged by Jack Baker & Sheila Meyers, Special Effects – Ted Samuels & Wally Veevers, Production Design – Roger Furse. Production Company – Melnor Productions.
Cast
Bob Hope (Chester Babcock), Bing Crosby (Harry Turner), Joan Collins (Diane), Robert Morley (The Leader), Dorothy Lamour (Herself), Felix Aylmer (The Grand Lama), Walter Gotell (Dr Zorbb), Peter Sellers (Doctor)
---
Plot
Harry Turner and Chester Babcock are two conmen running a scam in Calcutta involving a fake backpack flying machine. Chester is injured trying out the machine and loses his memory. The only hope is to go to a lamasery, which offers a medicinal treatment that retrieves memory. When they find that the serum allows perfect recall, they abscond with a vial, hoping to use it in a variety act. While trying it out, Chester accidentally memorises a secret rocket fuel formula that has been mistakenly given to him by a spy courier Diane. As she tries to get it back, Chester and Harry are abducted by the spy organisation The Third Echelon, whose leader decides to use them as test subjects in an experimental Moon rocket launch.
---
The Road to Hong Kong was the sixth of the Bob Hope-Bing Crosby Road movies. Previous journeys had taken them along the Road to Singapore (1940), The Road to Zanzibar (1941), The Road to Morocco (1942), The Road to Utopia (1946), The Road to Rio (1947) and The Road to Bali (1952). The Road to Hong Kong was the last of their films together. The Road movies were always more like a thinking person's version of Abbott and Costello or The Three Stooges – Hope and Crosby's clowning around operated on a much snappier, cleverer level and the films are filled with sly self-referential gags winking to the audience and carping at the artificiality of the form.
Despite it being a decade before they had had made their previous Road movie, The Road to Hong Kong is arguably one of the best of the series. The only move with the times is to allow the knockabout comedy to be shaped by the James Bond spy film (something that pushes The Road to Hong Kong over into being science-fiction). Hope and Crosby are on great form – there are some hilarious slapstick gags with the two caught in an automatic scratching and banana feeding machine designed for monkeys. There is a thoroughly surreal stage number where Bob Hope does a Chinese number with Dorothy Lamour and fish keep popping out of his mandarin robes.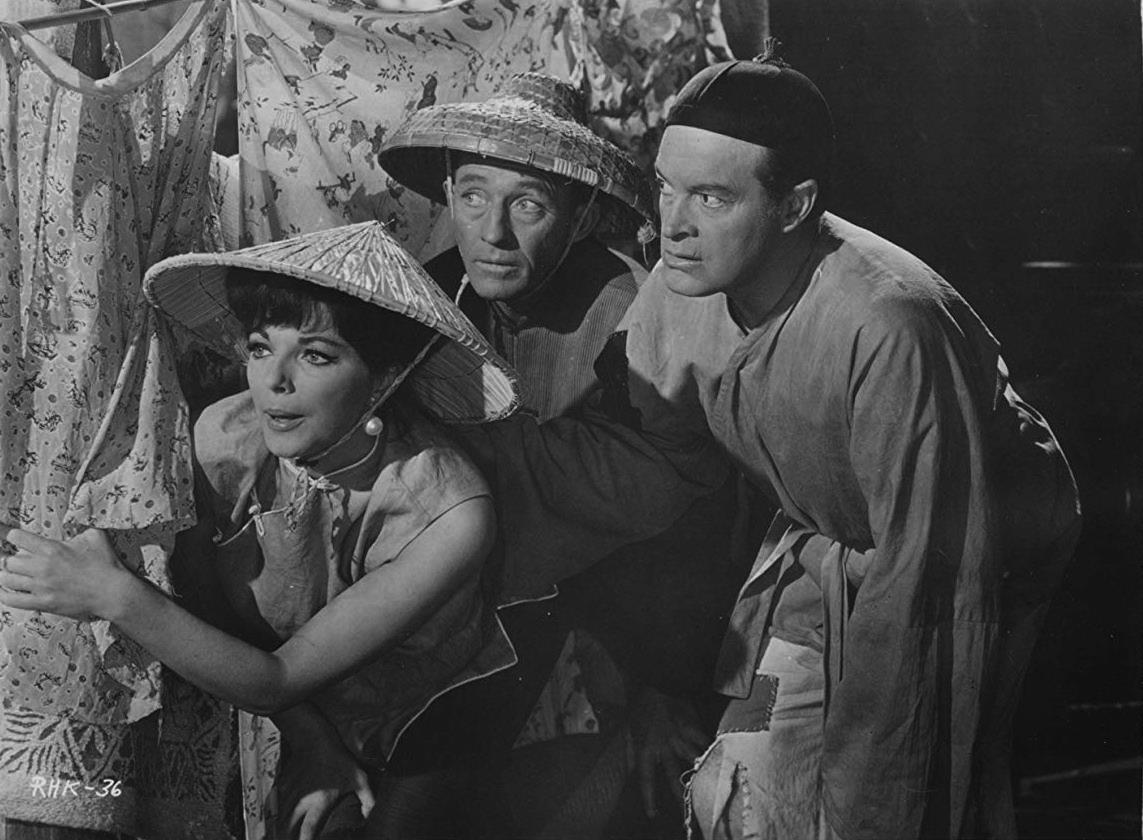 In some ways, The Road to Hong Kong is both a nostalgia for the good old days and the opportunity for Hope and Crosby to go completely crazy. They pack in cameos from everyone from Dean Martin and Frank Sinatra, Zsa Zsa Gabor, David Niven, and an hilarious, mercilessly paced sequence with an uncredited Peter Sellers as an Indian doctor.
There are more meta-fictional gags than in the previous films – from an opening number that winds in reference to all the other films and has the two joking with each other about whose name should be the biggest on the billboard sign. They even engage in a number of self-deflating putdowns: "I've got to hide you," Dorothy Lamour announces. "From the killers?" "No, the critics." Earlier, the two encounter a shark: "Don't worry they don't eat people." "What about actors?" "We're safe." Enjoyably silly fun.
---
---