---
Crew
Director/Screenplay – Blake Harris, Co-Director – Chris Bouchard, Producers – Armando Gutierrez & Robert Molloy, Photography – Neil Oseman, Music – Jeremy Rubolino, Visual Effects Supervisor – Rich Thorne, Visual Effects – Phantom FX, Animation – Blake Believe & Magick Lantern, Special Effects Supervisor – Ken Speed, Makeup Effects – Toby Sells. Production Company – Conglomerate & Kingsway Productions.
Cast
William Moseley (Cam Harrison), Poppy Drayton (Elizabeth), Loreto Peralta (Elle Harrison), Armando Gutierrez (Locke), Shirley MacLaine (Grandmother Elle), Jo Marie Payton (Lorene), Shanna Collins (Thora), Gina Gershon (Peggy Gene), Chris Yong (Ulysses), Tom Nowicki (Sid), Lexy Kolker (Granddaughter Lily), Claire Crosby (Granddaughter Rose)
---
Plot
A grandmother tells her two granddaughters a story of mermaids. In the 1940s, journalist Cam Harrison was left with guardianship of his ill niece Elle following the death of her parents. Cam's editor assigned him to go to Mississippi and investigate a circus that reportedly offered healing mermaid water. Cam and Elle travelled there, finding the circus where the owner Locke displayed the mermaid Elizabeth. Dubious about the so-called miracles being offered, Cam was attracted to Elizabeth. He then discovered she was a real mermaid but was being held in magical thrall to Locke. As he attempted to free Elizabeth, Locke set his attentions on the magical abilities that Elle displayed and determined to capture her so that he could become more powerful.
---
Hans Christian Andersen's The Little Mermaid (1837) is a classic fairytale. The definitive film version has ended up being the Disney animated film The Little Mermaid (1989), even though that is a somewhat different story to the one Andersen told. The late 2010s however offered several others adaptations. There was the low-budget modernised Little Mermaid (2016) starring Rosie Mac where the mermaid becomes a stripper; a live tv broadcast adapted from the Disney film; and the announced live-action remake of the Disney film The Little Mermaid (2023), as well as this version.
Like the 2017 film, this is not an actual adaptation of the Hans Christian Andersen fairytale but a film that merely appropriates its name. In fact, it did do so successfully that people assumed that its trailer was the one for the live-action remake of the Disney film – there are two trailers for the film floating about on YouTube and both have accrued 2.5 million views since their launch at the time of writing this review.
We do get a telling of the Hans Christian Andersen fairytale in the opening scene (rendered in shoddy cut-price animation that causes one's hopes for the film to plummet badly). Otherwise the fairytale and film are two occasionally similar but just as equally divergent films. Both feature a mermaid character that falls in love with a surface dweller. In both, there is the character of the witch (who here becomes a magician played by co-producer Armando Gutierrez) who keeps the little mermaid in thrall because they have captured part of the mermaid's essence (her voice in the original, a magic crystal that seems to be her heart here). On the other hand, there is no equivalent of the reporter and his niece, nor anything to do with any circus, in the original fairytale.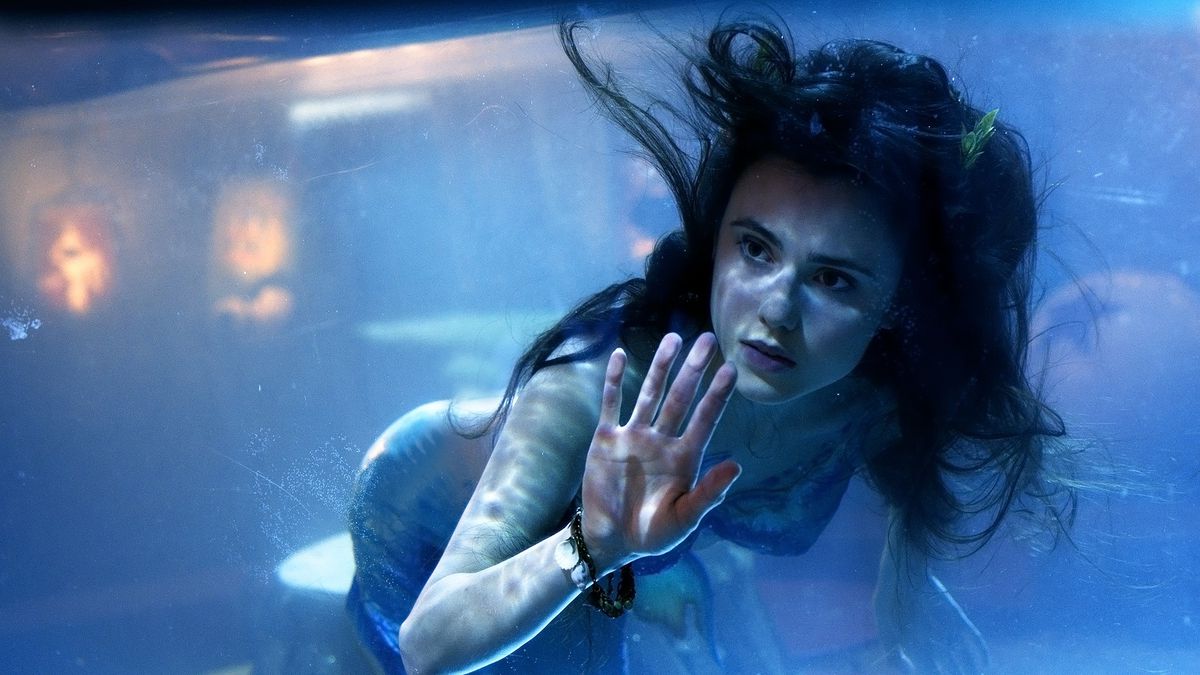 The Little Mermaid is a nicely made film. Debuting director Blake Harris only has a B-budget at his disposal but uses it well. The film makes the most of its colour and locations. This is not a work that travels too much out of being a nicely made average film but you do appreciate the sincerity with which it is made.
The film is never able to afford an A-list cast. William Mosely – not to be confused with horror actor Bill Moseley best known for The Texas Chainsaw Massacre 2 (1986) – is the grown-up version of Peter from The Chronicles of Narnia: The Lion, The Witch and the Wardrobe (2005); there's Gina Gershon, a few years ago cast in sexpot roles in films like Showgirls (1995) and Bound (1997), nowadays floating around in MILF parts, who has a nothing much role as a Southerner. The most eye-opening casting is that of an 83 year-old Shirley MacLaine who plays the grandmother in the wraparound scenes.
Blake Harris subsequently went on to make Anastasia: Once Upon a Time (2020), as well as write the story for Hocus Pocus 2 (2022).
---
---