---
Crew
Directors/Screenplay – Evan Goldberg & Seth Rogen, Based on the Short Film Jay and Seth vs the Apocalypse by Jason Stone, Producers – Evan Goldberg, Lawrence Grey, Seth Rogen & James Weaver, Photography – Brandon Trost, Music – Henry Jackman, Visual Effects Supervisor – Paul Linden, Visual Effects – Modus FX (Supervisor – Eric Clement), Additional Visual Effects – Colormark, Drawn By the Light & Hammerhead Productions (Supervisor – Jamie Dixon), Special Effects Supervisor – Kevin Harris, Makeup Effects – KNB EFX Group (Supervisors – Howard Berger & Greg Nicotero), Production Design – Chris L. Spellman. Production Company – Mandate Pictures/Point Grey.
Cast
Seth Rogen (Himself), Jay Baruchel (Himself), James Franco (Himself), Jonah Hill (Himself), Craig Robinson (Himself), Danny McBride (Himself), Michael Cera (Himself), Emma Watson (Herself)
---
Plot
Jay Baruchel arrives in Los Angeles to stay with his best friend Seth Rogen. Seth takes Jay to a party being thrown by James Franco, although Jay feels out of place. During the party, Seth and Jay walk down the block to the convenience store, only for the building to be rocked by a massive earth tremor. They then see people being drawn up into the sky in beams of light. Back at the party, nobody has noticed anything until they open the door and see the city outside aflame. Most of them are swallowed up in earth tremors. Jay, Seth and Franco, along with Jonah Hill, Craig Robinson and Danny McBride, barricade the doors and try to conserve the remaining supplies. Reading The Bible, Jay is certain that The Apocalypse is upon them and they have been left because they are not worthy to be taken up to Heaven.
---
Seth Rogen is known to most of the world as an actor and has attained a reasonable Hollywood presence. This is The End marks his debut as a director. The Canadian-born Rogen first appeared on the short-lived tv series Freaks and Geeks (1999-2000). Thereafter he made a name as a comedy writer on the equally short-lived tv series Undeclared (2001-2), where his friendship with Jay Baruchel began, and on Da Ali G Show (2003-4). Bit parts in films like Anchorman: The Legend of Ron Burgundy (2004), The 40 Year Old Virgin (2005), You, Me and Dupree (2006), even Donnie Darko (2001), followed. Rogen had his breakout hit with the Judd Apatow film Knocked Up (2007), and around the same time also wrote and made a supporting appearance in the other big Apatow produced hit Superbad (2007), followed by his starring in and writing the Apatow-produced stoner comedy Pineapple Express (2008). These served to give Rogen a Hollywood name and he has gone onto star in other films such as Zack and Miri Make a Porno (2008), Funny People (2009), 50/50 (2011) and The Guilt Trip (2012), as well as do voiceover work in Kung Fu Panda (2008), The Spiderwick Chronicles (2008), Monsters vs Aliens (2009) and Paul (2011).
As an actor, Rogen has charted out an amiably middle of the road niche; Seth Rogen the writer is a somewhat more dubious proposition. His scripts for Superbad and Pineapple Express have been side-splitting. And then of course there was the subsequent notoriety of The Interview (2014). There are also the occasions where he has ventured into genre material with less than happy results – the abortion that was The Green Hornet (2011) and the none-particularly standout The Watch (2012), which vanished with little notice, although he and collaborative partner did redeem themselves with the animated Sausage Party (2016). They have also produced the comic-book adapted tv series Preacher (2016-9), the time travel comedy Future Man (2017-20) and the superhero series The Boys (2019- ) and producing An American Pickle (2020) with Rogen as a Jewish immigrant from 1919 awoken in the present.
This is The End is developed from out of an eight-and-a-half minute comedy short Jay and Seth vs. The Apocalypse (2007) written by Rogen and his regular creative partner Evan Goldberg that starred Rogen and Jay Baruchel as two roommates trapped in a messy apartment as the apocalypse hits. Despite rumours to the contrary, Jay and Seth vs. The Apocalypse has never been screened to the public (although a trailer is available on YouTube). Rogen shipped the short film around Hollywood where the rights were picked by Mandate Pictures. With the full-length film version, Rogen and Evan Goldberg make their mutual directorial debuts. (The Point Grey production company banner is named after the Vancouver high school where both grew up).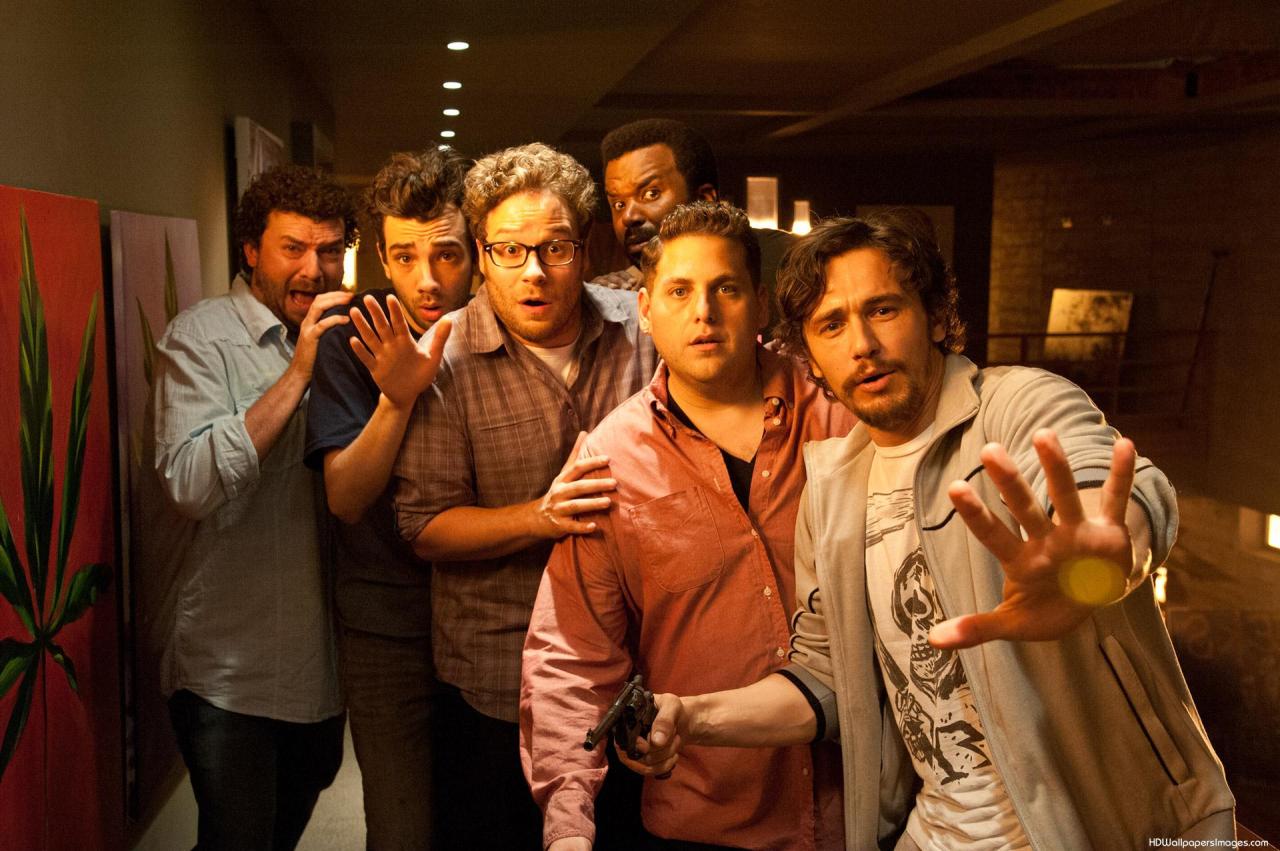 This is The End reminds of a film like The Anniversary Party (2001), which was co-directed by actors Alan Cumming and Jennifer Jason Leigh, who brought in a cast of fellow actors/friends in an ensemble drama set around the titular party, which they shot at a friend's house. Joss Whedon did very similar things with Much Ado About Nothing (2012), which went into general release around the same time as This is The End, shooting a contemporary adaptation of the Shakespeare play around his own home using a cast of familiar actors from his various shows.
Similarly here, Rogen gives the impression that he has gathered together a group of actor friends – most of them recruited from the so-called Frat Pack who found success in Judd Apatow films – and improvised something in what appears to be one of their houses (although is in fact a studio-based set). The film comes packed with a great many celebrity cameos – aside from those mentioned in the primary credits list above, the party features appearances from the likes of Rihanna, Mindy Kaling, Kevin Hart, Aziz Ansari, Martin Starr, Paul Rudd, Christopher Mintz-Plasse and David Krumholtz, not all of whom you can identify onscreen. It is some way down the cast list before you run across an actor who is not playing themselves.
While the immediate reaction is to regard the film as an exercise in self-congratulatory humour where various actors play versions of themselves as they get wasted and engaged in various hijinks, This is The End is far more self-aware than that. It is constantly mocking its' stars own self-importance and artistic pretensions. Within the opening moments, Rogen is passing through the airport followed by a tv reporter asking him "Seth Rogen – don't you always play the same character in every film?" Some of the most amusing lines are ones throwing jibes in the direction of their own failings with snide remarks about flops like Your Highness (2011) and Rogen's acting in The Green Hornet. We even get the group coming up with the idea for and then performing a sweded version of a sequel to Pineapple Express at one point.
Some of the funniest scenes are those where guesting actors use the opportunity to trash their on-screen images – Michael Cera is positively side-splitting in his appearances at the party playing a pretentious, coke-snorting version of himself, while Channing Tatum has an equally side-splitting cameo as Danny McBride's gimp at the end of the film. There is also the appearance of Harry Potter actress Emma Stone and an extremely funny scene discussing whether the rest of the male group are giving off a 'rapey vibe', before she turns and gains the upper hand, leading to Danny McBride's outburst of disbelief: "Hermione jacked our food."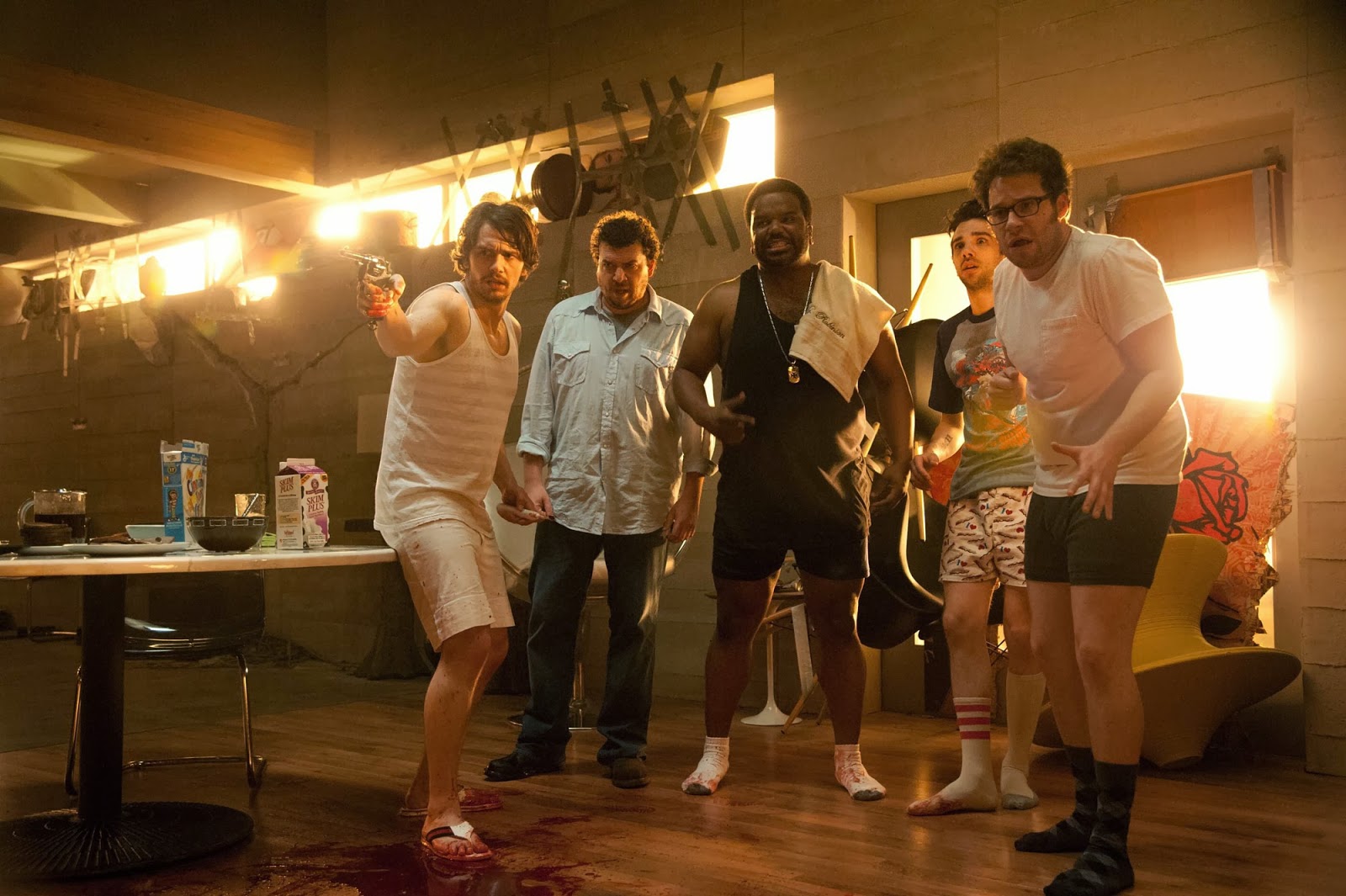 In terms of premise, there is a good deal in common with It's a Disaster (2012) and Goodbye World (2013), which both had a very similar set-up of a group of people barricaded in a house facing the end of the world, while the very unfunny Rapture-Palooza (2013) was another comedy that came out around the same time dealing with The Rapture.
You either get Seth Rogen's stoner humour and fratboy penchant for mild outrage or you don't. That said, This is The End is one film where the Rogen humour and the film itself hits on all cylinders and keep going for 107 minutes (which is somewhat longer than the usual mainstream-released comedy) while never tiring, mistiming a gag or running out of new ones. The film delivers a number of consistently raucously funny scenes and one-liners. Moreover, each of the principal actors play to great strength throughout. One of the surprise scene-stealers of the film ends up being Danny McBride, an actor I have never cared for in anything else I have seen him in, whose loud and boisterous scenes demanding more water or arguing with James Franco over who jizzed on the pornographic magazine end up being some of the funniest moments in the film.
This is The End is largely a film of comedic interactions between the actors more so than it is ever a film about The Apocalypse. It is not a film that asks you to take much of its theology seriously – as witness the end vision of Heaven with doobies lit up off of halos and of a resurrected reuniting of The Backstreet Boys. The film gets an amusing dig in at The Exorcist (1973) with a possessed Jonah Hill – a subplot that seems a bit random and could have been cut – and Jay Baruchel trying to ineffectually conduct an exorcism by citing cliches of "the power of Christ compels you." It does at least offer a version of The Rapture that in its own irreverent way offers more of theological substance than Left Behind (2000) and its ilk in the view that acceptance to Heaven is actually based on good deeds and self-sacrifice.
(Winner in this site's Top 10 Films of 2013 list. Nominee for Best Original Screenplay and Best Supporting Actor (Danny McBride) at this site's Best of 2013 Awards).
---
---