---
Crew
Director – Frank Coraci, Screenplay – Nick Bakay, Kevin James, Rock Reuben, David Ronn & Jay Scherick, Story – David Ronn & Jay Scherick, Producers – Walt Becker, Todd Garner, Jack Giarraputo, Kevin James & Adam Sandler, Photography – Michael Barrett, Music – Rupert Gregson-Williams, Visual Effects Supervisor – Peter G. Travers, Visual Effects – Framework Studio L.A., Pixomondo (Supervisor – Scott Gordon), Sony Pictures Imageworks & Zero VFX (Supervisor – Sean Devereaux), Special Effects Supervisor – Allen L. Hall, Animatronics Created & Designed by Alec Gillis & Tom Woodruff, Jr., Production Design – Kirk M. Petruccelli. Production Company – MGM/Broken Road/Hey Eddie/Happy Madison.
Cast
Kevin James (Griffin Keyes), Rosario Dawson (Kate), Leslie Bibb (Stephanie), Joe Rogan (Gale), Donnie Wahlberg (Shane), Ken Jeong (Venom), Nat Faxon (Dave Keyes), Steffania De La Cruz (Robin)
Voices
Nick Nolte (Bernie the Gorilla), Sylvester Stallone (Joe the Lion), Adam Sandler (Donald the Monkey), Cher (Janet the Lioness), Judd Apatow (Barry the Elephant), Jon Favreau (Jerome the Bear), Faizon Love (Bruce the Bear), Bas Rutten (Sebastian the Wolf), Jim Breuer (Crow), Maya Rudolph (Mollie the Giraffe), Don Rickles (Frog), Richie Minervini (Ostrich)
---
Plot
Griffin Keyes attempts to propose to his girlfriend Stephanie in an elaborate romantic set-up on the beach only for her to reject him because he she thinks he is going nowhere in life working as a mere zookeeper. Five years later and Griffin has gone on to become the head zookeeper at Boston's Franklin Park Zoo. His brother Dave is about to get married and Griffin is befuddled when Stephanie turns up at the engagement party and demonstrates interest in him again. Talking amongst themselves, the animals at the zoo vote to help Griffin out because they do not want him to leave. However, when Griffin screws up the opportunity they organise to woo Stephanie, they turn and berate him – in doing so breaking the first rule that animals must never to speak to humans. As Stephanie's obnoxious ex Gale turns up, the animals step in to give Griffin a series of lessons in adopting animal mating techniques to win her over. In employing these behaviours, Griffin starts to find himself. However, life with Stephanie and having a job that meets her approval means abandoning the animal friends he has made at the zoo and the attraction of his co-worker Kate.
---
Kevin James has become a rising comedy name in the last couple of years. James first gained notice as the lead in the tv sitcom The King of Queens (1998-2007) and then on movie screens as the lugubrious nerd coached by Will Smith in Hitch (2005). More recently, James has become a comedic lead in various films from Adam Sandler's Happy Madison production company, which have so far included I Now Pronounce You Chuck and Larry (2007), Paul Blart: Mall Cop (2009), Grown Ups (2010) and The Dilemma (2011). Zookeeper is also produced by Happy Madison and has Adam Sandler voicing the monkey. The film is directed by Frank Coraci who also made The Wedding Singer (1998), The Waterboy (1998), Click (2006), Blended (2014) and The Ridiculous 6 (2015) for Adam Sandler, as well as the disastrous version of Around the World in 80 Days (2004) starring Jackie Chan and the subsequent Kevin James vehicle Here Comes the Boom (2012).
Kevin James both produces and co-writes the screenplay for Zookeeper. The film is essentially a variant on the idea we have seen in animated films such as Madagascar (2005) and The Wild (2006) – that animals in a zoo have a secret life and can talk among themselves. Here this has been given the Babe (1995) treatment and the animals rendered in live-action via animatronics and CGI. Ultimately though, Zookeeper is a one-gag film based around the idea of the animals stepping in to offer schmuck Kevin James comically wacky romantic advice based on animal mating behaviour.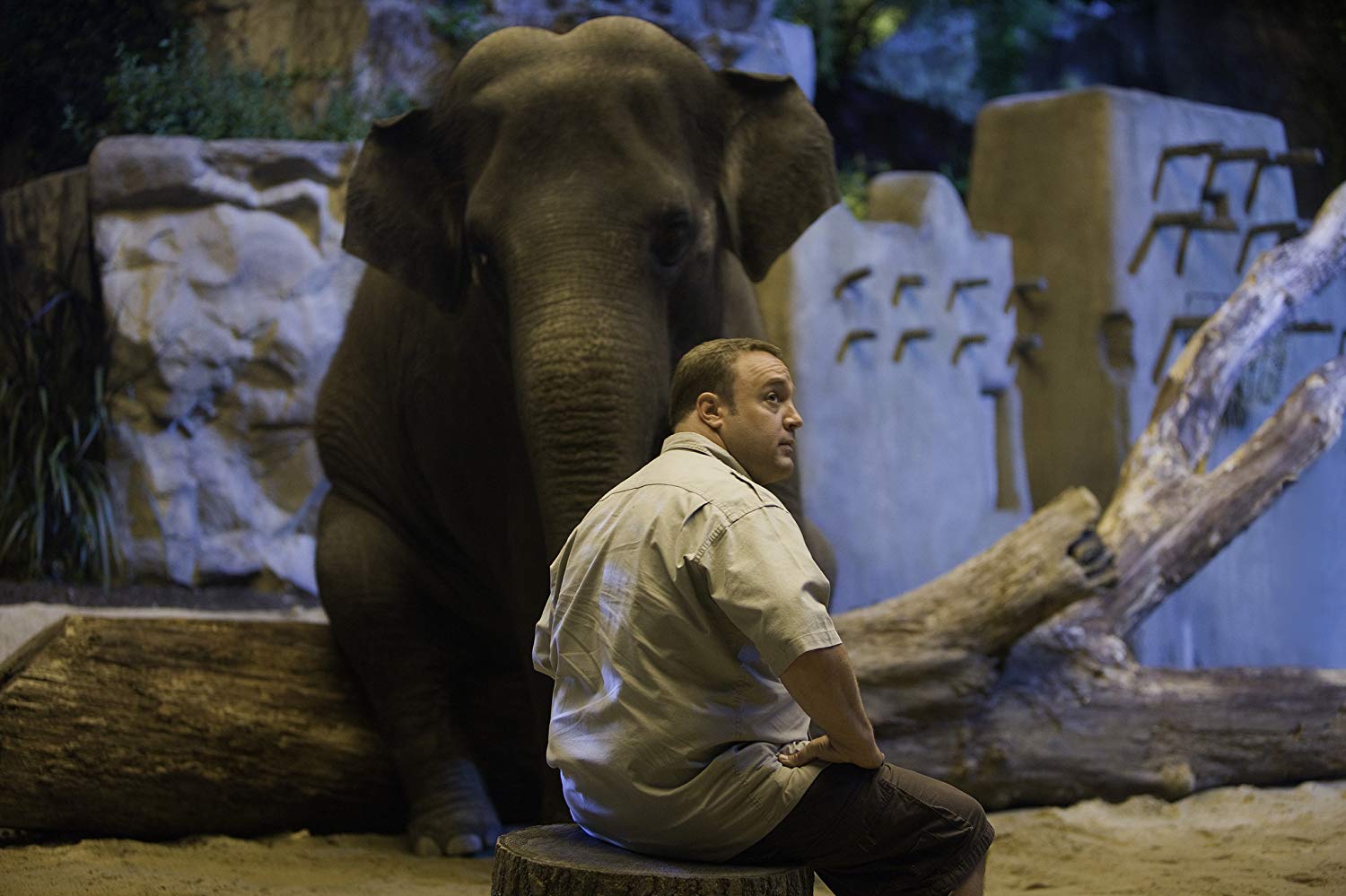 Zookeeper promptly becomes one of the most excruciating of these live-action talking animals films. It embodies all the worst aspects of these films – notable other examples being the Garfield films, Racing Stripes (2005), the Alvin and the Chipmunks films, Underdog (2007), Beverly Hills Chihuahua (2008), G-Force (2009), Yogi Bear (2010), Hop (2011) and Peter Rabbit (2018) – namely in that all the animals do when they start talking is to fire off excruciating one-liners, smartass insults and gags that make reference to contemporary pop culture. The lion king (Sylvester Stallone) receives constant jibes and putdowns about his domestic shortcomings from the lion queen (Cher). An elephant tries to hypnotise Kevin James by swinging its trunk "You remember nothing." Two bears bicker with one another "I was dating a Kodiak model … Well, she was technically a model, she was on a tobacco can." You know you are in for something bad when the film even has the animals talking with affected ghetto accents.
The one aspect of the talking animals that does come off well is the role of the melancholy gorilla Bernie, voiced to perfection by a characteristically gruff Nick Nolte and brought to life via some fine CGI effects. Nick Nolte's voicing is for the large part free of the smartass one-liners that drag down the other performances and is the only one of the animals that emerges as a character. The scenes where Kevin James takes the gorilla out to TGI Friday's are so bizarre as to find their own surreal amusement – with the two of them dancing to rap in the van, nonchalantly ordering from the waitress, playing ukulele at the bar, joining a party of secretaries for drinks with Bernie picking all of them up on his shoulders, even slow-dancing with one of them, and the final scene with the two of them lying on the roof of the zoo van relaxing under the stars.
Kevin James has a standard schmuck role – one that seems to involve a great deal of physical comedy and him falling over a lot. There are some embarrassingly awful scenes with him acting like a bear, walking with his gut thrust out, paws raised and rubbing up against a tree, or a cycle race through the streets and park with him on a tricycle (the sole reason for such seems to be that the scene looks more ridiculous played out with Kevin James riding a tricycle than a bicycle) that involves Joe Rogan riding alongside while whipping him with a flag.
There is a bizarre scene with Kevin James and Rosario Dawson romancing one another while swinging about on curtain sashes in the middle of a wedding party, before James predictably goes flying out of control, knocking over the bride and demolishing the ice sculpture. There are some awful supporting performances, notably from Ken Jeong who seems determined to become the Pauly Shore of the 00s and play the role as obnoxiously as possible, and Joe Rogan who takes the egotistical slimeball role to such an extreme that how you wonder any sane woman could possibly be attracted to him.
The animal mating behaviour scenes have their own stupid amusement but after a couple of scenes of this – watching Kevin James act like a bear or pissing to mark his territory – the film quickly runs out of ideas about what to do with the premise and falls back on its human romance and comedy scenes. Unfortunately, all of these are written to utterly predictable arcs where one can guess exactly what is going to happen from the outset – Kevin James being attracted to the material and status-obsessed Leslie Bibb while failing to see the attraction of the perfect girl under his nose (Rosario Dawson); the romantic rival (Joe Rogan) who is only defined in terms of his obnoxiousness; Kevin James making the choice to sell out for the successful life, before realising that he has abandoned his friends and what he truly cares about doing. It is a film where you feel that you have seen its every move before.
---