---
USA. 2008.
Crew
Director – Adam Shankman, Screenplay – Tim Herlihy & Matt Lopez, Story – Matt Lopez, Producers – Jack Giarraputo, Andrew Gunn & Adam Sandler, Photography – Michael Barrett, Music – Rupert Gregson-Williams, Music Supervisors – Brooks Arthur & Michael Dilbeck, Visual Effects Supervisor – John Andrew Berton Jr, Visual Effects – Cinesite (Europe) Ltd (Supervisor – Matt Johnson) & [Hy*drau*lx] (Supervisors – Eric Liles & Chris Wells), Additional Visual Effects – Fuel VFX, Lola Visual Effects, Look! Effects, Rotofactory Inc & Tippett Studio (Supervisor – Thomas Schelesny), Special Effects Supervisor – Scott Fisher, Creature Effects Supervisor – Crash McCreery, Makeup Effects – Alterian Studio (Supervisor – Craig Gardiner), Production Design – Linda DeScenna. Production Company – Disney/Happy Madison/Gunn Films/Offspring.
Cast
Adam Sandler (Skeeter Bronson), Keri Russell (Jill Hastings), Guy Pearce (Kendall Duncan), Russell Brand (Mickey), Teresa Palmer (Violet Nottingham), Richard Griffiths (Barry Nottingham), Jonathan Morgan Heit (Patrick), Laura Ann Kesling (Bobbi), Courteney Cox (Wendy Bronson), Lucy Lawless (Aspen), [uncredited] Rob Schneider (Indian Salesman), Jonathan Pryce (Marty Bronson), Aisha Tyler (Donna Hynde)
---
Plot
Skeeter Bronson's father Marty used to own a motel but was forced to sell the motel to Barry Nottingham who then rebuilt it as the Sunny Vista Nottingham hotel. Marty made Barry promise to keep Skeeter on as manager and in the present day Skeeter is Sunny Vista's handyman. Skeeter is overlooked as Nottingham makes the kiss-ass Kendall Duncan the manager of his new planned hotel because Kendall is going out with Nottingham's socialite daughter Violet. Skeeter's sister Wendy asks him to look after her two children Patrick and Bobbi for a few days while she travels out of town for a job interview. At night, Skeeter sits down to tell them a bedtime story, basing it around him getting the chance to compete for the management position. The next day Skeeter is startled when Nottingham agrees that Kendall's design scheme for the new hotel is lame and gives Skeeter the opportunity to compete by coming up with his own design. Skeeter is equally startled when other elements of his bedtime story, including a rain of gumballs, come true. Over successive nights, Skeeter tries to create bedtime stories involving his getting Ferraris, Violet falling for him and him winning the management of the new hotel. However, with the elements the children insist on adding to the stories, things do not quite come out the way he wants them to.
---
I have never had much of a liking for the Adam Sandler film. There has been the odd exception such as Punch Drunk Love (2002) and 50 First Dates (2004). But most of Sandler's films, which include the likes of Happy Gilmore (1996), The Waterboy (1998), Big Daddy (1999), Little Nicky (2000), Mr Deeds (2002), Anger Management (2003), Click (2006), I Now Pronounce You Chuck and Larry (2007), You Don't Mess With the Zohan (2008), Grown Ups (2010), Jack and Jill (2011), Pixels (2015), The Ridiculous 6 (2015) and Hubie Halloween (2020), sit in a vulgar and frequently puerile place.
Sandler makes a good deal of lowest common denominator jokes and takes cheap potshots at various minorities. His performances cast him as an ordinary schmuck but Sandler plays the role with a sense of superiority, wandering through each film making snide putdowns of every other character – he is like the person at the party who tries to be cool by insulting everybody else. Everything comes contrasted with a maudlin sentimentality that seems nauseating seated alongside Sandler's smugly self-satisfied performances. That said, these films have been consistent hits that have made Adam Sandler into a major box-office star, joining the $20 million+ per picture club.
Bedtime Stories is fairly much the Adam Sandler film as usual. The major difference is that in 2006 Sandler became a parent. Thus Bedtime Stories is a children's-centred movie – indeed, the film is a co-production between Sandler's Happy Madison production company and Disney. Sandler appears to have become infected by the same disease that Robin Williams did in the 1990s when he went from being one of the funniest, edgiest comics in the US to making films that his kids would watch and in doing so turned into a mushy marshmallow from which his career never recovered. The major difference might be that Adam Sandler is far from being one of the funniest guys in the US and his making his films for a G-rated audience could well be a move that improves them immeasurably.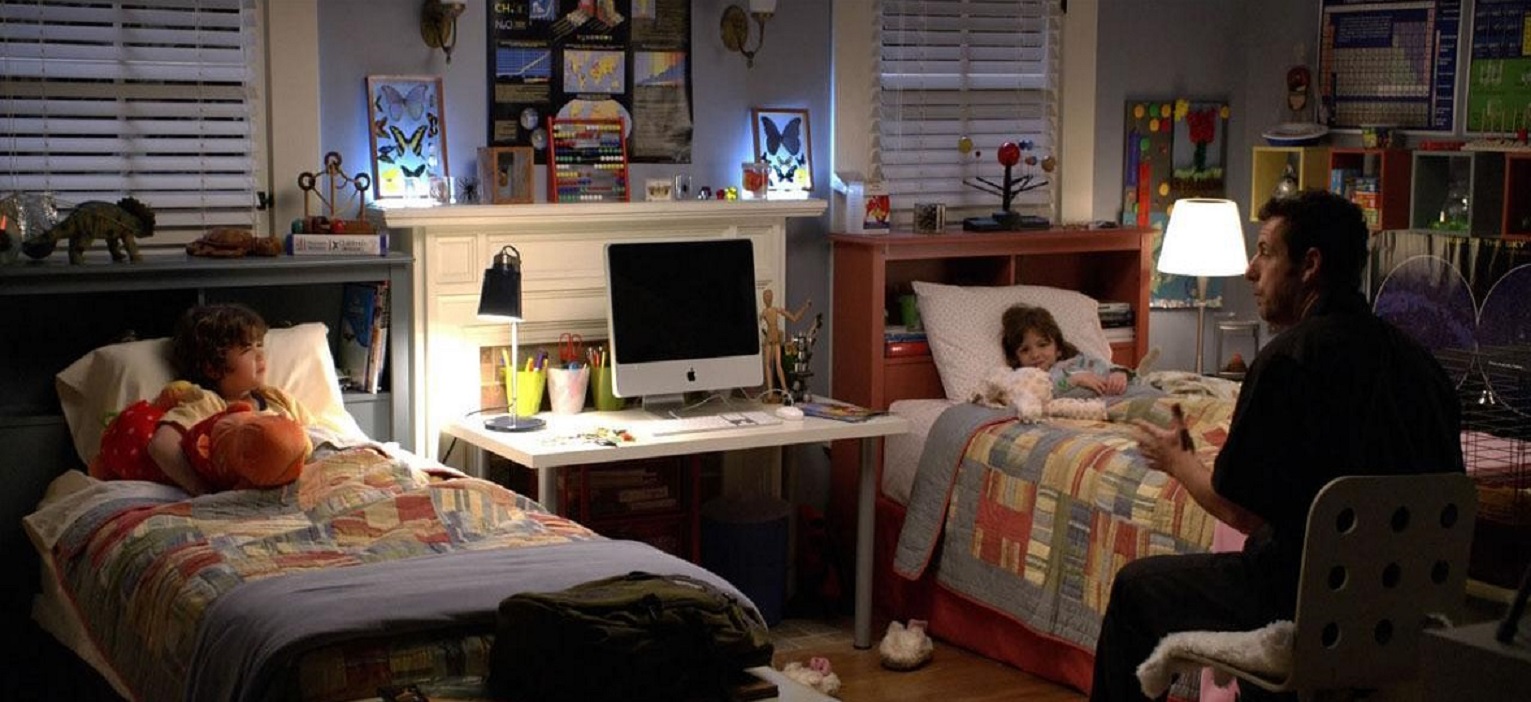 Alas, Bedtime Stories is lumbered with an entirely unpromising director in Adam Shankman. Shankman has made a range of entirely forgettable films such as the Jennifer Lopez romcom The Wedding Planner (2001), the chastity romance A Walk to Remember (2002) and a bunch of light family comedies such as Bringing Down the House (2003), Cheaper By the Dozen 2 (2005) and The Pacifier (2005), which was so awful it fairly much wrecked Vin Diesel's credibility as an actor, as well as the mega-success of the musical Hairspray (2007) and Rock of Ages (2012) and occasional other light genre items such as What Men Want (2019) where a woman gets the ability to read men's minds; and the Disney sequel Disenchanted (2022). Shankman has also produced the clairvoyance film Premonition (2007), the ageswap fantasy 17 Again (2009) and Status Update (2018) about a magical social media app.
Bedtime Stories comes with an incredibly slim premise – guy finds that elements out of the bedtime stories he tells two kids are starting to come true. That is about the sum of the film. There is no explanation of what makes things come true, no rules created for the premise, no explanation of how it is only Adam Sandler's bedtime stories that come true as opposed to anybody else in the world who has ever told their kid a bedtime story. Now a much cleverer director might have been able to make something out of the idea – we could have ended up with a work as delightful as Beauties of the Night (1952) or The Science of Sleep (2006), where the respective directors kept twisting daydream and reality into such a wilfully absurd pretzel that the incursions of fantasy came with complete charm. However, the stories here have a prosaic lack of any magic to them. There is nothing to them as stories – all they serve as is a slim springboard for Adam Sandler to come on and do his usual thing.
All of this gets played out in a way that panders to the worst of both Adam Sandler and Adam Shankman – dream sequences with farting horses, Sandler regular Rob Schneider as a racist caricature of an American Indian, an Ancient Rome sequence that features Sandler doing Evel Knievel sequences with a chariot. Adam Sandler films always see the need to take easy potshots at some group in society – here he levels his targets at the straw figures of greenie, health-conscious liberals. (We also get angry dwarfs kicking Sandler's shins throughout for no particular purpose).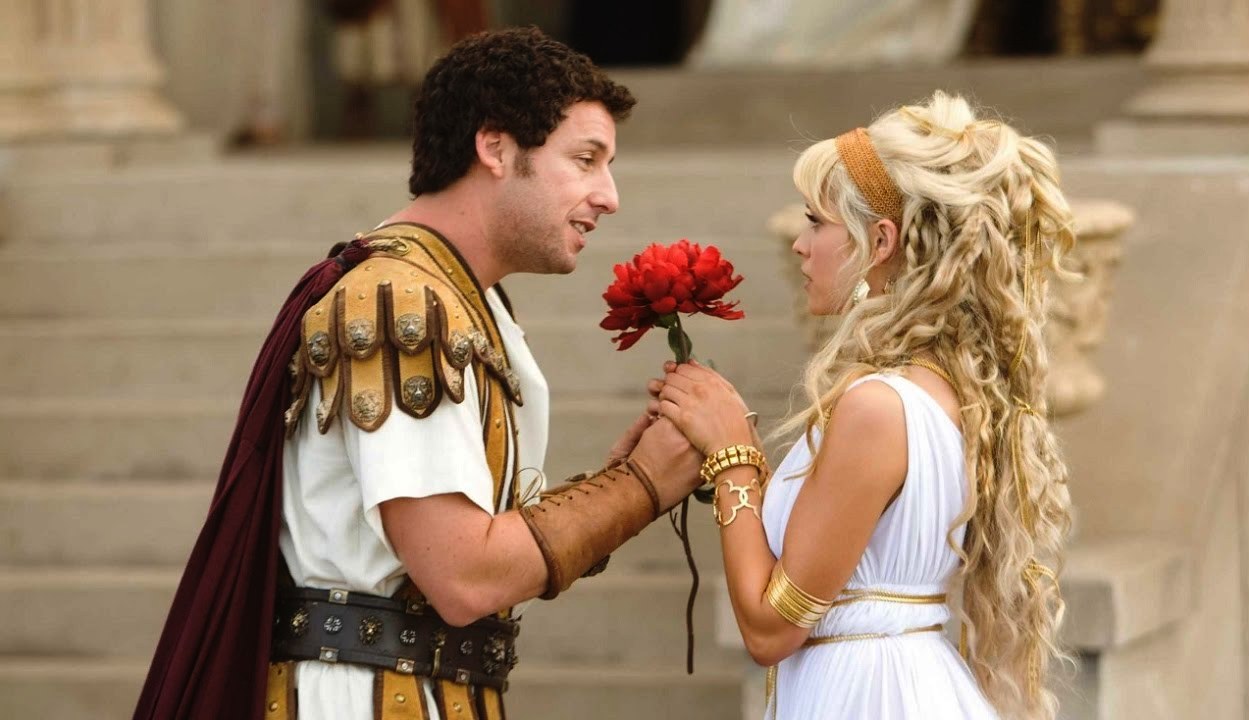 A typical idea of the level of the film can be best demonstrated by two climactic sequences – one that involves Adam Sandler and Guy Pearce fighting with lightsabres that manifest hands at the end of their beams of light that slap faces and shove fingers up an opponent's nose, as well as the appearance of a booger monster; and another sequence that requires Sandler, under the pretext of having a bee sting on his tongue, to give a speech entirely in babytalk. These are supposed to be funny but failed to get a laugh even from the children in the audience at the screening I attended. The visual effects people have put a good deal into depicting mediaeval castles and Roman coliseums but up against Adam Sandler's sloppy schmuck persona they seem frivolously wasted.
There is also something about Adam Sandler's performance that feels tired. It is as though he has dutifully turned up to collect his $20 million+ paycheque and walked through the film not having made any effort to do anything. Surrounded by kids here, he looks like someone's grandfather who turns up at a kid's party and sits there tossing off lame lines to try and get a response from his audience. It may say something when the film is stolen from under him by a CGI-generated hamster with creepy oversized eyes that does not even have a single line of dialogue.
---
---