---
Crew
Director – Frank Oz, Screenplay/Lyrics – Howard Ashman, Based on the Play by Howard Ashman & Alan Menken, Producer – David Geffen, Photography – Robert Paynter, Music – Alan Menken & Miles Goodman, Visual Effects – Bran Ferren, Model Effects Supervisor – Richard Conway, Animatronics – Lyle Conway, Production Design – Roy Walker. Production Company – The Geffen Co.
Cast
Rick Moranis (Seymour Krelborn), Ellen Greene (Audrey), Steve Martin (Orin Scrivello), Vincent Gardenia (Mr Mushnik), Levi Stubbs (Voice of Audrey II), Bill Murray (Arthur Denton), John Candy (Weird Wink Wilson), Tichina Arnold (Crystal), Tischa Campbell (Chiffon), Michelle Weeks (Ronette)
---
Plot
Mushnik's Skid Row florist has fallen on hard times and Mr Mushnik is considering having to let go his two assistants Seymour Krelborn and Audrey. Seymour shows Mushnik a strange plant that he discovered in the aftermath of an eclipse, which he has dubbed it Audrey II in honour of his secret love for Audrey. Mushnik displays the plant in the window and its uniqueness immediately succeeds in drumming business back up. However, the plant soon begins to wither. Trying to revive it, Seymour discovers it requires blood to survive. He is soon bled anaemic cutting himself to keep it alive. As the plant grows bigger and bigger, it demands that Seymour obtain human bodies to feed it.
---
The original The Little Shop of Horrors (1960) was one of Roger Corman's miracles of two-and-a-half day no-budget filmmaking and has become the cultiest of all Corman's legendarily cheap B films. In 1982, musician Alan Menken and director/writer Howard Ashman obtained the rights to The Little Shop of Horrors and mounted it as an off-Broadway musical. Originally produced on a budget not much more than Corman's film and scheduled only for a one month run, the musical was a smash success and won a host of awards.
Record magnate David Geffen brought up the rights to the musical and it was transformed into this big-budget screen adaptation. It is not hard, somewhere in all of this, to imagine Roger Corman sitting chuckling at seeing a film he conceived and filmed in less than a week and on a $27,000 budget now turned into a $26 million extravagance, with the Skid Row sets (which were the redressed leftovers from another film) now filling entire sound-stages (in fact using the world's largest soundstage – Pinewood's 007 set) and a giant-sized plant that is able to lip-synch songs through state of the art animatronics.
The Little Shop of Horrors film project initially passed through such notable hands as Steven Spielberg, Martin Scorsese and John Landis. The person who finally ended up in the director's seat was former Jim Henson associate Frank Oz – he was the voice of Miss Piggy. Oz had co-directed The Dark Crystal (1982) and then went solo with The Muppets Take Manhattan (1984) before being offered Little Shop of Horrors as his first non-Henson outing, his experience with puppetry making him a natural shoe-in for the film. Oz has since gone on to become a successful director of mainstream comedies. (See below for Frank Oz's other genre credits).
Frank Oz directs with a certain eccentricity – shooting up from the inside of the mouth of a dental patient, introducing a Supremes-styled chorus trio who appear and equally enigmatically disappear in the background of each musical number. However, the eccentricity that the original held has been radically tamed – gone, for example, is its bizarre sense of Jewish humour. Characters like Jack Nicholson's masochistic dental patient do turn up, in a wacky cameo from Bill Murray, but to little effect. One misses Myrtle Vail as Seymour's hypochondriac mother, Dick Miller's plant-eater or Seymour's encounter with the prostitute. The addition of John Candy as a boisterous radio announcer is hardly an adequate substitute for these.
In its place, in comes an oft charming, gently amusing parody of the period and its ideal of Good Housekeeping – the drift through Audrey's dream of the perfect marriage 60s-style is one of the film's delights. Both Little Shop of Horrors films are very different in tone – the original has an almost indescribably deadpan absurdism; this film is more twee and the wackiness of the original has been mellowed out and conflated with a nostalgically hyper-real sense of period.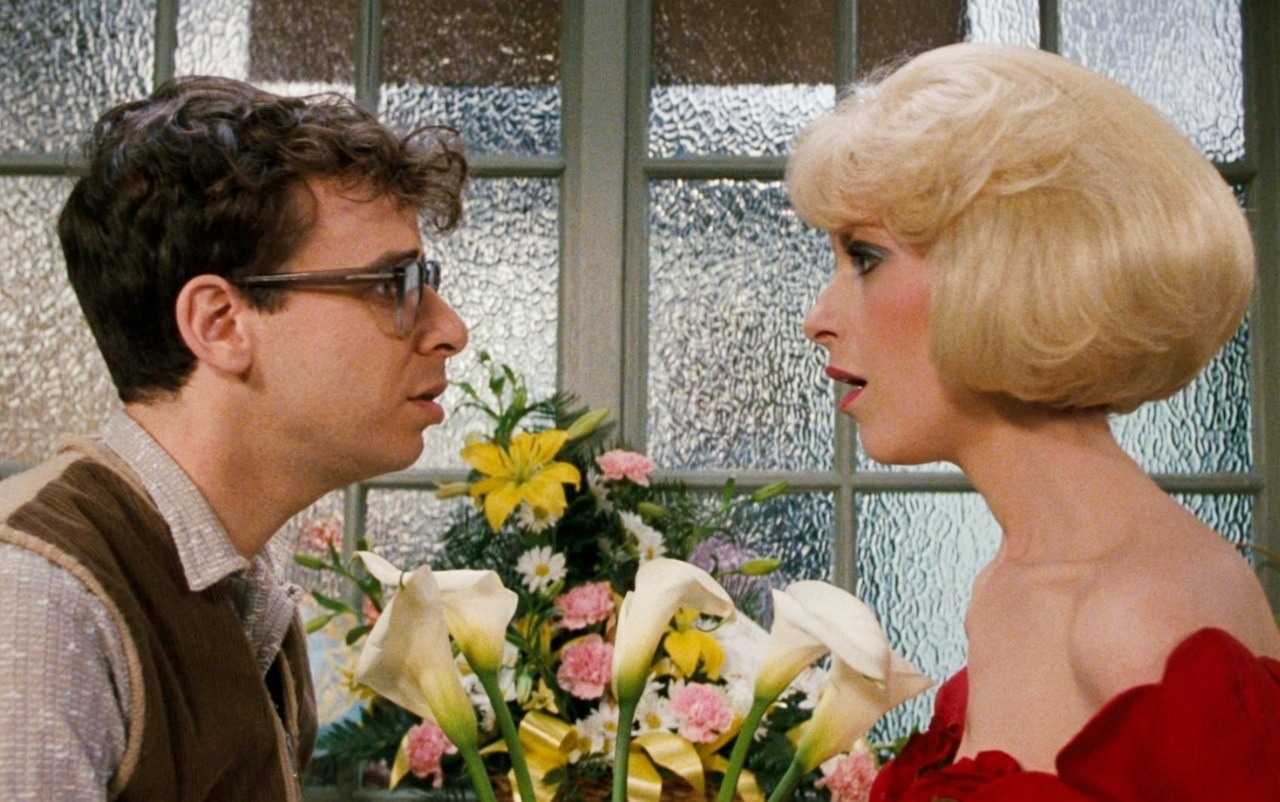 Little Shop of Horrors 1986 is clearly trying to have its cake and eat it too. It strays well into a lyrical tweeness so that when the macabre element enters halfway through – the silhouetted image of Seymour seen chopping up bodies in a back alley – it makes for a jarring jolt of styles. For such a bubbly, frothy musical, this is something that emerges with a surprisingly dark undertow. Certainly, this is not as dark as it could have been. The stage version ends with the plant getting loose and tearing the theatre down – correspondingly the original ending of the remake ended with Audrey II grown to giant size, killing Seymour and Audrey and then rampaging out into the streets. However, seeing the two characters being killed provoked negative reactions among preview audience so Frank Oz returned to the studio and shot a new more upbeat ending at the cost of $2 million.
On its own and comparison to the original aside, Little Shop of Horrors 1986 is a very enjoyable film. The special effects for the plant are extremely good. The soundtrack for the film (which differs from the stage soundtrack in the deletion and addition of several numbers) is extremely listenable and the lyrics frequently hilarious – Audrey gets to deliver couplets like "I think Seymour's the greatest/But I'm dating a semi-sadist."
It is an enjoyable film, not the least for its casting joys. Rick Moranis has a role that allows his wimp persona to flourish rather well. Steve Martin has a good deal of fun as the dentist. The film's greatest piece of casting is Ellen Greene, a holdover from both the American and English versions of the stage show. Ellen Greene gets the kewpie doll part down perfect and when she gets to open up and sing, demonstrates an extraordinary voice.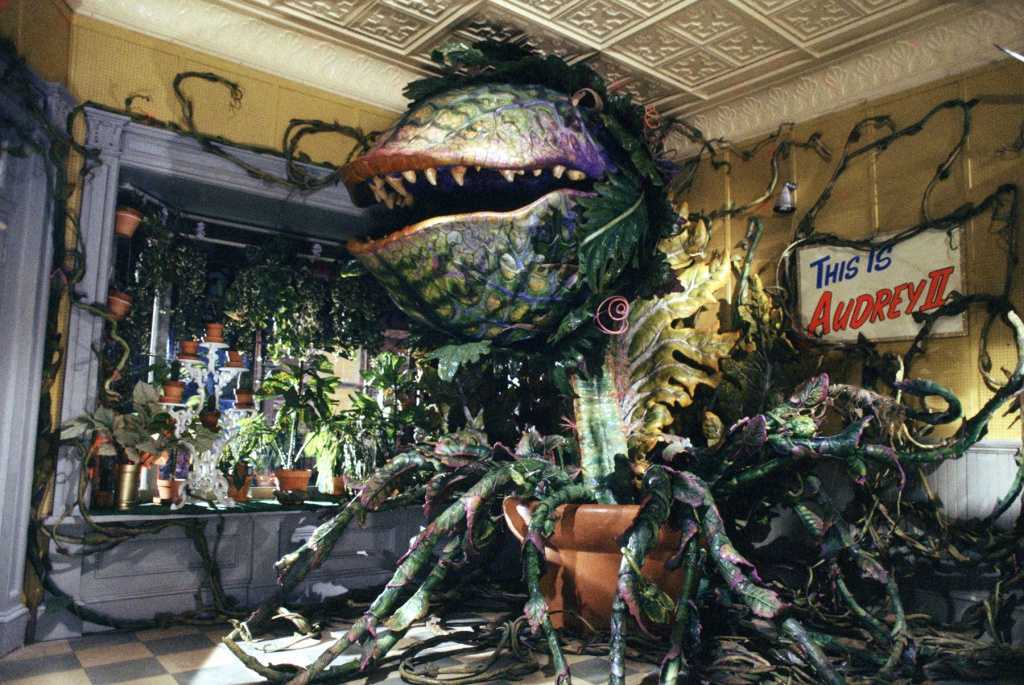 Little Shop of Horrors was also spun out as a short-lived animated tv series Little Shop (1991), wherein the characters of Seymour, Audrey and Orin Scrivello were all played as kids. Naturally being a kid's production, the plant's malicious and people-eating tendencies were watered down to no more than an attitude.
Little Shop of Horrors was Frank Oz's first solo outing as a director. He has gone onto make a number of successful mainstream comedies such as Dirty Rotten Scoundrels (1988), What About Bob? (1991), HouseSitter (1992), Bowfinger (1999), The Score (2001) and Death at a Funeral (2007). Oz's other outings into genre material are the aforementioned The Dark Crystal (1982) and The Muppets Take Manhattan (1984), as well as the excellent children's film The Indian in the Cupboard (1995) and the comedy remake of The Stepford Wives (2004). Oz is also an occasional actor – he voices the part of Yoda in the Star Wars sequels, and peculiarly makes cameo appearances in all of John Landis's films.
---
---