---
USA. 1960.
Crew
Director/Producer – Roger Corman, Screenplay – Charles B. Griffith, Photography (b&w) – Arch Dalzell, Music – Fred Katz, Makeup – Harry Thomas, Art Direction – Daniel Haller. Production Company – Santa Clara.
Cast
Jonathan Haze (Seymour Krelbonid), Mel Welles (Gravis Mushnick), Jackie Joseph (Audrey), Myrtle Vail (Winifred Krelbonid), Leola Wendorff (Mrs Shiva), Dick Miller (Vurson Fouch), Mari Welles (Hooker), Jack Nicholson (Wilbur Force)
---
Plot
Gravis Mushnick's Skid Row florist shop is floundering financially. Mushnick is about to fire his inept assistant Seymour Krelbonid when Seymour shows him the unique new hybrid plant he has created. Seymour has named the plant Audrey Jr in honour of Mushnick's other assistant Audrey whom he secretly loves. The opportunistic Mushnick uses the plant as a drawcard and succeeds in drumming business back up. However, Audrey Jr soon begins to wither and die but Seymour revives it after he accidentally drips blood onto it from a cut. As the plant grows bigger, it demands more blood and forces Seymour to go out and acquire human bodies to satiate its appetite.
---
Director Roger Corman is a legend in the annals of B-movie making. Corman founded the New World Pictures, Concorde and New Horizons production companies and has personally produced nearly 400 films. Corman began in the 1950s making cheap Westerns and a stack of entertaining B-budget monster movies. (See below for Roger Corman's other genre titles as director). Into the 1960s, Corman gained considerable critical acclaim with his series of Edgar Allan Poe adaptations beginning with The House of Usher/The Fall of the House of Usher (1960). Out of all of Roger Corman's low-budget monster films, The Little Shop of Horrors is the most well remembered and one that has developed a considerable cult.
Part of the cult that surrounds The Little Shop of Horrors centres around the legendary parsimoniousness of Roger Corman's productions, which were at their very height here. The Little Shop of Horrors came about because Roger Corman's brother Gene offered him a leftover storefront set he had used for another production and made a bet with Corman that he couldn't make a film using it. Corman and Charles B. Griffith purportedly wrote the script over the space of a single evening in all-night Hollywood coffee shops and then rehearsed the film in three days with the stock troupe of actors Corman had built up through his previous films. The film was finally shot in two-and-a-half days (with other exteriors being shot over two successive weekends) on a budget of $27,000, with Corman using two cameras at once and shooting almost every set-up in a single take.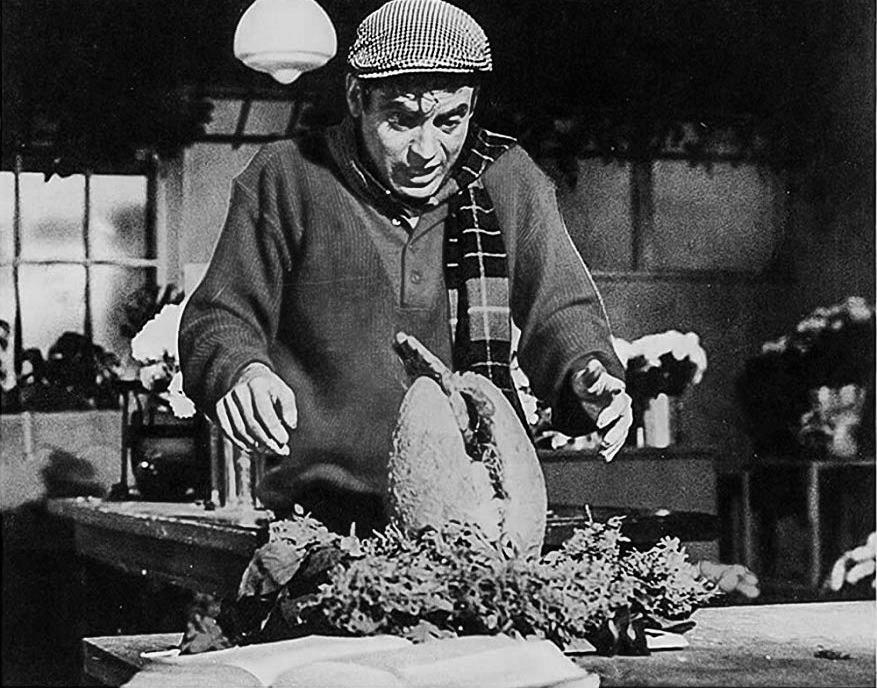 There is a genuinely bizarre sense of humour to the film, which came way before anybody had ever created a niche market like the indie film. The way had been paved by Roger Corman and Charles B. Griffith's earlier A Bucket of Blood (1959), a droll comedy wherein Dick Miller plays a busboy who is acclaimed as a Beatnik artist when he covers dead bodies in plaster and these are taken to be works of art.
The cast take the opportunity to get loose with as much eccentricity and silliness as they can – there is Myrtle Vail as Jonathan Haze's hypochondriac Jewish mother serving up meals of cough mixture, cod liver oil and Epsom salts and insisting he is not to leave home until he is rich enough to buy her an iron lung; Dick Miller as the customer who cheerfully buys plants to eat – "Must be off – my wife's cooking gardenias for dinner"; an hilariously deadpan opening narration parodying tv's Dragnet (1951-9); and the cameo that everybody remembers from Jack Nicholson as a gleeful masochist begging a dentist to remove all his teeth. Mel Welles's dialogue throughout is peppered with an hilarious series of malapropisms – "What am I, a philatelist?", "It's a finger of speech."
At other times, the film has a silliness that verges on surrealism – Seymour and the dentist duelling with dental drills or the climactic chase through the junkyard. The sets, production values and plant effects are frightfully threadbare and the camera moves are so static that the film seems more like a stage-play (it was twenty-two years later but that never quite captured the original's lunatic offbeatness). Scenes like Jonathan Haze's encounter with hooker Mari Welles have such a charmed silliness that the film transpires the poverty of its surroundings. All of the performances are surprisingly good – with Mel Welles stealing much of the film as Mushnick – and well rehearsed, despite the incredibly small shooting/rehearsal schedule.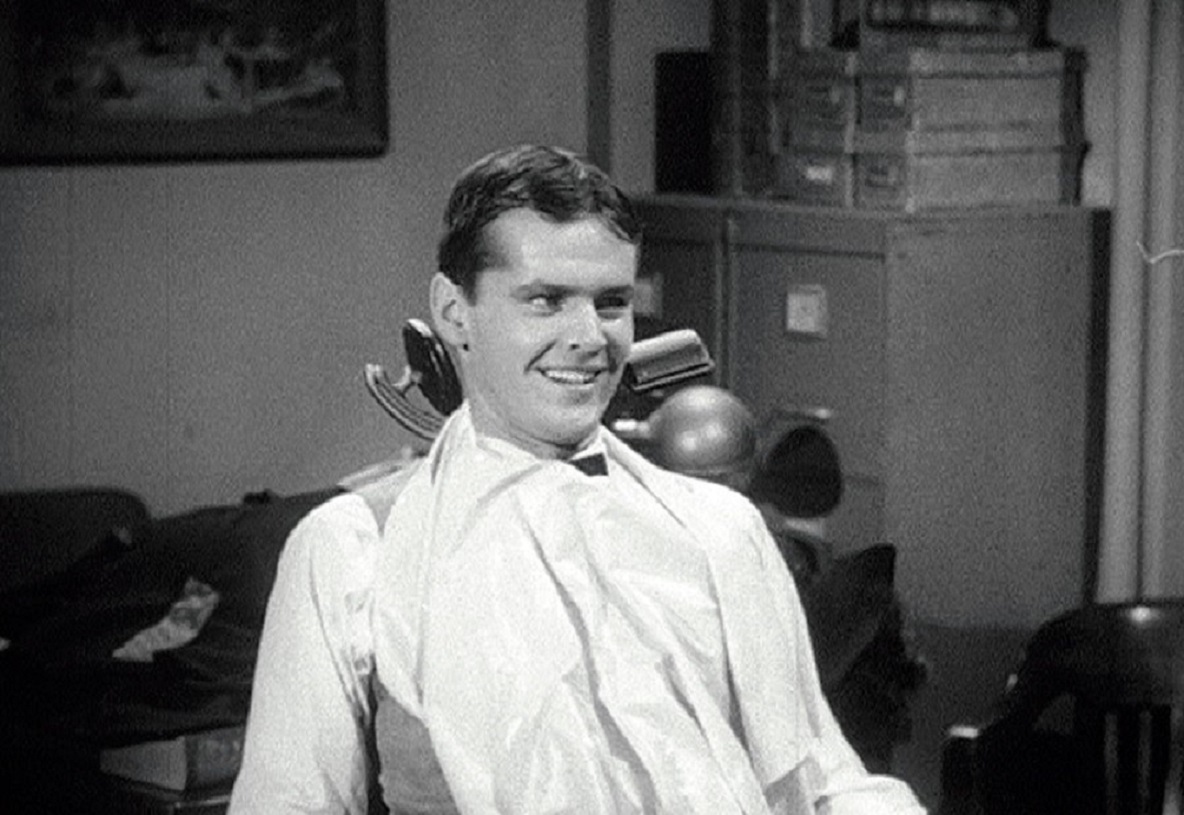 In 1982, musician Alan Menken and director/writer Howard Ashman brought up the rights to the film and mounted it as an off-Broadway musical, which ended up being a huge international success. This was then filmed as the also likable Little Shop of Horrors (1986) with a budget nearly a thousand times greater than the original.
Roger Corman's other genre films as director are:– Day the World Ended (1955), It Conquered the World (1956), Attack of the Crab Monsters (1957), Not Of This Earth (1957), The Saga of the Viking Women and Their Journey to the Waters of the Great Sea Serpent (1957), The Undead (1957), Teenage Caveman (1958), War of the Satellites (1958), A Bucket of Blood (1959), The Wasp Woman (1959), The House of Usher/The Fall of the House of Usher (1960), Last Woman on Earth (1960), Creature from the Haunted Sea (1961), Pit and the Pendulum (1961), Premature Burial (1962), Tales of Terror (1962), Tower of London (1962), The Haunted Palace (1963), The Raven (1963), The Terror (1963), X – The Man with X-Ray Eyes (1963), The Masque of the Red Death (1964), The Tomb of Ligeia (1964), The Trip (1967), Gas; or It Became Necessary to Destroy the World in Order to Save It (1970) and Frankenstein Unbound (1990). Corman's World: Exploits of a Hollywood Rebel (2011) is a documentary about Corman's career.
---
Trailer here
Full film available here:-
---