---
Crew
Director/Producer – Ivan Reitman, Screenplay – Dan Aykroyd & Harold Ramis, Photography – Laszlo Kovacs, Music – Elmer Bernstein, Visual Effects – The Boss Film Co (Supervisor – Richard Edlund), Miniature Supervisor – Mark Stetson, Creature Supervisor – Stuart Ziff, Makekup Effects – Tom Enriquez & Steve Johnson, Production Design – John De Cuir. Production Company – Columbia/Delphi III.
Cast
Bill Murray (Peter Venkman), Dan Aykroyd (Ray Stantz), Harold Ramis (Egon Spengler), Sigourney Weaver (Dana Barrett), Ernie Hudson (Winston Zeddmore), Rick Moranis (Lewis Tully), Annie Potts (Janine Melnitz), William Atherton (Walter Peck)
---
Plot
After being thrown out of their university for professional misconduct, three paranormal researchers set up 'Ghostbusters', a commercial firm specialising in the capture of ghosts. After initial financial problems, they obtain national press coverage. At the same time, the ancient Sumerian god Gozer manifests out of client Dana Barrett's fridge and possesses her and her neighbour. When an obstreperous bureaucrat orders the Ghostbusters's ghost storage system shut down as an environmental hazard, all hell literally breaks loose in Manhattan.
---
Ghostbusters was a massive success. The film was a colossal hit when it came out. It and Gremlins (1984) fought heavily among one another as to which would be the No.1 box-office hit of that year around the world.In the 00s and beyond, it has become regarded as an essential piece of 1980s pop culture. It made the reputations of all involved.
For me, maybe it was sitting in New Zealand and listening to the idiotic Ray Parker Jr song ("Who you gonna call?" "Ghostbusters") thumping out every time one turned the radio on for six months between the film's Stateside and its local release, but I found Ghostbusters to be was an entertainingly average film riding on a wave of commercial hype.
Certainly, the film has a winning concept – it is easy to imagine the premise built out as a great basis for a tv series. And the film itself is not without a certain low mental gear fun. There is a constant theme in Ivan Reitman's films of a group of average rather sloppy schmucks getting one up on tightass authority figures and Ghostbusters is aimed squarely in that arena. It is amiable knockabout farce, largely carried by the special effects team and Bill Murray's lazy sarcasm.
The film stands on Bill Murray's shoulders and would have been rather flaccid without him. (Interestingly, the part was originally written for John Belushi, who died of an overdose in 1982). What seems particular odd here is that the two screenwriters – Dan Aykroyd and Harold Ramis – also play the two supporting ghostbusters, but only write themselves in as forgettable characters. Interestingly, Aykroyd conceived the film due to his father who had written a book on ghosts. The original version of the film was more of an SF film that took place in an intergalactic planet-hopping setting. It was Ivan Reitman's suggestion to reewrite it and bring it down to Earth in order to make it more filmable.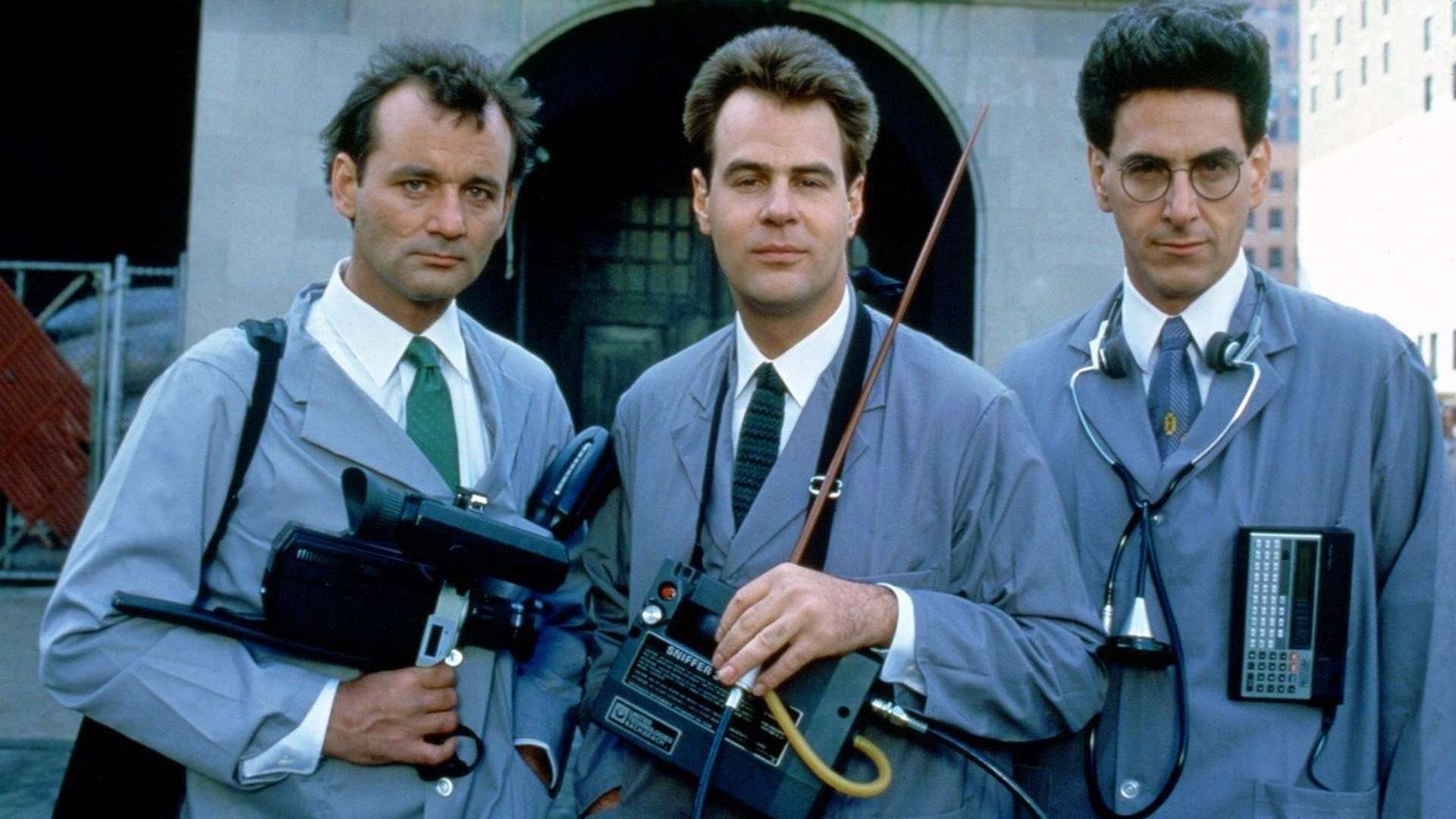 Were it not for the film's indulgent pandering to Bill Murray's nonchalant, laidback outrages, the comedy value would have come out more weakly than it does, one suspects. Sigourney Weaver gives the film a great injection of class – the scenes with her being possessed is a wonderfully witty piece of deadpan. Rick Moranis has geeky fun doing the type of role he does best.
The film is also overlong and ungainly. The middle of it is taken up by a good many ghostbusting scenes and could easily have lost twenty minutes. You keep asking questions that it leaves unasked – like how a team of discredited researchers with no money could have managed to build such advanced hi-tech ghost hunting equipment.
Ghostbusters was celebrated for its special effects and even nominated for that year's Academy Award, although there are times when the matte work is very grainy. Nevertheless, it does mount to an effective climax that is a considerable effects tour-de-force, no more so than the creation of the Stay Puft Man – a giant marshmallow figure with some alarmingly sinister expressions on its big jovial face.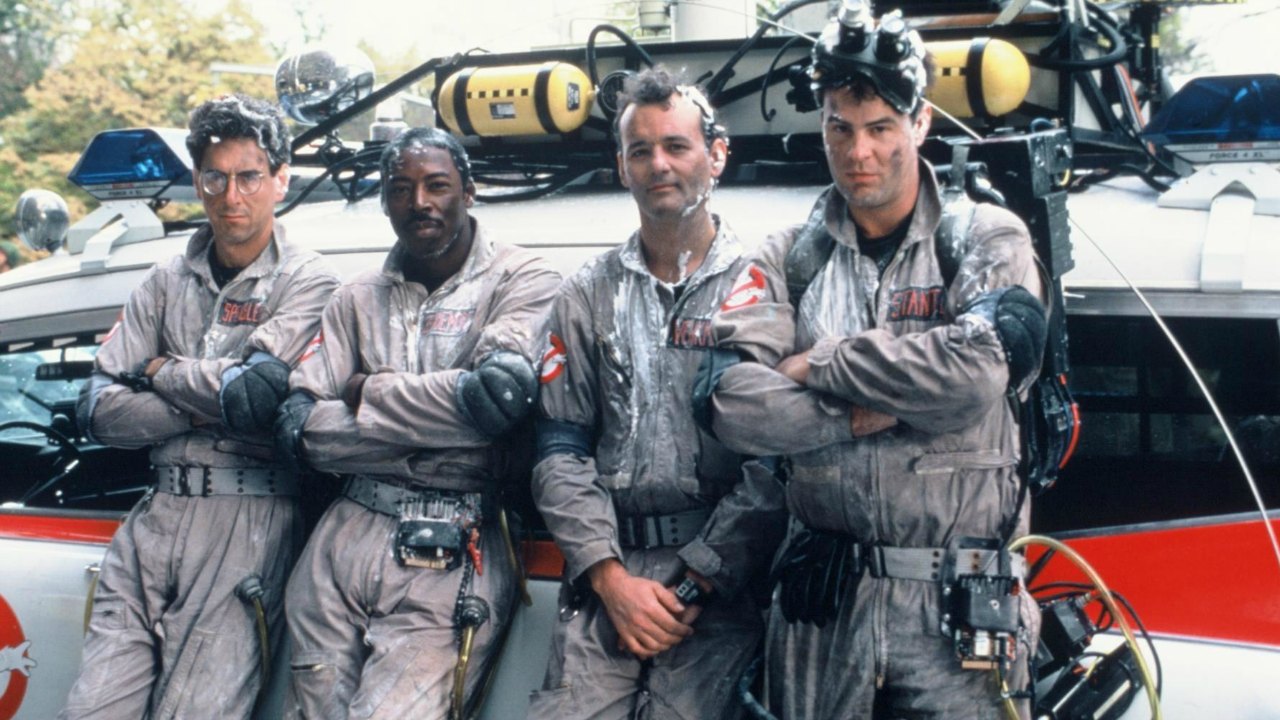 The effects climax is certainly entertaining enough, but the problem one has with it as a plot is that all it relies upon is nifty devices and technical doubletalk to save the day. It requires nothing of the heroes except a series of flashing lights. Ultimately, Ghostbusters is a film predicated on special effects, amiable and unchallenging humour and a big commercial promotional campaign.
The generally unsatisfying sequel was Ghostbusters II (1989). Ghostbusters (2016) was a remake with an all-female line-up. Ghostbusters: Afterlife (2021) was a further sequel. The characters were also spun out as an animated series The Real Ghostbusters (1986-91), so called to prevent confusion with another animated series Ghostbusters (1975), which was then promptly retitled and released as The Original Ghostbusters.
The film saw a number of imitators including Howard the Duck (1986), Vibes (1988), Second Sight (1989) and the tv series Misfits of Science (1986). Be Kind Rewind (2008) offers up (in part) an amusing amateur remake of Ghostbusters. Dan Aykroyd also makes a cameo in Ghostbuster uniform in Casper (1995), while Bill Murray takes part in a Ghostbusters homage in Zombieland (2009).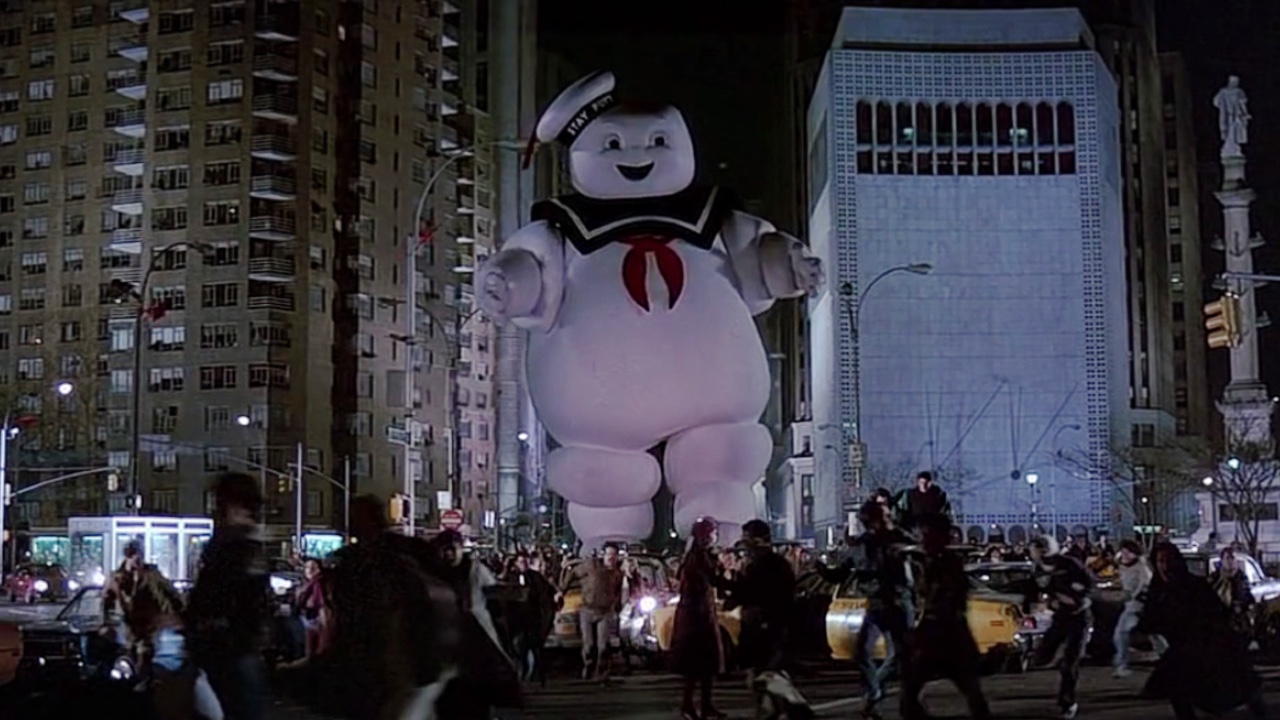 Czech-born but Canadian based Ivan Reitman first emerged as director of the little seen Foxy Lady (1971), followed by the Canadian exploitation classic Cannibal Girls (1973). Initially, Reitman was better known as a producer in Canada with the likes of David Cronenberg's first two commercial successes, Shivers/They Came from Within/The Parasite Murders (1976) and Rabid (1977), the revenge and brutality film Death Weekend/The House By the Lake (1976), even one of the notorious Ilsa exploitation films. Reitman had an unexpected hit as producer of National Lampoon's Animal House (1978) and moved towards the mainstream producing the likes of the animated Heavy Metal (1981) and the space opera Spacehunter: Adventures in the Forbidden Zone (1983). Reitman then branched out as a director with a couple of amiable comedies, Meatballs (1979) and Stripes (1981), which were big hits that popularised the summer camp genre, as well as the film careers of comedians such as Bill Murray, Harold Ramis and Dan Aykroyd. From there, Reitman went on to make Ghostbusters and then consolidated his reputation as a mainstream comedy director with other popular hits such as Legal Eagles (1986), Kindergarten Cop (1990) and Six Days, Seven Nights (1998). (See below for Ivan Reitman's other genre films). Ghostbusters was Ivan Reitman's biggest hit.
Ivan Reitman's other genre films are:- Cannibal Girls (1973); Twins (1988), his best work, featuring Arnold Schwarzenegger and Danny DeVito as a mismatched pair of cloned twins; Ghostbusters II (1989); Junior (1994) with Schwarzenegger as a pregnant man; Evolution (2001), which essentially replays Ghostbusters as an alien invasion comedy; and My Super Ex-Girlfriend (2006) about a superhero relationship gone toxic. Reitman also produced Space Jam (1996) featuring Michael Jordan taking on Warner Brothers cartoon figures, the animated tv series Mummies Alive! The Legend Begins (1998), the psycho-thriller Disturbia (2007), the ghost story The Uninvited (2009), Hitchcock (2012), Ghostbusters (2016), A Babysitter's Guide to Monster Hunting (2020), Ghostbusters: Afterlife (2021) and Space Jam: A New Legacy (2021). Screenwriter/star Harold Ramis later developed a directorial career of his own, making the genre likes of the great time loop comedy Groundhog Day (1993), the cloning comedy Multiplicity (1996), the remake of Bedazzled (2000) and the prehistoric comedy Year One (2009). Dan Aykroyd's one and only directorial outing was the strange Nothing But Trouble (1991), which proved a flop.
---
---