---
Crew
Directors – Jim Blachfield, Jerry Kramer & Will Vinton, Producer – Jerry Kramer, Photography – Fred Elmes & Crescenzo Notarille, Music – Bruce Broughton, Songs – Michael Jackson. Production Company – Ultimate Productions.
Smooth Criminal
Crew
Director – Colin Chilvers, Screenplay – David Newman, Story – Michael Jackson, Producer – Dennis E. Jones, Photography – John Hora, Visual Effects – Dream Quest (Supervisors – Eric Brevig & Hoyt Yeatman), Makeup Effects – Rick Baker, Production Design – Michael Ploog.
Cast
Michael Jackson (Himself), Joe Pesci (Mr Big, Frankie Lideo), Brandon Adams (Zeke), Kellie Parker (Katie), Sean Lennon (Sean)
---
Plot
Smooth Criminal: A group of children are playing with their friend, rock star Michael Jackson. While searching for a missing ball, they unwittingly stumble upon the cave hideout of the drug kingpin Mr Big where they overhear his plans to turn every child in America into a drug addict. When Mr Big's goons abduct one of his young friends, Michael uses his superpowers to take on Mr Big's crime empire.
---
It may seem hard to believe looking back on it now from this side of the 2000s but back in the 1980s Michael Jackson was the No. 1 pop star in the world. The bland syrupiness of his music aside, Jackson had an electrifying stage presence and the enigma of his persona – his reclusiveness, the masses mobbing him wherever he travelled, the one white glove – only served to make his fan following even more fascinated.
Into the 1990s and beyond, Jackson's music began to seem less important – indeed, the albums he released from the latter half of the 1990s attracted little interest, whereas his works of the 1980s became No. 1 hits – and his performing career was entirely overtaken by the sheer bizarreness of his private life – the plastic surgery stories, the two exceedingly strange marriages, the baby dangling from a balcony incident, the public outrage caused by his televised admission to sleeping in the same beds as children, and above all the increasing charges of child molestation, resulting in Jackson's arrest in 2003, and finally his death from a fatal overdose of painkillers in 2009.
Moonwalker was a genuine oddity that came out at the height of Jackson's popularity. It was cinematically released everywhere except America, where it went directly to video (purportedly because the producers demanded too high a percentage of profits). It is not really a film per se, more like a collection of Jackson videoclips and is something that would almost certainly be released directly as a video or DVD release today.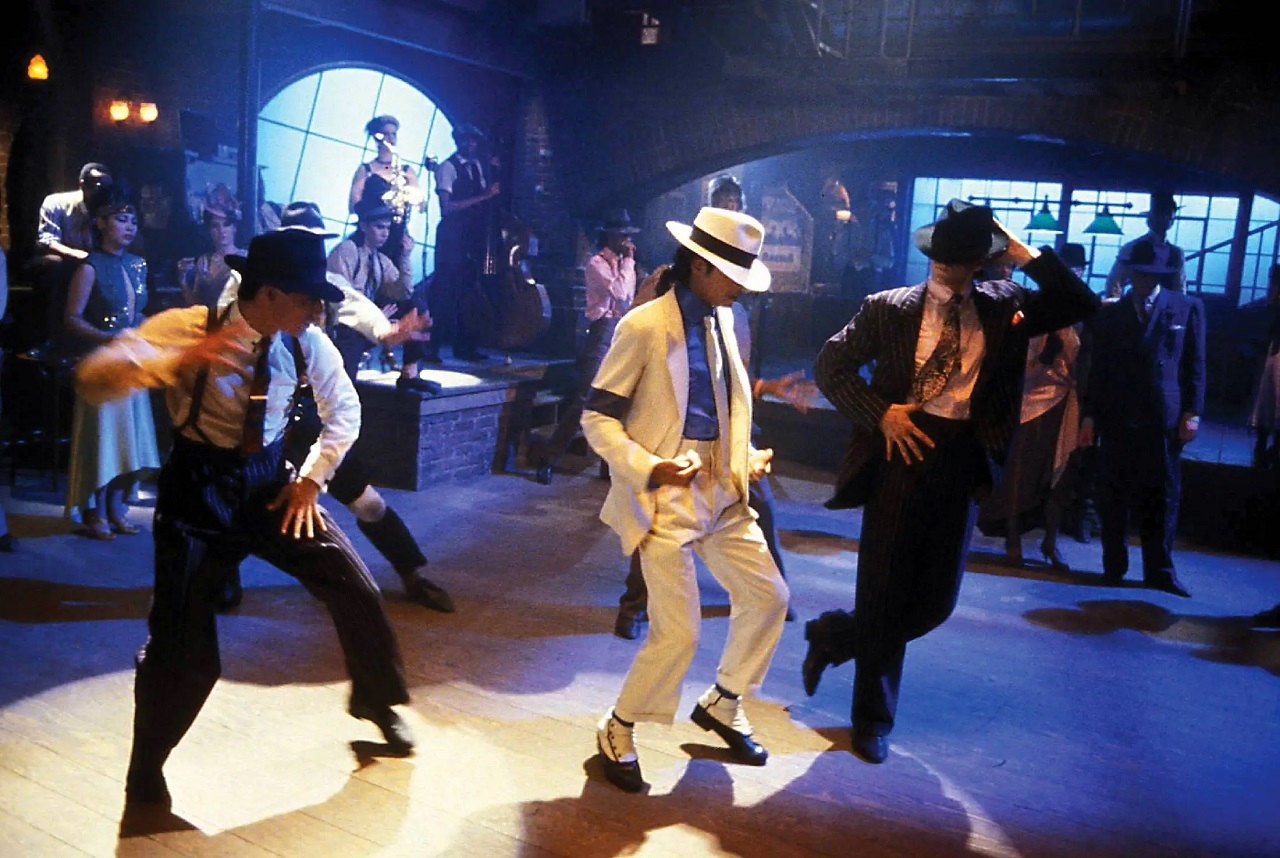 The film consists of six segments. The first is a brief biographical tour of Jackson's life, although here the flashy graphics upstage the imparting of any real information. Next comes the Baby Bad segment – a slight one-joke recasting of the video-clip for Jackson's Bad song conducted with minors.
This is followed by the Speed Demon segment with a camera-shy Jackson hiding from tourists on a film studio lot by putting on a rabbit mask whereupon he is transformed into a Claymation-animated figure on a motorcycle, pursued by animated tourists, cops and a Tweedledum and Tweedledee trio of overweight motorcyclists.
This segues into the Leave Me Alone number conducted in the style of Monty Python hinged-still cutouts, which offers a tour through Jackson's private life – including his attempts to buy the Elephant Man John Merrick's bones and building a shrine to Elizabeth Taylor – and is clearly intended as a sharp rebuff against the press's intrusion into his privacy.
The centrepiece of the film is the extended twenty-five minute Smooth Criminal segment. Ever since his success in the early 1980s, Jackson appeared to be wanting to make videoclips that were more than videoclips – the famous thirteen minute-long Thriller (1983) and later efforts like the 38 minute Ghosts (1997).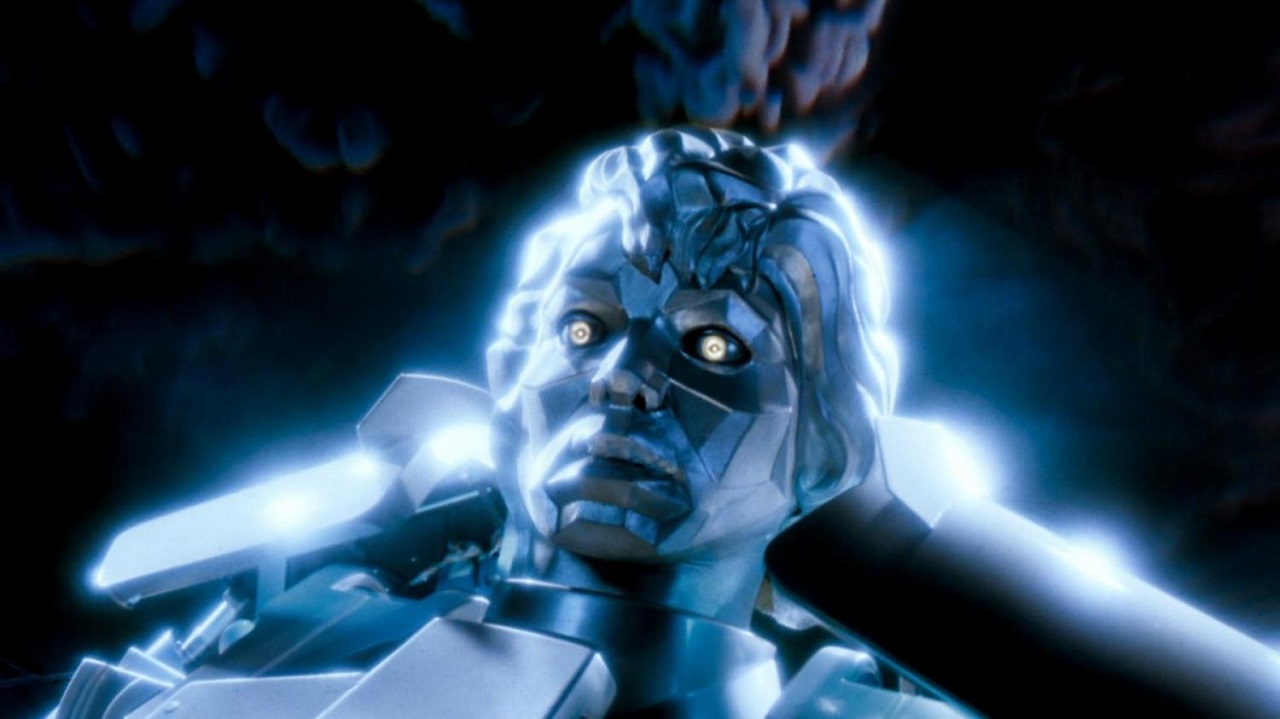 Smooth Criminal is an extended videoclip made for the song of the same name. Although, as a film, it seems ungainly. There is almost no plot to it and what there is operates on a level of fantasy that is pitched to children in the single-digit mindset – nice guy Michael plays ball with the kids, bad guy Mr Big (Joe Pesci before finding fame as a movie tough guy) wants to turn every kid into America into a drug addict, Michael takes on Mr Big and turns into a were-sportscar, a radiant god-like Transformer and finally a spaceship.
Certainly, the dance sequences in the 30s Club are dazzlingly choreographed and show just what an electrifying stage presence Jackson had back in that era. However, as a work of fantasy, this is juvenile to the point of almost total incoherence. The segment was directed by Colin Chilvers, better known as a special effects man on films like Superman (1978) and Saturn 3 (1980).
Moonwalker seems constructed as nothing more than a giant ego-trip for Jackson. It is Michael Jackson with superpowers, Michael Jackson as a luminous god-like being, Michael Jackson building a shrine to himself, Michael Jackson with a voice so powerful that it shatters glass. The opening scene contains a live rendition of John Lennon's Come Together (1969). During the performance, a videoscreen places Jackson's face among a photographic montage that includes the likes of Lennon, Gandhi and John F. Kennedy, and shows at the very least that Jackson is suffering from delusions of grandeur.
---
---