---
Crew
Director – Domee Shi, Screenplay – Julia Cho & Domee Shi, Story – Julia Cho, Domee Shi & Sarah Streicher, Producer – Lindsey Collins, Photography – Mahyar Abousaeedi & Jonathan Pytko, Music – Ludwig Goransson, Songs – Billie Eilish & Finneas O'Connell, Visual Effects Supervisor – Danielle Feinberg, Animation Supervisors – Aaron Hartline & Patty Kihm, Production Design – Rona Liu. Production Company – Pixar.
Voices
Rosalin Chiang (Meilin Lee/Panda Meilin), Sandra Oh (Ming Lee/Panda Ming), Ava Morse (Miriam), Hyein Park (Abby), Maitreyi Ramakrishnan (Priya), Orion Lee (Jin), Wai Ching Ho (Grandma/Grandma Panda), Tristan Allerick Chen (Tyler), Addie Chandler (Devon), James Hong (Mr Gao)
---
Plot
Toronto, 2002. Meilin Lee is a thirteen-year-old who comes from a traditional Chinese family. Her mother Ming causes Meilin considerable embarrassment with her controlling ways, especially when she finds Meilin's romantic sketches of her classmate Devon and immediately heads off to confront him. Infuriated, Meilin wakes in the morning to find that she has turned into a red panda. She hides from her mother and discovers she can revert to normal when she stays calm, although the panda has a habit of emerging when she gets upset. To Meilin's surprise, this is something that her mother knows about – it is a family trait that affects all of the women. Meilin demonstrates to them that she can control the panda, while her mother plans a ceremony to be held at the upcoming eclipse that will exorcise the panda spirit. When Meilin's friends accidentally discover the panda, it becomes something fun for them. Meilin and her three best friends decide they have to attend an upcoming concert by the boy band 4Town. Unable to afford tickets, Meilin decides they can exploit the panda to sell merchandise to their classmates to raise the money, although she has to keep this a secret from her mother. Problems occur when Meilin finds that the date of the concert is also the date when her grandmother and extended family are arriving to conduct the exorcism.
---
Turning Red is the 25th film from Pixar. It follows Toy Story (1995), A Bug's Life (1998), Monsters, Inc. (2001), Finding Nemo (2003), The Incredibles (2004), Cars (2006), Ratatouille (2007), Wall-E (2008), Up (2009), Brave (2012), The Good Dinosaur (2015), Inside Out (2015), Coco (2017), Onward (2020), Soul (2020), Luca (2021) and Elemental (2023), along with assorted to sequels to most of these.
Pixar these days are where Disney were at during the 1990s/2000s. During that period, Disney were dipping their feet into different world cultures with every animated film they put out – with the likes of Pocahontas (1995), Mulan (1998), Lilo & Stitch (2002), The Princess and the Frog (2009) and still are with recent efforts such as Moana (2016), Raya and the Last Dragon (2021) and Encanto (2021). The last few Pixar films have started to do similar things with the Mexican Coco, the African-American Soul and the Italian-set Luca. Turning Red dips its toes into Chinese-Canadian culture.
Turning Red is a feature-length directorial debut for Domee Shi, a former storyboard artist who has been part of the Pixar Senior Creative Team since 2020 and had previously directed the short film Bao (2018). Shi was born in China but grew up in Toronto after her family emigrated there at a young age. The script is written by playwright Julia Cho who has also worked as a story editor and producer on various tv shows.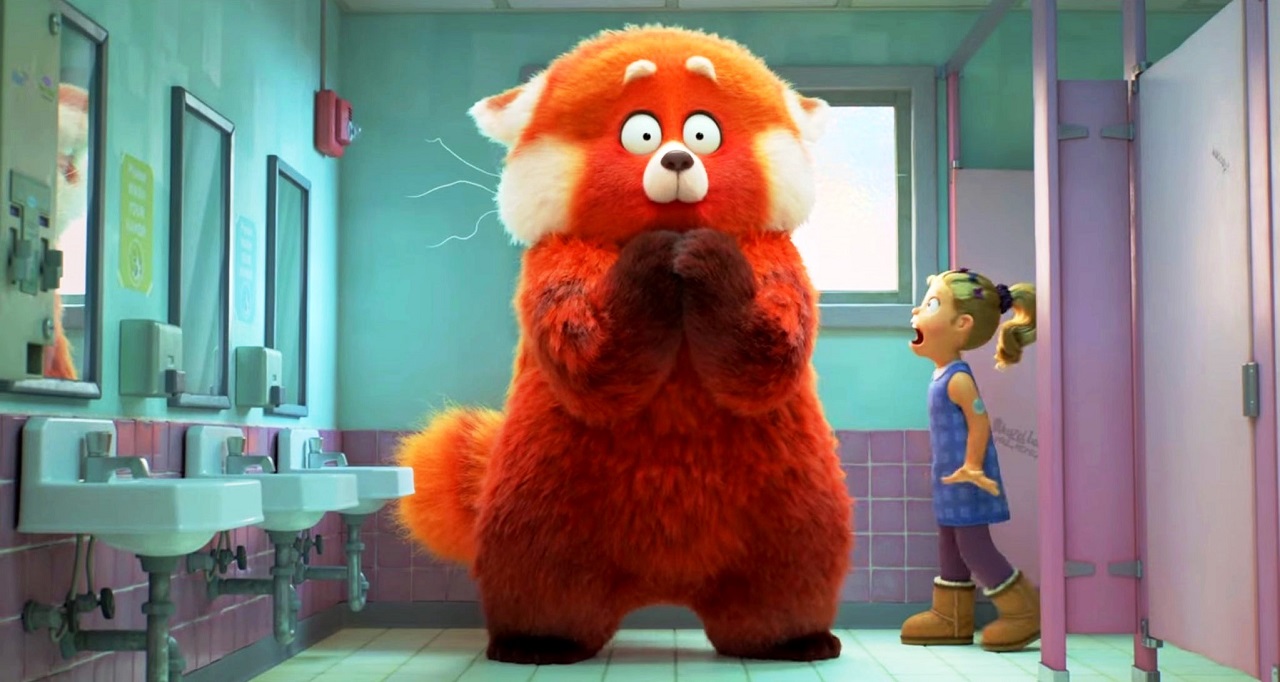 Meilin is a character that comes with an oddball weirdness that is introduced in a great deal of colour, energy and manically upbeat visuals. While I was initially not sure what to make of the weirdly misfit character, Domee Shi throws us into a series of scenes – Meilin's surprised to find she is making drawings that show a romantic infatuation, the supreme embarrassment of the mother's finding these and immediately heading off to the convenience store to confront the boy – that sell the film to you completely.
With the emergence of the panda and Meilin's struggles to control her emotional outbursts lest she transform, you realise that what we have is actually a version of The Incredible Hulk that has in effect been Pixar-ised. Although perhaps more than that, what Turning Red reminds of is Teen Wolf (1985) in which Michael J. Fox becomes a werewolf, which was played for comedy where Fox discovers that his condition becomes a source of instant popularity around the high school. This has an almost identical plot featuring a girl whose transforming into a panda becomes a sensation around the school – the only bit we don't get is having her follow Michael J. Fox to become a success on the sports court. (The film sets itself in 2002 presumably so as to avoid the explosion of the social media revolution and having the panda set up an Instagram account).
However, Turning Red goes even further than Teen Wolf and in a very Pixar-esque (and even more so Disney-esque manner) has Mielin and friends discover how to merchandise the panda's popularity. I am not sure if I like the implications the film leaves you with here – that anything unique and novel automatically equals merchandising potential or that we should celebrate the girls' entrepreneurial efforts to market themselves to buy tickets that are over-priced for their teen demographic.
Turning Red has one of the strongest central characters arcs seen in any Pixar film in recent memory – that of the struggle of a second-generation immigrant who is caught between adherence to cultural tradition vs assimilation into general Western culture. This is something that Domee Shi and Julia Cho nail extremely well. The film arrives at a strong and emotive ending, making this one of the most satisfying Pixar films in some time.
---
Trailer here
---