---
Crew
Director – Scott Hicks, Screenplay – Nichole Millard, Kathryn Price & Michael Arlen Ross, Based on the Novel by Lauren Kate, Producers – Carol Blumenhuber, Mark Ciardi, Gordon Gray, Bill Johnson & Jim Seibel, Photography – Alar Kivilo, Music – Mark Isham, Visual Effects Supervisor – Gunnar Hansen, Visual Effects – Digital Dimension & Vision Globale (Supervisor – Etienne Daigle), Special Effects Supervisor – Gabor Kiszelly, Production Design – Barbara Ling. Production Company – Lotus Entertainment/Silver Reel/Mayhem Pictures/Apex Entertainment.
Cast
Addison Timlin (Lucinda 'Luce' Price), Jeremy Irvine (Daniel Grigori), Harrison Gilbertson (Cameron 'Cam' Briel), Lola Kirke (Pennyweather 'Penn' Lockwood), Sianoa Smit-McPhee (Molly Zane), Joely Richardson (Miss Sophia Bliss), Daisy Head (Arianne Alter), Malachi Kirby (Roland Sparks), David Schaal (Randy), Chris Ashby (Todd Hammond), Hermione Corfield (Gabbe Givens), Juliet Aubrey (Mrs Price), Paul Slack (Mr Price)
---
Plot
Sixteen year-old Luce Price is ordered placed in the Crosses and Swords Academy for troubled youth by the court after an incident in which she was deemed responsible for setting fire to a cabin where the boy she was making out with was killed. She refuses to take medication to banish the visions she has. Settling into the academy, Luce is immediately drawn to fellow pupil Daniel and is certain that they have met before, even though he denies it. She also receives the attentions of Cam, another guy there. As she becomes increasingly involved with Daniel, Luce learns how they have known each other for two thousand years. He is an angel, one of the Fallen who refused to take sides in Lucifer's war against God and was banished for it, while she is a mortal reborn through the ages who always ends up being killed due to the curse on him but is reborn so they can eternally meet again, always with tragic results. As they come together, others at the academy conspire to prevent this, seeing the fate of Heaven as being in the balance.
---
The Young Adult film – that is to say films adapted from book series that were written for adolescent and teenage reading ages – went meteoric in the late 2000s/early 2010s after the massive success of Twilight (2008) and sequels and other works like The Hunger Games, Divergent and The Maze Runner series. For a time, every studio wanted to jump aboard the bandwagon and seemed to have at least one Young Adult book series in development. The downside of this is that not all of these were successes and so what we ended up with was several unfinished series that never went beyond the first chapters as with the likes of I Am Number Four (2011), Beautiful Creatures (2013), The Mortal Instruments: City of Bones (2013), The Adventurer: The Curse of the Midas Box (2014), The Giver (2014), Vampire Academy (2014), The 5th Wave (2016), Maximum Ride (2016), The Darkest Minds (2018), Mortal Engines (2018),d Artemis Fowl (2020) and Chaos Walking (2021).
Fallen, not to be confused with either Fallen (1998), the Denzel Washington film about a body-hopping demon, and the tv mini-series Fallen (2006), another unrelated work about angels also set at a boarding school, is a further contender in the Young Adult stakes. It is adapted from a series of books by US writer Lauren Kate. Fallen (2009) was Kate's second published book and she has followed it with three sequels, plus a collection of short stories about the characters in the past and a spinoff novel featuring the character of Cam.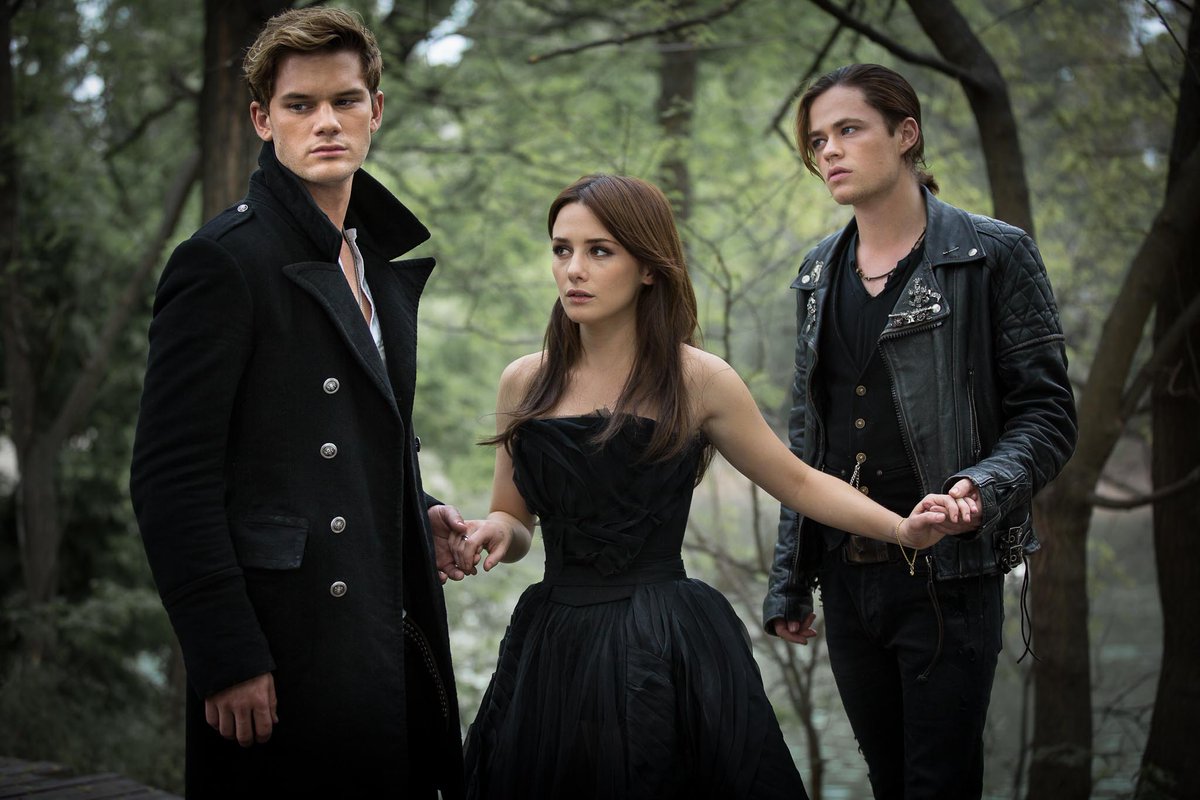 The surprise about Fallen is just how much of it copies Twilight but with angels instead of vampires. We have almost exactly the same story with an ordinary mortal girl (a Mary Sue character) unaware that she is the centre of a great destiny as she signs in to a new school. There she is attracted to a mysterious boy who she learns happens to be immortal and has supernatural abilities. Sparks begin to fly from the moment he saves her from an object that is about to fall onto her – a vehicle in Twilight, a gargoyle here. She also becomes at the centre of what seems to be shaping up to be a love triangle with a boy from another faction that are opposing the good angels.
The film has been placed in the hands of Scott Hicks, an Australian director known for works like Snow Falling on Cedars (1999), No Reservations (2007), The Boys Are Back (2009), The Lucky One (2012) and one previous venture into the fantasy genre with the Stephen King adaptation Hearts in Atlantis (2001). Hicks creates a very nicely made film. He gives it a sombre visual feel – hardly any shot of the school does not take place with ivy-covered stone, jutting gargoyles or the brooding mist-covered greenery of the grounds in frame. And the effects as the angels take to the air with wings made of light is a visually enthralling climax.
On the other hand, while much of the film is nicely made, it never moves one. The cast are okay but you could never say that the film does anything to set the screen on fire and allow emotional sparks to fly. Not to mention the story is dramatically unsatisfying – it is merely an introductory chapter where everything that happens is no more than a prelude to the bigger drama that has been held back for further instalments. Alas, we are unlikely to see any of these due to the fact that Fallen disappeared without even making a ripple at the box-office.
---
---