---
Crew
Directors – Bobby Farrelly & Peter Farrelly, Animation Directors – Piet Kroon & Tom Sito, Screenplay – Marc Hyman, Producers – Bobby Farrelly, Peter Farrelly, Dennis Edwards, Zak Penn & Bradley Thomas, Photography – Mark Irwin, Music – Randy Edelman, Music Supervisor – Ken Ross, Special Effects Supervisor – William 'Billy Jack' Jakielaszek, Makeup Effects – Tony Gardner, Production Design – Sydney J. Bartholomew Jr, Animation Production Design – Steve Pilcher. Production Company – Conundrum Entertainment.
Cast
Bill Murray (Frank Dettori), Elena Franklin (Shane Dettori), Chris Elliott (Bob), Molly Shannon (Mrs Boyd)
Voices
Chris Rock (Osmosis Jones), David Hyde-Pierce (Drix), Laurence Fisburne (Thrax), Brandy Norwood (Leah), William Shatner (Mayor Phlemming), Joel Silver (The Chief)
---
Plot
Zookeeper Frank Dettori is a slob. Unconcerned, he picks up and eats a boiled egg that a monkey has placed in its mouth. Inside Frank's body, Osmosis Jones, a white blood cell on the Immunity Force, is witness as Thrax, a deadly infection contained on the egg, starts taking over Frank's body, intending to make medical history by killing him within 48 hours. However, Osmosis's attempts to alert the body's authorities are ignored by the self-interested mayor. And so Osmosis teams up with Drix, a cold pill that Frank takes, to tackle Thrax.
---
The Farrelly Brothers first gained attention with Dumb and Dumber (1994) and Kingpin (1996). Their specialty is gross-out comedy and moron humour, a genre where they quickly proved themselves masters with the massive hit of There's Something About Mary (1998). None of the Farrellys' work since There's Something About Mary has quite had that same sublimely funny level of vulgar black comedy, but what the Farrellys did was to open the door (or perhaps more appropriately unzip the fly) on an explosion of vulgarity and bodily excretions-based cinema – from the American Pie and Scary Movie films to the entire career of Adam Sandler.
With Osmosis Jones, the Farrelly Brothers venture into animation. A film about talking germs must be a first – imagine a combination of Toy Story (1995) and Fantastic Voyage (1966). Naturally, something involving so many bodily fluids and excrescences and has a central character who is a born slob is material perfectly suited to the Farrelly Brothers' sensibilities. However, Osmosis Jones has been pitched as a family friendly film and, as a result, all the bodily functions derived humour is relatively restrained as a Farrelly Brothers film goes – the film travels fairly much all over the interior of Frank's body, for example, but never goes anywhere more explicit than a visit to the colon and the bladder.
In the live-action scenes, Bill Murray and Chris Elliott, seasoned performers at this type of material, go through all the paces, although they and the Farrellys never particularly stretch themselves. That said, the bulk of the film is less the live-action scenes than the animation.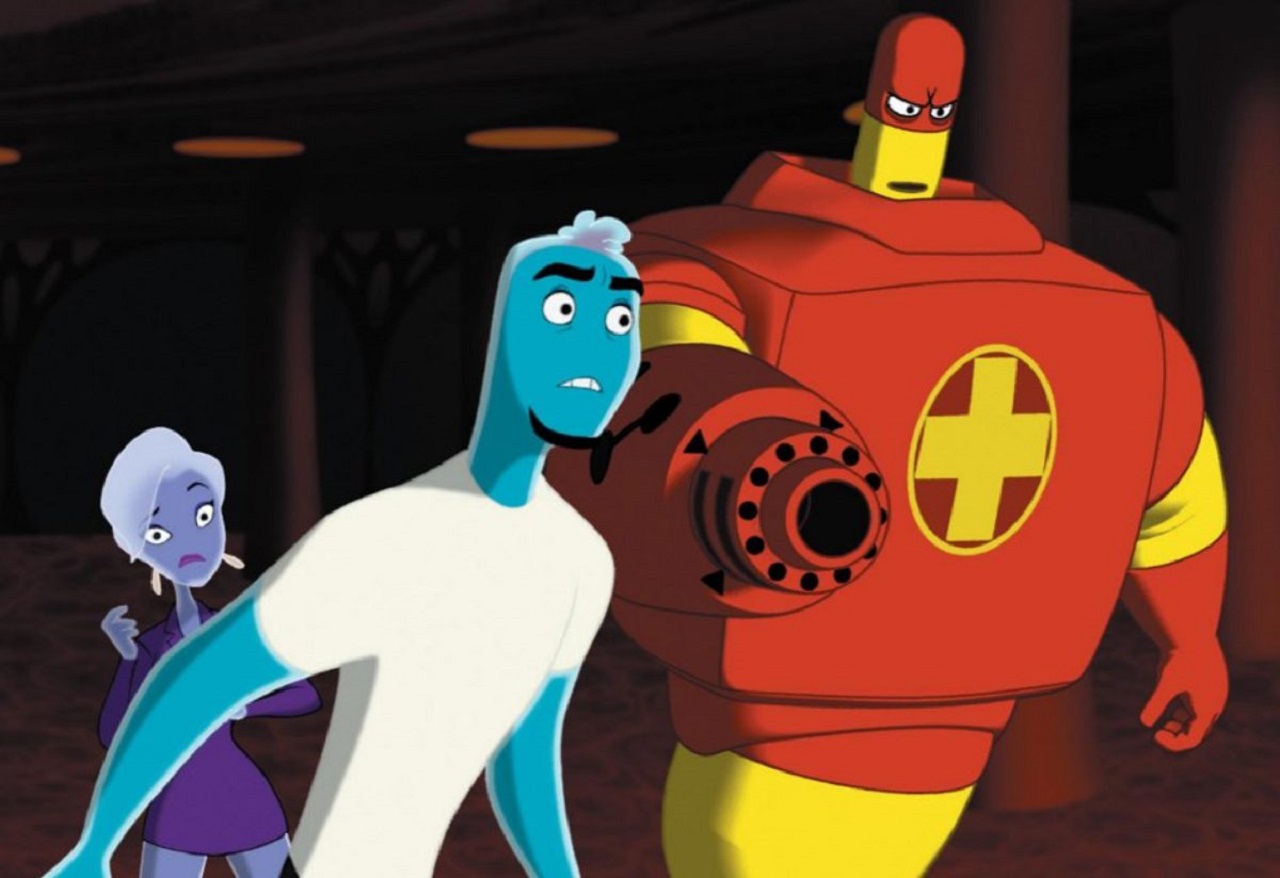 The fun to be had in the film is watching it anthropomorphise the inner workings of the human body – white blood cells are a police force patrolling the body to fight off infection; the brain is seen as city hall (being a slob's body, it is naturally run by a corrupt mayor); nerve cells are like giant electrical pylons and the bloodstream a multi-lane freeway; the armpits are saunas run by Mafioso germs; the digestive tract is like an international airport with boards announcing the arrival of various items of food; the sinuses are giant dams; and the subconscious is a place where germs can go to watch Frank's dreams play on cinema screens. There is considerable ingenuity to seeing what twist the script offers with each new area visited.
One of the great debates in psychology is how much of human behaviour is a product of biochemistry and to what extent behaviour belongs to notions such as free will and choice. Osmosis Jones would seem to offer the unique view that human behaviour is dictated entirely by cells and germs. Germs and cells, it seems, can make the choice over dietary habits and whether the body lets loose a fart; they can even take control of the will and direct the individual to say things and feel twinges of conscience.
The Farrelly Brothers have gone onto make other films such as Me, Myself & Irene (2000), Stuck on You (2004), Fever Pitch (2005), The Heartbreak Kid (2007), Hall Pass (2011) and The Three Stooges (2012). Their other ventures into genre material include:- the stalker black comedy There's Something About Mary (1998) and Shallow Hal (2001) wherein a man is hypnotised and starts to see ugly girls as beautiful. On his own, Peter Farrelly produced and directed several segments of the comedy anthology Movie 43 (2013).
---
---