---
USA. 2005.
Crew
Directors – Eric Darnell & Tom McGrath, Screenplay – Eric Darnell, Tom McGrath, Mark Burton & Billy Frohlick, Producer – Mireille Soria, Music – Hans Zimmer, Visual Effects Supervisor – Philippe Gluckman, Production Design – Kendal Cronkite. Production Company – PDI/DreamWorks SKG.
Voices
Ben Stiller (Alex), Chris Rock (Marty), Jada Pinkett Smith (Gloria), David Schwimmer (Melman), Sacha Baron Cohen (King Julian XIII), Cedric the Entertainer (Maurice), Tom McGrath (Skipper/Foosa/Panicky Man), Andy Richter (Mort), Chris Miller (Kowalski), Christopher Knights (Private), Conrad Vernon (Mason)
---
Plot
In the New York City zoo, the zebra Marty celebrates his tenth birthday but feels dissatisfied with the routine of life there. After talking to a troupe of penguins that are tunnelling their way to the outside world, Marty makes a birthday wish that he could go and live in the wild. After believing they have dissuaded him from such notions, the other animals discover that Marty has escaped via the penguins' tunnel. His three friends – the lion Alex, the hippo Gloria and the hypochondriac giraffe Melman – race to Grand Central Station to bring him back. There they and the penguins are recaptured by animal control. This causes a media uproar and a decision is made to return them to the wild. However, during the journey to Kenya, the penguins escape and take control of the ship. The crates containing Alex, Marty, Melman and Gloria are thrown overboard and wash ashore on the beaches of Madagascar. Marty celebrates the freedom of the wild but the other animals only want to return to the zoo. They are befriended by a tribe of lemurs after Alex chases away the foosa predators that attack them and the wily king decides that he wants to cultivate Alex as the tribe's protector. However, they have reckoned without Alex's discovery of his hunting instincts, which means that he now regards all of them as juicy steaks.
---
Ever since Disney created a major renaissance in animation in the early 1990s and in particular since Pixar premiered the first CGI animated film with Toy Story (1995), there has been much competition between various studios for the animation audience. Disney and Pixar have been at the forefront, beating off strong competition from DreamWorks. This has resulted in at least 3-4 major animated features coming out per year from the mid-2000s onwards.
The downside of this is what is starting to seem like market saturation. Disney has not had a non-Pixar animated success this side of 2000. Moreover, the glut of animation is starting to produce audience and reviewer ennui. Some other animated efforts that came out around the same time, like Brother Bear (2003), Home on the Range (2004), The Polar Express (2004), Shark Tale (2004), Robots (2005) and Valiant (2005), while perfectly acceptable animated efforts in their own right, ended up being dismissed as banal and found mixed success. When it came out, Madagascar also suffered from this sense of market glut and was dismissed by critics in the US, even though it proved a reasonable box-office success.
In truth, Madagascar is a perfectly likeable animated film. It is not any underrated masterpiece but it does manage to do the essential formula of the modern animated film quite enjoyably. One suspects that had Madagascar come out several years earlier where the market had not been so saturated by animated product, the reception would have been far warmer. Madagascar is the brainchild of Eric Darnell, the co-director of DreamWorks' first animated film Antz (1998), and Tom McGrath, a newcomer to feature animation, who had previously worked as a director on The Ren and Stimpy Show (1991-5) and who would later go on to solo direct Megamind (2010) and The Boss Baby (2017) for DreamWorks.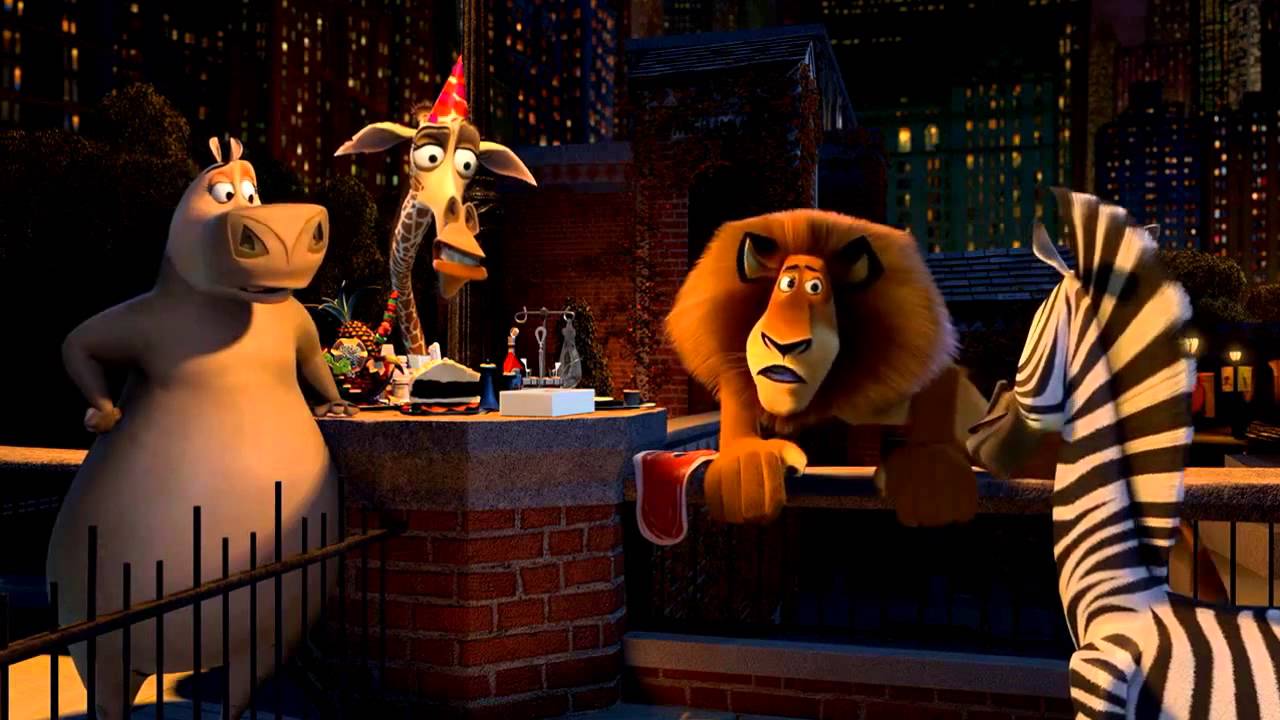 Darnell and McGrath invest Madagascar with a good deal of warm humour. There is an enormous degree of visual creativity with all manner of gags and witty asides that play around the edges of the film. At times, the film has a downright surreal eccentricity, like the visions of drug-induced psychedelia or Alex's hallucinations of his friends constantly transforming into ambulatory steaks. There is great deal of colour to the film, especially once the film reaches the title location, with Darnell and McGrath seeming to have borrowed the idea from Finding Nemo (2003) of using every colour in the rainbow in the frame at the same time.
The characters are all appealing, with the show being effortlessly captured by Chris Rock's zebra and Ben Stiller's lion, and stolen in no small part by various characters around the side, including no less than Sacha Baron Cohen (Ali G and Borat himself) as the lemur king and a troupe of commando penguins. It is surprising how well some of the actors – Ben Stiller, Chris Rock, David Schwimmer (an actor who has always annoyed me to the max in live-action roles) – are suited to playing animated characters. The characters arcs are likeable and all end in their expected destinations – the animals coming to enjoy the wild, Alex learning to not regard his friends as steaks – without seeming overly predictable.
Madagascar also follows a less appealing trend that has started to manifest in a number of recent DreamWorks films – Shrek 2 (2004) and Shark Tale being notable examples – of overrunning a fantasy milieu with constant pop culture references, in-jokes and even brand name droppings. (Here we get product placements for Starbucks and McDonald's). There are a great many jokes about other films and quotings from popular songs – Marty strolling down the street and admiring a passing lady in a striped coat in an imitation of John Travolta in Saturday Night Fever (1977) as the familiar Stayin' Alive number plays on the soundtrack; the lemurs dancing to I Like to Move It several times throughout; Louis Armstrong on the soundtrack and surfing music as Alex arrives on the beach; the theme from Chariots of Fire (1981) playing as Marty and Alex run down the beach towards one another in slow motion; jokes about the beachball from Cast Away (2000); spoofs of American Beauty (1999); and numerous New York City in-jokes, even gags about monkeys throwing poop at Tom Wolfe.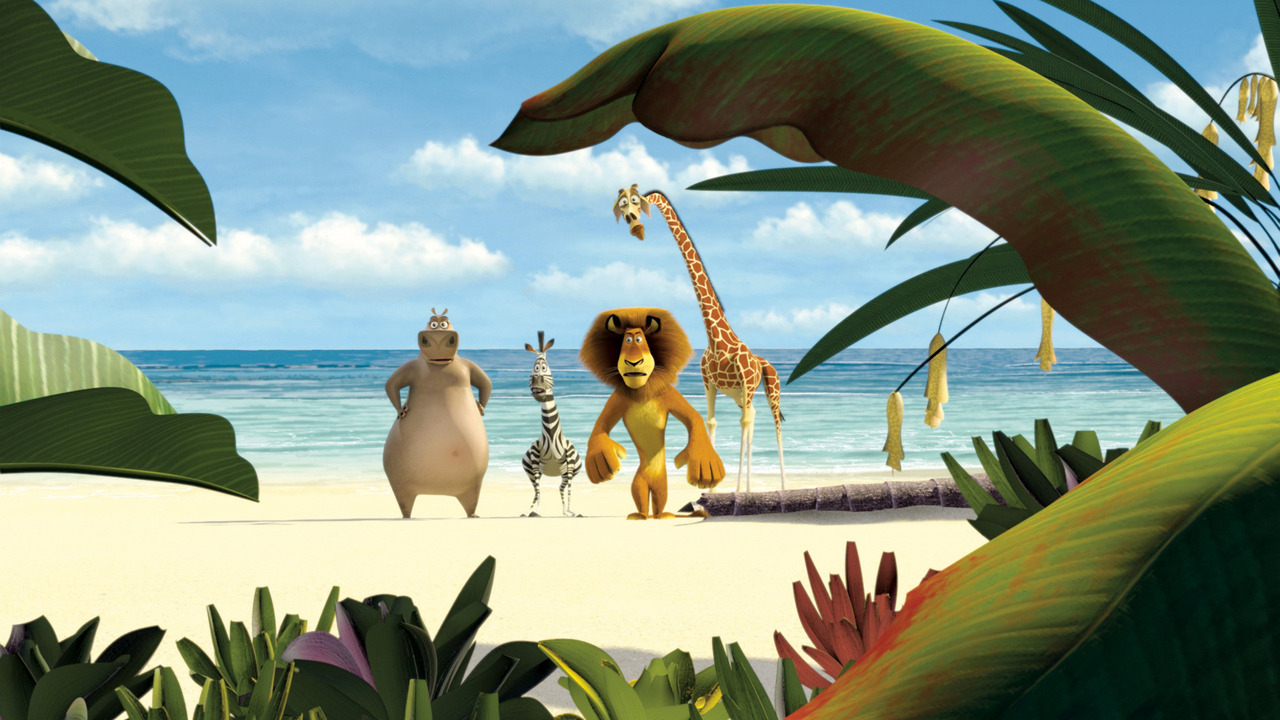 These pop culture jokes tend to be intrusive, although at least they work with more cleverness and sophistication than they do in DreamWorks' other films. I particularly liked the spoof of Planet of the Apes (1968) that has Alex's simulation of the Statue of Liberty accidentally burned to the ground and he kneeling hitting the sand, crying out "Darn you. Darn you all to heck." And you have to applaud the obscurity of some of the in-jokes that Darnell and McGrath make – like when the lemurs bring out a book entitled To Serve Lemur and then comment "It's a cookbook," an in-joke that refers to the The Twilight Zone (1959-64) episode To Serve Man, which centred around human confusion over the title alien book, with the phrase "It's a cookbook" being the twist punchline.
2005 also had the very peculiar distinction of featuring not one but two films about talking zebras, with Madagascar featuring competition from the dire live-action Racing Stripes (2005). In an even more peculiar coincidence, less than a year later Disney released The Wild (2006), which had a near-identical plot about talking zoo animals escaping into their natural habitat.
The two directors and the principal voice cast reunited for an even more enjoyable sequel Madagascar: Escape 2 Africa (2008) and the subsequent Madagascar 3: Europe's Most Wanted (2012), while the penguins were spun off in their own film Penguins of Madagascar (2014).
DreamWorks' other animated films are Antz (1998), The Prince of Egypt (1998), The Road to El Dorado (2000), Shrek (2001), Spirit: Stallion of the Cimarron (2002), Sinbad: Legend of the Seven Seas (2003), Shark Tale (2004), Over the Hedge (2006), Bee Movie (2007), Kung Fu Panda (2008), Monsters vs Aliens (2009), How to Train Your Dragon (2010), Megamind (2010), Rise of the Guardians (2012), The Croods (2013), Turbo (2013), Mr. Peabody & Sherman (2014), Home (2015), Trolls (2016), The Boss Baby (2017), Captain Underpants: The First Epic Movie (2017) and Abominable (2019), and assorted sequels to these.
---
---