---
Crew
Director – Steve 'Spaz' Williams, Screenplay – Ed Decter, Mark Gibson, Philip Halprin & John J. Strauss, Story – Mark Gibson & Philip Helprin, Producers – Beau Flynn & Clint Goldman, Music – Alan Silvestri, Animation – C.O.R.E. Feature Animation, Production Design/Art Direction – Chris Farmer. Production Company – Hotboy Pictures/Sir Zip Studios/Contrafilm.
Voices
Kiefer Sutherland (Samson), James Belushi (Benny), Eddie Izzard (Nigel), Janeane Garofalo (Bridget), Richard Kind (Larry), Greg Cipes (Ryan), William Shatner (Kazar), Lenny Venito (Stan), Joseph Siravo (Carmine), Miles Marsico (Duke), Colin Cunningham (Hyrax), Clinton Leupp (Mama Hippo)
---
Plot
In the New York City zoo, Samson the Wild is regarded as the king of the animals. However, Samson's son Ryan has only a puny meow instead of a roar and feels inadequate standing in the shadow of his father's mighty exploits. After an embarrassing incident, a shamed Ryan slips aboard a container of animals that are to be returned to the wild. Joined by the squirrel Benny, the koala Nigel, the giraffe Bridget and the snake Larry, Samson races to stop the ship departing. They follow Ryan's ship by accidentally boarding and figuring out how to pilot a tugboat. They land in the wilds. There, in their search to find Ryan and survive, Samson's exploits are shown to be somewhat less than he has claimed. They are then captured by a herd of wildebeests that are determined to eat the lions and become top of the food chain.
---
It can be observed that the best films that come out of Disney at least post-2000 are ones that made by outside companies – the most notable case of this being Disney's ongoing partnership with Pixar or their release of Hayao Miyazaki's back catalogue. The Wild is a Disney release that comes from C.O.R.E. Feature Animation, a company that is an outthrust of C.O.R.E. Digital Pictures, a Canadian-based visual effects firm that has provided effects for films such as Doctor Dolittle (1998), X-Men (2000), Blade II (2002), The Time Machine (2002), Resident Evil: Apocalypse (2004) and Silent Hill (2006). Director Steve 'Spaz' Williams had previously worked as a visual effects supervisor and animator on films such as Terminator 2: Judgment Day (1991), The Mask (1994) and Spawn (1997).
The Wild was one of a host of seemingly interchangeable animated films that came out in 2006. Animated films are some of the most profitable in cinema these days and 2006 almost felt like it reached a market glut for family-oriented animated films with the likes of The Ant Bully (2006), Barnyard (2006), Flushed Away (2006), Happy Feet (2006), Ice Age 2 (2006), Open Season (2006) and Over the Hedge (2006). In fact, these were so near-identical that it was virtually impossible to tell the trailers for some of the films apart.
The Wild has striking resemblances to Dreamworks' Madagascar (2005), which came out almost exactly one year earlier. Both films start out at the New York Zoo and concern various talking zoo animals escaping into the wilds where they struggle to fit into their natural environment. The hero in both films is also a lion. You could perhaps also see occasional similarities between The Wild and Pixar's Finding Nemo (2003) in the comparable tales of a father setting out on a quest to rescue his son. Alas, The Wild suffered considerably in release, garnering a host of dismissive Madagascar 2-type reviews. These were perhaps unfair in that The Wild's script was in development a whole nine years earlier, well before Madagascar ever appeared on screens.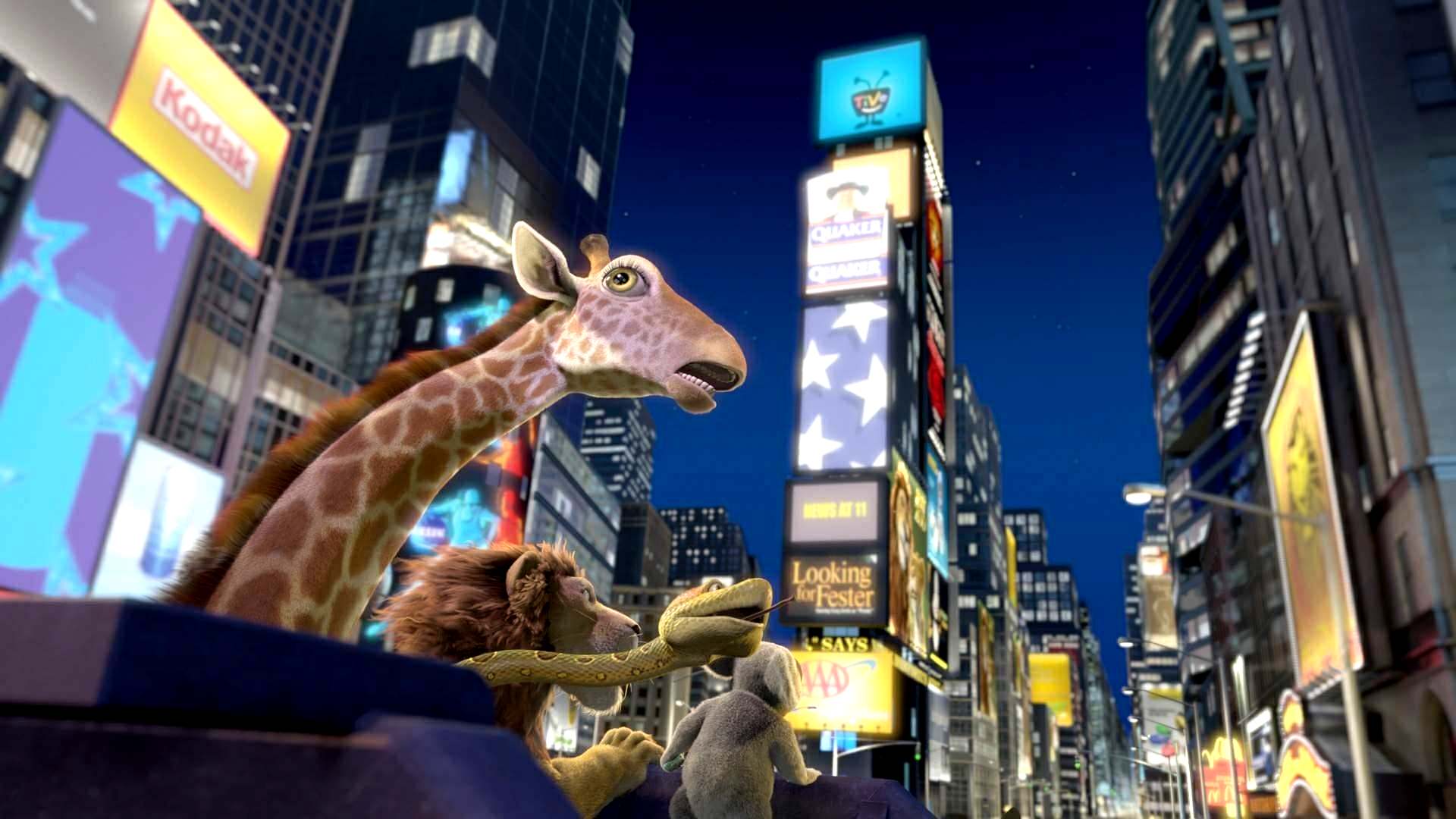 To the contrary of most of the views out there, The Wild is not too bad an animated film at all. The quality of animation is stunning. C.O.R.E. have given the film a near-photographic realism that makes it one of the most breathtaking of the season's batch of animated films. Particularly stunning are the backgrounds of New York City when the animals ride through the streets on the back of a truck – the effect is of watching a dazzling 3D diorama of the city that has been painted on the full breadth of the widescreen. The opening sequence, which depicts Samson's tale of facing beasts in the wild, comes in an amazingly range of Day-Glo colours that are quite unlike any piece of animation one has seen before.
The Wild comes with a balance of endearing humour that is hard to dislike. The character arcs are all standard and as expected – the revelation of Samson's over-hyped exploits are predictable. One of the fun things about the film is the range of eccentric characters that come packed around the edges – Indian-accented pigeons; blonde pigtailed Germanic ladybugs; Mafioso crocodiles living in the sewers; a horde of wildebeest led by a mad messiah (voiced by no less than William Shatner who gets to do James Cagney impersonations as he goes down) who wants to become the top of the food chain; chameleon secret agents that come in an eye-watering splurge of pastel colours; the scene-stealing Hyrax that gets peeved and demands to be eaten; and of course Eddie Izzard's appealingly likeable koala.
---