---
USA. 2001.
Crew
Director – Peter Chelsom, Screenplay – Marc Klein, Producers – Peter Abrams, Simon Fields & Robert L. Levy, Photography – John De Borman, Music – Alan Silvestri, Music Supervisor – Laura Ziffren, Special Effects Supervisor – Conrad F. Brink, Production Design – Caroline Hanania. Production Company – Tapestry Productions/Simon Fields Productions.
Cast
John Cusack (Jonathan Trager), Kate Beckinsale (Sara Thomas), Jeremy Piven (Dean Kansky), Molly Shannon (Eve), Bridget Moynihan (Halley Buchanan), John Corbett (Lars Hammond), Eugene Levy (Bloomingdale's Salesman)
---
Plot
While Christmas shopping at Bloomingdale's in New York City, Jonathan Trager and Sara Thomas meet while reaching for the same pair of gloves. They go for coffee and then he whisks her around the city. Both are attracted to one another. She tells him that if things are meant to be then fate will draw them back together. And so she writes his number on a five-dollar bill and then swaps it for change. She then inscribes her number and last name inside a copy of 'Love in the Times of Cholera' and says she will sell it at a second-hand bookstore the next day. If they are meant to be together, fate will find a way of bringing these two items back to the other person. Several years later and Jonathan is about to be married but is haunted by not knowing if Sara was meant to be the right one for him or not. At the same time, Sara, now living in San Francisco, is proposed to by her musician boyfriend but continues to think about Jonathan. With only the scantiest of information, they both set out to find each other. As they do, the trail of clues left behind comes into play and their paths of fate start to coincide.
---
As premises for light romantic films go, Serendipity has one that ends up making you scratch your head – two people are romantically attracted but part leaving their contact information on randomly distributed items in the belief that if they are meant to be together then fate will deliver the information back to the other person. It is a decidedly awkward gimmick for a film.
To me the biggest credibility gap that Serendipity has is that one finds it impossible to believe that this is a way that two people who are attracted to one another would act – that they would do something so whimsically vague as throw away each other's names and numbers and trust in fate, rather than do what every other romantically attracted couple on the planet would do, which is to race off to see the other again at the soonest opportunity.
Certainly, the premise of fate and luck in action is an interesting one. Serendipity has much in common with the appealingly quirky but short-lived tv series Strange Luck (1995-6). Maybe one could also cite the afterlife romantic fantasy Made in Heaven (1987), which had a similar plot about two lovers reincarnating and the near-coincidences as they try to meet one another again.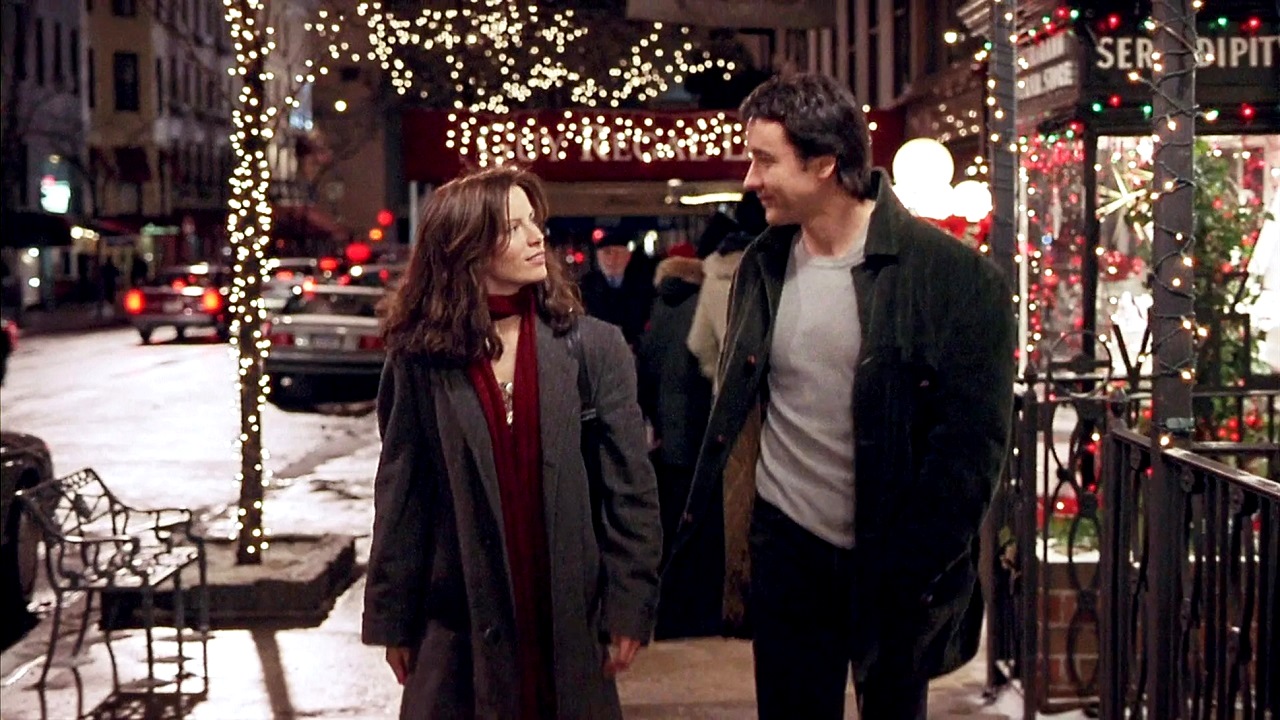 There is some fun to be had in the film's game of synchronicity and seeing things almost but not quite connecting up or the strange coincidences that occur – Kate Beckinsale turning up at the golf course where John Cusack works, Molly Shannon unwittingly picking up the $5 bill in a restaurant, Shannon turning out to be a friend of Cusack's fiancee Bridget Moynihan and being invited to the wedding unawares, Moynihan giving the book to John Cusack as a gift, Kate Beckinsale departing in a taxi just as John Cusack and Jeremy Piven arrive at the same address.
Despite all of the fun to be had during these games, Serendipity doesn't really work. Being a romantic film and with a theme like fate, there is never any doubt about the outcome of the story. The great surprise is that there is almost no chemistry generated in the romance between the two principals, John Cusack and Kate Beckinsale, who are both fine actors in their own right. They are only on screen together for a few minutes at the start but director Peter Chelsom fails to make this into anything earth shattering. The rest of the film is centred around the slight and decidedly gimmicky premise of them constantly almost meeting.
British director Peter Chelsom had first appeared with the acclaimed Hear My Song (1991) and the black comedy Funny Bones (1995). His ventures into the American mainstream have been less certain, including the disastrous flop of Town and Country (2001), the Richard Gere/Jennifer Lopez pairing Shall We Dance? (2004), the commercial teenie hit of Hannah Montana: The Movie (2009) and the Young Adult space drama The Space Between Us (2017).
In the 2020s, plans have been announced to remake the film as a tv series.
---
Trailer here
---