---
Crew
Director – Lawrence Guterman, Screenplay – Glenn Ficcara & John Requa, Producers – Bruce Berman, Christopher DeFaria, Andrew Lazar, Craig Perry & Warren Zide, Photography – Julio Macat, Music – John Debney, Visual Effects Supervisor – Ed Jones, Visual Effects – Digital Firepower, Gray Matter FX (Supervisor – Kevin Souls), Mill Film (Supervisor – David Lomax), No Prisoners & Rhythm and Hues (Supervisor – Bill Westenhofer), Russian Cat Effects – The Tippett Studio (Supervisors – Blair Clark & Scott Souter), Animatronics Supervisor – Ed Jones, Creature Effects – The Henson Creature Workshop, Animation Director – Richard Bancham, Production Design – James Bissell. Production Company – Warners/Village Roadshow/NPV Entertainment/Mad Chance/Zide-Perry.
Cast
Alexander Pollock (Scott Brody), Jeff Goldblum (Professor Brody), Elizabeth Perkins (Caroline Brody), Miriam Margolyes (Sophie)
Voices
Tobey Maguire (Lou), Alec Baldwin (Butch), Sean Hayes (Mr Tinkles), Susan Sarandon (Ivy), Joe Pantoliano (Peek), Michael Clarke Duncan (Sam), Jon Lovitz (Calico)
---
Plot
In the secret ongoing war between cats and dogs, it is determined that a formula being perfected by Professor Brody that will eliminate all human allergies to dogs is of vital importance as it will allow the dogs the edge over the insidious cats. When the cats abduct the Brody's dog, the dogs select a trained agent to go in as replacement. However, the innocuous and untrained Lou is chosen by mistake instead. In the Brody home, Lou must stop the diabolical cat leader Mr Tinkles' plan to take over the world by reversing the formula and instead making humans allergic to all dogs.
---
Amid the explosion of CGI effects on film in the mid 1990s, one of the most striking approaches was taken by Babe (1995), which used a deft combination of CGI and animatronics to essentially create a live-action version of a Disney talking animals film. Babe quickly begat a number of imitators, all featuring realistically created CGI/animatronic-generated talking animals interacting with humans in a live-action environment – the likes of 101 Dalmatians (1996), MouseHunt (1997), Dr. Dolittle (1998), Stuart Little (1999), Animal Farm (1999), Garfield (2004), Racing Stripes (2005), Charlotte's Web (2006), Alvin and the Chipmunks (2007), Underdog (2007), Beverly Hills Chihuahua (2008), G-Force (2009), Furry Vengeance (2010), Yogi Bear (2010), Hop (2011), Zookeeper (2011), Paddington (2014), The Jungle Book (2016), Christopher Robin (2018), Peter Rabbit (2018), Watership Down (2018), Dumbo (2019), Lady and the Tramp (2019), The Lion King (2019) and Clifford the Big Red Dog (2021) and of course this. It is of pointed note that while Cats & Dogs is made as a combination of live-action and CGI/animatronics, it began life as a script intended for animation.
The fun to be had with Cats & Dogs is essentially the same as in the same year's Spy Kids (2001), which Cats & Dogs has many resemblances to – that of seeing a James Bond-type spy caper film being played out with kids or, in this case, by talking animals. The film has fun with the gadgetry – dog collars containing communication devices, a kennel that hides a hi-tech message centre and an express train to headquarters, a parachute-dropped steak containing a bomb, fences that have secret sliding doors and so on.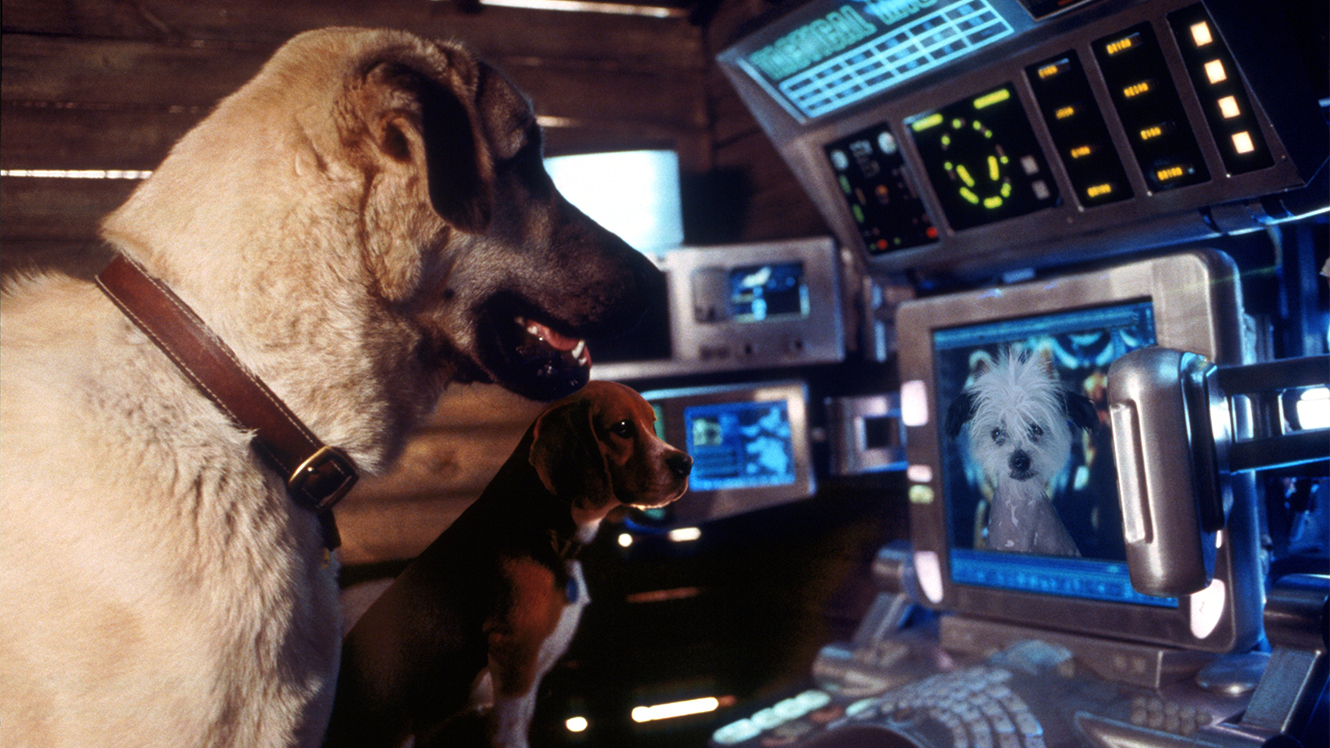 The results are frequently hilarious – the diabolical cat mastermind Mr Tinkles (a white fluffy cat seemingly modelled on the one that Blofeld holds in the James Bond films) is perpetually having his megalomaniacal rantings undercut by his master's maid cooing over him and taking him for his shampoo bath.
There are wonderfully bizarre images like that of cats flying into attack aboard miniature biplanes or fight sequences with cats conducting slow motion Bullet Time martial arts moves a la The Matrix (1999). There is an amazing sequence with the Russian Cat involving the trashing of the living room, with Lou spinning about the room on a boomerang and the Russian Cat frozen in mid-attack as Elizabeth Perkins enters the house oblivious.
The CGI allows a marvellous degree of animation to the expression on the animals faces. Director Lawrence Guterman manages, with a sublime adeptness, to obtain a perfect balance of tongue-in-cheek adventure, cuteness and audience-winking humour. An added bonus is the lack of talking animals spouting modern pop culture colloquialisms and references that has destroyed the illusion in many other recent fantasy films.
This was followed by two sequels Cats & Dogs: The Revenge of Kitty Galore (2010) and Cats & Dogs 3: Paws Unite (2020).
Director Lawrence Guterman next went on to make Son of the Mask (2005).
(Nominee for Best Special Effects at this site's Best of 2001 Awards).
---
---