(Körkalen)
---
Crew
Director – Victor Sjöström, Based on the Novel by Selma Lagerlöf, Photography (b&w) – J. Julius. Production Company – Svensk Filmindustri.
Cast
Victor Sjöstrom (David Holm), Hilda Borgstr Borgström (Fru Holm), Tor Svennberg (Georges), Astrid Holm (Sister Edit), Concordia Selander (Sister Edit's Mother), Lisa Lundholm (Sister Maria), Tor Weijden (Gustafsson)
---
Plot
In a Salvation Army home, Sister Edit lies dying and begs that David Holm be brought to see her before she goes. A search is sent out for Holm. Holm and two others are drinking in the graveyard as the hour of New Year's Eve nears. He tells them the story of his friend Georges who lived in fear of New Year's Eve where the last soul to die in the year would be chosen for the grim task of being Death's carriage driver for the next year. As the midnight hour nears, the men fight and David is killed. Death's carriage, driven by none other than Georges, arrives to hand over the reins to David as the new driver. First Georges insists that he take David on a tour of his own life so that he can see the misery he caused by becoming a drunk, which led his wife to leave him with their children and caused the fatal consumption that is now killing Sister Edit.
---
The greatest footnote that The Phantom Carriage seems to have in history is that Ingmar Bergman said it was his favourite film. You can see the clear influences on Bergman's The Seventh Seal (1957), for instance, while he later cast its director Victor Sjöström in the role of an old man wandering through his memory in Wild Strawberries (1967).
Victor Sjöström was a celebrated Swedish director of the silent era. He made forty films between 1912 and 1937, although only four of these are sound films. He also appeared as an actor in most of these. The film is based on a 1912 novel by Selma Lagerlöf. Lagerlöf was one of Sweden's most celebrated writers with both children's books and series dramatic works and was the first woman to win a Nobel Prize for literature. To all accounts, Lagerlof was a fascinating character – an ardent Christian pacifist and suffragette, and a lesbian well before such was ever talked about in public. Victor Sjöström had directed three earlier non-genre films based on her works.
The Phantom Carriage is an odd film. I can see why it was regarded as a classic coming at the time it did. What must be said is that it has not dated particularly well. Nor do I think that it handles its fantastic idea in a satisfying way. Certainly, Victor Sjöstrom proves himself a master of mise-en-scene. He was making films at a time when cinema had started to move beyond the simple trick effects and comedies of the previous two decades. Other directors of the silent era like D.W. Griffith and F.W. Murnau were discovering the subtleties of acting and drama. Sjöstrom delivers some beautifully textured scenes, ones that allow his actors to create all the drama there is with their silent theatrics. And of course, there are the amazing supernatural effects – of the ghost carriage appearing at the doors of houses, driving off into the ocean to claim the soul of a drowned man – which are visually enticing even if the optical overlay effects in themselves seem primitive today.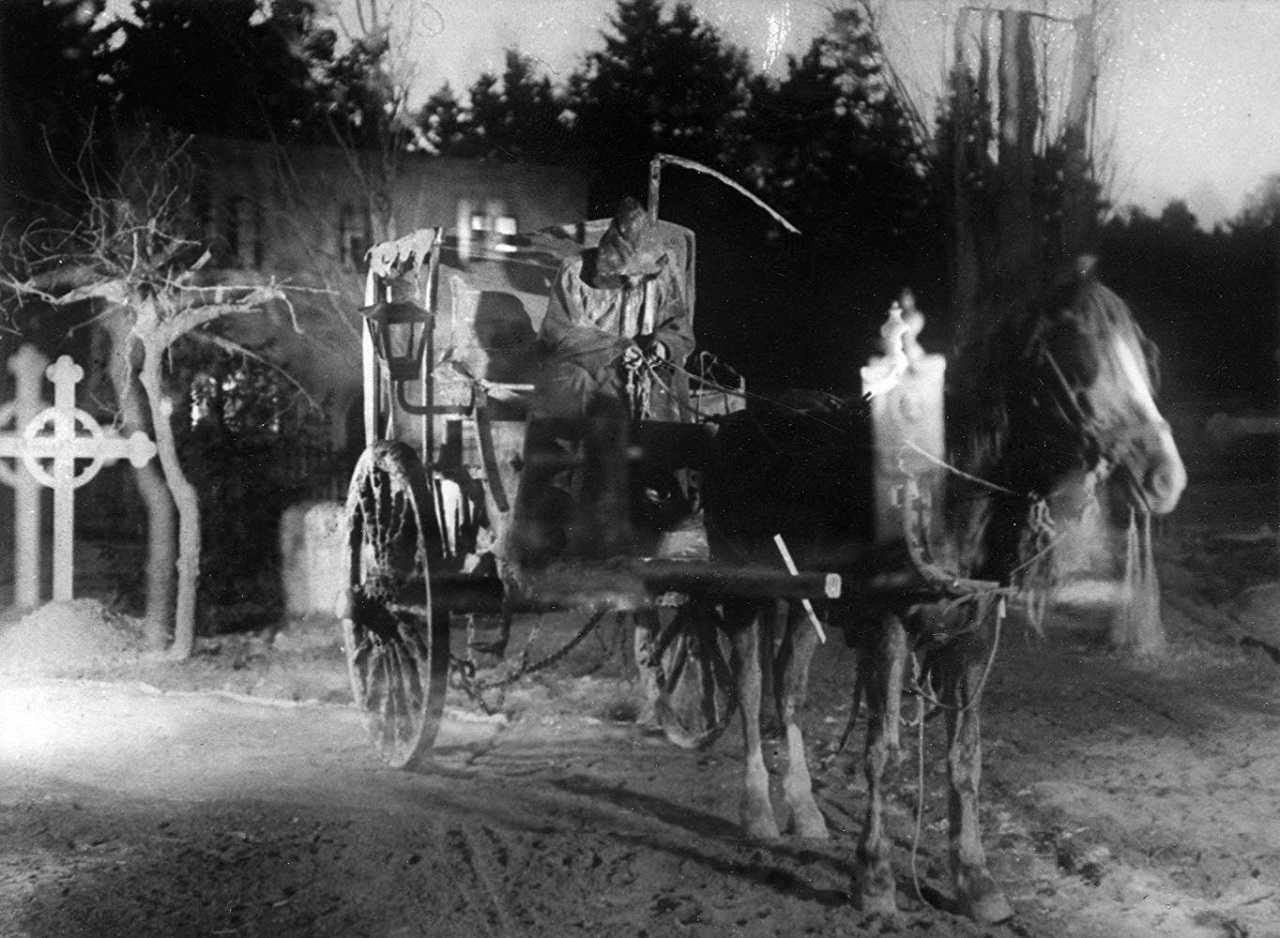 I saw The Phantom Carriage theatrically at a Halloween screening at Vancouver's Vancity Theatre where it was accompanied by a Gothic electronic score by Funerary Call. While this was well done, it felt wrong for the film. It was the sort of score you feel would have worked for a silent film such as Nosferatu (1922) but the attempts to instil a sense of ominousness and dread into every moment of The Phantom Carriage often seemed like overkill. Much of the film consists of mundane scenes with a dying woman in bed and an alcoholic contemplating the misery he has wrought on others. Not that much of the film involves the title carriage, thus it seemed out of place trying to make everyday, non-haunted scenes into something scary. This seems a fatal misreading of the type of film we are watching.
The reality is that The Phantom Carriage is not a ghost story, not a Gothic work but a Christian morality play. It operates in much the same way that Charles Dickens' A Christmas Carol (1843) and the innumerable film versions of it do – where agents of the supernatural appear to morally lecture a man and show him the error of his ways and the path of redemption. Most of the film is focused around David Holm and the search for his wife, where Tor Svennberg's ghostly carriage driver acts as no more than the Ghost of Christmas Yet to Come.
Furthermore, The Phantom Carriage is a film rooted in the temperance movement and the Christian mission to the poor – much of the film is set around Salvation Army homes, while the hero is a portrayed as a reprobate because of his drunkenness and Sister Edit as next to saintly because she struggles all night to mend his coat, which he then ungratefully tears back to its original state, after which she is fatally infected by germs caught from the coat. (Apparently Selma Lagerlöf was commissioned to write the original novel as a warning against consumption). Needless to say, the hero does eventually find his redemption and earn the forgiveness of his wife. At the end, as with a great many fantastic films of this era, everything that has transpired is eventually revealed to be a dream.
There were to remakes with The Phantom Carriage (1939), a French sound version from Julien Divivier, and The Phantom Carriage (1958), a colour remake, although this does not appear to have been widely seen.
---