---
Crew
Director – Sean McNamara, Screenplay – Jymn Magon, Story – Jymn Magon & Rob Kerchner, Based on the Harvey Comics Characters, Producer – Mike Elliott, Photography – Christian Sebaldt, Music – Udi Harpaz, Music Supervisors – Ron Kenan & Andrew Muson, Digital/Visual Effects – OCS/Freeze Frame/Pixel Magic (Supervisor – Ken Wilder), Special Effects Supervisor – David Watkins, Makeup Effects – Magical Media Industries Inc (Supervisor – John Carl Buechler), Production Design – Nava. Production Company – 20th Century Fox Home Entertainment/Saban Entertainment/The Harvey Entertainment Co.
Cast
Hilary Duff (Wendy), Cathy Moriarty (Gert), Shelley Duvall (Gabby), Teri Garr (Fanny), George Hamilton (Desmond Spellman), Richard Moll (Jules), Vincent Schiavelli (Vincent), Blake Foster (Jules Jackman), Rodger Halston (Larry Tallby), Pauly Shore (The Oracle)
Voices
Jeremy Foley (Casper), James Ward (Stretch), Bill Farmer (Stinkie), Jess Harnell (Fatso)
---
Plot
Desmond Spellman learns from his magic mirror that he is no longer ranked the No. 1 most powerful witch and that he has been superseded by the young Wendy. And so he sends two henchmen to eliminate her. Wendy and her three aunts flee and go into hiding at a holiday resort where they swear off using magic to prevent Desmond from detecting their presence. Meanwhile, Casper the Friendly Ghost joins his three obnoxious ghost uncles as they decide to haunt the holiday resort. Both bemoaning the way their relatives mistreat them and their lack of friends, Casper and Wendy meet and form a friendship, despite the fact that ghosts and witches traditionally hate one another. As Desmond intensifies his search for Wendy, the two try to push their aunts and uncles together to become friends.
---
This was the second of three made-for-video sequels to the theatrically released Casper (1995), which was of course adapted from the popular cartoons and long-running children's comic-book series from Harvey Comics. While Casper was made theatrically, this and the other two films, its predecessor, Casper: A Spirited Beginning (1997) and the subsequent Casper's Haunted Christmas (2000), were made by children's entertainment producers Saban Entertainment. Saban were responsible for the likes of Samurai Pizza Cat (1991), Mighty Morphin Power Rangers (1993-6), Digimon (1999-2003) and also made the video-released Addams Family spinoff film Addams Family Reunion (1998). This time Harvey Entertainment, who co-produce, have also introduced the character of Wendy from their comics. Wendy first appeared in Harvey's Casper comics in 1954 and gained her own title with Wendy the Good Little Witch in 1960.
While the Casper movie was slight, Casper Meets Wendy is juvenile and frenetically silly. There are a good many silly puns playing off contemporary in-references – the witches call themselves Spice Girls, there are plays on the confusion between belladonna and Madonna, gags about running spells through a Spellchecker, Witches' Protection Programs, even Richard Moll and Vincent Schiavelli's two henchmen doing parodies of Pulp Fiction (1994) (which if you think about it is hardly a film that this film's moppet audience is likely to have been allowed to see).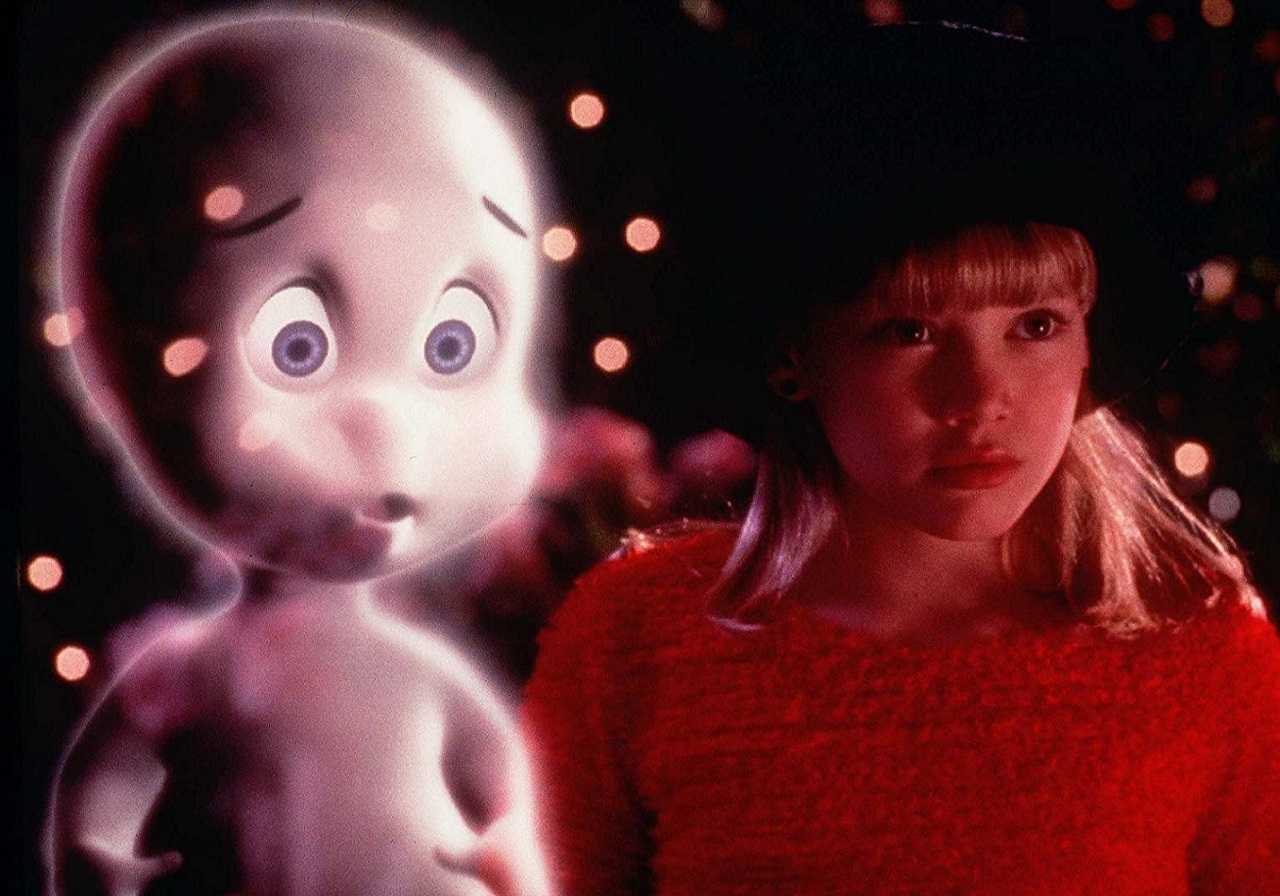 There is a silly opening scene parodying Close Encounters of the Third Kind (1977) with a UFO appearing over the crowd at a baseball stadium, which turns into the Ghostly Trio who proceed to run rampant, blowing out the floodlights with their farts and Fatso gobbling up a mass of hot dogs then manifesting a bomb bay door in his stomach and dumping them over the crowd.
While later-to-be teen pop idol Hilary Duff has a certain sparkle as Wendy, the character never inflates with the wholesomeness she has in the comic book. Teri Garr, Shelley Duvall and Cathy Moriarty (the only returnee from the original Casper film) camp it up outrageously as the three witches, going through some giddy, eye-boggling costume changes. George Hamilton gives a performance where he seems to be trying to imitate Vincent Price. If that were not bad enough, it was someone's bright idea to cast the excruciatingly annoying Pauly Shore as the magic mirror. Certainly, the animation effects of the ghosts is very good and are almost on a par with the work in the Casper movie.
---
---