---
UK/Ireland/Canada. 2007.
Crew
Director – Nicolas Roeg, Screenplay – Dan Weldon, Based on the Novel by Fay Weldon, Producers – Julie Baines, Michael Garland, Martin Paul-Hus, Dan Weldon & Ben Woolford, Photography – Nigel Willoughby, Music – Chris Crilly. Thierry Gauthier & Delphine Measroch, Visual Effects – Moskito (Supervisor – Richard Ostiguy), Special Effects – Team FX (Supervisor – Brendan Byrne), Production Design – Anna Rackard. Production Company – Tall Stories/Amerique Film/Grand Pictures/Dan Films.
Cast
Kelly Reilly (Liffey Lambert), Miranda Richardson (Mabs Tucker), Rita Tushingham (Molly), Oscar Pearce (Richard), William Houston (Tucker), Leona Igoe (Audrey Tucker), Tina Kellegher (Carol), Pat Deery (Dr Holmes), Donald Sutherland (Lars)
---
Plot
Architect Liffey Lambert has purchased a cottage in the Irish countryside with the intention of restoring it as her home. After she and her boyfriend Richard have sex on an ancient Norse stone dedicated to the god Odin, Liffie discovers that she is pregnant. At the same time, her neighbour Mabs is determined to become pregnant with a fourth child, despite no longer being at the age where she can easily conceive. Mabs's mother Molly uses witchcraft to try and ensure this. When she learns that Liffey is pregnant rather than she, Mabs starts to believe that Liffey has stolen the child that is rightfully hers. Using her mother's magic, Mabs sends her husband Tucker with enchanted wine that causes him and Liffey to tear one another's clothes off and have sex, all so that he might steal Liffey's child from her womb and return to impregnate Mabs with it.
---
Nicolas Roeg is one of the great arthouse directors of the 1970s, having first appeared as co-director of the cult hit Performance (1980) and then gone onto acclaimed works such as Walkabout (1971), Don't Look Now (1973), The Man Who Fell to Earth (1976), Bad Timing (1980), Eureka (1983) and Insignificance (1985). There has always been a unique arthouse voice to Nicolas Roeg, even when some of his films swing between hit and miss. Roeg's work faded away in the 1990s, around the point he entered into his sixties, with a string of tv movies and theatrical releases that received negligible attention. In fact, Puffball was the first theatrical release Roeg had had in twelve years, the last since The Witches (1990) to gain any widespread notice, and would be the final film Roeg would make before his death in 2018. A number of Nicolas Roeg's works fall within genre guidelines – see below for a listing of these.
Puffball is adapted from a 1980 novel by British writer Fay Weldon. Weldon gained a name during the 1980s with the hit tv mini-series The Life and Loves of a She-Devil (1986) based on her 1983 novel about a homely woman who takes an elaborate revenge on her husband after she is abandoned. This was later poorly remade as the US film She-Devil (1989) starring Meryl Streep and Roseanne Barr. Weldon had worked as a tv scriptwriter for British tv since the 1960s. Following The Life and Loves of a She-Devil, her body of novels gained a prominence and there were adaptations of various of her other works, including the genre likes of the tv mini-series' Growing Rich (1992) about three women who make pacts with a mysterious Devil figure and The Cloning of Joanna May (1992) about a woman who discovers her ex-husband has cloned her three times over. Puffball was produced and the script written by Weldon's son Dan.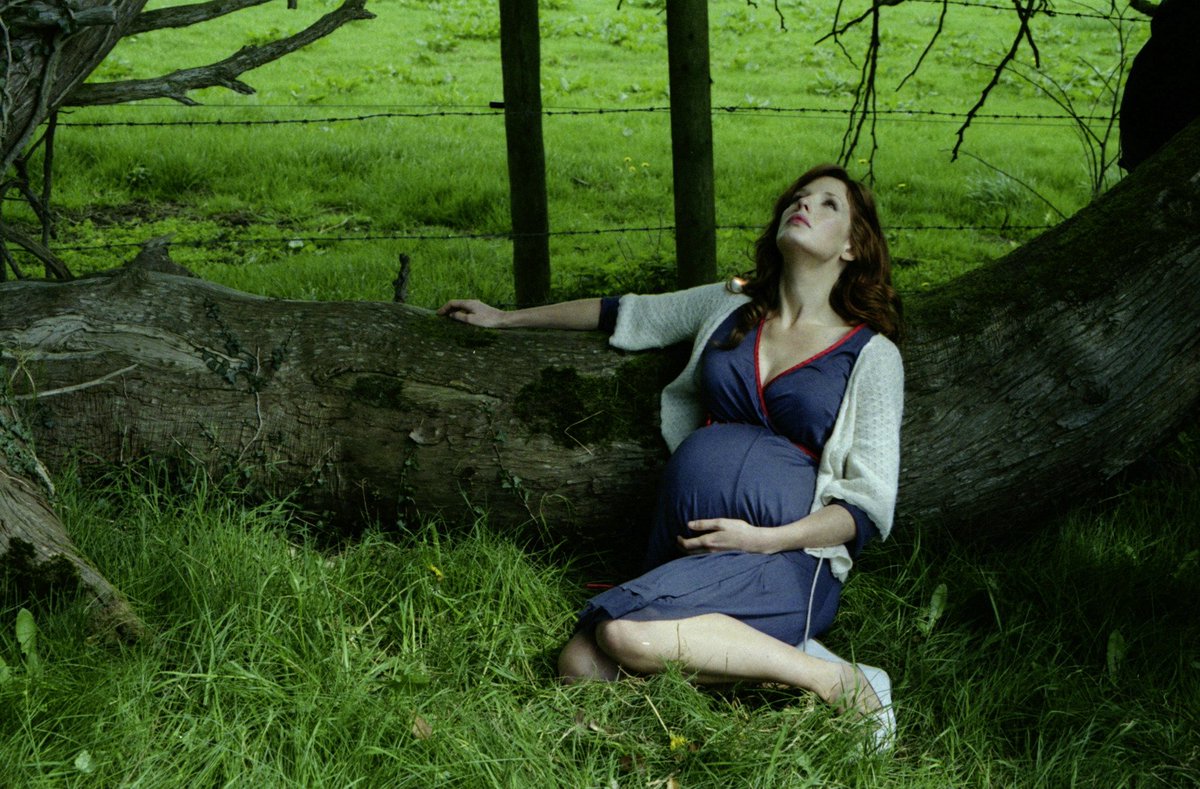 I had only heard disappointing things about Puffball before watching it. I reasoned that at least it was from Nicolas Roeg and that alone should guarantee an interesting and offbeat film. Roeg certainly does a good deal in establishing a convincing and down-to-earth portrait of rural Ireland. There are worthwhile performances from all the principals. The film starts slowly and takes a long time to let us know where it is going, with Roeg merely hinting at things in cryptic conversations and elusively littered clues. Nicolas Roeg's typical stylistic trademarks – wild visuals, random and atemporal editing schemes, sexual obsessiveness – have been toned way down and Puffball could otherwise have been handled by a more mainstream, more routine director.
Fay Weldon's plot does eventually kick in with the bizarrely black twists and contorted sexual politics that we expect of her – with Kelly Reilly getting pregnant; Miranda Richardson believing the child that is rightfully hers has been stolen and sending husband William Houston to seduce Kelly under the influence of a magic spell and steal her baby away on the tip of his penis to return and impregnate her; Kelly Reilly miscarrying then finding out she is still pregnant but realising it might be with Houston's baby; and the contorted jealousies that ensue.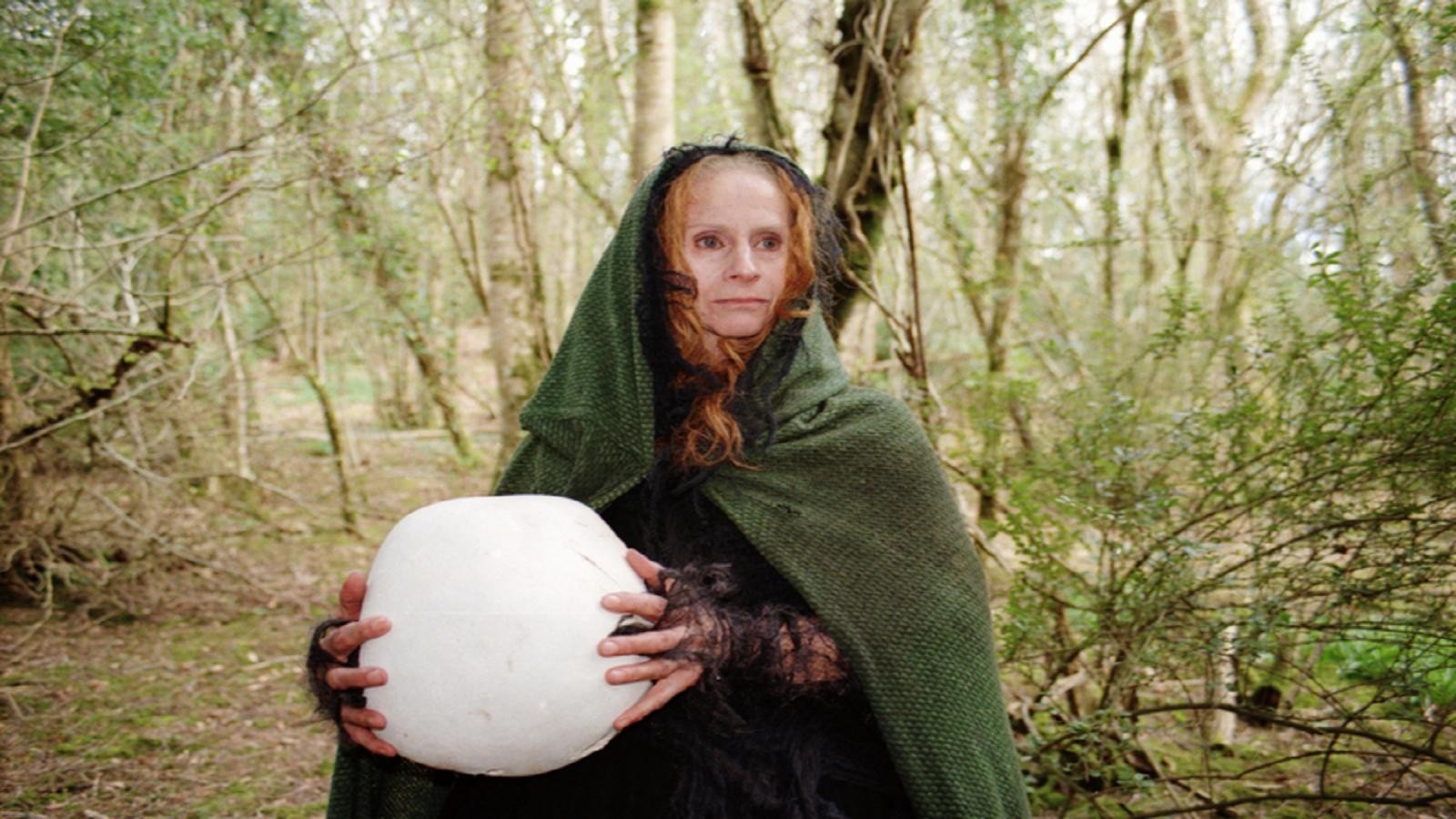 There are times this does verge on horror territory but the film takes a long and meandering trip getting there. Certainly all of this – pagan fertility rites, magic seduction spells, an enchanted husband sent to steal another woman's baby by seducing her and bringing it back to impregnate Miranda Richardson – sounds like a far wilder film is on offer than is actually the case. In fact, Nicolas Roeg's treatment of all of this is surprisingly dull and mundane. A work that leapt into horror territory or came out maybe somewhere around where The Witches of Eastwick (1987) existed could have held an enormous degree of potential. Ultimately though, it is only the performances that lift Puffball – and the hoping that the film will turn into something more interesting than it is. Unfortunately, it never does.
Nicolas Roeg's other genre films are:- Don't Look Now (1973), a film about precognition; The Man Who Fell to Earth (1976) about an alien visitor; the surrealist Dennis Potter collaboration Track 29 (1988); the Roald Dahl adaptation The Witches (1990); and the supernatural thriller Cold Heaven (1991).
---
---