---
Crew
Director/Screenplay – Sean Patrick O'Reilly, Based on the Graphic Novel by Bruce Brown, E.T. Dollman, Erik Fokkens, Dwight L. MacPherson & Sean Patrick O'Reilly, Producers – Michelle O'Reilly, Music – George Streicher, CG Supervisor – Martin Bastian, Visual Effects Supervisor – Kaushik Swain, Art Direction – Gary Yuen. Production Company – Arcana Studio.
Voices
Kiefer O'Reilly (Howard Lovecraft), Sean Patrick O'Reilly (Spot), Tyler Nicol (Winfield Lovecraft), Mark Hamill (Dr Henry Armitage), Jeffrey Combs (King Abdul), Michelle O'Reilly (Sarah Lovecraft). Scott McNeil (Dagon), Ron Perlman (Shoggoth), Christopher Plummer (Dr West)
---
Plot
Howard Lovecraft has dreams of Spot calling to him, imploring him to protect his father's journal from Abdul Alhazred. In R'lyeh, Spot astrally travels to aid Howard only for Abdul to imprison Spot's body. Howard is dragged away by his mother who has become possessed by Abdul and is starting to transform into a fish person. Howard escapes and gains the aid of Dr Henry Armitage, librarian at the Miskatonic University, which holds the world's largest repository of occult books. Henry warns Howard that Abdul must be prevented from obtaining the third of his father's journals as all three will combine to become The Necronomicon and allow Abdul to enact the spell that will turn Spot into Cthulhu. Howard frees his father from the asylum. Joined by Spot's disembodied soul and Dr Armitage who teaches Howard in the use of spells, they set out, allowing Mr Lovecraft to lead them on a journey through the portal to the underwater city of Yuggoth to retrieve the journal.
---
This was the second of three animated films about the adventures of a young H.P. Lovecraft. It was preceded by Howard Lovecraft and the Frozen Kingdom (2016) and followed by Howard Lovecraft and the Kingdom of Madness (2018). All three films were made by Sean Patrick O'Reilly who manages the British Columbia-based Arcana Studio. O'Reilly based the films on his own trilogy of graphic novels.
Sean Patrick O'Reilly's intention has been to create a series of children's films featuring a juvenile version of horror author H.P. Lovecraft as the hero. (For more detail about H.P. Lovecraft see Lovecraftian Films and bottom of the page). As in the first film, O'Reilly mixes and matches Lovecraft characters, places and entities. There is Henry Armitage (voiced by Mark Hamill), the librarian at the Miskatonic University who was introduced in The Dunwich Horror (1928), who here gets an expanded role as an occult expert. There's also a Dr West (voiced by Christopher Plummer) about whom we don't know much but presume is the Herbert West character from Herbert West – Reanimator (1921-2).
There are origin stories offered for familiar aspects of Lovecraftian mythos. Here we learn that Howard's best friend Spot (introduced in the previous film) could end up becoming Cthulhu. We also learn that Howard's father's diaries became the basis of The Necronomicon, which the villainous Abdul Alhazred (who is cited by Lovecraft as the author of The Necronomicon) is trying to unite. There is a visit to Yuggoth, which is supposed to Pluto in the Lovecraft mythos, and whose inhabitant/guardian is now Dagon, the fish deity in Lovecraft's self-titled story of 1917. Howard is also infected with 'Innsmouth hands' named after the amphibian hybrid peoples of The Shadow Over Innsmouth (1931).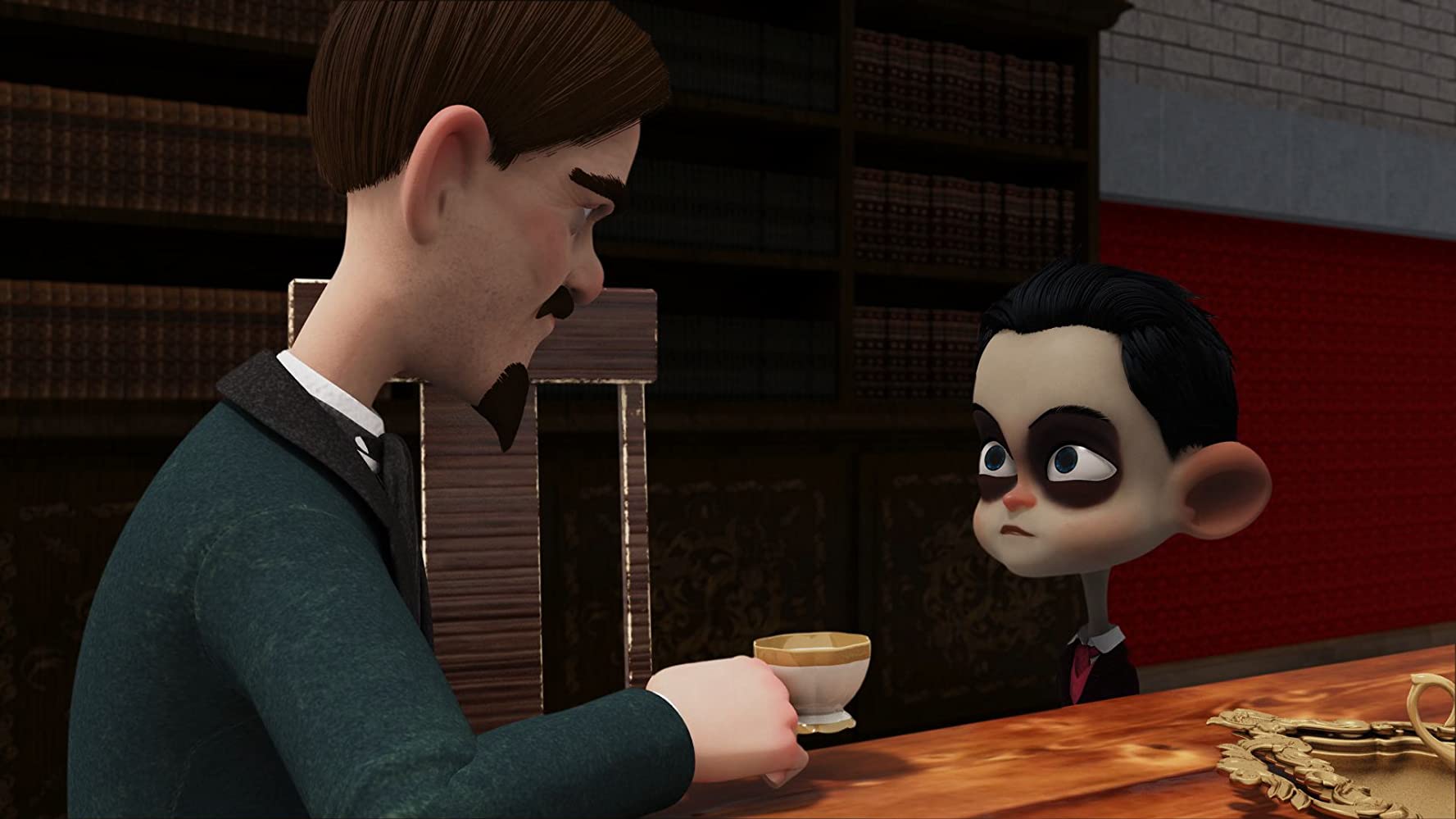 The idea of a juvenile adventure through the Cthulhu Mythos is a cute one, although I am not sure it is enough to extend to three films. What kills any interest people might have is the low quality and limited animation – CGI that renders everything in simple blocky digital figures and very low quality backgrounds. There are often scenes where people's hands don't even connect up with objects, while the various scenes battling Abdul Alhazred never amount to much more than a few blasts of patterned digital magic blasts being flung at various entities. Most of the film is a fairly routine effort.
Other films based on the works of H.P. Lovecraft include:- The Haunted Palace (1963), Die, Monster, Die/Monster of Terror (1965), The Shuttered Room (1967) and The Dunwich Horror (1969). The big success in the modern era was Stuart Gordon's splattery black comedy version of Re-Animator (1985), which popularised Lovecraft on film. This led to a host of B-budget Lovecraft adaptations, including Stuart Gordon's subsequent From Beyond (1986), The Curse (1987), The Unnameable (1988), The Resurrected (1992), Necronomicon (1993), The Unnamable II: The Statement of Randolph Carter (1993), Lurking Fear (1994), Gordon's Dagon (2001), and other works such as The Dream-Quest of Unknown Kadath (2003), Beyond the Wall of Sleep (2006), Cool Air (2006), Chill (2007), Cthulhu (2007), The Tomb (2007), Colour from the Dark (2008), The Dunwich Horror (2009), The Color (2010), Pickman's Muse (2010), The Whisperer in Darkness (2011), The Dark Sleep (2013), The Haunter of the Dark (2015), Herbert West: Re-Animator (2017), Color Out of Space (2019), The Deep Ones (2020), Markham (2020), the tv series Lovecraft Country (2020), H.P. Lovecraft's Witch House (2021) and The Resonator: Miskatonic U (2021). Lovecraft: Fear of the Unknown (2008) is a documentaryabout Lovecraft. Also of interest is The Manitou (1978), which features an appearance of the Great Old One; Cast a Deadly Spell (1991) and its sequel Witch Hunt (1994), a tv movie set in an alternate world where magic works and where the central character is a detective named H.P. Lovecraft; Juan Piquer Simon's cheap and loosely inspired Cthulhu Mansion (1992); John Carpenter's Lovecraft homage In the Mouth of Madness (1995); the fan parodies Lovecracked: The Movie (2006), The Last Lovecraft: Relic of Cthulhu (2009) and Call Girl of Cthulhu (2014); while the Elder Gods turn up at the end of The Cabin in the Woods (2012) and Lovecraft (Paul Titley) appears as an imaginary companion in Ghostland/Incident in a Ghostland (2018). Lovecraft's key work of demonic lore The Necronomicon also makes appearances in films such as Equinox (1970), The Evil Dead II (1987) and Army of Darkness (1992), and was also borrowed as an alternate retitling for Jesus Franco's surreal and otherwise unrelated Succubus/Necronomicon (1969) about a BDSM dancer.
---
---