---
Crew
Director – David Dobkin, Screenplay – Dan Fogelman, Story – Dan Fogelman & Jessie Nelson, Producers – David Dobkin, Jessie Nelson & Joel Silver, Photography – Remi Adefarasian, Music – Christophe Beck, Visual Effects Supervisor – Alex Bicknell, Visual Effects – Cinesite Europe Ltd (Supervisor – Simon Stanley Clamp), The Moving Picture Company (Supervisor – Uel Hormann), Peerless Camera Company & Rainmaker Animation & Visual Effects (Supervisor – Adam Gascoyne), Special Effects Supervisor – Neil Corbould, Makeup Effects – Neal Scanlan Studios, Production Design – Allan Cameron. Production Company – David Dobkin Productions/Jessie Nelson Pictures/Silver Pictures.
Cast
Vince Vaughn (Fred Claus), Paul Giamatti (Nick 'Santa' Claus), Kevin Spacey (Clyde Northcote), John Michael Higgins (Willie), Miranda Richardson (Annette Claus), Rachel Weisz (Wanda Bukowski), Kathy Bates (Mother Claus), Trevor Peacock (Father Claus), Elizabeth Banks (Charlene), Chris 'Ludacris' Bridges (DJ Donnie), Bobb'e J. Thompson (Samuel 'Slam' Gibbons)
---
Plot
Fred Claus grows up in envy of his younger brother Nick who always does acts of virtue, giving away presents to others and creating happiness and good cheer. Nick is later made a saint and becomes Santa Claus, which means that the entire Claus family becomes immortal. In the present-day, Fred is living in Chicago and trying to hustle money without much success. He has only cynicism for all matters Christmas and has not seen his family for many years. His latest exploit, impersonating a Santa to take charitable monies, ends him in jail and he is forced to call up Nick to bail him out. As part of agreeing to do so, Nick makes Fred agree to come to the North Pole to work for him until Christmas. Unknown to Fred, Santa is being audited by efficiency expert Clyde Northcote who announces he will shut the North Pole down if he can come up with three strikes against the operation. Now, Fred's unruly ways are endangering the entire future of Christmas.
---
Fred Claus is the type of Christmas fantasy that frequently gets made cinematically every couple of years, while every holiday season is guaranteed to feature at least half-a-dozen of these made as movies for tv. I will admit from the outset that I have an overt bias and am a grinch who feels little enthusiasm for these Christmas fantasies.
That said, Fred Claus feels like a film that has been pitched to the admitted grinches of the Christmas season. Conceptually, it feels as though someone has combined the idea of Elf (2003) – or at least an Elf in reverse where rather than an innocent elf coming to the big city and getting wised up, a streetwise human goes to the North Pole and shakes things up – with Bad Santa (2003), Terry Zwigoff's anti-Christmas film where Billy Bob Thornton played a foul-mouthed, drunken Santa who was ripping off the stores he worked in.
The advertising for Fred Claus suggested something that bit into the rosy sentiments of most Christmas films with a welcome sarcasm. There is something amusing to scenes like where Vince Vaughn sits down around the Claus family table for the first time in years and the get-together quickly dissolves into bickering and resentments, showing that Santa's family is as dysfunctional as every other family out there. Despite the Santa's bad brother concept though, Fred Claus never pushes any of this to an edge – certainly Vince Vaughn proves to be an easily redeemable Bad Santa. There is not ultimately anything more to the film than the usual petty tensions and conflicts that occur every time most families get together for Christmas around the world.
Elsewhere, plot points either seem to stretch credulity – convenient pieces of plotting like the invention of the need for a Claus to fly the sleigh, while Vince Vaughn seems to be remarkably ordinary seeming for someone who is immortal and appears to be several hundred years old.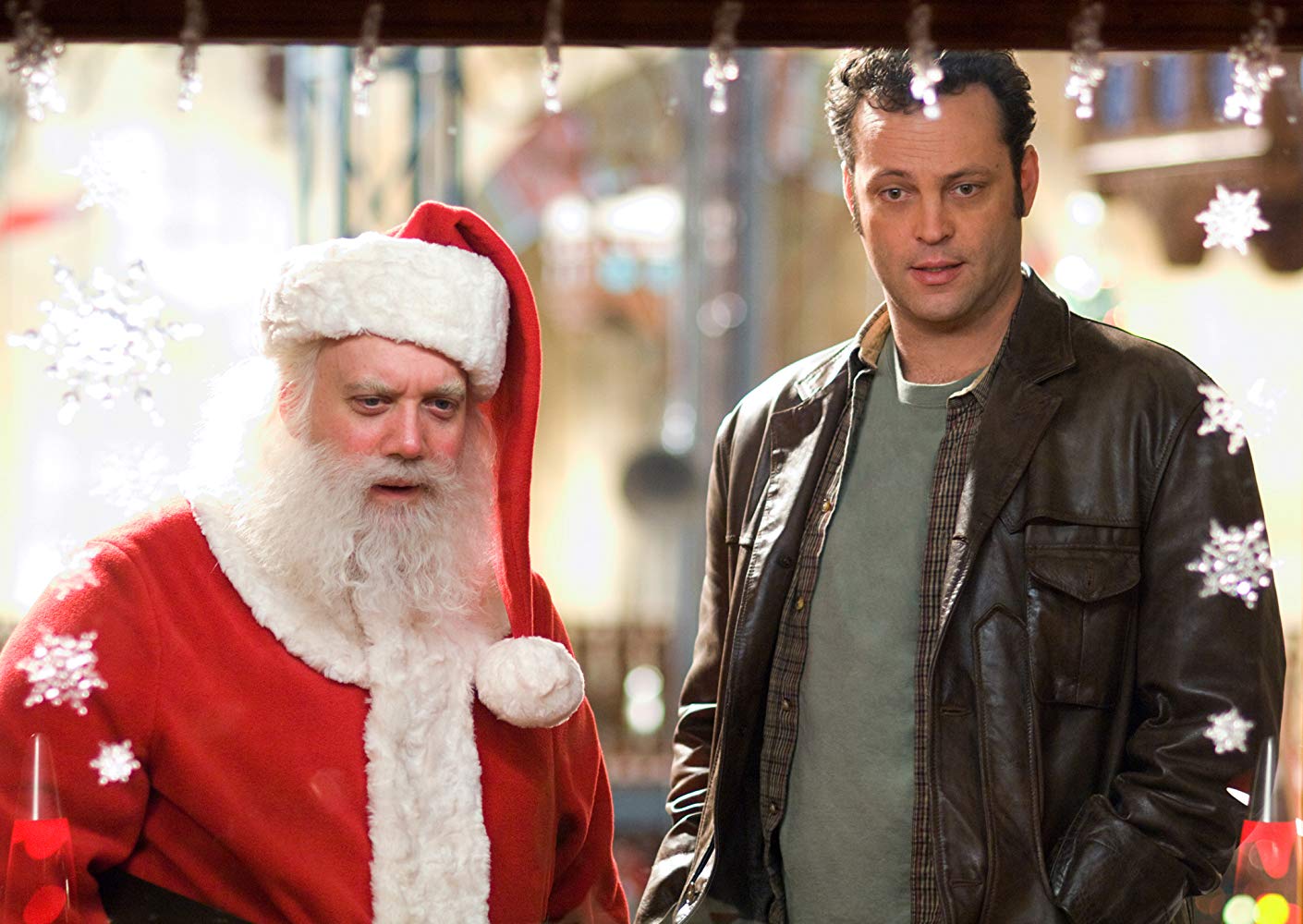 There is a good deal of slapstick and cutsie pratfalling – dancing elf scenes, a snowball fight between Vince Vaughn and Paul Giamatti and the surreal image of Vince Vaughn being pursued through the streets and mobbed by about a dozen Santas. Sometimes Fred Claus comes with a wry sarcasm in the writing – Bobb'e J. Thompson is dragged away by child services with the parting line "If you're waiting for me to sing The Sun Will Come Out Tomorrow [from Annie (1982)] on the way to the orphanage you're wasting your time." The funniest scene is where Vince Vaughn attends a famous siblings support group and we get cameos from Frank Stallone, Roger Clinton and Stephen Baldwin. To its credit, the humour comes out somewhat more amiably and less forced than it does in Elf and the agonising Santa Clause series.
Someone has clearly thrown a reasonable budget at the film in the expectation that it would be a big hit. There are some lavish sets of the North Pole main street and the elf factory floor and David Dobkin stages some eye-filling scenes with hundreds of elves dancing. The problem with Fred Claus is that it feels very premeditated in its appeal. It is pitched with an exactingly calculated degree of irony to give the impression that it is a cynical take on the standard Christmas fantasy – only as soon as one bites into it, it proves to be as marshmallowy and predictable as every other variant on the theme.
This family-friendly fare is a comedown for Vaughn who has in recent years perfected a comfortable light comedy persona as a slightly disreputable and dodgy loudmouth. Most of the other names in the cast – Paul Giamatti, Miranda Richardson, Rachel Weisz, Kathy Bates, who have all given fine and sometimes awards worthy parts in recent years – coast by in lightweight performances that require next to nothing from them, although at least Kevin Spacey relishes playing the villain of the show.
Vince Vaughn re-teams with director David Dobkin for the third time. The two had previously worked together on David Dobkin's first film Clay Pigeons (1998) in which Vaughn played a charming psychopath and then the runaway box-office hit of Wedding Crashers (2005). Dobkin also directed Shanghai Knights (2003), the bodyswap comedy The Change-Up (2011) and has been associated with a film version of DC's The Flash for a number of years, as well as wrote and produced Jack the Giant Slayer (2013) and R.I.P.D. (2013), and produced the tv series Into the Badlands (2015-9), The Man from U.N.C.L.E. (2015) and King Arthur: Legend of the Sword (2017)]. Vaughn also takes a co-producing role on the credits.
---
---