---
Crew
Director – Guy Ritchie, Screenplay – Michael Robert Johnson, Simon Kinberg & Anthony Peckham, Screen Story – Michael Robert Johnson & Lionel Wigram, Based on Characters Created by Arthur Conan Doyle, Producers – Susan Downey, Dan Lin, Joel Silver & Lionel Wigram, Photography – Philippe Rousselot, Music – Hans Zimmer, Visual Effects Supervisor – Chas Jarrett, Visual Effects – Double Negative (Supervisor – David Vickery), Framestore (Supervisor – Jonathan Fawkner) & Prologue Films, Special Effects Supervisor – Mark Holt, Prosthetic Effects – Matt Smith, Production Design – Sarah Greenwood. Production Company – Village Roadshow/Silver Pictures/Wigram Productions/Internationale Filmproduktion Blackbird Zweite GmbH & Co. KG.
Cast
Robert Downey Jr (Sherlock Holmes), Jude Law (Dr John Watson), Rachel McAdams (Irene Adler), Mark Strong (Lord Blackwood), Eddie Marsan (Inspector Lestrade), Kelly Reilly (Mary Morstan), Robert Maillet (Dredger), Geraldine James (Mrs Hudson), James Fox (Sir Thomas Rotheram), Hans Matheson (Lord Coward), William Hope (Ambassador Standish), William Houston (Constable Clark), Clive Russell (Captain Tanner)
---
Plot
Sherlock Holmes and Dr Watson foil the villainous Lord Blackwood as he attempts to sacrifice a woman in a black magic ceremony. Lord Blackwood is sentenced to be hanged. Blackwood asks to see Holmes before the execution and promises that he will return from the dead. The day after the execution, police find the grave torn open and there are reports of Blackwood seen walking alive. Meanwhile, Sherlock Holmes receives a visit from the thief Irene Adler, the only woman capable of matching wits with him, who hires him to find someone. Holmes suspects that she has ulterior motives and discovers that she is working for a mysterious benefactor. As he becomes wound into the trail of murders left by the resurrected Blackwood, Holmes discovers Blackwood's plan to use black magic to overthrow the government of England.
---
Ever since the announcement of this new Sherlock Holmes film, I was sceptical about the project. First there was the fact that it was mounted by Guy Ritchie. Ritchie is a director whose work I have generally enjoyed – Lock, Stock and Two Smoking Barrels (1998), Snatch. (2000) and Rock'n'Rolla (2007), while we will conveniently overlook Swept Away (2002).
While Guy Ritchie is British, which is surely essential for understanding Sherlock Holmes, his films are as far away from the milieu of Holmes as you can get – Ritchie's films centre around modern urban British gangsters where he is clearly enamoured of their brutish toughness and undeniable cool. This sits somewhat at odds with Sherlock Holmes who is a character that unquestionably inhabits the Victorian drawing room (although will occasionally venture out into the underworld in disguise). Sherlock Holmes's most distinctive character aspect is his ability to wield his intellect and grasp implications from incidental detail; on the other hand, Guy Ritchie's heroes and villains (it is often difficult to tell the difference) willingly eschew the intellectual in favour of guns, fists and general all-round thuggery.
Nor did one's expectations of Sherlock Holmes improve when the first stills to be released showed Robert Downey Jr as a bare-chested Holmes in a boxing match. It seemed a Sherlock Holmes born more of Guy Ritchie's predilections than the well-dressed detective with the fierce intellect that inhabits Arthur Conan Doyle's stories. Furthermore, the trailer tried to give the impression that the film featured a supernatural menace.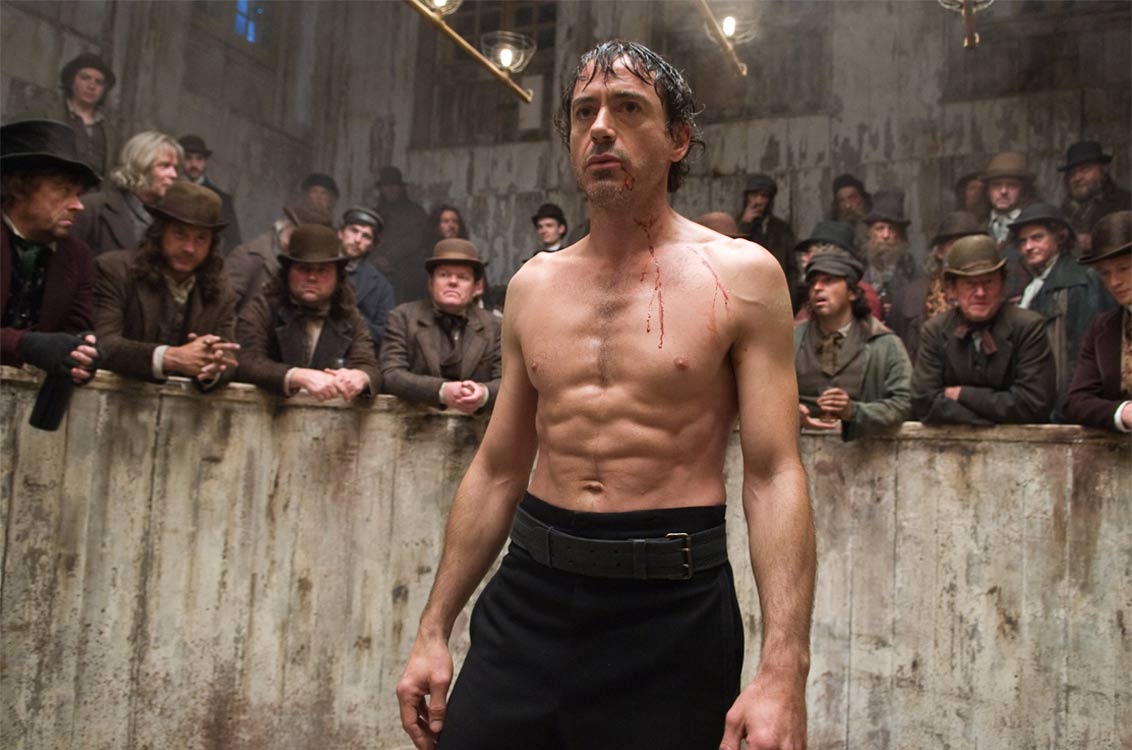 Not to mention that the trailer had been edited to play to modern risque sensibilities with the prominent highlighting of a scene where Robert Downey Jr is handcuffed up in bed and announces to a maid: "Madame, I need you to help me. Beneath this pillow lies the key to my release," while Jude Law comes out with equally suggestive lines like "Holmes, does your depravity know no bounds?" something that would surely have dear old Arthur Conan Doyle turning in his grave.
By the time of the publicity junket for the film where Guy Ritchie claimed he had never seen any other Sherlock Holmes film yet was attempting to reinvent the basics, the film seemed a hopeless miscalculation in the offing. Oh and then there was Robert Downey Jr who tried to convince journalists that the film was a 'bromance' between Holmes and Watson – the idea of Sherlock Holmes being given the Judd Apatow treatment where Holmes and Watson hug each other and awkwardly say "I really love you, man" makes one's teeth grate in a bad way.
I grew up watching the various Jeremy Brett Sherlock Holmes tv series' for Granada – The Adventures of Sherlock Holmes (1984-5), The Return of Sherlock Holmes (1986-8), The Casebook of Sherlock Holmes (1994) and The Memoirs of Sherlock Holmes (1994). These are the most faithful adaptations of the Sherlock Holmes stories put on film to date. With his gentlemanly dignity and flashes of mercurial brilliance, Jeremy Brett will always remain the distinctive incarnation of Sherlock Holmes for me. A few years later, I discovered the classic 20th Century Fox/Universal Sherlock Holmes films. Basil Rathbone's fiercely rational hawk-like portrayal stands as an equally good Holmes, if most of the films themselves (inexcusably updated to the modern era) are sub-par. There have been other worthy adaptations – notably Hammer's The Hound of Baskervilles (1959), the witty Holmes pastiche The Seven Per Cent Solution (1976) and the tv adaptation of The Hound of the Baskervilles (2002), which did equally fascinating things in recasting Holmes and Watson.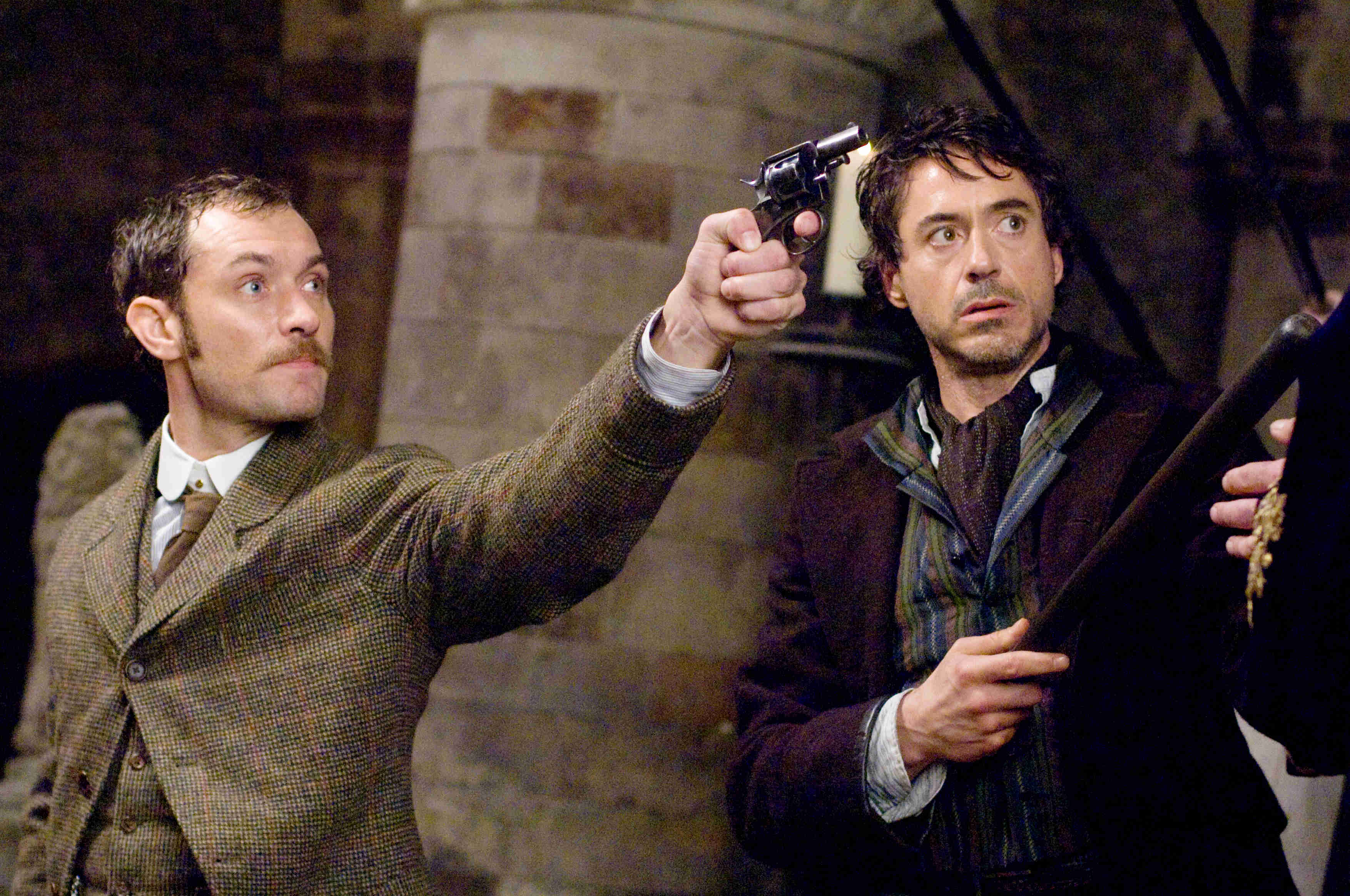 Against this cinematic lineage, I had difficulty accepting Robert Downey Jr – great actor that he is – in the role. He just does not seem to be a Holmes. (If one wanted to make snide gossip column comments, one could say that Robert Downey Jr with his long history of drug problems is perfect casting for Sherlock Holmes the coke fiend – but then this site is above that kind of tabloid sniping). Downey gives the part one of his eccentric takes, playing with a perpetual look of wide-eyed bewilderment and agog double take, but ultimately it fails to emerge as one of Downey's great performances.
What works far better is the film's reconceptualisation of the character of Dr Watson. As opposed to the aging old slow-witted duffer that Dr Watson is almost always portrayed as on screen, Jude Law delivers a dashingly handsome Watson who heads into action with pistol at the ready alongside Holmes. Guy Ritchie has also reconceived the relationship between the two of them. Now it is a relationship where Watson is the dominant partner, rather than a sidekick tagging along trying to follow Holmes's deductions, and Jude Law gives it his all, constantly treating Holmes with annoyed exasperation and cajoling, even bullying, him into action.
Seeing the finished film up on screen, one's fears about Sherlock Holmes in Guy Ritchie's hands prove unfounded. You have to give an author a certain degree of rope for their interpretation and Guy Ritchie does so reasonably well. Certainly, his is an interpretation that takes Sherlock Holmes out of the Victorian drawing room and even the standard gaslight milieu – not to mention abandons the classic image of Holmes in a deerstalker. This is very much a Holmes of the streets where Guy Ritchie revels in the dirt and filth, the muted dun tones of the Victorian industrial landscape, where the bare wooden boards of Holmes's apartment show through and everything is strewn in a mess. It is also very much Guy Ritchie rebranding Sherlock Holmes as a man's man – the characters are unshaven most of the time, Watson has a gambling problem and Holmes engages in bare-knuckle boxing matches to while away the boredom. One wondered which would win out – Sherlock Holmes' much vaunted intellect or Guy Ritchie's boxing matches. It is telling that the first scene of Holmes-ian flourish we see here is Robert Downey Jr calculating the best way to beat an opponent unconscious – the upside is that this is an interpretation that does not conflict with Arthur Conan Doyle who wrote that Sherlock Holmes was an accomplished pugilist.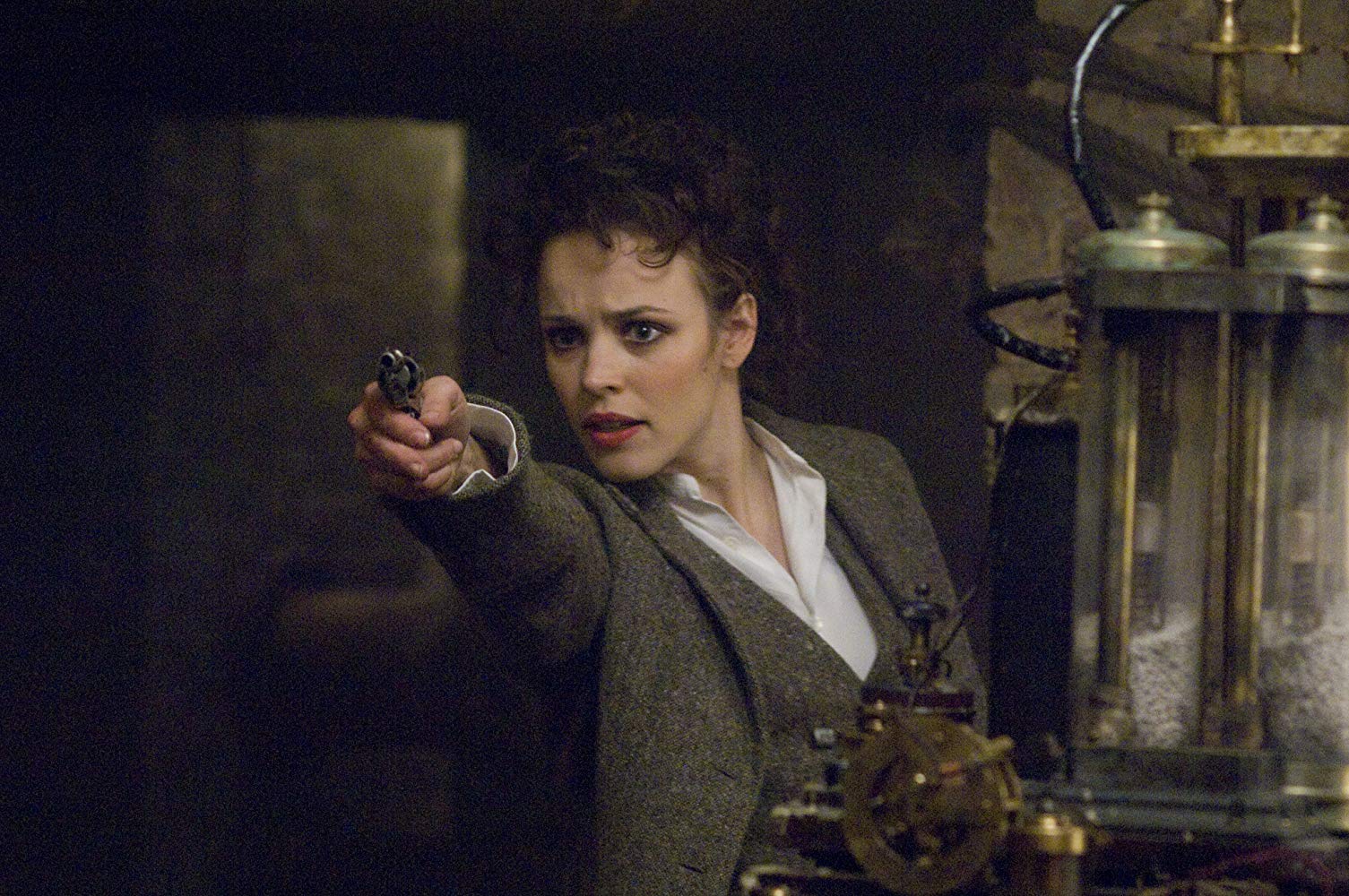 The film also incorporates the character of Irene Adler. Arthur Conan Doyle created her as the only women to match wits with Holmes, while here she becomes a love interest. It is interesting to contrast Rachel McAdams' devious and flirtatious thief with the Irene Adler that Conan Doyle depicts in A Scandal in Bohemia (1891), the sole canonical story in which she appears, where the story is concerned with her scandalous relationship with a king and Holmes's involvement is centred around the procurement of a single photograph. It should be noted that the romance between Holmes and Irene Adler is entirely a fiction that has been concocted by Sherlock Holmes pastiche writers and something that never existed in anything that Arthur Conan Doyle wrote and at most had Holmes admit an admiration for her. Rachel McAdams gives a passably lightweight performance in the part but her Irene Adler emerges as far too much of a modern woman to seem credible for the Victorian period. (A perfectly stunning Irene Adler was delivered by the supremely elegant Lara Pulver in the A Scandal in Belgravia (2011) episode of the modernised Sherlock tv series, which incarnated her as a dominatrix).
The script comes up with a plot that pits Holmes against black magic. A Holmes film that verges on fantasy seems very much pitched to modern box-office sensibilities. The only other Arthur Conan Doyle Sherlock Holmes stories that introduced supernatural elements – The Hound of the Baskervilles (1902) and The Adventure of the Sussex Vampire (1924) – offered mundane endings that rigidly eschewed any fantastic interpretation. That has not stopped a great many pastiche writers having Sherlock Holmes encounter figures such as Count Dracula, The Phantom of the Opera or H.G. Wells's Martian invaders, but in Arthur Conan Doyle's original conception Sherlock Holmes always lived in a rational world.
Correspondingly, the script here eventually deflates the apparently supernatural with a mundane revelation – although this often involves scheming that is so improbably far-fetched that a Sherlock Holmes would have torn apart the improbabilities and logic holes before breakfast. Mark Strong's Lord Blackwood is too much of a cardboard cutout bad guy and without many shadings to make him interesting – there is surprisingly little in the way of a battle of wits between he and Holmes, while the climax is dependant on action (atop the half-completed Tower Bridge) rather than deduction as it always was in a Conan Doyle story.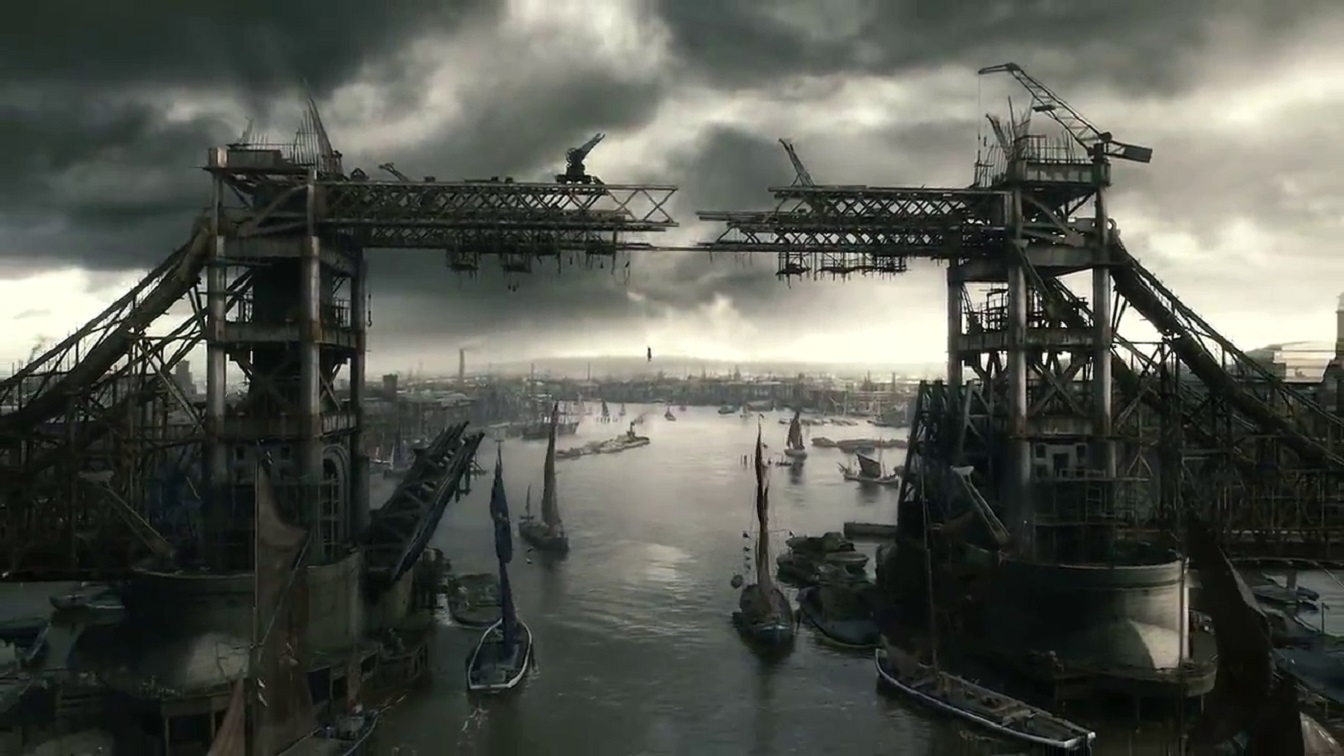 The result emerges as Sherlock Holmes reconceived as both a Guy Ritchie film – emphasis on the dirt, pugilism and men being men – and as a multiplex blockbuster for the Xmas 2009 season – big fight scenes, action scenes pumped-up with digital effects. It works reasonably well. Sherlock Holmes is not a standout masterpiece but it is an enjoyable blockbuster. It is not a redefinition of Sherlock Holmes that is going to pale all other versions before it; on the other hand, it is not a cringing embarrassment to the cinematic Holmes corpus as say the likes of King Kong (1976), Catwoman (2004) and Thunderbirds (2004) were in reinterpreting their respective originals. You could do a lot worse at popcorn entertainment goes.
Guy Ritchie, Robert Downey Jr and Jude Law returned for Sherlock Holmes: A Game of Shadows (2011), which is a much more confident assemblage of the elements here, returns more faithfully to Arthur Conan Doyle and is altogether the better film, although contains no fantastic elements. A third film has been promised. This film however saw a renaissance in Sherlock Holmes adaptations. Around the same time also saw The Asylum's mockbuster Sherlock Holmes (2009), which took off in bizarre Steampunk directions; the excellent modernised BBC tv series Sherlock (2010– ) starring Benedict Cumberbatch; George Anton's low-budget Sherlock Holmes (2011) starring Kevin Glaser; the obscure Canadian film Sherlock Holmes and the Shadow Watchers (2011) starring and directed by Anthony D.P. Mann; the modernised US copy of the BBC series Elementary (2012– ) starring Jonny Lee Miller; and the Spanish film Holmes & Watson: Madrid Days (2012) starring Gary Piquer that has Holmes solving the Jack the Ripper murders.
Guy Ritchie subsequently conducted the big screen remake of the 1960s tv series The Man from U.N.C.L.E. (2015) and King Arthur: Legend of the Sword (2017) and the live-action version of Disney's Aladdin (2019).
(Nominee for Best Supporting Actor (Jude Law) at this site's Best of 2009 Awards).
---
---