USA. 1991.
Crew
Directors – Jim George & Bob Seeley, Screenplay/Based on an Idea by Rodney Dangerfield, Story Development – Rodney Dangerfield & Harold Ramis, Producers – Willard Carroll & Thomas L. Wilhite, Music – David Newman, Songs – Rodney Dangerfield & Billy Tragesser, Sequence Directors – Skip Jones, Steve Moore, Matthew O'Callaghan, Dick Sebast, Bruce Smith & Frans Vischer, Special Effects Supervisor – Kathleen Quaife-Hodge, Production Design – Fred Cline. Production Company – A Rodney Dangerfield Production/Hyperion Pictures.
Voices
Rodney Dangerfield (Rover), Susan Boyd (Daisy), Dana Hill (Danny), Gregg Berger (Cal), Shawn Southwick (Connie), Sal Landi (Rocky), Ned Luke (Raffles), Ronnie Schell (Eddie), Dennis Blair (Lem), Don Stuart (Clem), Robert Pine (Duke), Tom Williams (Rooster/Coyote)
---
Plot
Rover is a streetwise dog who lives in Las Vegas with his human mistress, the showgirl Connie. Rover makes an enemy of Connie's no-good boyfriend Rocky after he witnesses one of Rocky's underworld schemes. Connie goes away on tour, leaving Rover in Rocky's charge. Rocky throws Rover off the Hoover Dam in a bag but Rover makes an escape and swims to safety. He duly ends up on a farm where young Danny enthusiastically adopts him. However, Danny's father Cal is unimpressed by Rover's inability to fit in on the farm and do the work that is required of him and it is only through Danny's imprecations that he is allowed to stay. When Rover meets and falls for the lovely Daisy, he decides that there is something worth staying for. However, when wolves kill the farmyard turkey and Rover is blamed, Cal decides that he must be put down.
---
Rodney Dangerfield emerged as a stand-up comic as long ago as the 1940s. He gained a name in the 1960s with various appearances on The Tonight Show (1962– ), The Dean Martin Show (1965-74) and Saturday Night Live (1975– ). Dangerfield's persona was that of a jowly, gravel-voiced but amiable slob. He appeared in several films – Caddyshack (1980), Easy Money (1983) and the successful Back to School (1986). Even the success of Back to School failed to give him a star persona, perhaps due to the limited appeal of Dangerfield's slobbish, wisecracking truck driver persona. Beyond the mid-1980s and up until his death in 2004, Dangerfield's screen appearances were limited to minor supporting parts in films and guest appearances on various sitcoms.
One notable standout during this time however was Rover Dangerfield. This appears to have been a highly personal film project of Dangerfield's, one where he not only voices the title character, but also produced the film, wrote the screenplay, developed the story in conjunction with Harold Ramis, director of Groundhog Day (1993), and even wrote the songs and came up with the storyboard artwork for the animation.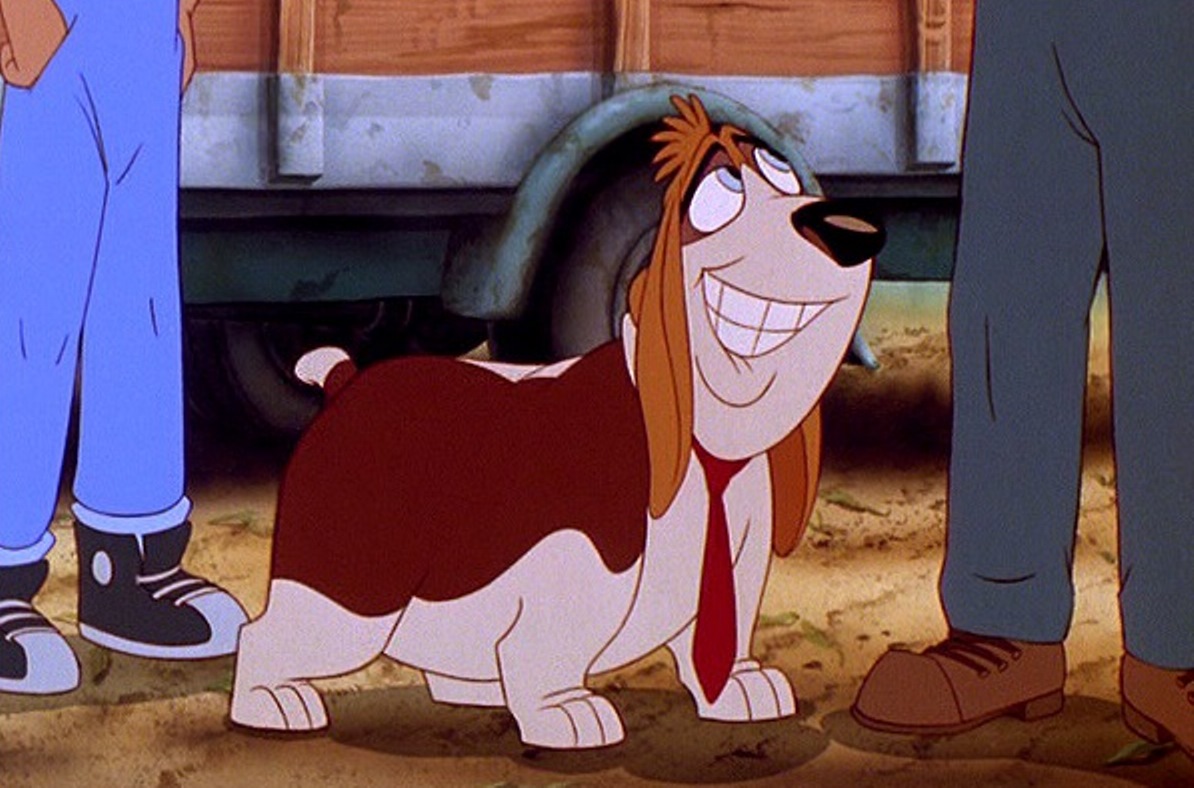 The surprise about Rover Dangerfield, up against Rodney Dangerfield's limited appeal as a comic and actor elsewhere, is that it is actually the best film he ever made. The title character is appealing – sort of a canine version of Garfield, where Dangerfield keeps up a constant barrage of amiable one-liners and occasional bad puns. Dangerfield does somewhat less well when it comes to the songs, which never get off the ground in his gravelly inflection – although he does do a rather funny number about not peeing under a Christmas tree.
Rover Dangerfield is an amazingly likeable film. There is an enormous amount of visual invention to it. The basic play the story makes is that of the city-bred dog thrown into the country lifestyle and having to come to terms with a different environment. Dangerfield gets a surprising amount of mileage out of the concept with some delightful scenes of the shrewd Rover chasing chickens, trying to eyeball sheep and in his attitude to playing catch with the human master.
The scenes with the wolves take on a much more traditional heroic arc and are predictable, nevertheless prove dramatically exciting. The ending of the film with the appearance of the baby Rovers is delightful and sweet. The great crime about Rover Dangerfield, is its failure to make any dent in the marketplace when it came out – it is an enormously charming effort that deserved to do far better than it did.
---
---