---
Crew
Directors – Charles A. Nichols & Iwao Takamato, Screenplay – Earl Hamner Jr, Based on the Novel by E.B. White, Producers – Joseph Barbera & William Hanna, Music/Lyrics – Richard M. & Robert Sherman, Music Supervisor – Irwin Kostal, Art Direction – Ray Aragon, Paul Julian & Bob Singer. Production Company – Hanna-Barbera/Sagittarius.
Voices
Henry Gibson (Wilbur), Debbie Reynolds (Charlotte), Paul Lynde (Templeton), Pam Ferdin (Fern Arable), Agnes Moorehead (The Goose), Don Messick (Geoffrey), Bob Holt (Homer Zuckerman)
---
Plot
Fern Arable intervenes to stop her father killing a runty pig. He gives it to her to raise herself and she names it Wilbur. However, when Wilbur grows too big, her father sells him off to her uncle. In his new farmyard home, Wilbur becomes blackly depressed when he learns that it his fate is to end up as bacon. He is befriended by the spider Charlotte who decides to cheer Wilbur up. She creates a web that spells out in English how special Wilbur is. Soon, people everywhere come to see the sudden miracle of the web and marvel at Wilbur.
---
This is an adaptation of children's author E.B. White's classic and well-loved children's story Charlotte's Web (1952). This was one of the few theatrical productions made by Hanna-Barbera better known for tv shows like The Flintstones (1960-7), The Jetsons (1962-3) and Scooby Doo, Where Are You? (1969-72), among others. Charlotte's Web is all that an animated film should be – it is unassuming, unpretentious, has a lack of ostentatiousness in its animation and tells a story that sweetly touches without wallowing in sentiment.
The emotions engendered are particularly good – the sequence where Fern leaves Wilbur for Henry Fussy is touchingly sweet. It is also commendable having an animated film that kills off a major character at the end and leaves them dead instead of bringing them back because filmmakers don't want to break the illusion that children have that good people die.
The animation is almost perfect in its modesty – the characters have a rounded simplicity that is extremely convincing and lifelike. When they wants to impress, the filmmakers conjure up a range of oil-coloured storms and skies or sequences like the one celebrating spring with windblown fairydowns and young birds hatching and taking off into autumn sunsets, or where Charlotte spins her first web, all drawn in soft-focus morning dew blue.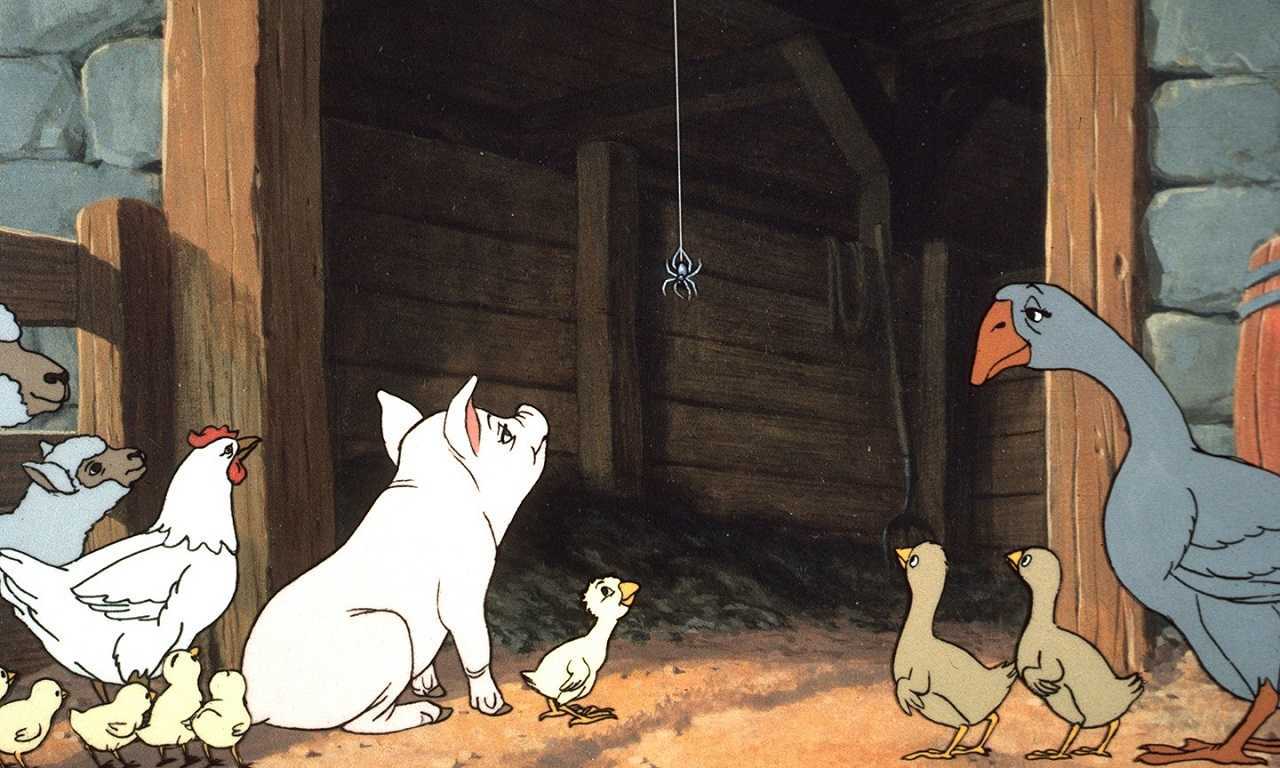 Even the usual slapstick tomfoolery is conducted with a great deal of charm and little excess – there are some wonderfully loopy surrealistic images in the scenes where the farmer gets drunk or where Templeton revels in the delights of leftover food at the country fair. The only part that does not work is a sequence where Templeton and the goose become limited line drawn characters conducting a dance in ecstasy for the food they are going to find at the fair.
Charlotte's Web also maintains a realistic degree of biological accuracy with its animal characters. This has some interestingly bizarre results such as the not entirely successful attempts to justify Charlotte's trapping and eating creatures in her web as being for the good of the ecosystem. It is something that cannot help but undercut the character with a certain sinister ambiguity. The film however is a delight. Indeed, this is a model of the sort of film that Disney should have been making around this time rather than the banal likes of The Sword in the Stone (1963), Robin Hood (1973) and The Rescuers (1977).
Charlotte's Web 2: Wilbur's Great Adventure (2003) was a direct-to-video sequel. The story was later remade in live-action as Charlotte's Web (2006).
Other of E.B. White's books have been adapted to the screen as Stuart Little (1999) and sequels and The Trumpet of the Swan (2001). White himself apparently hated the Charlotte's Web film.
---
---